Vegan Chicken Salad
Jump to Recipe
I was never someone crazy about chicken salad. I would eat the little croissants at bridal and baby showers as a kid, and I cashed in my Chick-Fil-A calendar card when their chicken salad sandwich was the free item of the month– but I didn't order a chicken salad sandwich by choice often. I joked on Instagram that I've eaten more "chicken" salad as a vegetarian than I ever did when I ate meat– and it's true 🙂
Many recipes I've seen for vegan chicken salad use chickpeas. They might be good sandwiches but I do not find those to be the best in resembling authentic chicken salad. On the occasions I want a cooling and nostalgic combo of chopped chicken with grapes and celery, this recipe is a hit!
How to Make Good Vegan Chicken Salad:
Cook chick'n until lightly browned and seasoned
Let cool then toss with finely chopped grapes and celery
Mix in mayo (we use Hellmann's vegan) + a little mustard and lemon juice to combine
Refrigerate until chilled (at least 30 minutes)
Serve with croissants, crackers, toast or in a wrap
This recipe for vegan chicken salad is made the same way I would make real chicken salad. Except, with vegan chicken. I've used SweetEarth brand Mindful Chicken (pictured in this post), Gardein chicken (without adding the sauces in the package), Lightlife Tenders, and others all with similar results.
Tips for Better Vegan Chicken Salad:
Saute chick'n with a little oil + broth

using broth helps bring the flavor of the "chicken" forward. It's traditional in many Southern chicken salad recipes to use leftover chicken (or rotisserie chicken) so this helps add in flavor

Finely dice grapes and celery for better distribution in each bite
Mayo is necessary. It's the glue and brings everything together
Don't skimp on the salt and pepper– this is a simple but classic recipe
Other Great Southern-style Vegan Recipes:
Vegan Chicken Salad
Delicious and simple plant-based chicken salad with grapes and celery. Classic, southern-style preparation and flavors make this a great snack or sandwich option.
Ingredients
6

oz

vegan chick'n

= 1.5 c chopped

2

tbsp

vegetable oil

salt, to taste

pepper, to taste

2

tbsp

vegetable broth or water

1/4

c

finely diced red grapes

1/4

c

finely diced celery

1/2

c

vegan mayo

1/4

tsp

prepared yellow mustard

1

tsp

lemon juice
Instructions
In a saucepan over medium heat, saute vegan chick'n with the vegetable oil, salt and pepper to taste for 2-3 minutes. Add in broth (or water) and continue to cook for an additional 5 minutes, stirring frequently, until lightly browned.

Remove from heat and set aside to cool. Finely chop chick'n and combine with grapes and celery in a large bowl.

In a medium bowl, whisk together mayo, mustard, lemon juice, and salt and pepper (to taste). Combine dressing with chick'n mixture until thoroughly coated.

Cover chick'n salad and refrigerate for at least 30 minutes before serving.
Notes
Leftover salad should be kept refrigerated and eaten within 3 days.

Serve this with croissants, toast, crackers, lettuce wraps, or more.
Top with additional pepper at serving, if desired.
Nutrition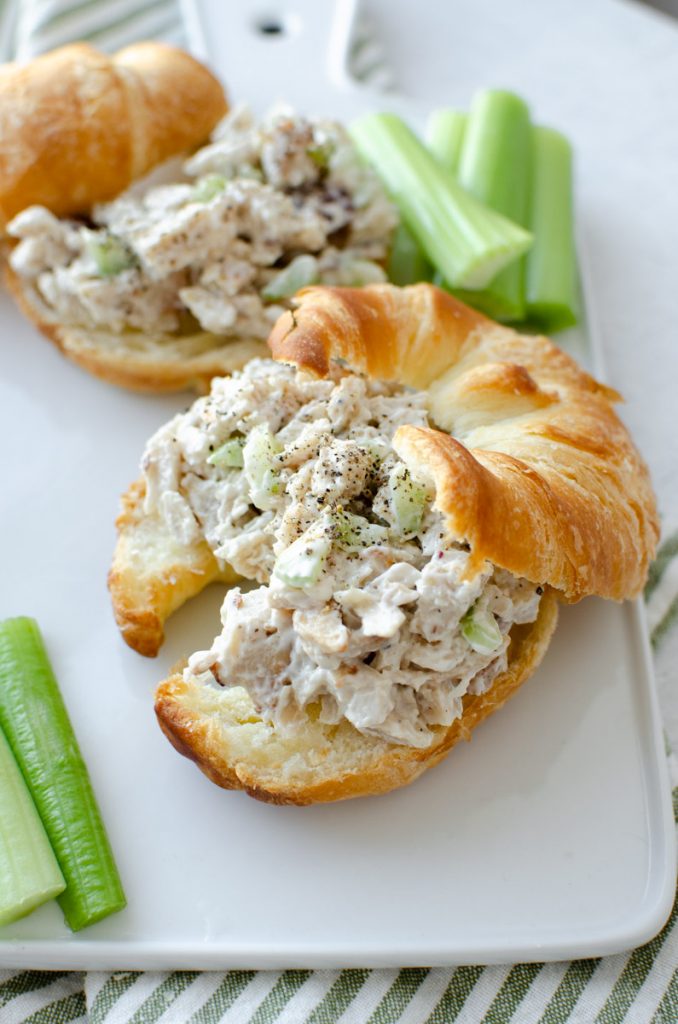 If you're a southern vegetarian like me or you're looking to eat a little less meat this year– give this classic chicken salad recipe a try! I make this occasionally for lunch because it's a great meal to prep and have on hand for a couple days but it also does well as a snack with some crackers and fruit.
I hope your year is off to a good start, friends. I'm looking forward to another year of recipe development and spending time in my home kitchen. Whatever you're working toward or trying out– I hope you find the journey fun and adventurous. Be sure to connect with me!
-Emma
---
---