Creamy Cauliflower Cheese Soup
Cauliflower soup with white cheddar, onions, and garlic in a cream base. Perfect as an entrée or complement to a steakhouse style meal. Soup comes together quickly and is flavorful with minimal ingredients. Vegetarian (uses dairy). Makes 8 servings (1 cup).
Creamy Cauliflower Cheese soup is easy to make and takes just a few ingredients but delivers serious flavor. It's super customizable and is hearty enough to stand on its own but it pairs well with other dishes as a side or appetizer.
This soup works year-round as both a comforting warm meal and a fresh, seasonal dish to serve with summery veggies. We like it paired next to savory foods (such as garlic green beans, grilled kebobs, or vegetarian steak bites) but it's also delicious served with a sweet springtime salad.
For this Cream of Cauliflower Soup Recipe, you'll need:
Butter (or olive oil) to sauté the onions and garlic
1 large head of cauliflower – the base of the soup
1 medium white or yellow onion – for flavor and body
3 cloves of garlic – gives extra flavor
Salt, pepper, and nutmeg (pairs with the carrot and cauliflower)
4 cups of vegetable broth – flavorful liquid needed to make the soup
1 cup shredded carrots – adds depth and natural sweetness
1 cup heavy cream – adds richness and creaminess
1 cup of sharp white cheddar – gives extra flavor and richness
An immersion blender or blender – for the best smooth texture
Less than an hour (save a few minutes by prepping veggies ahead!)
Best Toppings for Cauliflower Soup:
The thickness of the soup holds up to a variety of toppings, and you can add flavor to suit. Cauliflower pairs well with savory items such as herbs and spices and it also works well with nuts and seeds, which are the perfect way to add texture to creamy soup.
add cheese, chives, croutons, or bread crumbs
sprinkle with extra salt, pepper, cayenne, paprika, ginger, or nutmeg
try it with fresh basil, cilantro, rosemary, or parsley
drizzle with sriracha, honey, or hot sauce
How To Make Cream of Cauliflower Soup Healthier:
Heavy cream and cheese are great but if you're looking for a dairy-free option or a soup with less calories:
try substituting some of the cream for milk (or thickened plant-based milk) will also work.
Thicken the soup first with a roux (add equal flour into the melted butter and stir until lightly browned, about 1 minute) then add in onions and garlic to yield a lighter soup with the creamy texture
Omit the cheese in the soup or only top with a little cheese for a less rich but still delicious soup.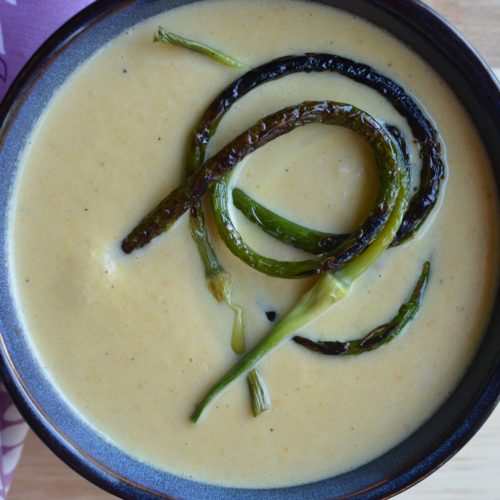 Creamy Cauliflower Cheese Soup
A hearty, comforting, and quick soup featuring cauliflower and white cheddar. Perfect as a standalone meal or as an appetizer soup. Recipe is a delicious base ready for any choice of toppings or add-ins. Vegetarian.
Equipment
large stockpot

immersion blender
Ingredients
2

tbsp

butter

1

medium

white or yellow onion, diced

approx. 1 cup

3

cloves

garlic, minced

1/2

tsp

salt

1/2

tsp

black pepper

1/4

tsp

ground nutmeg

1

cup

shredded carrots

4

cups

vegetable broth

1

large

cauliflower, cut into small florets

approx. 4 cups

1

cup

heavy cream

1

cup

shredded white cheddar cheese

Optional

toppings such as: more shredded cheddar, croutons, roasted veggies, etc.
Instructions
In a large stockpot, melt the butter over medium heat.

Add onion, garlic, salt, pepper and nutmeg to the pot. Saute for 5 minutes, stirring frequently, until onions are translucent.

Add in the carrots and stir to heat through, approximately 1 minute.

Stir in the veggie broth and the cauliflower florets. Mix well to combine with sauteed onion/carrot blend.

Cover pot and simmer for 20 minutes, stirring occasionally, until cauliflower is fork-tender.

Remove lid and stir in the heavy cream. Simmer for 5 minutes, stirring occasionally.

Remove from heat. Using an immersion blender, carefully blend until soup is smooth and creamy– this takes approximately 5 minutes.

Add in a third of the shredded cheese and stir to melt. Repeat with remaining cheese, stirring after each addition to combine until smooth.

Serve as desired and season with more salt/pepper and/or toppings.
Notes
If you don't have an immersion blender, use a regular blender to blend soup in batches.
When blending, ensure soup is blended long enough to thicken and get a smooth consistency. This helps prevent a grainy texture.
Adding cheese in intervals helps it melt without clumping.
Nutrition
Calories:
208
kcal
Protein:
7.9
g
Fat:
16.9
g
Saturated Fat:
10.9
g
Cholesterol:
52
mg
Sodium:
436
mg
Potassium:
183
mg
Fiber:
1.7
g
Sugar:
2.4
g
Calcium:
249
mg
How to Store Leftover Cauliflower Cheese Soup:
Store leftover soup in the fridge for up 4 days. Reheat gently on the stove-top or in a microwave safe bowl.
Due to the dairy in this soup, it's best when not frozen. The heavy cream and cheddar can get an off-texture.
---
---