How To Make Vegetable Broth
Homemade Vegetable Broth is a healthy, easy-to-make ingredient to have on hand for soups, stews, and various dishes. This stovetop broth uses fresh vegetables and herbs for a delicious balance of flavors. This recipe makes 3 quarts of broth (12 cups) and can be frozen 6 months. Vegan and refined sugar free.
Vegetable broth is a kitchen staple and we use our fair share here, especially for soups. We tend to buy vegetable bouillon cubes to make just a little broth (when the recipe only calls for 1 or 2 cups) but I love making my own from scratch. I know exactly what's in it and it's a little cheaper than buying organic boxed broth.
Good homemade veggie broth is hard to beat and takes just a few fresh ingredients and less than 30 minutes of hands-on time (it cooks for a while but is mostly hands-off). Making broth yourself lets you customize the flavor profile for different uses and lets you control ingredients such as sodium and sugars.
What's In This Vegetable Broth Recipe?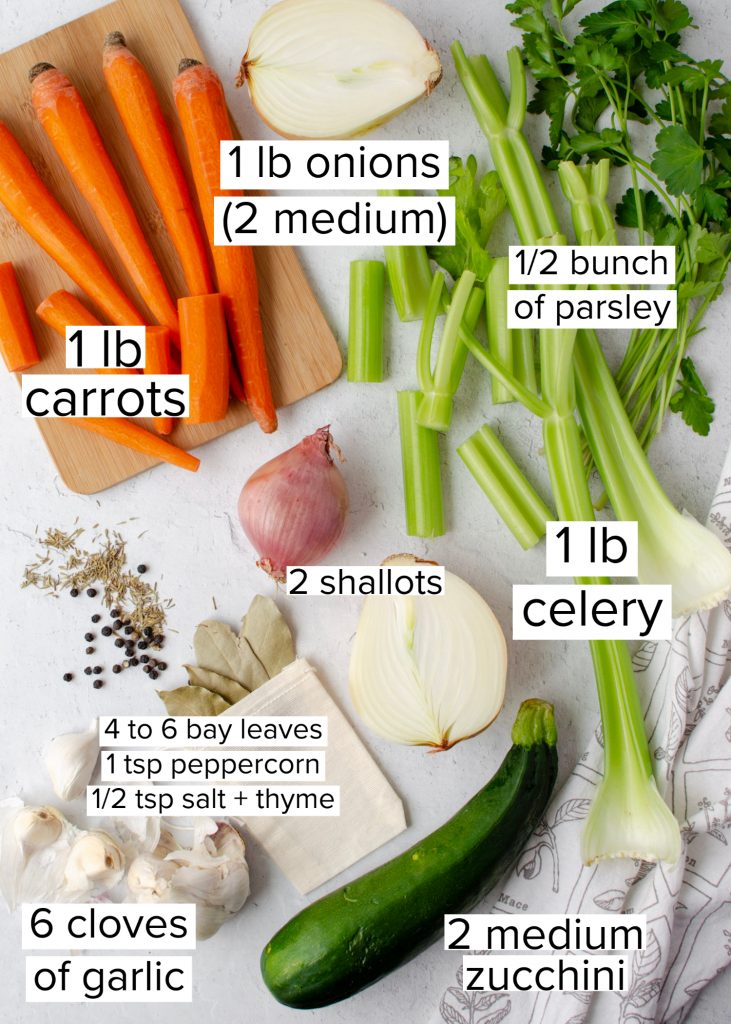 The basics: carrots, celery, and onions

equal weight of 1 pound each fill out the bulk of the veggies

The extras: zucchini for body, shallots for a little depth, and garlic for flavor
The herbs: fresh parsley as a staple + thyme (dried or fresh), whole bay leaves and black peppercorns
Water: will reduce by one-quarter so we start with 16 cups to yield a little over 12 cups
How To Make Vegetable Broth: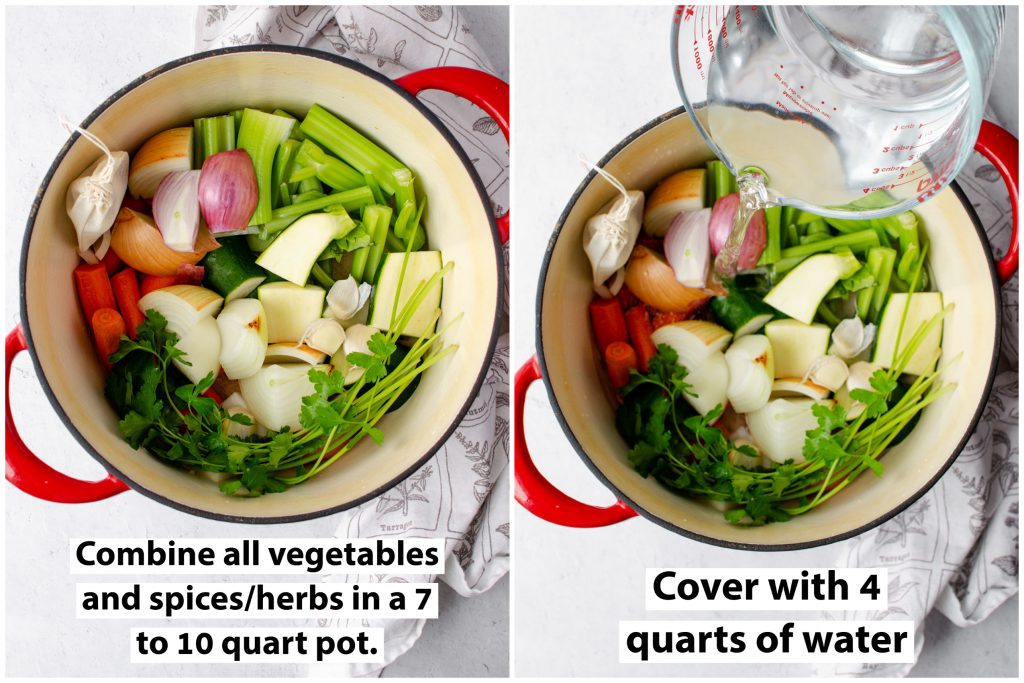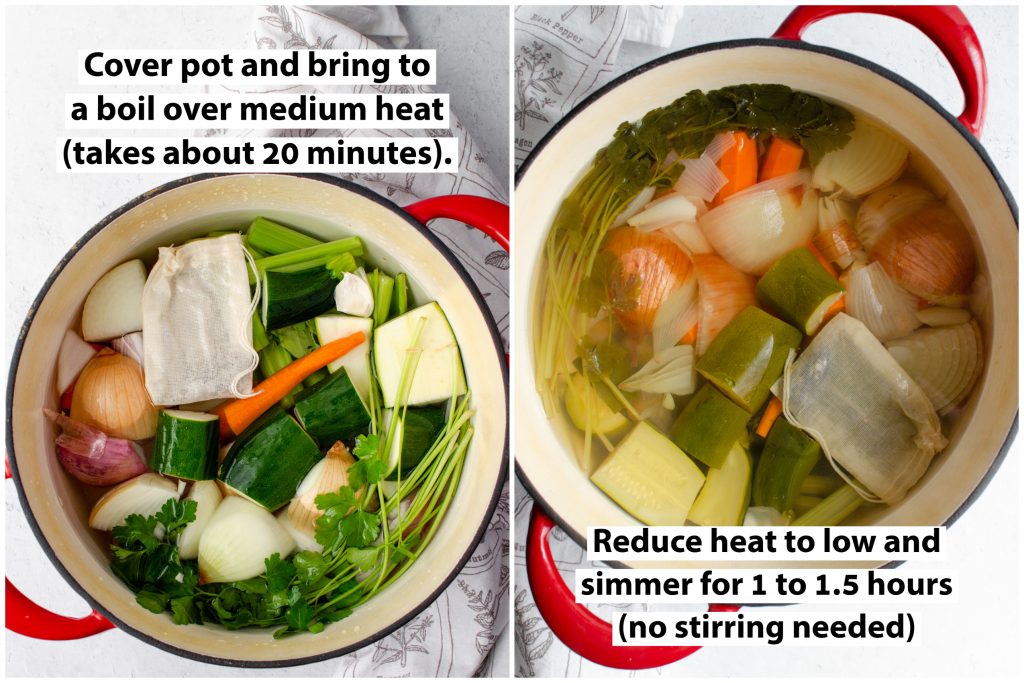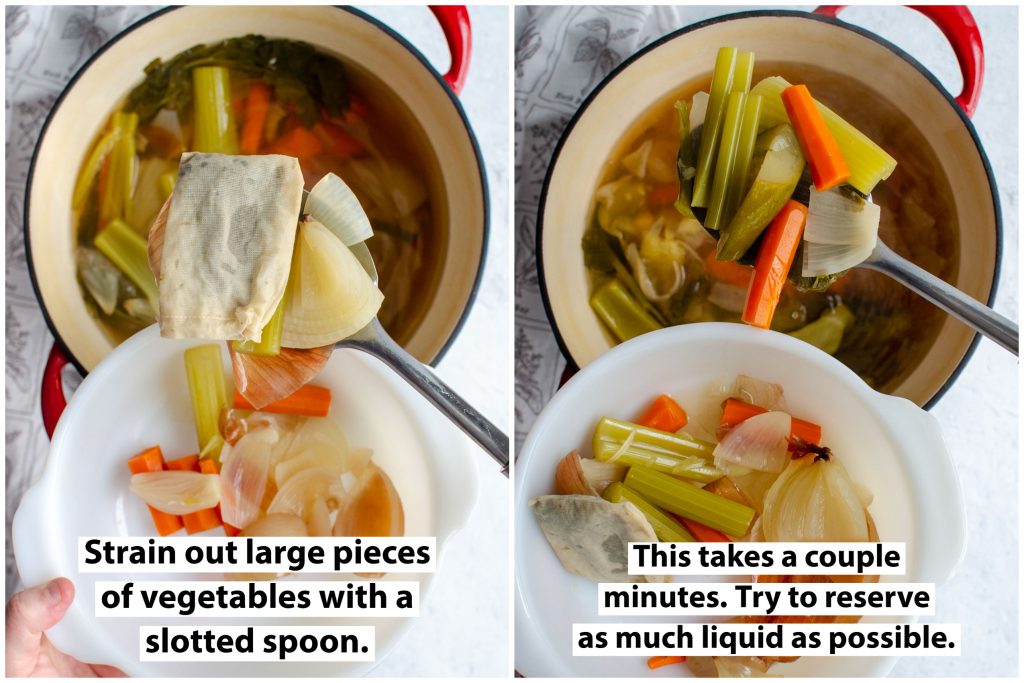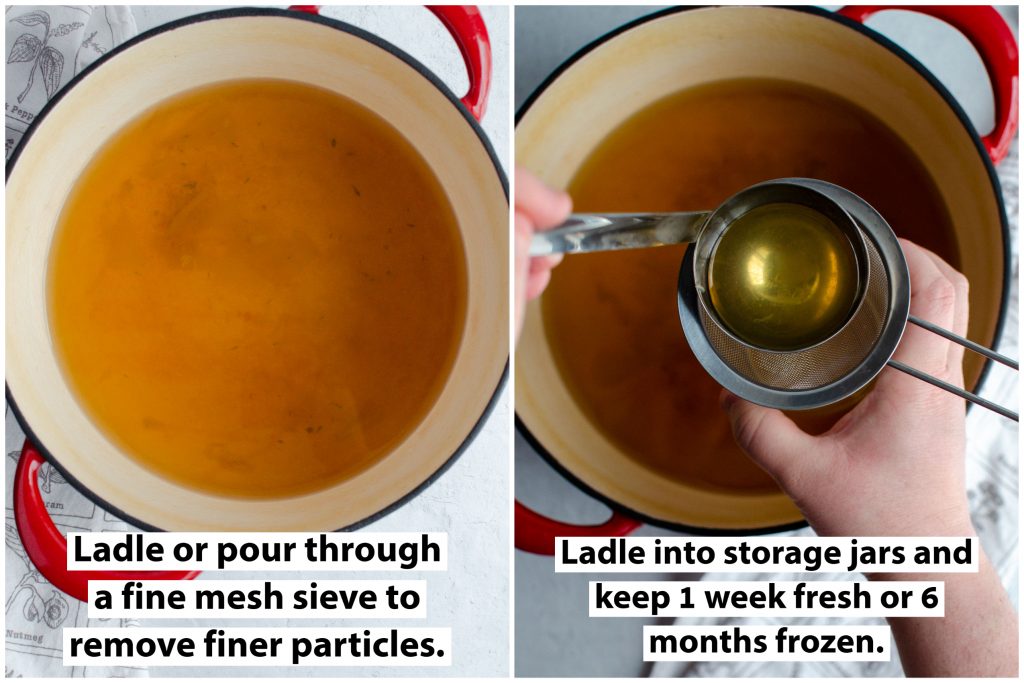 What Else Can Be Added to Make Good Veggie Broth at Home?
Tomatoes: if you are using the broth in something like Tortilla Soup, tomatoes without seeds make delicious and full flavored broth. They do add an orangey-red tint so uses are more limited (i.e. I wouldn't use in Zuppa Toscana where you want the cream color)
Green vegetables: green beans, peas, and cucumbers all add body
Mushrooms: we don't buy mushrooms (I don't like them) but many veggie broths have mushrooms included for flavor and body
Parsnips: these add a nice natural sweetness– use in place of some of the carrots. I would recommend peeling first.
Leeks: use the whole leek or use the green tops if you have those leftover from a leek dish where you used the white parts only 🙂 Use in place of the shallots
Green Onions: use whole green onions (white and green parts) in place of the shallots or in addition for a little extra depth
Bell peppers: we've made broth with leftover chopped bell pepper (seeds removed) but it should be used in small portions as an extra ingredient instead of replacing one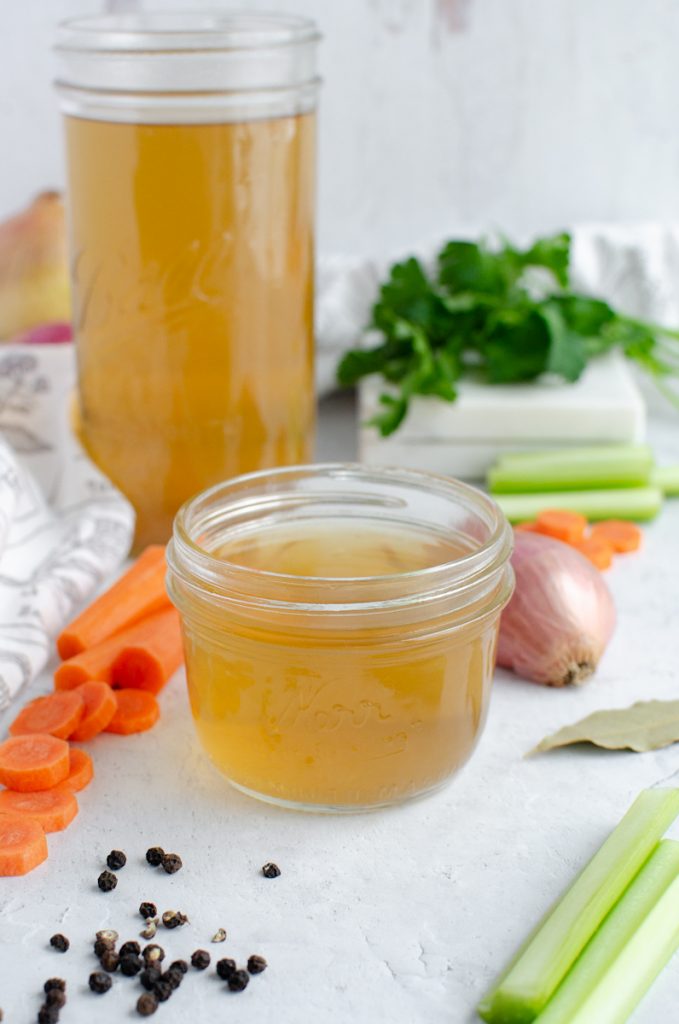 Vegetables That Should Not Go In Homemade Vegetable Broth:
These are in my experience and opinion (not a hard and fast rule) so if you've used these items with good results, feel free to let me know!
Extra skins/peelings: leftover onion skins, carrot peels, etc. can make the broth bitter and murky. Too many onion skins will darken the color of the broth.
Carrot tops (green leaves): make the broth green and bitter
Potatoes: they add too much starch and peels make the broth "earthy"
Broccoli/Cauliflower/Cabbage/anything from this family: these items make a broth bitter when simmered too long and overpower the other flavors. To avoid waste, save your broccoli stems and cauliflower leaves for those specific soups (like cream of broccoli, etc.) or use in a broccoli slaw instead.
Most greens: poke, creasy, mustard, turnip, kale, and chard all give off too much of their earthiness and strength
Other herbs: basil, cilantro, dill, oregano, sage, etc. all give off too much distinct flavor to be used for a neutral base broth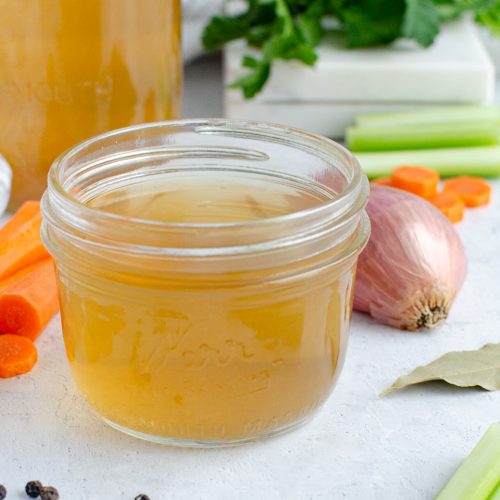 Homemade Vegetable Broth
Classic homemade vegetable broth is the perfect base for cooking and soups. Vegetable Broth is made with fresh ingredients and herbs for delicious flavor. This recipe makes 3 quarts (12 cups) and is freezer-friendly. Vegan.
Equipment
8 to 10 quart stockpot or Dutch oven

Strainer and fine mesh sieve or cheesecloth
Ingredients
1

lb.

whole carrots

1

lb.

celery

2

medium

white or yellow onions

= 1 lb.

2

medium

zucchini

2

medium

shallots

6

whole

garlic cloves

1

ounce

fresh parsley

= 1/2 a bunch

4 to 6

whole

bay leaves

1

tsp

whole black peppercorns

1/2

tsp

coarse salt, or to taste

1/2

tsp

dried thyme

or 4 to 5 sprigs fresh thyme

4

quarts

water

= 16 cups
Instructions
Prep Vegetables:
Thoroughly wash all produce to remove dirt and grime. Peel carrots and discard tops. Roughly chop most of the carrots into large pieces and slice some a little smaller. Repeat chopping process with celery. Remove top and outer leaves of celery but keep small inner celery leaves. Cut onions into eighths and cut shallots into quarters (skins can remain). Roughly chop zucchini (do not peel). Remove outer skin from garlic cloves and remove end but leave garlic cloves whole.
Make the broth:
Place carrots, celery, onions, zucchini, shallots, garlic, and fresh parsley in a large pot. Add in bay leaves, peppercorns, thyme, and salt to taste (recommend 1/2 to 1 tsp). Cover vegetables with water (16 cups). Cover pot and bring to a low boil over medium-high heat.

When the pot is just boiling, reduce heat to low (or medium-low depending on stove) and let broth simmer for 1 to 1 and a half hours. No need to stir.

Remove from heat and strain out large vegetable pieces. Let broth cool 10 to 15 minutes (for easier handling). Strain out remaining solids by pouring broth through a fine mesh sieve or a cheesecloth lined strainer.

Ladle into glass storage jars and keep in the fridge for 1 week or freeze for up to 6 months. If freezing, follow jar guideline for headspace (typically 1/2 to 1 inch room).
Notes
Vegetable substitutes:
for shallots (1/4 lb. total weight): green onions or leeks
for zucchini (2/3 lb. total weight): cucumber or eggplant (will impart color)
Other add-ins: tomatoes without seeds (will give some color and flavor), mushrooms, green beans, peas, or bell pepper (use sparingly)
Nutrition
Serving:
1
cup
Calories:
35
kcal
Carbohydrates:
7.2
g
Protein:
1.3
g
Fat:
0.2
g
Sodium:
139
mg
Potassium:
283
mg
Fiber:
2
g
Sugar:
3.1
g
Vitamin A:
3180
IU
Vitamin C:
2
mg
Calcium:
36
mg
Iron:
1
mg
Can I Make a Good Vegetable Broth with Just Veggie Scraps and Peels?
Although I love making food stretch and saving money using leftovers, I've found it just as easy to make a batch of veggie broth with fresh food we would actually eat first. Broth made from only peelings and scraps feels kind of like compost soup instead of quality homemade broth. Using only peelings and leftovers typically causes a more bitter and earthy broth.
If you only have half of the items needed, make a half batch to enjoy fresh that week or freeze in smaller portions.
If you prefer to save scraps for a broth to make later, freeze the last few carrots, celery stalks, or other fresh veggies from a bag and use when convenient. This keeps from having to buy ingredients specifically for broth but also uses the best parts of the veggies instead of only scraps.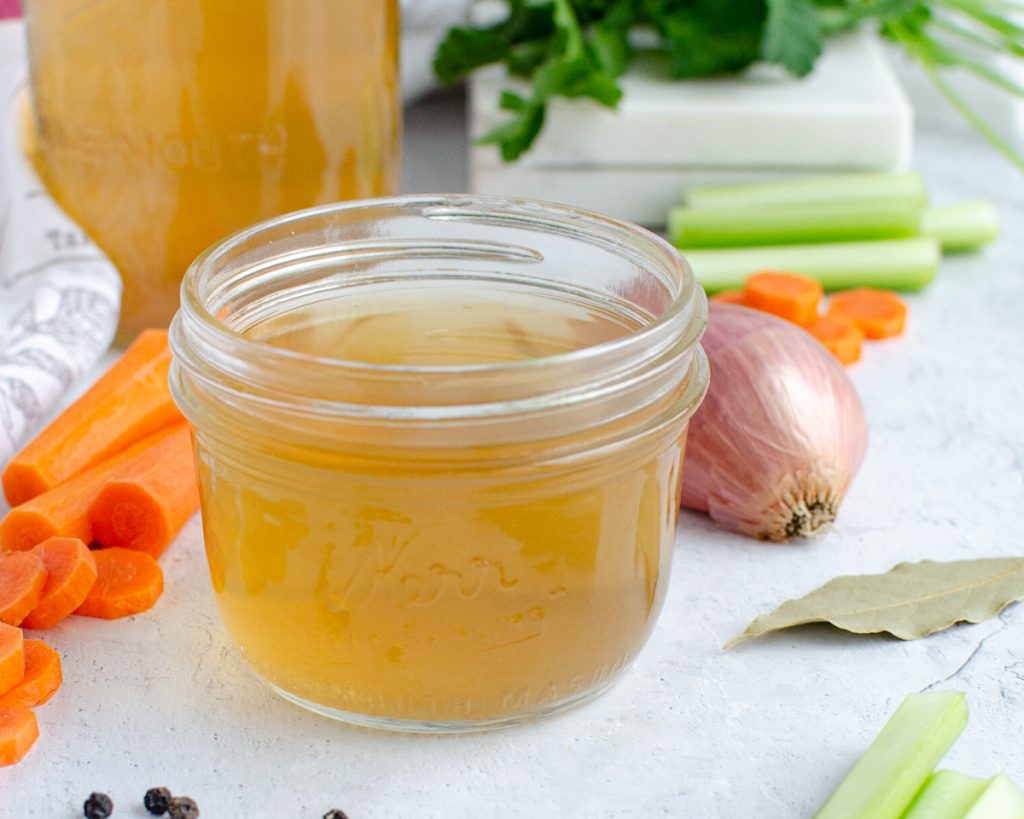 We finally got some good snow here in St. Louis and it's been the perfect weather for soup. I've made several batches of this broth to freeze and have on hand for cold nights. It's been an easy, passive snow day activity 🙂 I hope you love this recipe and information! Let me know what else you'd like to see here!
-Emma
---
---