Homestyle Vegetable Pot Pie
This homestyle pot pie features potatoes, carrots, onion, celery, peas, corn, and green beans in a homemade cream sauce (no condensed soup required). A delicious and flavorful meal in a double-crust pastry that freezes easily and is great for make-ahead. This is a comforting and filling vegetarian entrée everyone will love!
Print Recipe
If you're looking for a great vegetable loaded pot-pie recipe, this is it! Vegetable pot pie is filling, easy to make, and perfect for cold nights or a good Sunday supper.
What You'll Need for this Vegetable Pot Pie Recipe:
1 and 1/2 cups vegetable broth (homemade or store bought)
2 medium russet potatoes, peeled and diced
3 large carrots, peeled and diced
1/2 of a large onion, chopped
1 stalk of celery, diced
2 cups of frozen vegetables: peas, corn, and green beans
1/2 a stick of butter
1/2 cup all purpose flour and some spices
1 cup milk
Pastry for a double crust
1 and 1/2 hours, half hands on time and half baking time
How to Make this Vegetable Pot Pie:
Line a 9 inch pie plate with a bottom crust. Preheat oven to 400*F.
Prep vegetables and have all ingredients ready.
We'll be cooking the vegetables separately and in stages to keep their integrity and flavors. Cook potatoes on their own, the mirepoix blend (carrots, celery, and onion) separately, and the rest of the veggies get mixed in before baking. Frozen veggies are okay thawed a little.
Boil potatoes in vegetable broth until just fork-tender. This softens the potatoes but keeps them from getting mushy in the pie filling.
Remove the potatoes to a bowl but reserve the broth.
Sweat the carrots, onions, and celery in the butter and let cook until softened. Butter gives a nice flavor but veg. oil would work, too.
Stir the leftover broth and the filling base (milk mixed with flour and spices) into the sautéed mirepoix to form a thickened and creamy sauce.
Fold all of the remaining vegetables (potatoes, peas, corn, and green beans) into the filling.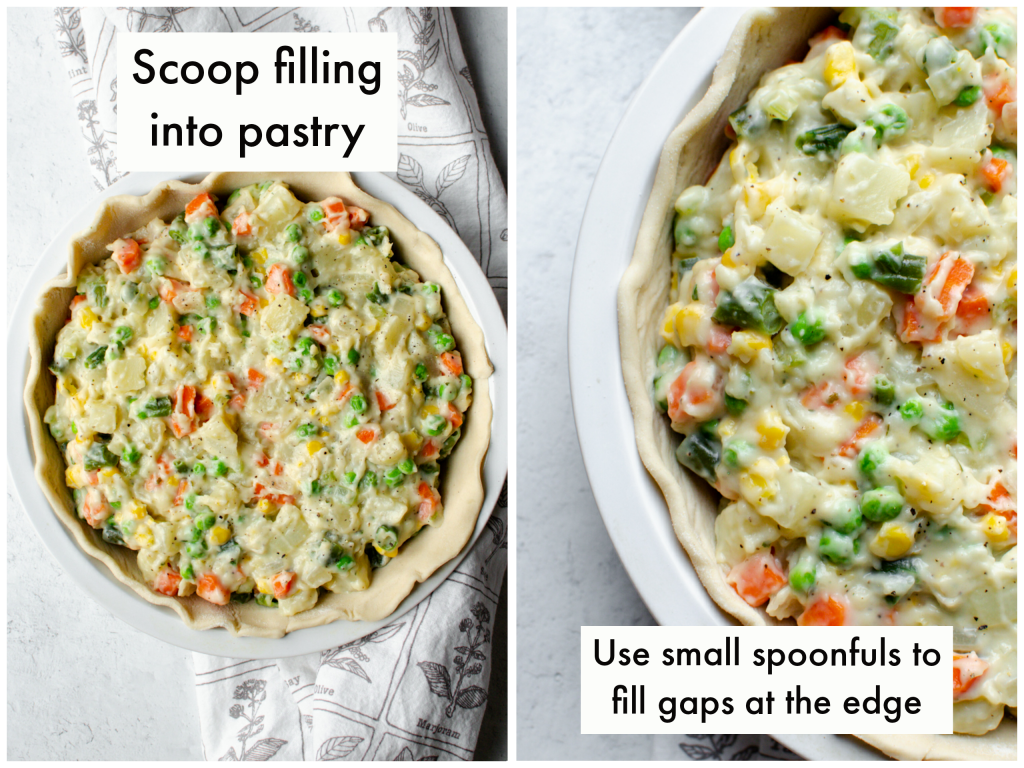 Top with second pie crust and fold edges together to seal. I just pinch the top edge over the bottom edge and close but feel free to crimp with a fork or get fancy and use a design edge.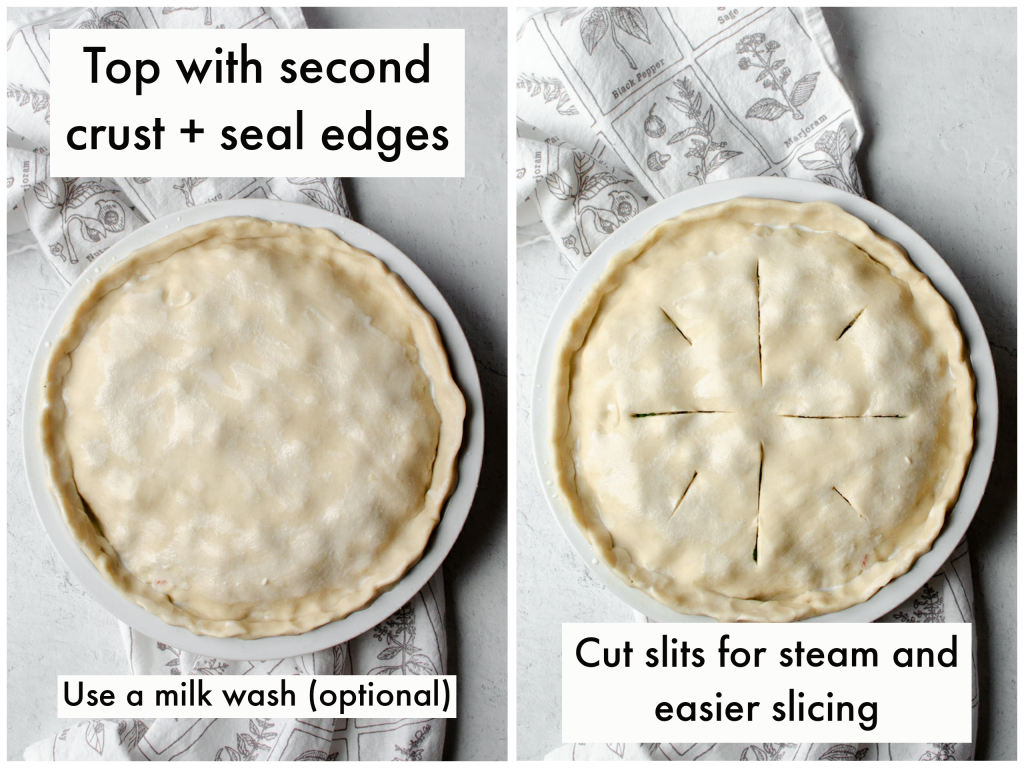 It's optional but a milk wash (brushing with a little milk) really helps the top crust get golden brown (an egg wash also works, if that's more your preference) I just use milk because I have it on hand and don't need to use a whole egg on one pie 🙂
I like to use the steam slits as a method for easier slicing later but you can also make pretty designs, if you prefer!
Tips for Making this Veggie Pot Pie:
To make a vegan vegetable pot pie: use vegetable oil for the mirepoix blend and use a thick non-dairy milk (like soy or blended oat milk).
If using store bought pie crust, remember to follow package directions for thawing (usually 25-30 minutes before unrolling).
Keep the top crust from browning too much around the edges by using an edge guard (a metal or silicone ring) during the last 20 minutes
The warm filling helps ensure a fully browned bottom crust but moving the pie to a lowered oven rack for the last 5 minutes can help, too.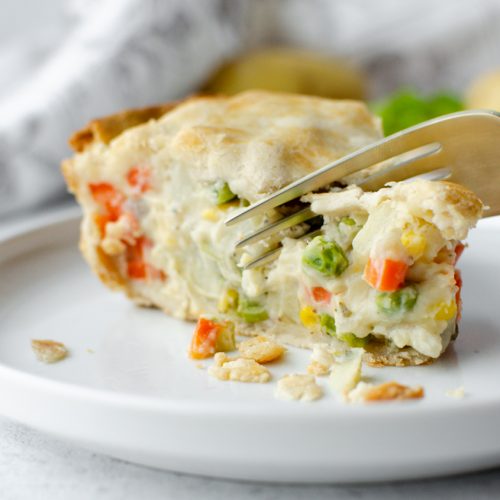 Homestyle Vegetable Pot Pie
Homemade vegetarian pot pie with potatoes, carrots, onion, celery, peas, corn, and green beans. A hearty meal with double-crust pastry and flavorful filling with a homemade cream sauce (no condensed soup required). Serves 8. Freezes easily and great for make-ahead. Vegetarian (dairy).
Ingredients
12

ounces

vegetable broth

2

c

peeled and diced russet potatoes

= 2 medium potatoes

8

ounces

whole milk

1/2

c

AP flour

1

tsp

salt

1/2

tsp

black pepper, or to taste

1/4

tsp

dried thyme

1/4

tsp

dried parsley

1/4

c

butter

= 1/2 stick

1

c

peeled and diced carrots

= 3 large

1/2

c

diced yellow or white onion

= 1/2 a large onion

1/3

c

chopped celery

= 1 stalk

1

c

peas, frozen or canned (drained)

1/2

c

corn, frozen or canned (drained)

1/2

c

green beans, frozen or canned (drained)

pastry for a double crust

optional: milk or egg wash
Instructions
Prep Work:
Bring vegetable broth to a boil in a stockpot over medium-high heat. Add in diced potatoes, cover and cook for 6 to 8 minutes, until barely fork-tender. Meanwhile,

In a small bowl, whisk together until smooth: 1 c milk, 1/2 c AP flour, 1 tsp salt, 1/2 tsp black pepper, 1/4 tsp dried thyme and 1/4 tsp dried parsley. Set mixture aside.

Line a pie plate with the bottom crust and preheat oven to 400°F.
Make the Filling:
When the potatoes are fork-tender, remove them with a slotted spoon to a large bowl. Reserve broth to use in filling mixture.

In a large skillet, melt the butter over medium. Add in onions, carrots, and celery and cook until softened, 4 to 5 minutes. Turn heat to medium-low and stir in the vegetable broth and milk/flour mixture and heat until thickened and creamy, 1 to 2 minutes.

Remove cream mixture from heat and stir in potatoes, peas, corn, and green beans until evenly combined.
Assemble and Bake the Pie:
Spoon vegetable mixture into the bottom crust, carefully filling in any gaps at edges. Level the filling mixture and place top crust, sealing edges of crust as desired (crimped, pinched, rolled, etc). Cut slits for steam venting. Brush the top crust with a milk or egg wash, if desired.

Bake on 400°F for 35 to 40 minutes, until golden brown and bubbling. Let stand 20 minutes before serving.

Cover and refrigerate any leftovers and use within 3 days for best quality.
Notes
To Reheat Leftover Baked Pot Pie:
Reheat leftover pot pie on 350*F for about 30 minutes. Cover with foil during baking to keep crust from browning too much. Best option for crust
Reheat individual servings in the microwave for about 1 minute. This option is quick and easy, but crust will soften more.
To Freeze Vegetable Pot Pie:
Freeze before baking for best results. Assemble pie as directed then wrap completely in plastic wrap 2-3x, covering all angles. Tightly cover plastic wrap with foil. Use within 3 to 4 months.
To bake from frozen: remove all plastic wrap from pot pie, and recover with foil. Bake on 400*F for 35 minutes, then remove foil and continue baking for 25 to 30 minutes more, until crust is golden and filling is bubbly. Let cool 15 minutes before serving.
Filling can also be frozen separately: add to a freezer safe container (leaving 1 inch headspace or room) or freezer bag (remove all air). Thaw in the fridge overnight and use as directed. Or heat gently on the stove on low with a little extra milk or broth then use as directed.
Nutrition
I've been in the kitchen a lot lately but I haven't been as active with photographing and sharing everything. I'm excited about this new recipe, though, because it's one I am super proud of and my husband has mentioned multiple times (which means he likes it!) so that makes me happy.
I hope you enjoy this vegetarian pot pie! If there's anything else you're looking for–let me know!
-Emma
---
---