Glazed Peach Pound Cake
Summery southern pound cake made with fresh ripe peaches. This cake is full of natural flavor and covered in a simple peach glaze. Serve as is or alongside vanilla ice cream! Recipe is written for a 10″ Bundt pan. Makes 16 servings.
Fresh peaches are one of our summer favorites and they are so, so good in a pound cake. This Glazed Peach Pound Cake is the perfect dessert for cookouts, showers, picnics, and more!
Baking with peaches adds flavor and moisture to a classic pound cake that's delicious and sweet. Add a simple glaze made with peach juice and you have an easy dessert on hand for any occasion.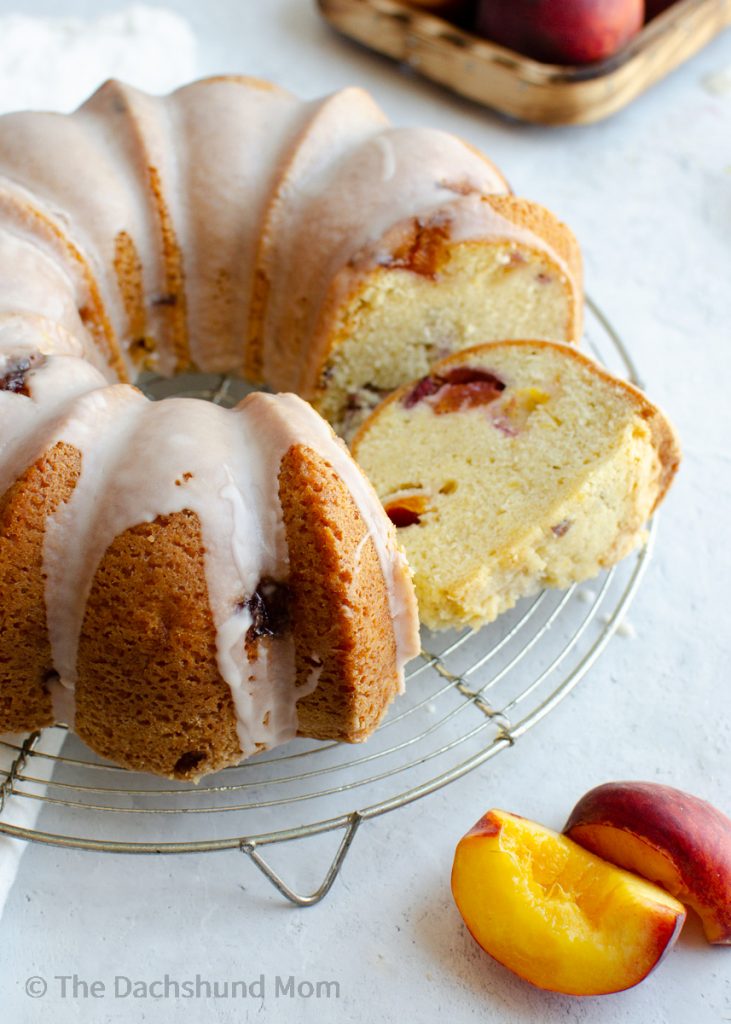 I made this cake in a 12 cup Bundt pan but you can use a 10 inch tube pan (angel food pan) or loaf pans as well. This cake is versatile and prep is less than 15 minutes.
Ingredients: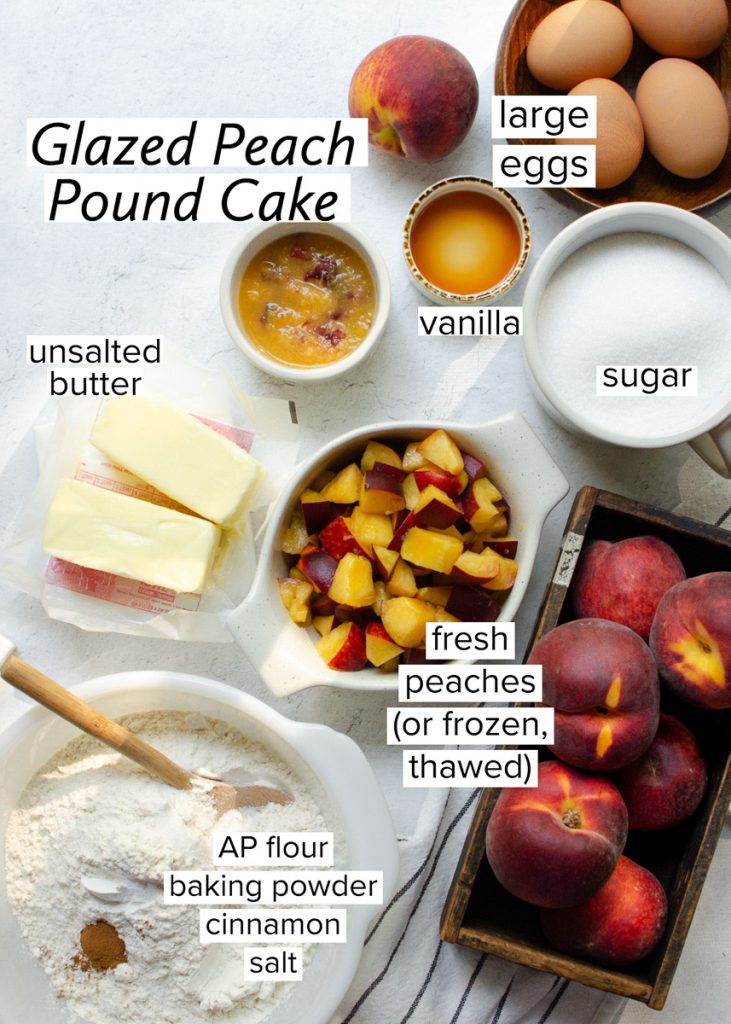 Peaches: 2.5 cups chopped (equals 1 pound of peaches, or 3 to 4 medium peaches). Peaches add flavor and texture.

2 cups will go in the cake as chopped and 1/2 cup will be pureed to add moisture the the batter directly

All Purpose flour: plain flour is the best here to hold up to heavier ingredients in this cake. Cake flour would make the cake too light and fluffy. We're using slightly less than 1 pound total.
Unsalted butter: 2 sticks (1/2 pound) build the base of the cake and add richness
Large eggs: 4 = 1/2 pound total weight. Eggs add structure, color, and flavor.
Sugar: about 1 pound of granulated sugar is creamed with the butter to build the base. Sugar helps the cake brown and adds sweetness.
Can I Substitute Canned Peaches for Fresh Peaches in a Cake?
Canned peaches contain too much liquid and are too soft to add into a pound cake. They're also usually canned in heavy syrup. Frozen peaches, mostly thawed, can be easily substituted for the fresh peaches.
Should Peaches be Peeled Before Adding to Cake?
This is completely up to you. I always like to leave peelings on because it skips a little prep work and I like the addition of the natural pectin from the fruit skin. Peach skin can add a pinkish hue to baked goods, though, so if you're wanting a uniform color, maybe peel the peaches.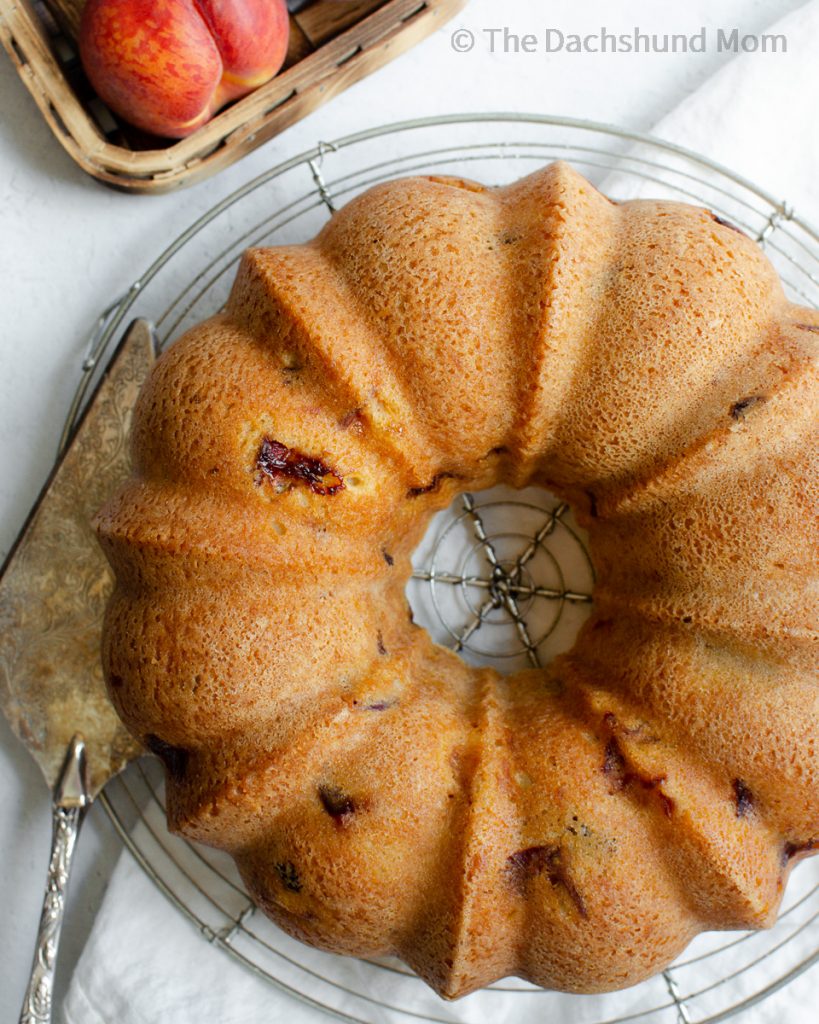 How to Add Fruit to Pound Cake:
The best way to add fresh fruit to pound cake recipes is to toss it in a little flour before folding in. This helps to keep the peaches (or whatever fruit) from sinking to the bottom of the cake as it bakes.
It's also important to make sure fresh fruit is fully drained so you're not adding too much liquid to the cake batter. If your peaches are super ripe and juicy, let them sit in a colander over a bowl to drain before tossing in flour.

save the drained juice for the glaze and/or another recipe
Peach Glaze Recipe for Cake:
Peach juice creates a naturally flavored and deliciously sweet glaze. Try it served over vanilla cake, cinnamon cake, or thickened to dress up sugar cookies. Cake should be completely cooled before glazing.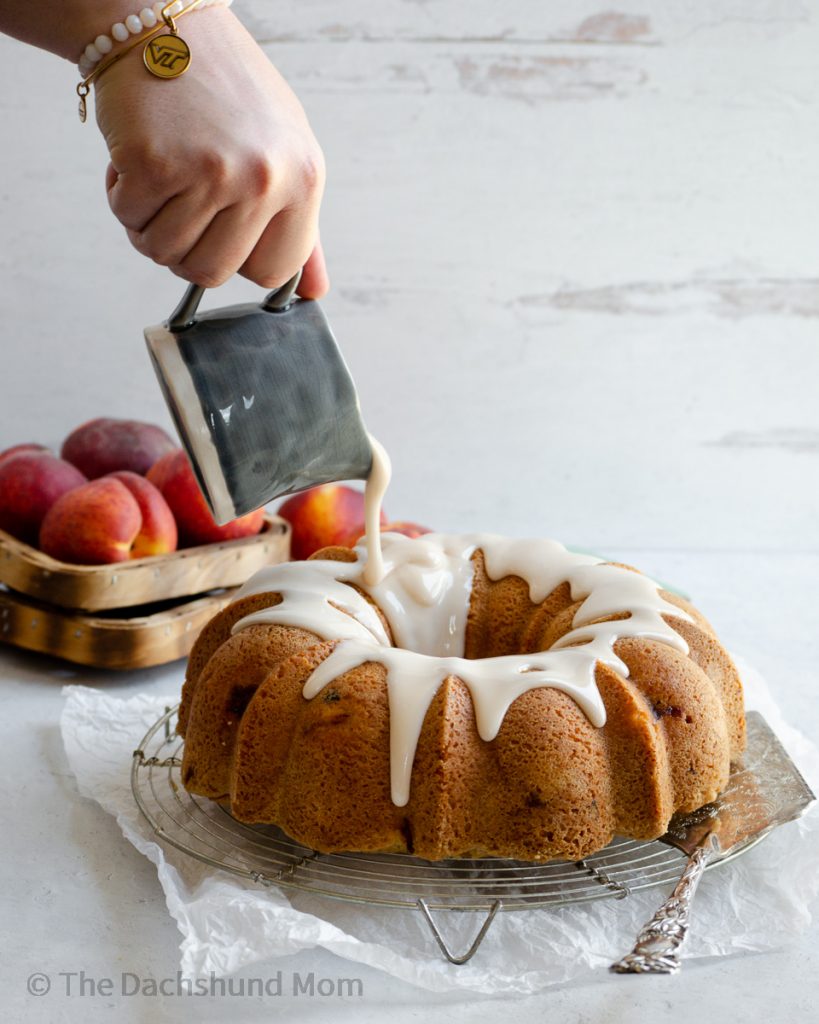 This glaze will crust after 5 minutes.
To Make Peach Glaze for Cake:
Whisk together 1 to 2 tablespoons peach juice per 1 cup powdered sugar + a little salt (1/8 tsp) until smooth.
For a thicker glaze (bakery style): use 2 cups powdered sugar and 3-4 tbsp juice. This will coat the cake well. How runny the glaze will be depends on how much liquid to sugar is used. Try to pour slowly at the top crest of the cake and let the glaze run down the sides (don't try to pour over the edges).
What to Serve with Pound Cake?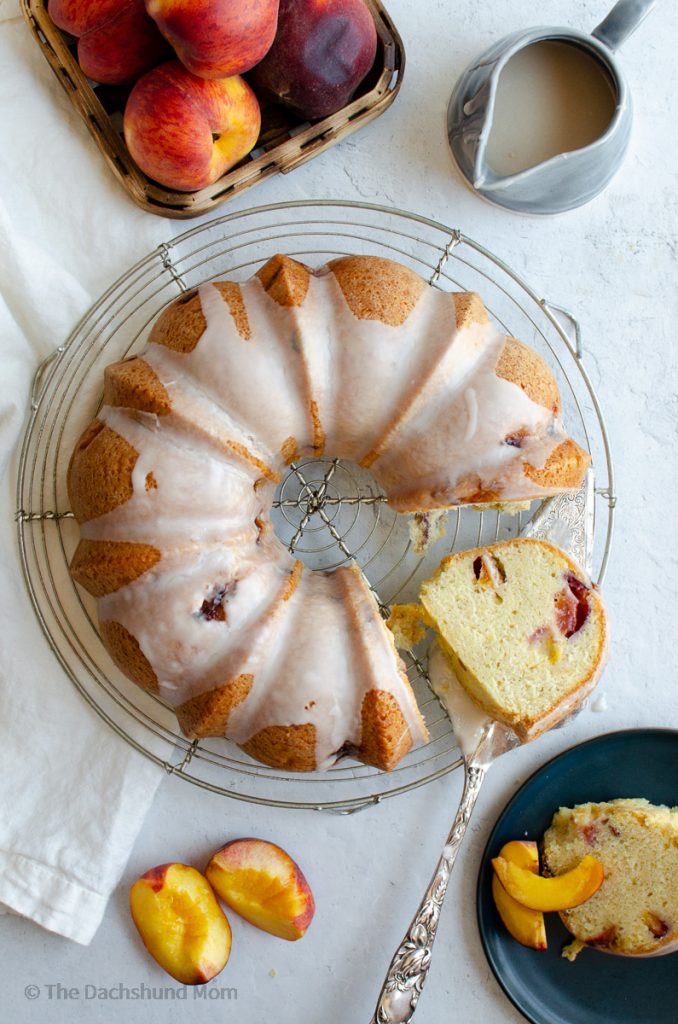 Pound Cake is a southern favorite for a reason! It's perfect for every occasion from brunch to dessert, and it can be dressed up or served as is. Try pound cake with the following:
Vanilla ice cream or frozen custard
Whipped cream and fresh mint
Fresh berries or sliced peaches, plums, or nectarines
Crème Fraiche and honey
Lemon zest and powdered sugar
Bourbon-infused glaze (sub 1 tbsp of bourbon for the liquid in the glaze recipe above)
Next time you pick up a few extra peaches, make this delicious cake and be sure to tag me on Instagram and let me know what you think down below!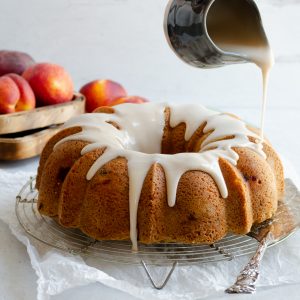 Glazed Peach Pound Cake
Fresh ripe peaches make a delicious and summery southern pound cake. This cake is full of peach flavor and covered in a simple peach glaze. Serve as is or alongside vanilla ice cream! Recipe is written for a 10" Bundt pan.
Equipment
10" Bundt or tube pan

Stand mixer or hand mixer
Ingredients
Peach Pound Cake:
2½

cups

chopped fresh peaches

= 1 lb (3 to 4 medium peaches)

3

cups

all-purpose flour

divided

1

tsp

baking powder

1/2

tsp

salt

1/2

tsp

ground cinnamon

1

cup

unsalted butter, softened

= 2 sticks

2

cups

sugar

4

large

eggs

1

tsp

vanilla extract
Peach Glaze:
3 to 4

tbsp

juice from fresh peaches

2

cups

powdered sugar

1/8

tsp

salt
Instructions
Chop peaches and set in a colander over a bowl. You'll need the juice for the glaze.

Preheat oven to 325°F. Spray or grease a 10" Bundt or tube pan and dust evenly with powdered sugar. Set aside.

In a medium bowl, whisk together 2 and 3/4 cups of the flour with the baking powder, salt, and cinnamon. Set aside. The remaining 1/4 cup of flour will be used later.

In a separate large bowl, cream together softened butter and sugar on medium speed until very pale and fluffy, about 5 minutes.

Reduce speed to medium-low. Add in eggs, one at a time, beating well after each addition. Stir in vanilla extract.

Take 1/2 cup of the peaches and mash until pureed (or use a food processor to puree). Stir into the creamed mixture until well blended.

Gradually, on low speed, add the flour mixture to the creamed mixture until combined.

Take the remaining 1/4 cup of flour and toss with remaining 2 cups of chopped peaches to coat. Gently fold into batter with a spatula.

Pour batter into prepared pan, level the top, and bake for 65 to 75 minutes, until toothpick comes out clean. Depending on your pan and oven, you may need to begin checking at 55 minutes.

Let cake stand in pan for 10 minutes then turn out onto cooling rack to cool completely before glazing.
Make Peach Glaze:
Whisk together glaze ingredients until smooth. Pour evenly over the top of the cool cake (glaze will run down).
Storage:
Store glazed cake tightly covered at room temperature up to 4 days. Or freeze individually wrapped slices for 3 months. Thaw at room temperature.
Notes
Substitute frozen thawed peaches for fresh, if desired
This recipe can also be baked in two 8″ x 5″ loaf pans. Begin checking for doneness at 50 minutes.
For a thinner glaze, reduce glaze ingredients by half.
Nutrition
Serving:
1
slice
Calories:
353
kcal
Carbohydrates:
50
g
Protein:
4.9
g
Fat:
13.2
g
Saturated Fat:
7.8
g
Cholesterol:
77
mg
Sodium:
94
mg
Potassium:
161
mg
Fiber:
2.9
g
Sugar:
33.5
g
Vitamin C:
1.5
mg
Calcium:
32
mg
Iron:
1
mg
How to Store Pound Cake Made with Fruit:
This Peach Pound Cake is best enjoyed within 4 days, but it can be stored at room temperature thanks to the sugar.
For longer storage, slice cake and wrap slices individually then freeze for up to 3 months. Thaw at room temperature and serve. Glaze will likely 'disappear' when freezing, and peaches may lose some texture but cake will still be delicious!
---
---