Southern Fried Apples
Okay, so these apples are a bit of a misnomer. They are not actually fried in a deep fryer (unless you put them in a pie crust and deep fry the pie–yum!)–so I have no idea why we Southern Americans decided to call hot saucy skillet apples "fried apples" but that's what they are–and they are delicious.
If you've ever eaten at a Cracker Barrel (or any homecookin', Southern style restaurant)–you'll know you can order these apples and technically have dessert as part of your meal 🙂 While I think most places are using the canned stuff (oh dear.)–some restaurants do indeed make their own–and you can, too! These Southern Fried Apples are so easy and don't include added fillers, high fructose corn syrup or extra 'junk' like the canned versions. And if you use organic apples and ingredients, you know you'll have something great to serve your family.
This dish is already vegetarian, but can easily be made vegan by swapping out the butter for a vegan butter spread or coconut oil (I have not tried the oil, so if you do–let me know how that goes). Want to make your apple pie filling from scratch? Use this recipe, cut your apples into chunks and you'll have a delicious homemade filling in no time.
These apples are perfect for potlucks, brunch, breakfast and over ice cream 🙂 We like to leave the peels on, but you can definitely make these without the peels. I recommend using a mixture of firm cooking apples–green, red or pink apples (yellow or golden apples are too soft to begin with) but they taste great no matter what variety you pick.
You'll need a deep pan and an apple slicer makes things go a little faster, but it's not required.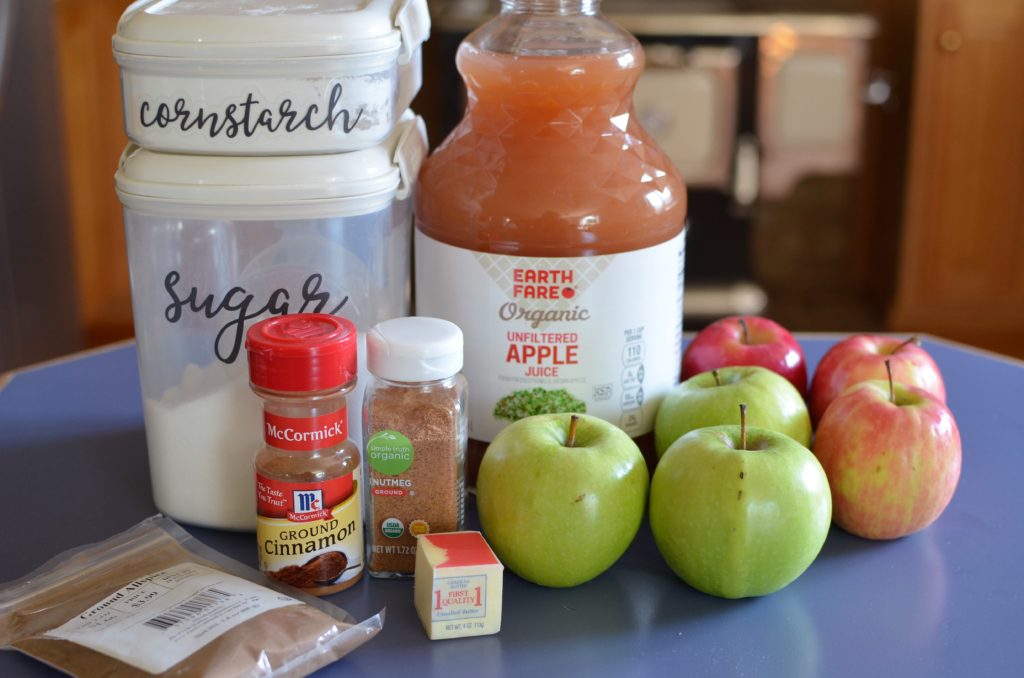 Southern Fried Apples
Easy and delicious fried apples. A great addition to any southern plate and a healthy-ish version of Cracker Barrel apples.
Ingredients
4 large

or 6 small

apples (variety of good cooking apples)

can remove skins if preferred

2.5

cups

apple juice, divided into 2 cups + 1/2 cup

4

tbsp

sugar

2

tbsp

butter, unsalted

1.5

tbsp

cornstarch

1/2

tsp

cinnamon (ground)

1/4

tsp

nutmeg (ground)

1/8

tsp

allspice (ground)

pinch

salt
Instructions
Prep All Ingredients
Let butter soften at room temperature while prepping other ingredients.

Wash apples and cut into thin wedges (between 14-16 wedges per apple). Can peel apples before slicing or leave skins on for rustic style.

Whisk all dry ingredients into a small dish and set aside (cornstarch especially needs to be evenly mixed with the other dry ingredients to avoid lumps in the sauce later).

Divide apple juice into two parts: 2 cups (to be used sooner) and 1/2 cup (set aside).
Cook Apples
In a large, deep sided pan, add the 2 cups apple juice with the prepped apple wedges. Apples should not fill the pan completely to allow for stirring/even cooking. Juice may not cover apples.

Cook apples in juice on medium heat until softened, approximately 20-25 minutes. Turn often. Apples should be soft and near translucent but should not be mushy.

Remove apples from the juice with a slotted spoon or colander (leaving juice in the pan). Place apples in a 9x13 glass pan (or similar)--set aside.
Make the Sauce
Add the remaining 1/2 cup apple juice and softened butter to the pan with hot apple juice. Stir butter in to melt completely.

Whisk in the dry ingredients until dissolved, paying attention to the cornstarch so that it does not 'clump' in any one spot.

Cook sauce on medium-high heat, whisking often, for approximately 5-8 minutes or until thick and bubbly. Add a sprinkle or two of salt and stir.

Remove glaze from heat and pour evenly over apples. Stir to coat all apples. Let sit, lightly covered, for 10-15 minutes then serve. Enjoy!
Notes
Apples can be made ahead, covered and refrigerated then reheated in the oven on 350*F for 10-15 minutes.
These make an excellent pie filling (especially if you cut the apples into chunks before cooking). Allow liquid to reduce slightly while cooking.
I recommend non-GMO cornstarch, organic sugar and ingredients if possible. 
Make this vegan by using coconut oil or vegan butter substitute in place of the butter 🙂
We like to the leave the apple peels on, but these are equally delicious if you prefer to peel the apples first. 
Nutrition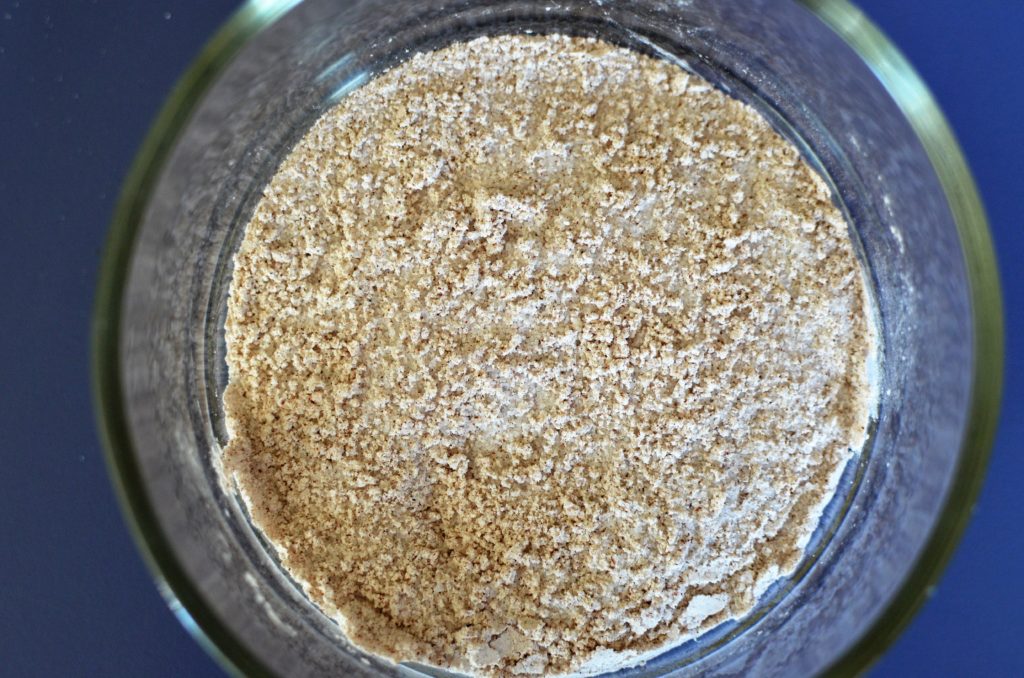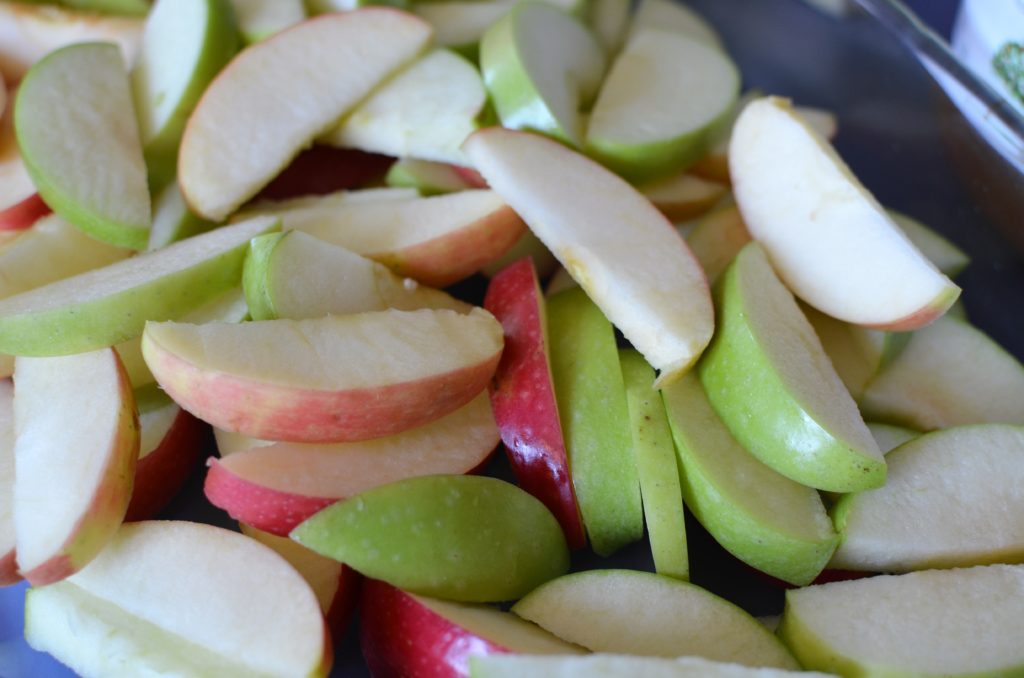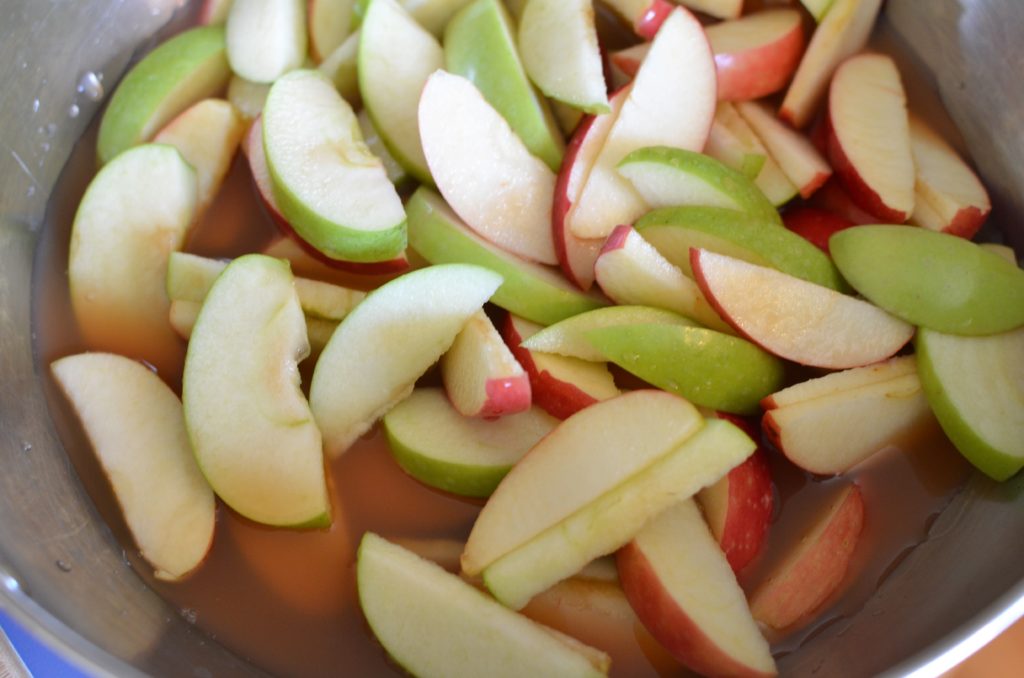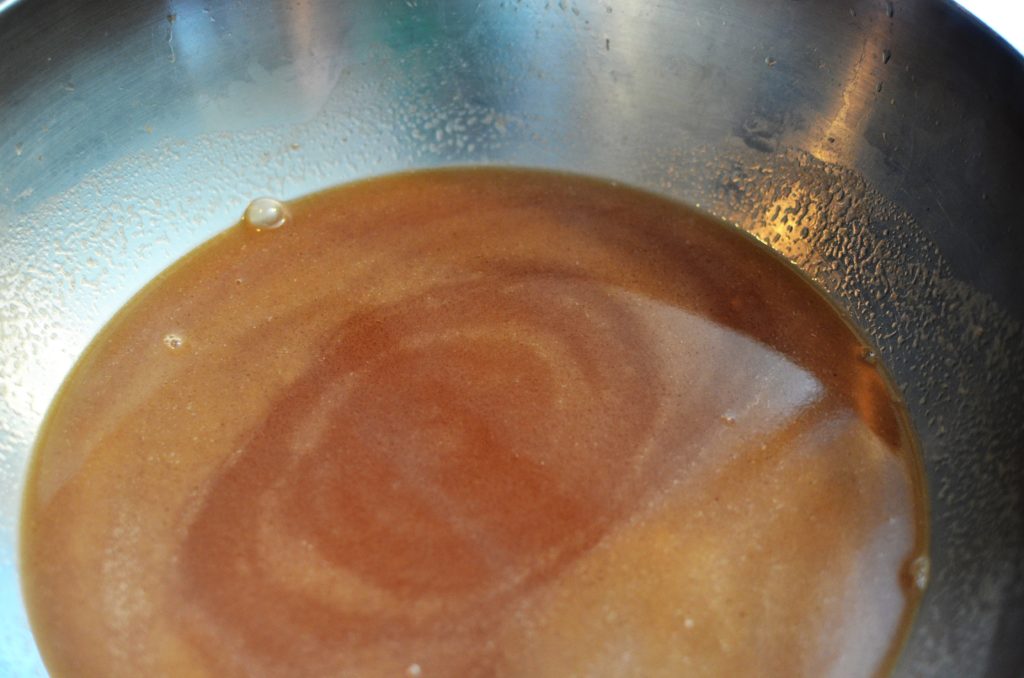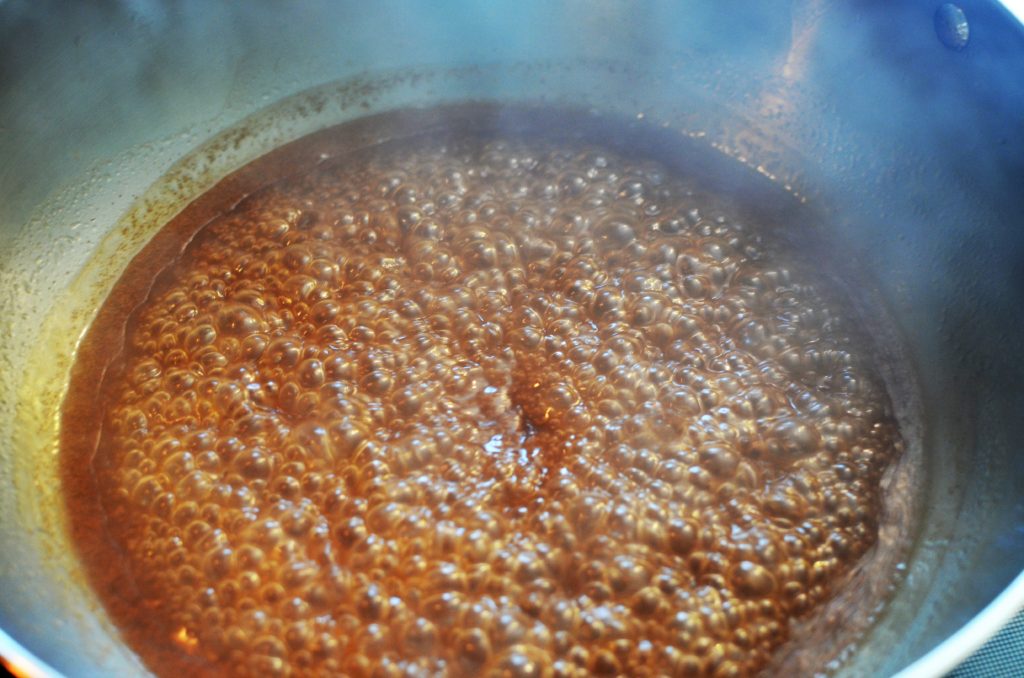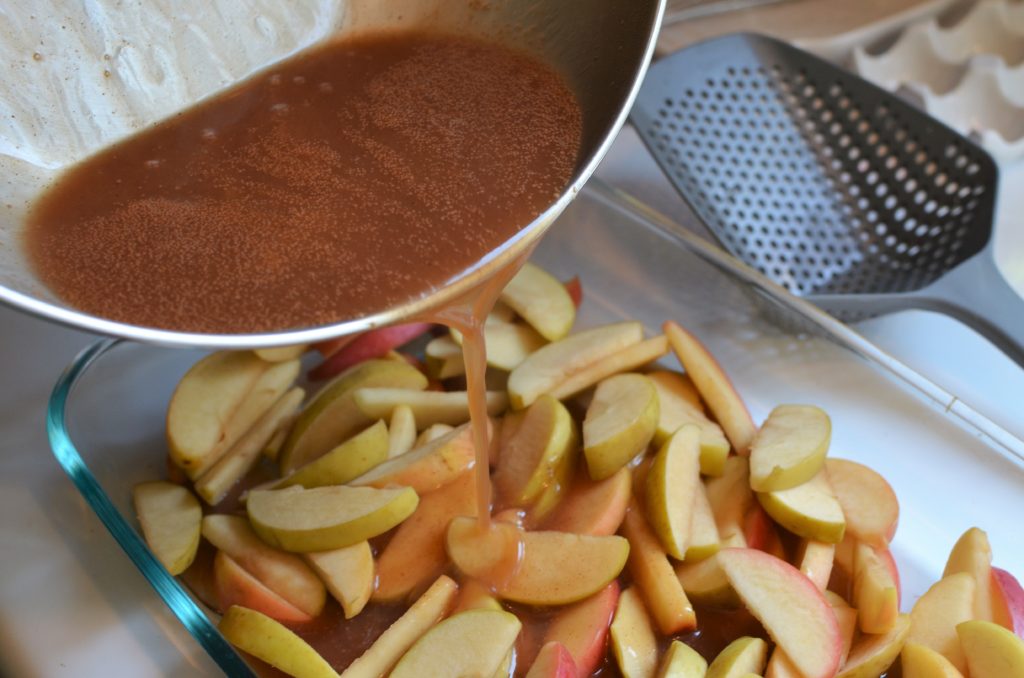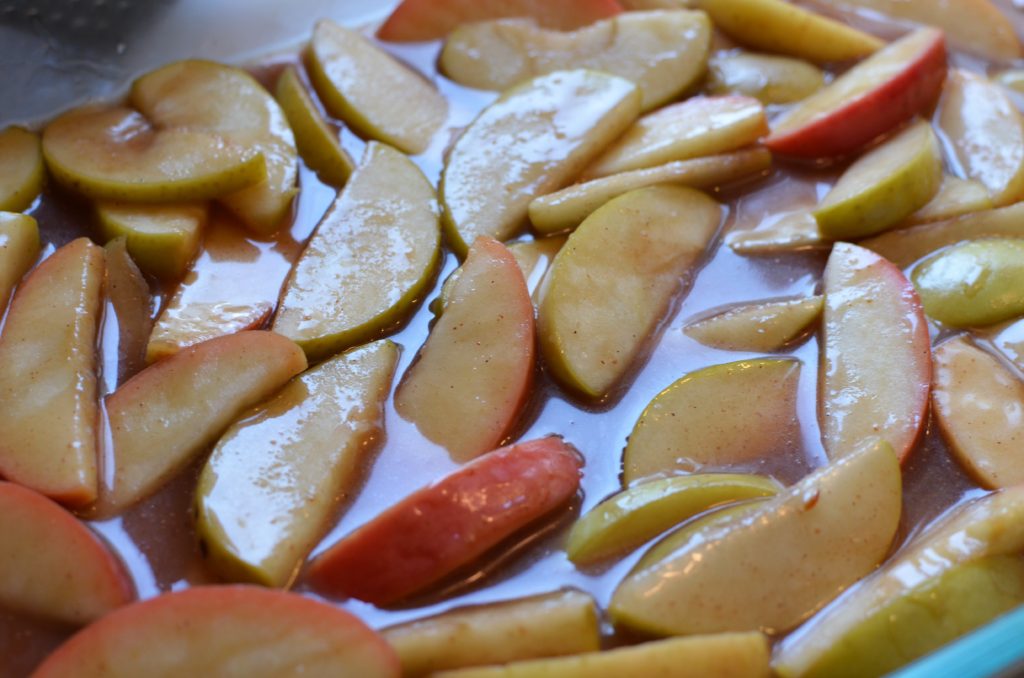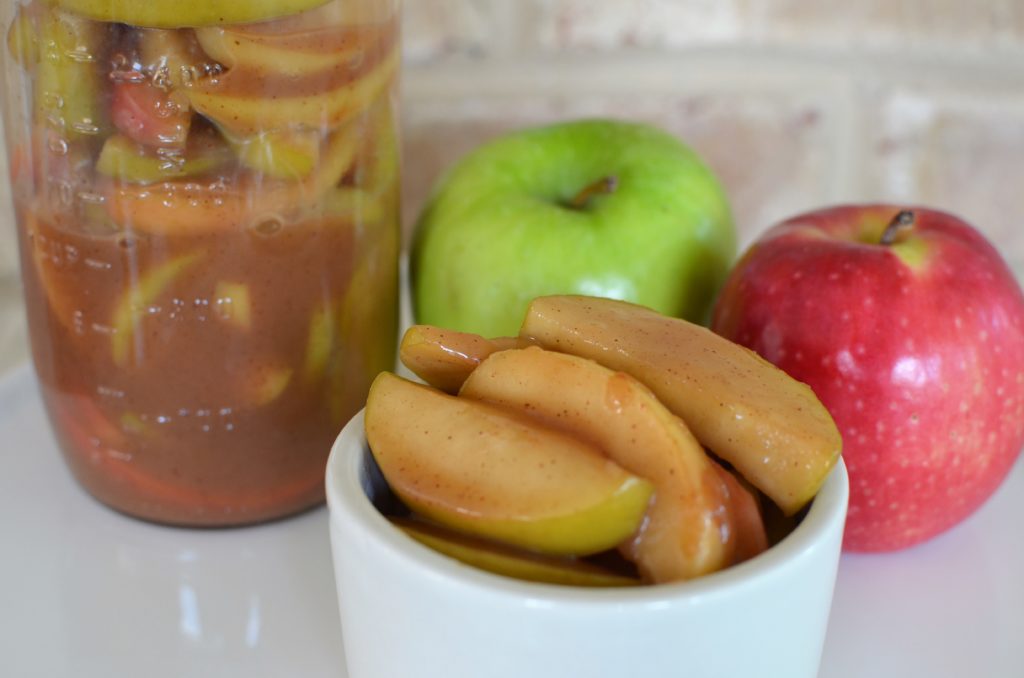 Although it's still fully summer, it's time to start gathering your favorite fall recipes and ways to use those fresh apples 🙂 Hopefully you'll be adding Southern Fried Apples to your line up–and if you like the recipe, be sure to share it with your friends!
---
---