Southern Fried Apples
Southern-style Homemade Fried Apples are a great side dish to any meal (breakfast, dinner, or supper). Add them a country vegetable plate or serve with country ham or pork chops. Recipe is vegetarian. Serves 6 to 8
Originally published July 2018. Updated August 2021.
This delicious homemade version of Cracker Barrel Fried Apples is easy to make and celebrates the best fruit of fall! Recipe is made on the stove-top in a large skillet but can be cooked in a slow cooker for convenience.
'Fried apples' are a bit of a misnomer. They are not actually deep fried but fixed in a skillet, and somehow we Southern Americans decided to call them "fried apples" anyway. Whatever they are–nothing completes a country breakfast plate like a side of sweet fried apples!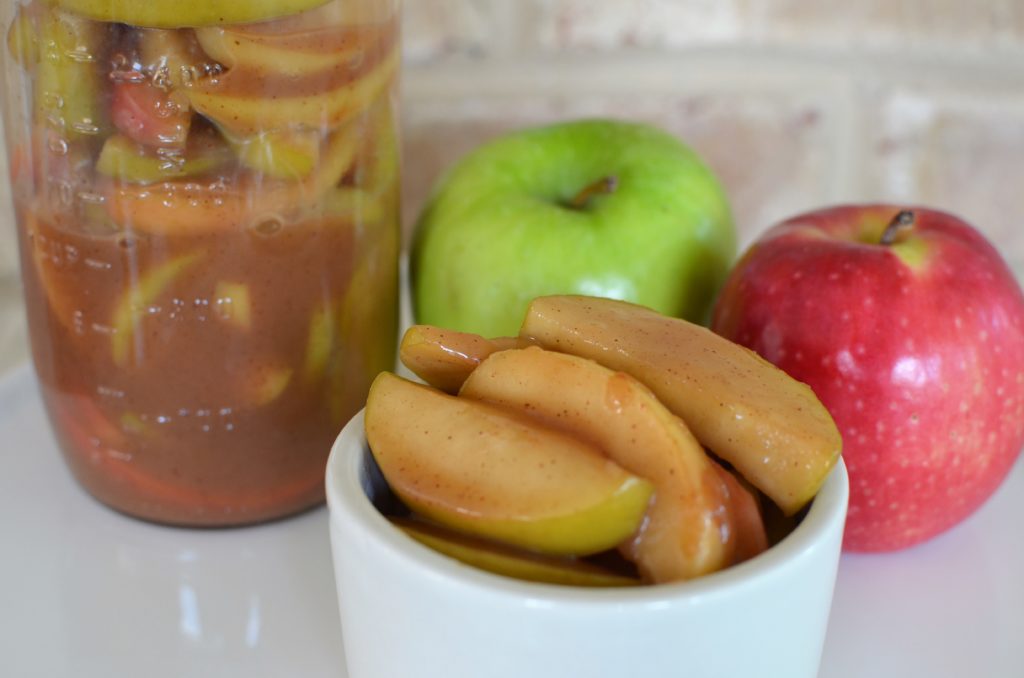 When we moved to St. Louis, we discovered you can get applesauce on the menu most places but there are no fried apples to be found. They're just not the same. Fried Apples are staple side dish in southern homestyle restaurants!
Ingredients:
Apples – we like to use a variety when cooking this fried apples recipe. Golden Delicious is a common choice (found in many canned versions) but Jonagolds, Opal apples, Galas, Braeburns, Honeycrisps and others all work well.
Apple Juice – gives the liquid needed to make the sauce. We like to use natural or organic juice without added sugar. I do recommend using 100% apple juice (concentrate is fine, but blends contain other stuff usually).
Butter – this is in place of the bacon fat found in traditional fried apples. Adds some flavor to the sauce.
Sugar – this recipe uses less sugar than most, but sugar is really to taste. If you want sweeter (canned-style) fried apples, you could increase it to 1/2 cup. Or omit some for less sweet fried apples.
Cornstarch – used a thickener for the sauce. Necessary to keep the sauce clinging to the apples.
Spices – ground cinnamon, nutmeg, and allspice. Cracker Barrel Fried Apples are not overly spiced, and skillet fried apples should not be overly seasoned. The sweetness of the apples should shine. We don't want apple butter here. The cinnamon is important but the nutmeg and allspice can be omitted if you're out or don't prefer those.
What Goes with Fried Apples?
Serve fried apples with country ham (it's salty and pairs perfectly with sweet apples), pork chops, pancake breakfasts, alongside biscuits and gravy, as a dessert with ice cream, or as part of a country vegetable plate for dinner.
Other Methods to Prepare this Recipe:
Crockpot Fried Apples are easy! In a medium bowl, whisk the sugar, spices, and cornstarch into the apple juice. Add the sliced apples to the slow cooker, then pour over the apple juice mixture. Stir well, then cook on HIGH for about 2 hours.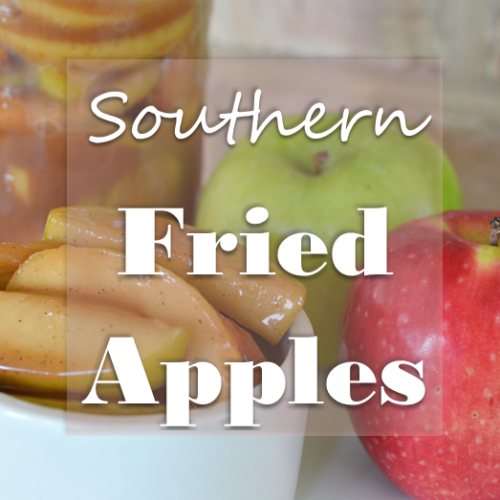 Southern Fried Apples
Southern-style Homemade Fried Apples are a great side dish to any meal (breakfast, dinner, or supper). Add them a country vegetable plate or serve with country ham or pork chops. Recipe is vegetarian. Serves 6 to 8.
Ingredients
4

large

apples (Golden Delicious, Gala, Jonagold, etc)

or 6 smaller apples

2½

cups

apple juice

divided

2

Tablespoons

butter, unsalted

1/4

cup

sugar

1 to 2

Tablespoons

cornstarch

1/2

teaspoon

cinnamon (ground)

1/8

teaspoon

salt

1/4

teaspoon

nutmeg (ground)

optional

1/8

teaspoon

allspice (ground)

optional
Instructions
Prep All Ingredients
Wash apples and cut into thin wedges (8 to 10 slices per apple).

In a small bowl, whisk together sugar, cornstarch, spices, and salt. Set aside.

Set aside 1/2 cup of the apple juice for later.
Cook Apples
In a large, deep sided pan, combine apple wedges and 2 cups apple juice. Apples should not fill the pan completely to allow for stirring/even cooking. Juice may not cover all apples.

Cook apples on medium heat until softened, approximately 20-25 minutes. Turn often. Apples should be soft and near translucent but should not be mushy.

Use a slotted spoon to remove the apples from the pan and set aside in a large bowl or casserole dish. Leave the juice in the pan to make the sauce.
Make the Sauce
Add the remaining 1/2 cup apple juice and butter to the pan. Stir butter in to melt.

Whisk in the dry ingredients until dissolved, paying attention to the cornstarch so that it does not 'clump' in any one spot.

Turn heat to medium-high and cook sauce until thick and bubbly, about 5 minutes. Whisk often to ensure smooth sauce.

Pour sauce over cooked apples and stir gently to coat. Cover and let sit for 10 minutes. Serve as desired.
Storing Fried Apples:
Leftover apples can be refrigerated for up to 5 days.
Notes
Apples can be made ahead 2 or 3 days, covered and refrigerated then reheated in the oven on 350*F for 10-15 minutes. Cover with foil to reheat.
These make an excellent pie filling or base for apple crisp. If planning to bake as a filling, reduce cook time by half so the apples will not be mushy when baked for an extended time.

to use in a deep fried pie or air-fried hand pie, cook as directed in recipe since filling will be cooked quickly

We leave the apple peels on but if you prefer unpeeled fried apples: use more firm apples for the recipe (Golden Delicious will fall apart too easily if unpeeled).
Nutrition
Adaptations:
To make vegan fried apples: use a quality vegan butter or butter spread. I do not recommend olive oil or nut oils.
To make old-fashioned southern fried apples: use bacon drippings in place of the butter. Omit the added salt.
---
---