Vegetarian Philly Cheese Steaks
A good Philly is hard to beat. One of my favorite restaurants in Blacksburg (Annie's) served a delicious Philly with chopped steak, onions, peppers and topped with lettuce, onion and mayo/mustard. I know that's not "traditional" but it was excellent and a very fond memory (especially for $6 during the weekday lunch)! A Philly used to be my go-to at any diner we ever visited across the country, so I've tried (and loved) a few–and about a month ago I realized I really, really wanted a good cheesy, diner-style Philly Cheese Steak.
When I became a vegetarian, I knew there would be foods I loved that I would be giving up–but I was mind over matter for a while. It was okay for me to miss BLT's, Philly's, pepperoni calzones and the like. It was okay with me for a while. Then I missed those comfort foods. And I wanted so badly to have them–but have them made vegetarian.
So here's a vegetarian Philly for all the comforts of a regular Philly but with the goodness of plant protein in a slightly healthier meal (I say slight 'cuz this still isn't health food–its comfort food). You can add things like mayo, mustard, Cheez Whiz (make it super classic…) or lettuce and tomato like me 🙂 or enjoy straight as written. I can't say it will fool a meat eater, but I can 100% vouch that is crushes that craving I had for a good ol' cheese steak in all it's diner grilled glory. It's made with one skillet and in about 25 minutes so it's perfect for any night of the week. Enjoy!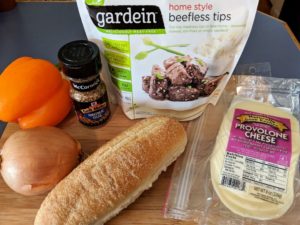 Vegetarian Philly Cheese Steaks
A vegetarian take on the classic Philly. Sauteed peppers, onions and beefless tips on a sub roll covered in melted provolone. One skillet, ready in less than 30 minutes. Yum!
Ingredients
1

bag

Beefless Tips (like Gardein)

9-10oz

1

large

bell pepper

1

medium

yellow onion

2

Tbls

vegetable oil

1

Tbls

olive oil

1-2

tsp.

Montreal Steak seasoning

4

slices

provolone cheese, cut in half

4

sub rolls

condiments as desred
Instructions
Slice pepper and onion into thin strips, approximately 2 inches long.

Heat olive oil in a skillet on medium-high heat. Add sliced pepper and onion and cook 6-8 minutes, stirring frequently until onions are translucent and peppers are soft (lightly browned but not burnt). Set aside.

Heat vegetable oil in skillet over medium heat. Add frozen beefless tips to skillet along with seasoning. Cook beefless tips according to package directions (7-9 minutes). Halfway through cooking, gently break pieces into halves and continue to stir frequently.

Remove beefless tips from heat and place on a cutting board. Coarsely chop tips and combine with reserved peppers and onions.

Slice sub rolls lengthwise if necessary. Divide tips/onions/peppers mixture evenly among the 4 rolls. Top with 1 slice provolone each.

Place assembled sub rolls on a baking sheet and broil on low until cheese is melted. Add your favorite condiments or toppings. Serve immediately and enjoy!
Notes
Cutting the chunks of beefless tips in half while cooking gets more surface area charred (to mimic a flat top grill).
We like ours dressed with vegan mayo and a little yellow mustard prior to broiling.
We use olive oil for the veggies and vegetable oil for the beefless tips as the package recommends but you could swap oils if needed.
Make this vegan with a simple swap of the cheese for a vegan option!
Nutrition
---
---