Slow Cooker Apple Butter (Small Batch for Freezing)
This easy recipe for apple butter uses just 5 pounds of fresh apples and cooks all day in the slow cooker. Recipe is vegan, makes 3 pints (6+ cups) and can be refrigerated or frozen.
If you're looking for a great fall activity, visit an orchard and then make some apple butter! Homemade Apple Butter is a great use for fresh apples and when it simmers all day, it makes the whole house smell amazing.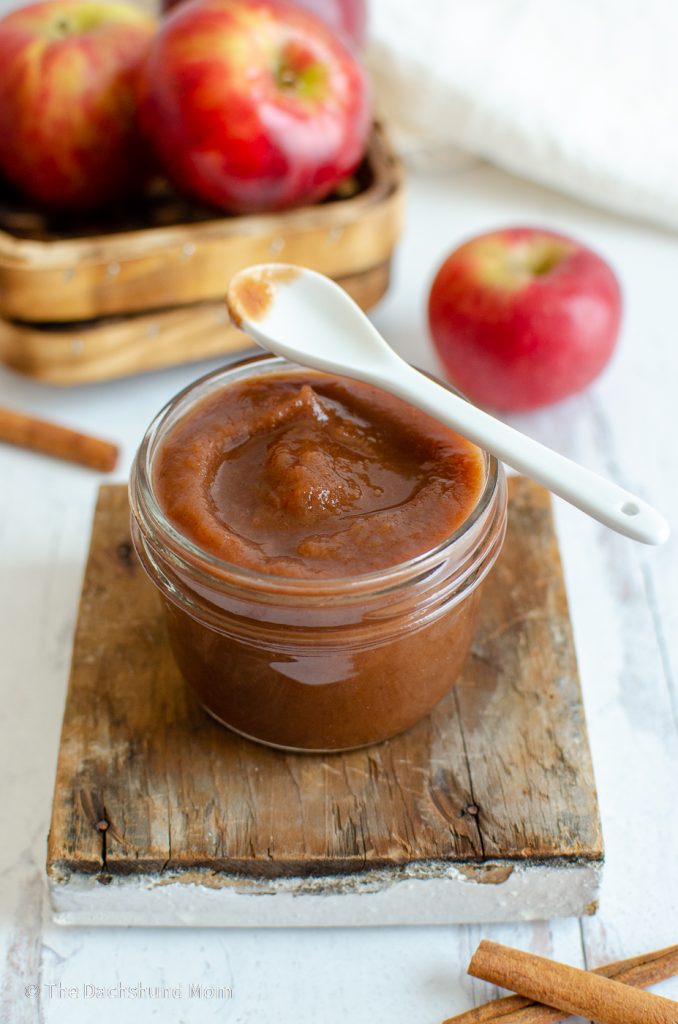 What is Apple Butter? It's a delicious thick spread made from a long and low cooking of apples, sugar, spices, and traditionally, apple cider. Americans have been making apple butter since early German settlers arrived and it's still a very popular event in the mid-Atlantic states– complete with festivals surrounding large kettles and open fire.
Apple Butter is served in many homestyle cooking restaurants in the south and mid-Atlantic regions of the US. It often comes as a topping for biscuits and toast, or as a side dish option for the table. Apple butter complements salty meats such as pork chops and country ham, and it tastes amazing with warm bread.
Ingredients: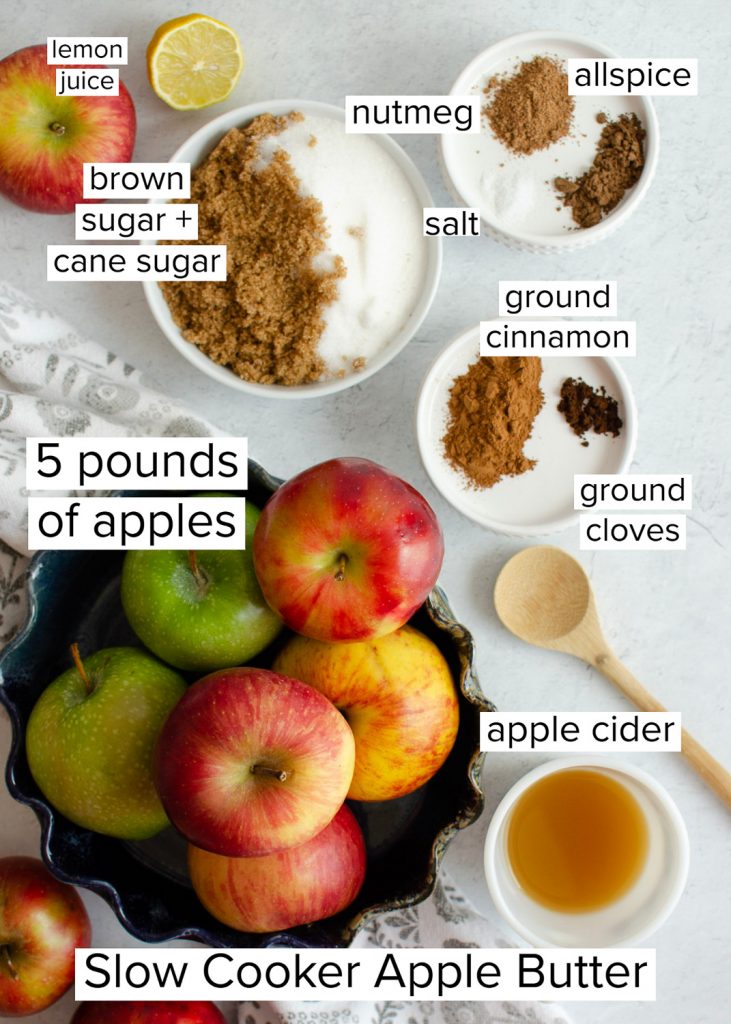 To make apple butter, you'll need just a few ingredients:
Fresh apples – I recommend using a variety so you get a mix of sweet and sweet-tart flavors. See below for types.
Sugars – use brown and granulated sugar together to add sweetness and help break the apples down.
Apple cider – this is an ingredient in old fashioned apple butter to help stew the apples but it adds depth and acts as a natural preservative. Substitute natural or raw apple juice.
Lemon juice – provides the citric acid to keep everything balanced, and acts as a preservative.
Spices – cinnamon, nutmeg, allspice, cloves, and a little salt. These are really to taste, but good apple butter should have a little spice to counteract the sweetness (and pair with the meat or bread on the plate).
What are the best apples for apple butter?
Use any of the following for the best apple butter recipe: Red Delicious, Golden Delicious, Stayman, Winesap (or the Stayman-Winesap cross), Fuji, Braeburn, Jonathan, Jonagold, Rome, Cameo, Gala, Pink Lady, and Honeycrisp.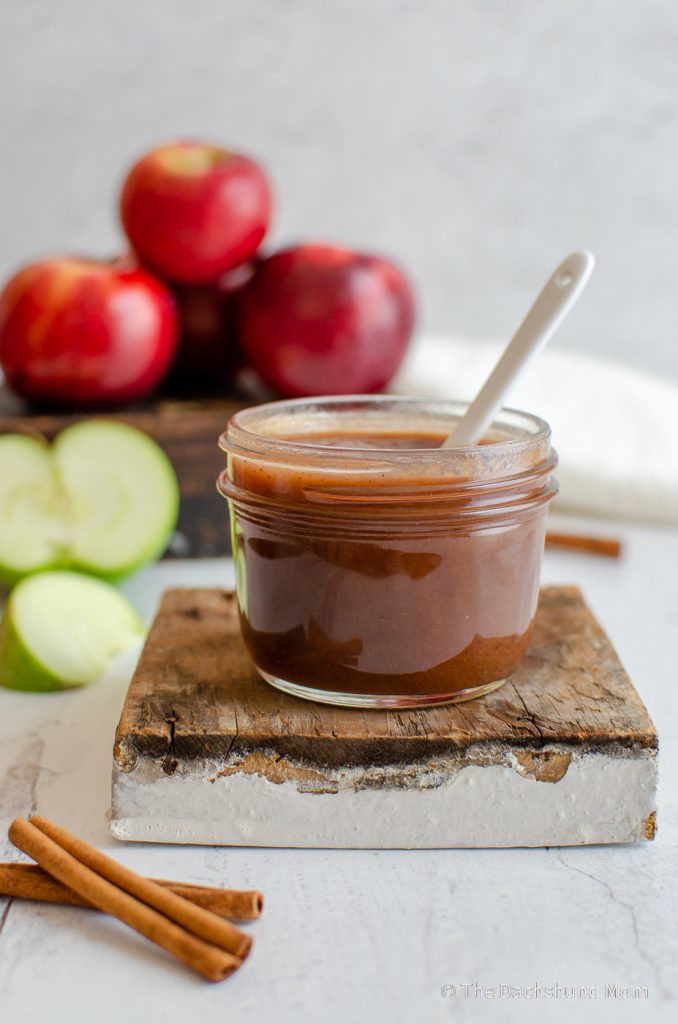 Honestly, you can make apple butter with any apples! But there are a few tricks for best results:
use a variety of apples to create depth and a good blend of flavors
limit the amount of tart or firm baking apples– try to use no more than 2 or 3 Granny Smiths (or similar) in the whole batch.
use apples that are still fresh and flavorful. Dry and mealy apples will not give the best flavor.
We like to buy local apples (whatever's growing nearby) so we're using regional apples. If you have a local farm stand, definitely support them! But whether buying locally or from the store, try to find apples that give off a good aroma, which can indicate freshness.
How to Make Apple Butter in the slow cooker:
Peeling and chopping apples is by far the longest part of making apple butter at home. A peeler and slicer can help, but if you're like me and only make apple butter a few times a year, peeling by hand is fine.
Hands on time is only about 30 minutes (including the prep and blending at the end). Slow cooking takes 8 hours.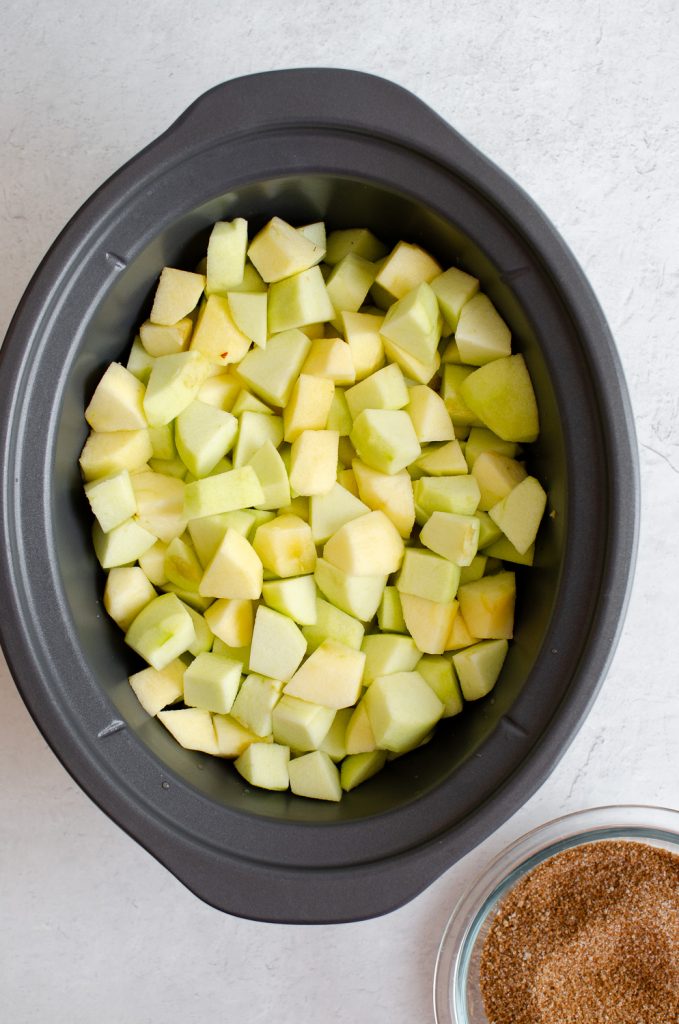 Peel the apples, cut out the cores, and roughly chop into pieces about 1 inch. This doesn't need to be exact*
2. Add the prepped apples to a 6 quart crockpot along with the juice from half a lemon and 1/2 cup apple cider. Stir.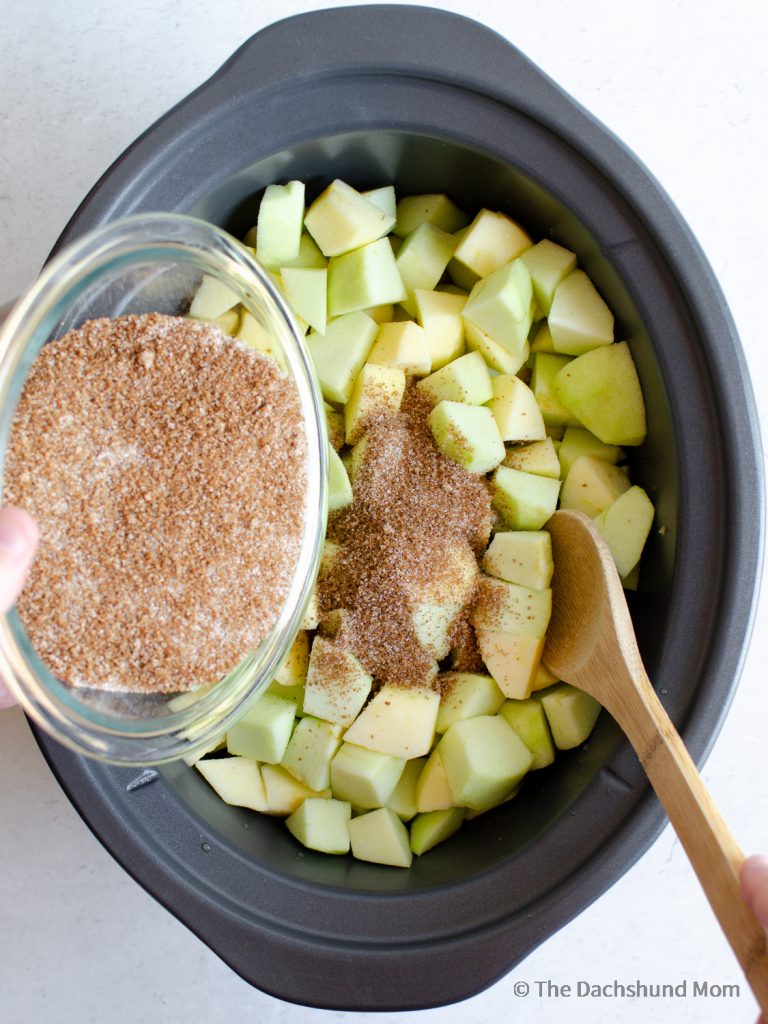 3. Combine the sugars and spices in a bowl then add them to the crockpot.
4. Stir the sugar mixture with the apples to coat everything well.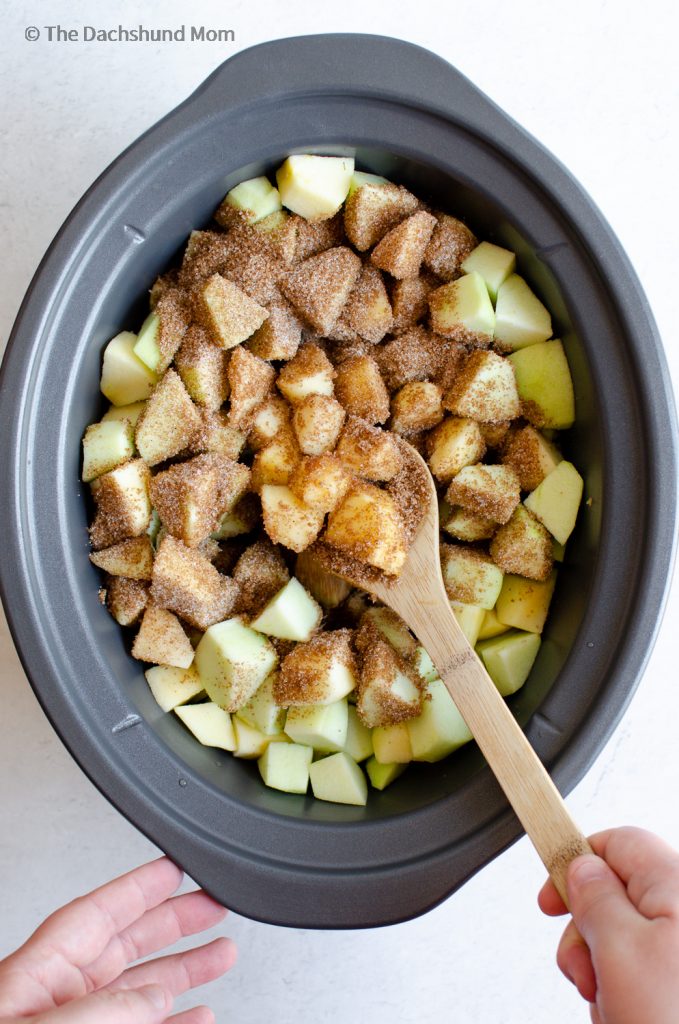 5. Cover and set slow cooker to LOW for 8 hours. Apples will darken in color, soften (they should fall apart on contact), and smell rich and spiced.*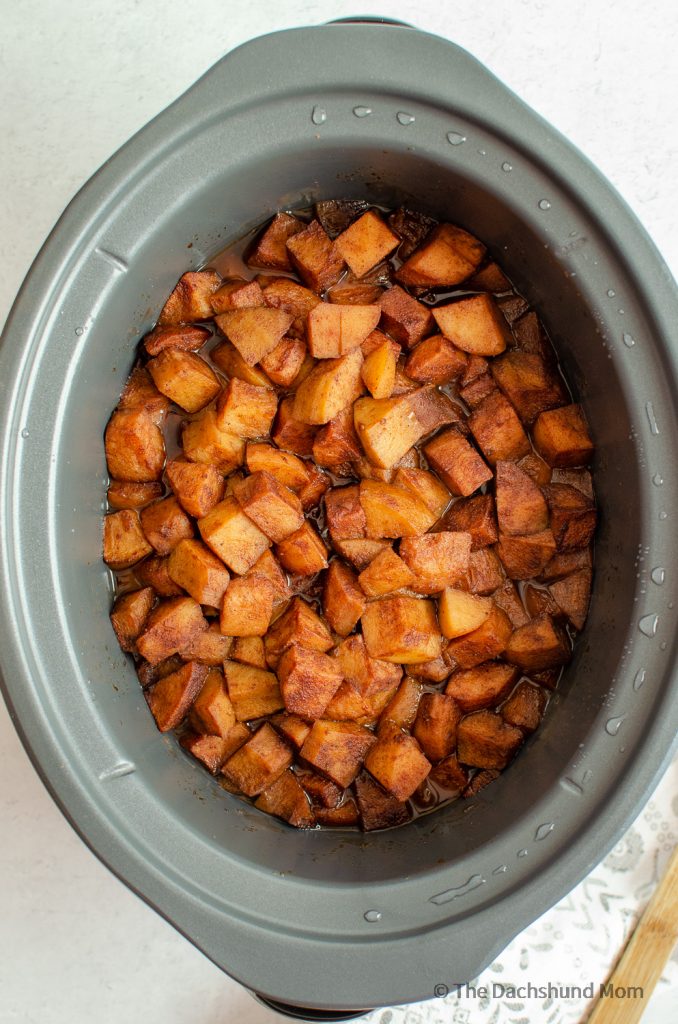 6. Use an immersion blender to process the apples in the crockpot until they are at desired consistency. We like smoother apple butter so I work my way around the slow cooker in sections until no apple chunks remain.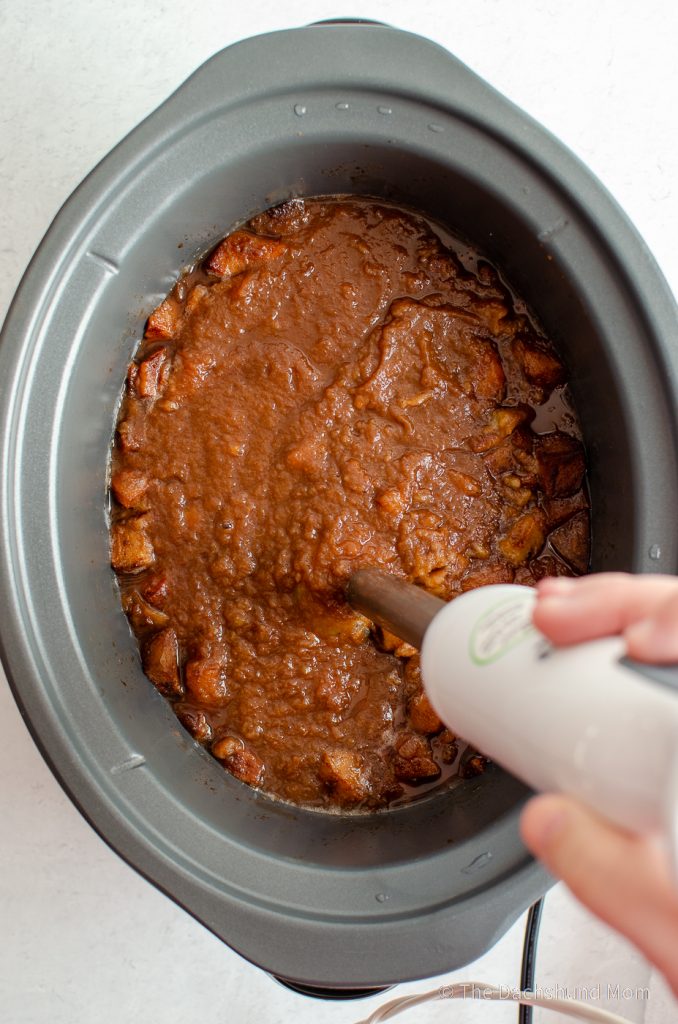 7. Ladle into storage jars (leaving 1/2 inch headspace) and let cool completely before putting up. This takes about an hour, with the lids slightly ajar.
Tips:
**Apples will break down even more the smaller they are chopped, or if they are slow cooked a little longer (like 9 hours). The immersion blender would still be used to make everything smooth, but there would be less blending necessary.
I prefer to just roughly chop the apples and blend them a little more at the end but I wanted to include the note that the apples themselves may not be completely broken down after 8 hours.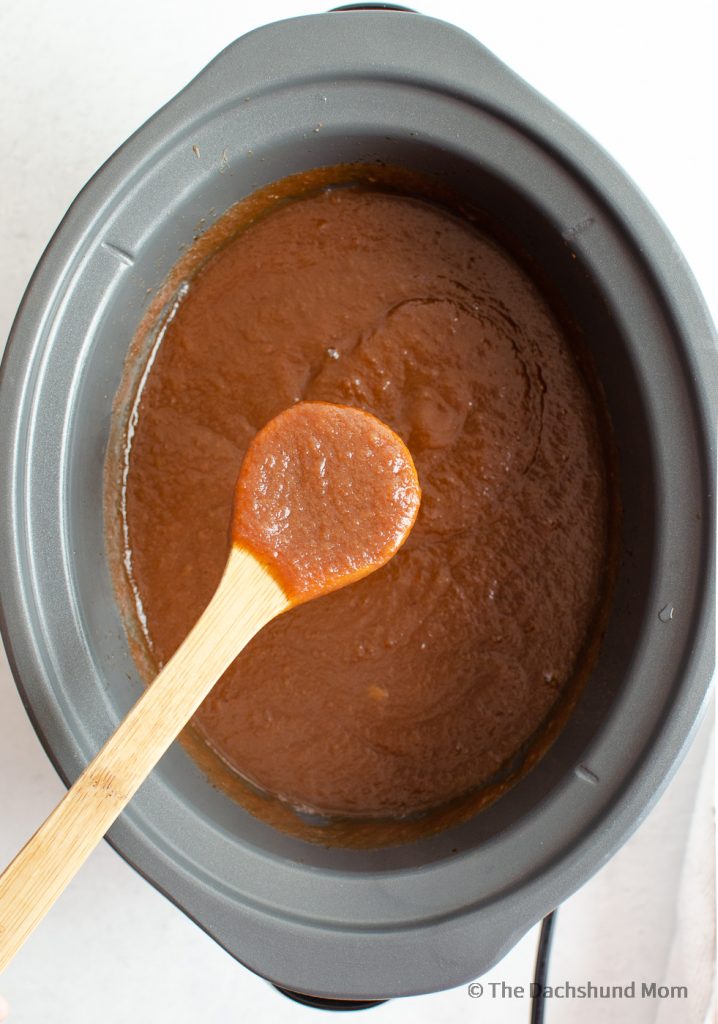 Frequently Asked Questions:
How Thick Should Apple Butter Be?
Apple butter is slightly thicker and more concentrated than applesauce and it shouldn't have much excess liquid. The texture should be smooth and it should spread evenly.
Apple butter thickens upon cooling and will continue to thicken when stored in the fridge.
How Long Does Homemade Apple Butter Last?
How long apple butter lasts depends on the method of storage: refrigeration, freezer, or water-bath canning.
Refrigerated: once opened (or if storing right away), use within 4 to 6 weeks.
Frozen: you can freeze apple butter up to 12 months. Freezing apple butter is our favorite method of storage for small batches such as this recipe.
Ladle into clean jars and leave 1/2 inch headspace (or fill to guided line). Let thaw overnight in the fridge. Once opened, use within 4 to 6 weeks.
Canned: homemade apple butter is often canned because for large quantities, canning is the way to go. Apple butter will last 12 to 18 months if canned and stored properly.
This recipe is lower sugar than many, so it needs an increased processing time.
For half-pint or pint jars: process for 10 minutes up to 1,000 feet elevation, 15 minutes for 1,001 feet to 6,000 feet, and 20 minutes above 6,000 feet. For quart jars, increase times by 5 minutes.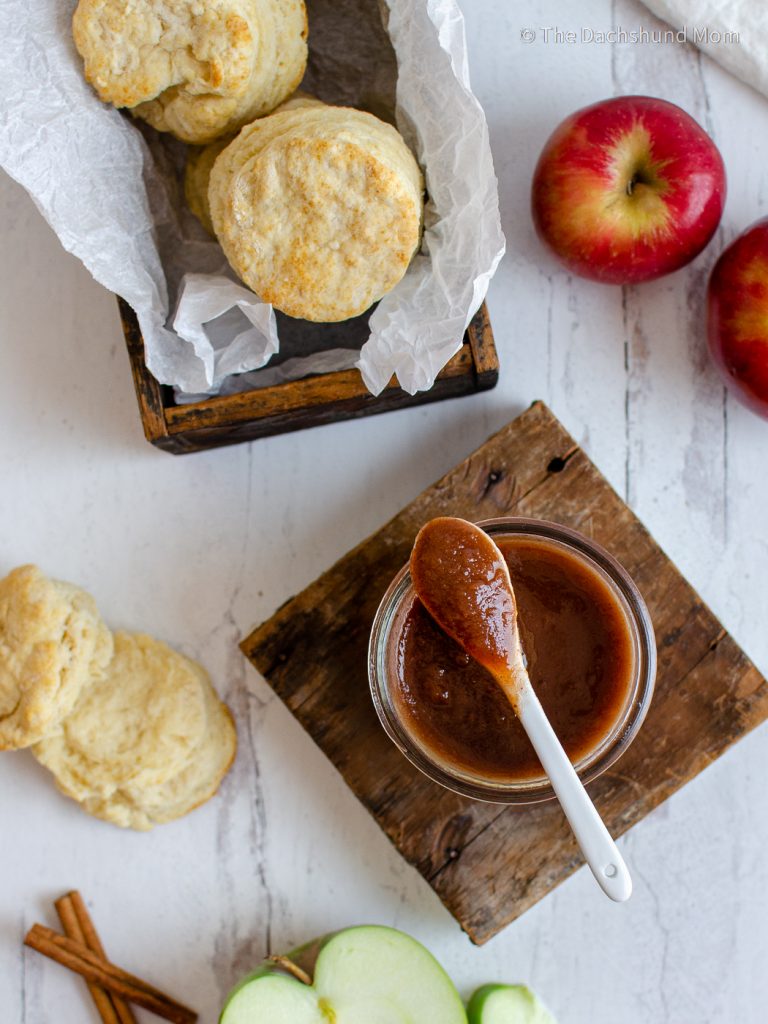 What do you put apple butter on?
Traditionally, apple butter goes on a biscuit or toast. It is also served over salty meats like pork, or as a side dish to country dinner plates.
Other uses for apple butter include:
baking (in place of applesauce, it adds delicious spice to cakes, cookies, etc)
on pancakes, in oatmeal, or on a muffin
as an ingredient in savory items like bbq sauce, or in place of fruit puree in between cake layers it can add flavor and moisture.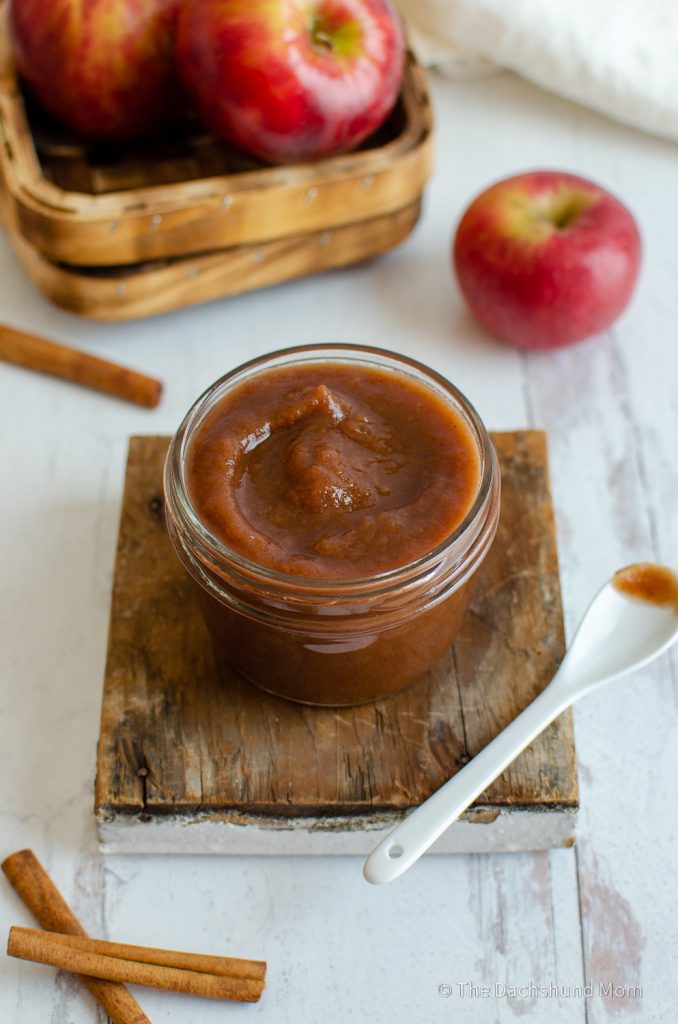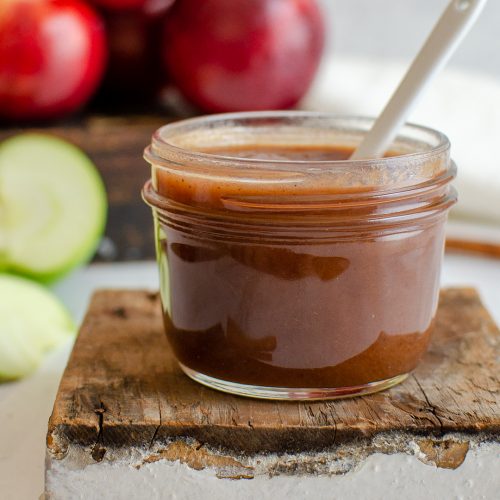 Homemade Apple Butter
Delicious homemade spiced apple butter made in a slow cooker. Recipe uses 5 pounds of apples and makes 3 pints (6+ cups). Apple butter is great for breakfast, brunch, or baked goods. Vegan.
Equipment
6 quart slow cooker

pint or half pint jars
Ingredients
5

pounds

apples (a variety if possible)

= 10 large or 15 medium sized apples

1/2

cup

apple cider

substitute apple juice

1½

Tablespoons

lemon juice

= juice of 1/2 a lemon

3/4

cup

brown sugar (light or dark)

1/3

cup

granulated sugar

2 to 3

teaspoons

ground cinnamon

1

teaspoon

ground nutmeg

3/4

teaspoon

ground allspice

1/4

teaspoon

ground cloves

1/8

teaspoon

salt
Instructions
Prep Apples + Ingredients
Wash, peel, core, and roughly chop apples. Add the prepped apples to the slow cooker along with the apple cider and lemon juice. Stir.

In a medium bowl, stir together the sugars, spices and salt. Sprinkle sugar mixture over apples and stir everything well to coat, breaking up any pockets of dry ingredients.
Make the Apple Butter
Set slow cooker to low (8-10 hours). Cover and cook until apples are broken down, mixture is thickened, has a deep brown color, and resembles chunky applesauce. Stir gently to combine. 

Carefully using an immersion blender, blend apple butter in pockets to reach desired consistency or until any remaining liquid is incorporated.

Apple Butter will continue to thicken slightly as it cools.
Store the Apple Butter
Ladle into clean jars or containers, leaving 1/2 inch headspace. Let cool completely before storing. Refrigerate for up to 1 month or freeze for up to 1 year.
Notes
5 pounds of apples is the weight before peeling, coring, or chopping.
Use a variety of fresh apples for best flavor.
If you do not have an immersion blender, use a regular blender to process until desired consistency. Use caution with the hot apple butter.
Yield is about 3 pints (between 6 and 7 cups of apple butter). It's best to store this in half pint or pint jars so the jar gets used within the recommended time frame (4 to 6 weeks once opened).
Nutrition
Serving:
1
Tablespoon
Calories:
22
kcal
Carbohydrates:
5.5
g
Sodium:
0.5
mg
Potassium:
24
mg
Fiber:
0.3
g
Sugar:
4.81
g
Calcium:
3
mg
I have fond memories with homemade apple butter. My grandparents would make it fresh and can it but before Grandma started with the canning, she would ladle a bowl full while it was still hot and serve it to me with buttered Sunbeam toast cut into triangles for dipping. When I make apple butter these days, the smell that fills my house reminds me immediately of those afternoons at Grandma's.
**This post was originally published in April of 2019. I have updated the photos and the yield amount (using 5 pounds of apples in the recipe).
---
---