Favorite Veggie Club Sandwich
There's a diner near us, Angelle's Diner in Troutville, Virginia that serves an amazing club sandwich on fresh ciabatta–it's loaded with meat so I don't get it these days but I made this version at home using plant based 'meat' and the result was amazing. Something magical happens when you put good food on great bread like a ciabatta roll 🙂 This club sandwich has lots of plant protein and some California touches. It can be served fresh while it's still slightly warm or can be served cold.
A good club sandwich is all about the layering—stack everything right and it will stay beautiful; throw things on there at random and all the toppings slide off. The little extra effort in this sandwich is so worth it! The following ingredients are for 1 sandwich so double or quadruple if you're feeding a family 🙂
You'll need really good ciabatta rolls (you can make some or do what I did and buy them premade! Our Food Lion has organic ciabatta rolls for $2.99 for 4 🙂
*We moved to St. Louis this year and I'm no longer close to Angelle's Diner but I highly recommend them if you're in the Roanoke area!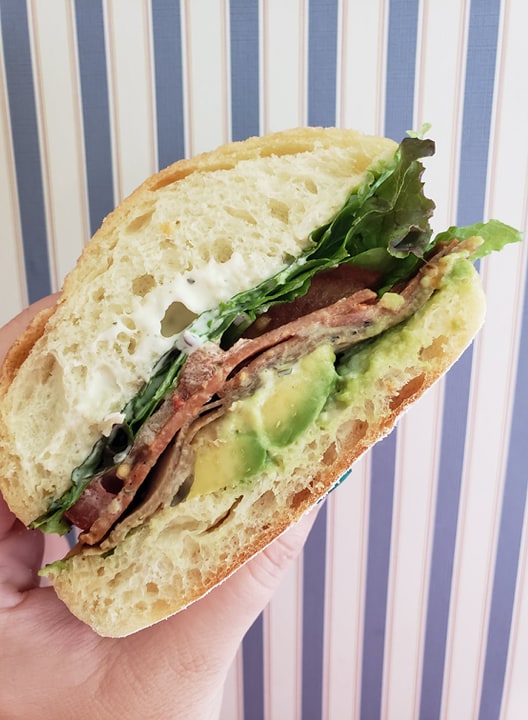 Favorite Veggie Club
Coach's Favorite Veggie Club served on a ciabatta roll. Plant based proteins with California touches like avocado and ranch. Perfect grab and go meal for game day, quick lunches and more.
Ingredients
1

Ciabatta roll, sliced in half

3-4

slices

Harmless Ham (or your favorite ham)

3-4

slices

Peppered Tofurky (or your favorite turkey)

2

slices

tomato

2-3

slices

romaine or red leaf lettuce

1/3 to 1/2

avocado, cut into small chunks

1

tbl

ranch (or vegan option)
Instructions
Heat "ham" and "turkey" according to package directions (typically heat in a lightly oiled skillet for 30 seconds per side and then drain over paper towels).

Warm ciabatta roll (cut halves down) in the skillet used for the "meats".

Spread ranch on each half of the ciabatta roll.

Assemble the sandwich:

Starting from the bottom up, place avocado chunks on bottom half of ciabatta roll. Top avocado chunks with turkey and ham followed by tomato and finished with lettuce. Slice in half and enjoy!
Notes
This sandwich is amazing without cheese but feel free to add your favorite sliced cheese on top of the "meat".
This sandwich is not meant to be a 'light meal'---it's already way healthier than it could be since it uses plant based protein but the ciabatta bread really makes this a meal. You can save half for later or share it with someone. Round out the half sandwich with salad or fruit 🙂
I have found that using small chunks of avocado instead of slices keeps the avocado pieces on the sandwich instead of them sliding off easily.
---
---