Vegetarian White Gravy
Being a vegetarian has been pretty easy for me. I knew I'd be giving up some traditional southern foods like bbq, pinto beans with fatback and most 'southern veggies' made with bacon grease. Those used to be some of my favorite things but switching to a plant-based diet meant I would need to find new favorites (or tweak the old faves to be veg friendly). This was all okay with me because hey, I still have potatoes and biscuits and desserts, etc. But ohhhhh, did I miss biscuits and gravy. True, biscuits are vegetarian but definitely not good gravy.
There were times throughout the past year I really wanted biscuits and gravy on Saturday mornings–and there are some powdered gravy options that are *technically* vegetarian but those were really a last resort to satisfy a craving. Those powder packets have lots of ingredients and some that are questionable anyway. I would much rather make things in my kitchen from scratch (including seasonings and sauces).
I wanted to find a long term solution to my "I'm a southern girl who went rogue and gave up meat and meat by-products but I still sometimes really, really want those traditional foods" problem 🙂
Vegetarian White Gravy is super simple, delicious and perfect for biscuits, mashed potatoes, chick'n tenders and more.
I'd compare this to Cheddar's white gravy that comes on their mashed potatoes (neither of which is veg friendly, by the way)–it's peppery and slightly spicy but not hot.
This creamy gravy is aaaaammmmazing over homemade biscuits and delivers all the comforts of good ol' southern food without the sausage drippings 🙂 I've made it with a slight bit of heat to mimic some of the flavor sausage gravy would deliver (ya know, if there was actual sausage in it) but you could always scale back the spices to suit your palate. I think the black pepper is a must, though, since it gives that true country gravy "pop" 🙂
I had my fair share of time to appreciate good, southern gravies–sausage and all. But now I'm enjoying a meat-free diet AND good gravy that rivals any traditional country gravy. It's easy, delicious, I know exactly what goes in it (and what doesn't) and it hits all the marks for this southern girl.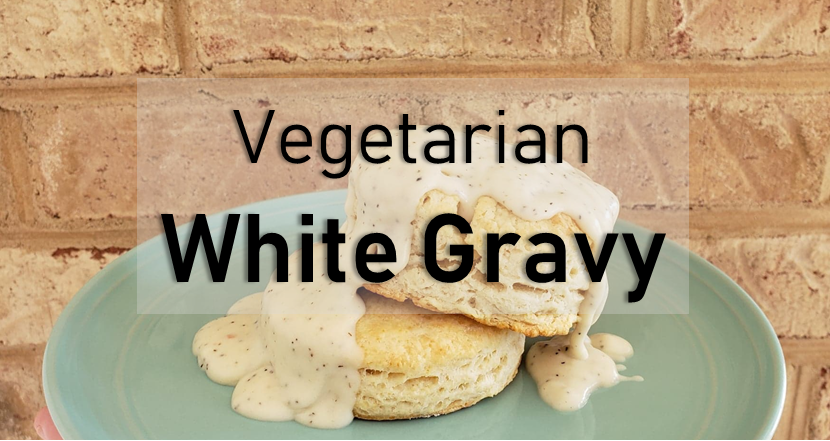 Vegetarian White Gravy
Classic peppered white gravy–perfect for biscuits, potatoes and dipping. Peppery and slightly spicy. Vegetarian. This recipe makes approximately 2.5 cups of gravy.
Ingredients
Dry Mixture:
3

tbsp

all purpose flour

1/2

tsp

ground black pepper

1/2

tsp

salt

1/8

tsp

dried sage

1/8

tsp

red pepper flakes

pinch

garlic powder

(optional)
Cold/Fresh Ingredients:
2

cups

milk

2

tbsp

unsalted butter
Instructions
Mix all dry ingredients together in a small bowl. Set aside.

Melt butter in saucepan/skillet on medium. Whisk in flour mixture to form the roux.

Immediately add in the milk and whisk to break up any clumps. Gently whisk continuously until gravy thickens (about 6-8 minutes).

*if gravy is too thick, add in a little milk–if it's too thin, add in a little flour.

Gravy will thicken upon standing and a skin will form. Leave on simmer/low and stir occasionally to prevent skin from developing, if you prefer.
Notes
Refrigerate any leftovers in an airtight container for up to 3 days.
This gravy reheats well on the stove top on low–can add milk if needed to thin. Can also be reheated in microwave in smaller amounts.
Any milk will work (we used whole milk but 2% would also be good). With whole milk, 1/3 cup servings have approximately 85 calories. 
Make this vegan by using almond milk or your favorite alternative milk and vegan butter.
If using salted butter, omit half the salt.
We use between 1/2 tsp and 1 full tsp black pepper, depending on the day. Begin with the lower amount and add more pepper if you like!
If you like more garlic flavor, you can go up to 1/8 tsp (this depends on the strength of your garlic powder and what you personally like)
The roux will appear dark due to the pepper but do not let it brown–add the milk immediately.
Nutrition
I'll be making the flour mixture ahead and pre-portioning it so I can whip this up any time. This gravy is so versatile and fills all my "southern girl" gravy cravings 🙂 I hope you'll make this for yourselves or for your vegetarian friends soon. It'll come in really handy over the holidays for a quick, southern inspired breakfast! Let me know what you think in the comments below!
---
---