Homemade Fresh Fig Jam
Delicious small batch jam made from fresh green figs with lemon and mild spice. Fig Jam pairs well with cheeses, toast, biscuits, sandwiches, and as a dessert filling. Recipe makes about 16 ounces.
Green figs are only in season for a short time so I made the most of them by enjoying a few fresh, having some on a charcuterie board, and making a quick jam. You'll love this quick jam because it is delicious, easy to make, and versatile!
This recipe for green fig jam requires just a few ingredients, plus it will help extend fig season a little longer. It keeps for up to 3 months in the fridge.
Ingredients:
Fresh green figs: 1 pound = about 3 cups when chopped, or 15 to 20 whole figs
Granulated sugar: helps make the jam set, and acts as a preservative
Water: (not pictured) increase water by a few tablespoons if you prefer a thinner or more liquid jam.
Lemon zest: adds flavor and acts as a preservative.
Lemon juice: I always use fresh squeezed lemon juice, but bottled works, too.
Ground Cinnamon: not too much to overpower, but just enough for warmth. Figs pair really well with cinnamon and it adds depth to the sweet jam.
Ground Cloves: these are optional, but very good in the fig jam! The scent of the clove is stronger than the flavor in the final product.
Making Fig Jam: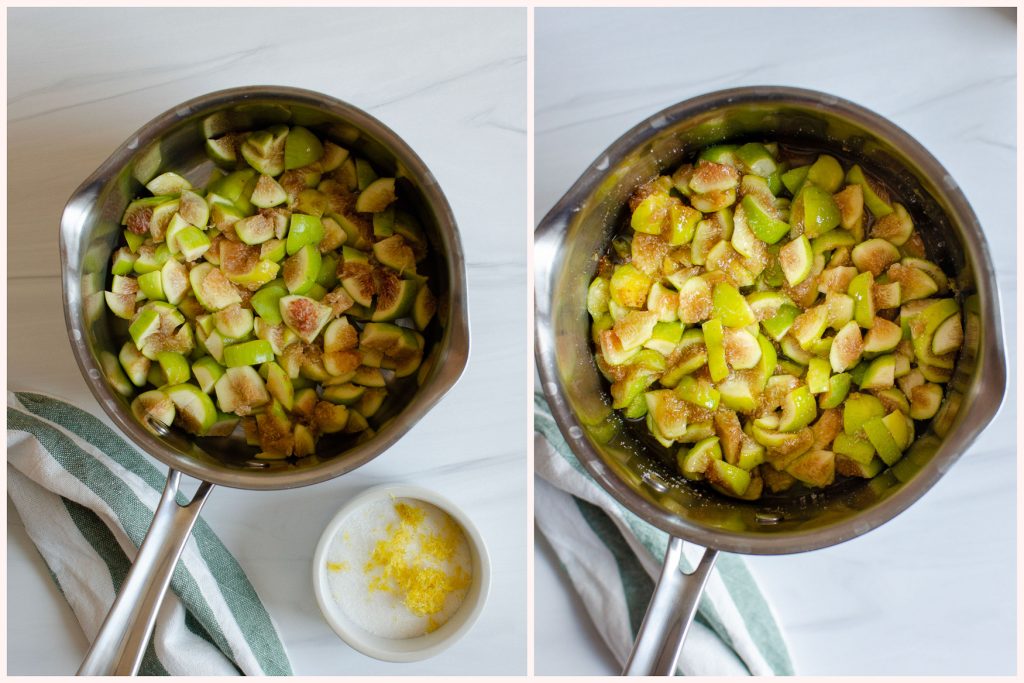 Add chopped fresh green figs to a saucepan. Stir in sugar and lemon zest.
2. Let sit until figs begin to release moisture (about 15 minutes).
3. Bring to a boil
4. Stir often while cooking to prevent scorching.
5. Cook until figs are broken down and mixture thickens. Mixture should coat the back of a spoon
Frequently Asked Questions:
Do I need to peel the figs before making jam?
No, the skins are completely edible. Figs should be thoroughly washed and de-stemmed before making jam, but leaving the peels on provides color, texture, and natural pectin which helps the jam set.
Do I need to add lemon to my fig jam?
Yes. Lemon juice provides acid that helps the jam thicken. It also adds flavor and helps the jam retain its color.
How long is refrigerator jam good for?
Fig Jam is good up to 3 months kept in the fridge. The lemon and sugar help lengthen storage.
Is this recipe good for canning?
This recipe for jam produces a small batch (about 2 cups) so we only make it for the refrigerator. It can be canned in a water bath for storage up to 18 months. Follow instructions for water bath canning. Process time is 5 minutes up to 1,000 feet elevation, 10 minutes for 1,000-6,000 feet, or 15 minutes above 6,000 feet.
Will this be a smooth jam?
Not completely– there will be soft bits of fig throughout. If you prefer a smoother jam: add a little more water and puree the jam after cooking (but gently, so you don't end up with fig butter).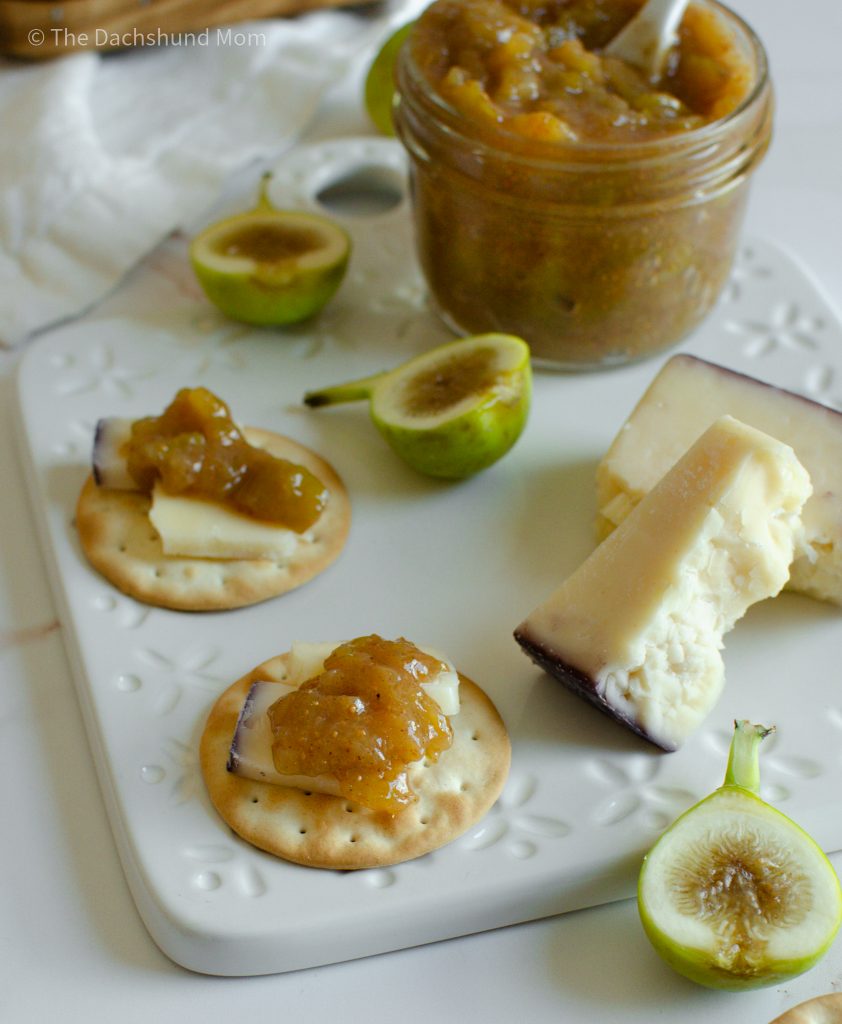 What to Pair with Homemade Fresh Fig Jam:
Breakfast/Brunch: serve alongside toast, biscuits, freshly baked breads, or with cream cheese pastries. Fig jam is an excellent component for a charcuterie board with salty and savory items.
Lunch/Dinner: try fig jam on a sandwich or a pizza– It pairs well with sharp cheeses, cured meats, and spring mix or veggies.
Dessert: use jam as a filling for cake layers, or spread on a muffin. Figs (and fig jams) pair well with flavor like honey and caramel, nutty baked goods, spiced cakes like cinnamon or cardamom, and fruits such as apples and pears. The lemon in this jam adds extra brightness to a citrus cake, too.
Homemade Fresh Fig Jam
Delicious small batch jam made from fresh green figs with lemon and mild spice. Fig Jam pairs well with cheeses, toast, biscuits, sandwiches, and as a dessert filling. Vegan. Recipe makes about 16 ounces.
Ingredients
1

pound

fresh green figs, stems removed and chopped small

= about 3 cups chopped

1/2

cup

granulated sugar

1

Tablespoon

lemon zest

1/4

cup

lemon juice

1/3

cup

water

1/8

teaspoon

ground cinnamon

1/16

teaspoon

ground cloves

optional
Instructions
In a medium saucepan, stir together chopped figs with sugar and lemon zest. Let stand for 20 minutes, to allow figs to begin releasing their juices.

Set saucepan on the stovetop and stir in remaining ingredients (lemon juice, water, and spices).

Turn heat to medium and bring to a boil (about 5 minutes). Stir occasionally to avoid scorching.

Once boiling, reduce heat to low and let simmer, stirring often, for 15 to 20 minutes. Figs should break down and mixture will thicken enough to coat the back of a spoon.
Storage:
Let jam cool before adding to an airtight jar. Store in the fridge for up to 3 months.
Notes
For a thinner (more syrupy) jam, increase water to 1/2 cup.
Jam will be textured with bits of fig. For a smoother jam, use a masher while cooking or gently puree mixture after cooking until desired consistency is reached.
The smell of the spices is stronger than the actual flavor: the spices add depth but the sweetness of the figs, along with the tartness of the lemon zest keep the spice profile in check.
Nutrition
Serving:
1
Tbsp
Calories:
31
kcal
Carbohydrates:
10
g
Protein:
0.3
g
Fiber:
1.3
g
Sugar:
6
g
---
---