Oven Baked Beans with Vegetarian Sausage
Easy baked beans recipe featuring crumbled vegetarian sausage and brown sugar in a thick sauce. Recipe uses canned beans and pantry staples for a quick and hearty side dish perfect for cookouts, tailgates, potlucks, and more! Recipe is vegan/vegetarian and serves 12.
Baked beans have always been a cookout favorite of mine. They're perfect when paired with barbecue, coleslaw, grilled foods, or smoked proteins.
This recipe for baked beans using canned beans could not be easier! It takes two 28 ounce cans of baked beans, crumbled vegetarian sausage and just 5 other ingredients for a simple and hearty side dish.
These Oven Baked Beans are just like the kind you'll find at a barbecue spot. Admittedly, we don't cook with the same volume or use aluminum trays but the flavor is here. Thick, saucy and sweetened (with a hint of tangy) baked beans are the best addition to a cookout plate.
Ingredients:
Canned Baked beans (labeled vegetarian or vegan)
Vegetarian or vegan breakfast sausage patties – any brand will work but we prefer the kind without added maple.
Brown Sugar – helps everything caramelize and adds sweetness. Adjust if the sausage is on the sweeter side.
Prepared Yellow Mustard – adds a vinegary kick and some depth.
Ketchup – not as much needed as mustard, but adds some flavor
Salt and Pepper – adjust to taste
Recipe Steps:
Cooking baked beans in the oven gives a delicious result – the sauce will thicken and the sugars will caramelize. There will be a slight crust on the top but the beans don't break down. Everything comes together and the flavor is amazing.
Add all ingredients to a large casserole dish.
Stir everything together and smooth to level top.
Bake, uncovered, about 50 minutes– until hot and bubbly.
FAQs and Substitutions:
How long do you cook baked beans? About an hour. Like any casserole, they could be thickened in 45 minutes or take up to 60 minutes. If you cook them after prepping ahead and refrigerating, they'll need an additional 5 minutes.
Do you cover baked beans in the oven? You only need to cover when reheating leftovers. Avoid completely filling your casserole dish to avoid spill-over when baking them the first time (the sauce will bubble up).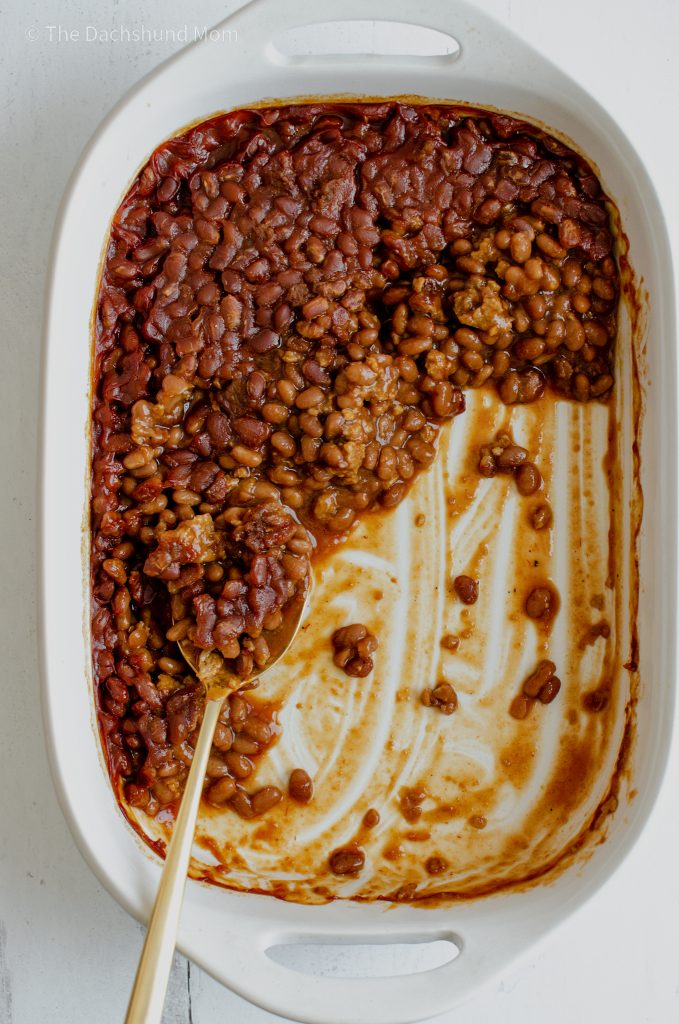 Substitutions: add in sautéed onions (about 1/4 cup) for extra flavor. Adjust sugar depending on the sweetness of the canned beans and/or the sausage. These are sweetened baked beans made to pair with salty or smoky foods, but the mustard tones down the sweetness. I'll add extra mustard sometimes, too.
Make Ahead: you can prepare these ahead (up to 2 days) if needed. Just cover tightly and refrigerate before baking. Let stand at room temperature about 15 minutes before baking (or adjust cook time).
After baking, they're also excellent as leftovers so make them on a weekend and enjoy for another meal later in the week!
Oven Baked Beans with Vegetarian Sausage
Delicious, thick and sweet baked bean casserole. Canned baked beans and a few extra ingredients make a hearty side dish for bbq plates, tailgating, holidays, cookouts and more. Vegan/Vegetarian. Makes 12 (1/2 cup) servings.
Ingredients
56

ounces

canned baked beans

2 (28 ounce) cans labeled vegetarian or vegan

4

patties

vegan breakfast sausage, crumbled

= 1 cup

1/3

cup

brown sugar, packed

2

Tablespoons

prepared yellow mustard

1

Tablespoon

ketchup

salt and pepper, to taste
Instructions
Preheat oven to 350°F. Cook sausage patties according to package directions (microwave or skillet) until just browned. Crumble patties and set aside.

Place canned beans (undrained), brown sugar, mustard, ketchup, crumbled sausage, and some salt and pepper in a casserole dish. Stir to combine.

Bake, uncovered, until thickened and bubbly, 50 to 60 minutes.

Store leftovers covered and refrigerated for up to 4 days.
Notes
Adaptations: add in sautéed onion (1/4 cup) for extra flavor
To make ahead (up to 2 days): assemble as instructed and refrigerate unbaked but covered tightly. Remove from fridge and let stand at room temperature while oven preheats. Bake as directed (adding a few minutes if needed).
To reheat baked beans: reheat in the microwave until heated through, or warm on the stove-top. To reheat in the oven: cover and cook until heated through (10 to 15 minutes).
Nutrition
Serving:
1
(1/2) cup
Calories:
199
kcal
Protein:
8
g
Fat:
2
g
---
---