Mincemeat Recipe without Meat
A homemade vegetarian mincemeat for mince pies, cookies, breads, and more. Recipe comes together in under an hour (no aging required). Yields 5.5 cups (44 ounces or the equivalent of 1.5 store-bought jars).
Homemade mincemeat is easy and delicious! Use this recipe in place of jar mincemeat in all of your favorite Christmas baking like classic mince pies.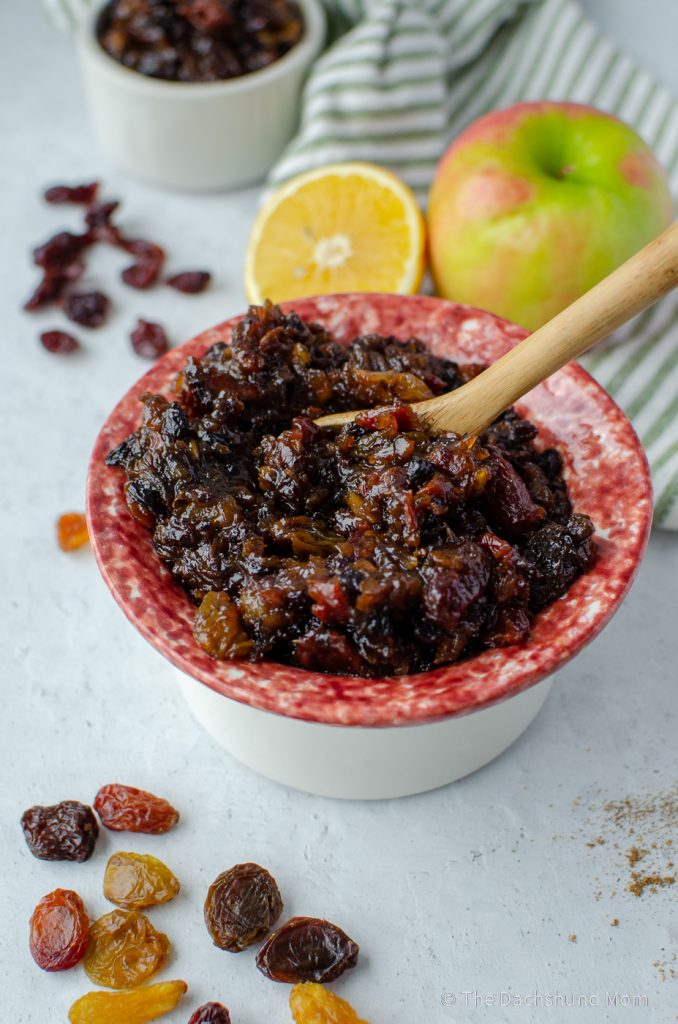 This recipe is great because it does not need to age like traditional mincemeat.
It is best if given a few days to mellow in the fridge, but it can also be used straight away (it is ready in less than one hour).
Ingredients:
The best mincemeat recipe uses a variety of dried fruits, apples, spices, and liquids (including alcohol). The ingredient list might seem long but everything has a purpose to make this a delicious mixture full of flavor.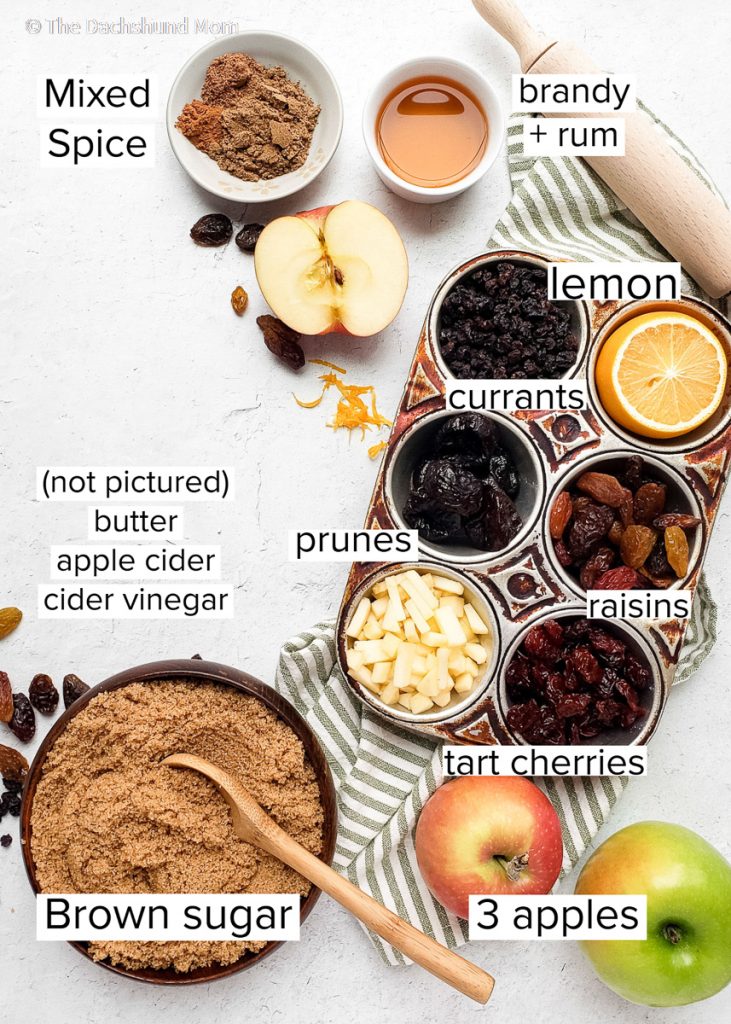 Fresh apples – medium sized- 1 Granny Smith and 2 others that are sweeter (like Braeburn, Pink Lady, etc)
Raisins – we like the jumbo medley (usually Golden, Thompson, flame, and crimson varieties)
Dried Currants – these are harder to find in the US, but I use Sun-Maid Zante currants found in regular grocery stores.
Prunes – look for the soft, moist variety (I've used Sunsweet D'Noir prunes and Trader Joe's brand)
Tart Montmorency cherries – these are dried sour cherries found with other dried fruits
Brown sugar– provides sweetness and adds moisture to the mix
Apple Cider (or fresh apple juice) – adds the liquid for the syrup base. Since you'll be adding spices, use a plain apple cider for this.
A lemon – zest and juice adds some bright contrast and acidity for keeping the mincemeat fresh.
Apple Cider Vinegar – 1 Tablespoon is a natural preservative and adds acidity.
Unsalted butter – the butter incorporates some flavor and acts as a substitute for suet in mincemeat.
Ground spice mixture– Cinnamon, Nutmeg, Ginger, Cloves, Allspice all add warmth.
Brandy – liquors add flavor and depth to the fruity, sweet mincemeat
Rum (or additional Brandy, Whiskey, or Port)
How to Make This Recipe:
Combine peeled and chopped apples in a food processor and process until minced.
Add the apples to a pan and set aside. Wipe out the processor.
Combine the currants, raisins, prunes, and cherries into the empty food processor.
Process the dried fruits until they are roughly chopped into smaller pieces. Set aside for later.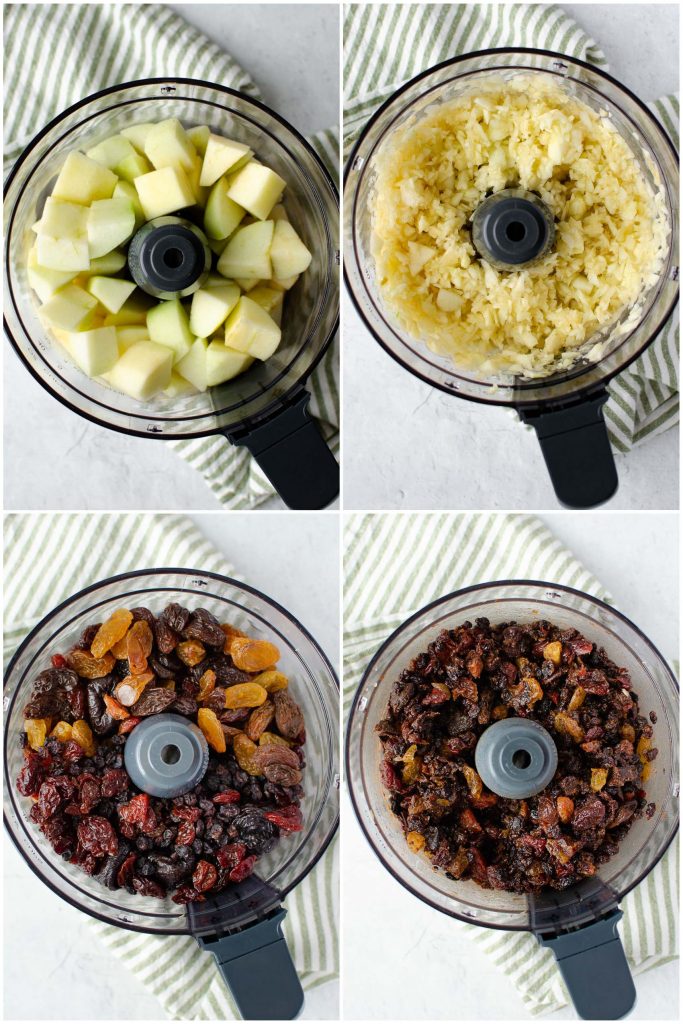 In the pan with the apples, whisk in the brown sugar, apple cider, vinegar, and the zest and juice of a lemon.
Bring the apple mixture to a boil and simmer, stirring often, until sugar is dissolved and mixture is broken down.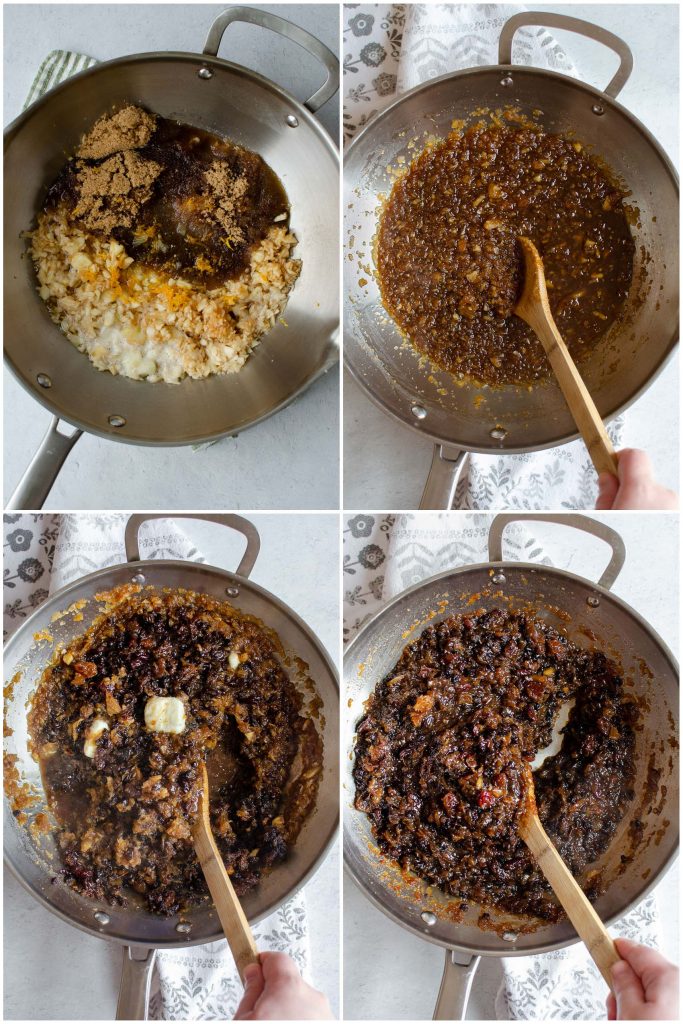 Stir in the butter, spices, and chopped dried fruits.
Simmer, stirring occasionally, until the mincemeat mixture thickens slightly. It should be dark and glossy in appearance.
Remove from heat and let cool for 10 minutes (it will still be slightly warm). Stir in the brandy and rum, if using.
Mincemeat should be cooled completely before using in baked goods.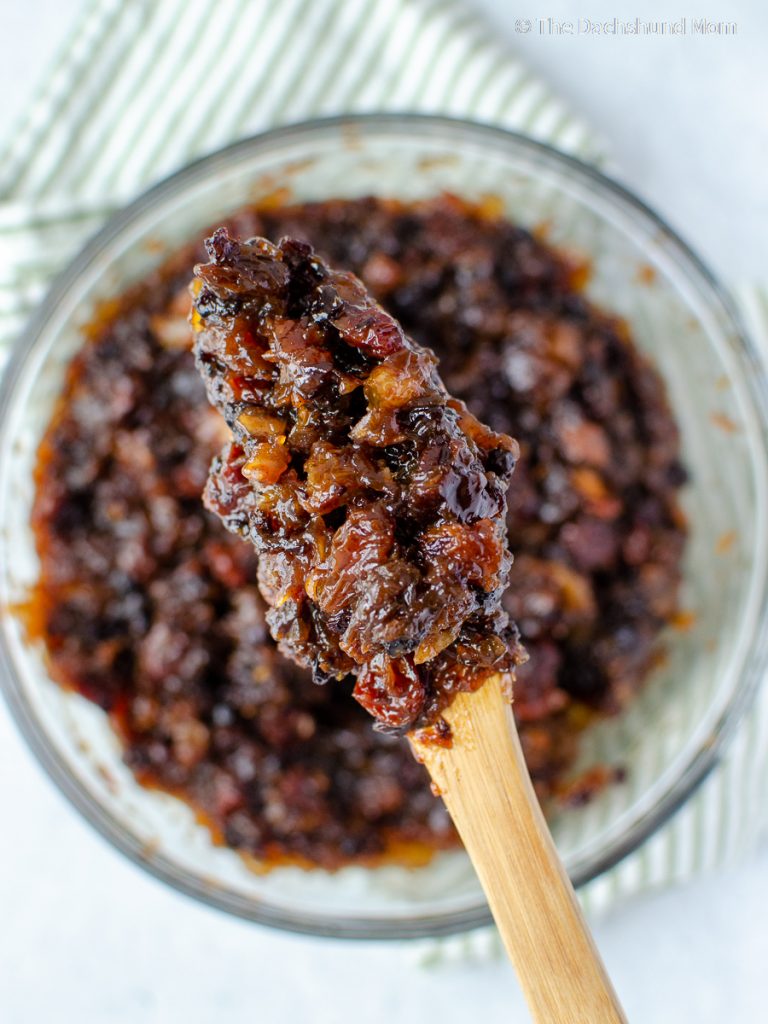 Substitutions:
For Vegan Mincemeat:
Use plant-based butter or vegetable shortening in place of dairy butter. Optional: swap 1 Tablespoon of the shortening for some walnut oil for extra flavor!
To substitute for the lemon:
If you're out of regular lemon, use a Meyer lemon (shown in these photos), a small orange or clementine instead.
To make a richer mincemeat:
Use 1 cup of English ale or stout in place of the apple cider and apple cider vinegar.
For alcohol-free mincemeat:
If you want the flavor of the liquors but not the alcohol: add them in the beginning of cooking (with the sugar and cider). The alcohol will cook off.
If you want a non-alcoholic version: simply increase the amount of apple cider to 10 ounces (1.25 cups).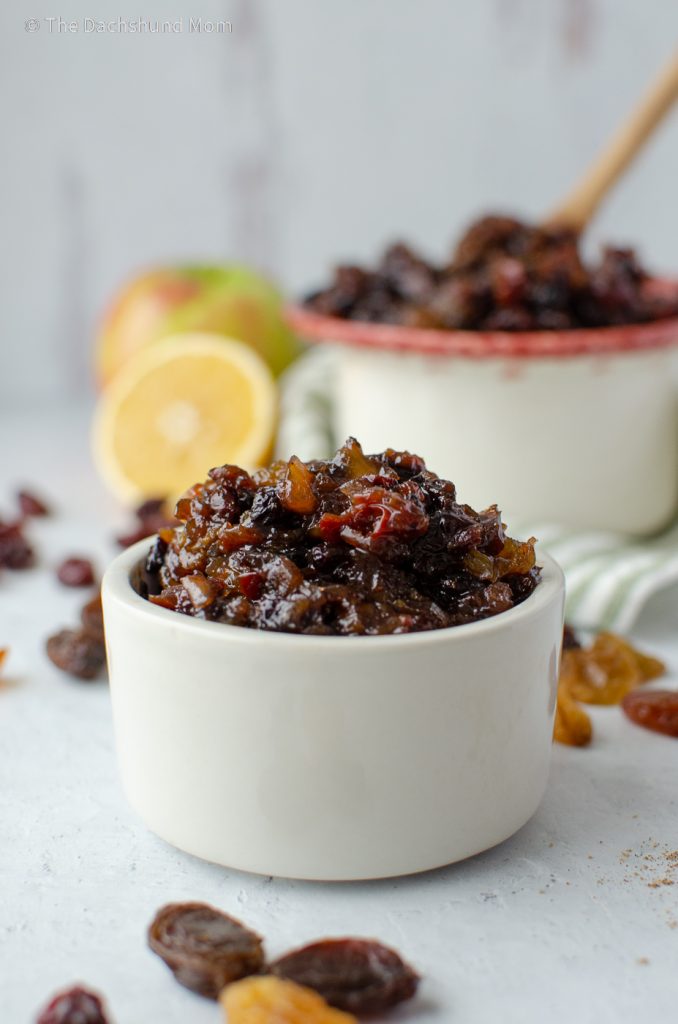 FAQs:
How to store:
Vegetarian mincemeat is good for 3 months stored in an airtight jar in the fridge. You can freeze mincemeat for up to 1 year (let thaw in the fridge before using).
How does this compare to jar mincemeat?
This recipe contains no beef, suet, corn syrup or cornstarch. It it thicker and less syrupy than some of the store-bought varieties, and it has a little more texture.
Mincemeat does thin out some when baked as the liquids reheat.
What are some recipes using mincemeat?
Mince pies are the most common use for mincemeat, but you can use it in cookies, cakes, quick breads, crumbles, or as a sweet topping for ice cream.
Mincemeat is very sweet and rich so it's associated with Christmas as a treat. It can be paired with nuts, pastry, crackers, cheeses, and even meats.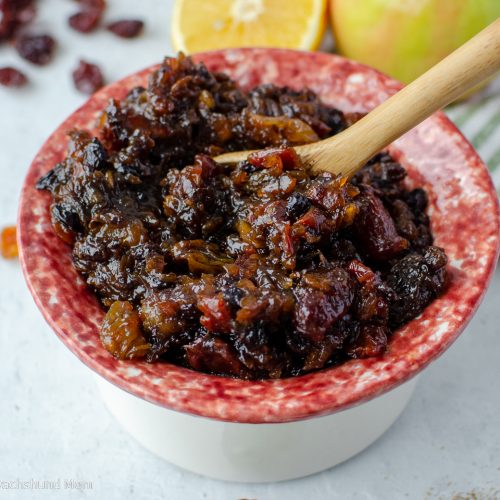 Mincemeat Recipe Without Meat
Homemade vegetarian mincemeat recipe with dried fruit, apples, sugar, and warm spices. Use as a pie filling for mince pies, or in place of jams in baking. Recipes yields 5.5 cups.
Equipment
Food Processor

Large skillet or non-stick Pan
Ingredients
2

medium

sweet or sweet-tart apples

Braeburn, Gala, Honeycrisp, etc.

1

medium

Granny Smith apple

1⅔

cups

dried currants, packed

= 8 ounces

1⅓

cups

raisin medley, packed

= 8 ounces

2/3

cup

prunes, packed

= 4 ounces

2/3

cup

dried tart cherries, packed

= 4 ounces

1½

cups

brown sugar, packed

1

cup

apple cider or juice

= 8 ounces

1

Tablespoon

apple cider vinegar

1

medium

lemon

4

Tablespoons

unsalted butter, cubed

or shortening for vegan

1½

teaspoons

ground cinnamon

see below for substitutes

1

teaspoon

ground nutmeg

1/2

teaspoon

ground ginger

1/4

teaspoon

clove

1/4

teaspoon

allspice

2

Tablespoons

brandy

2

Tablespoons

rum

or whiskey, brandy, or Port
Instructions
Prep:
Peel and roughly chop the apples. Add them to a food processor and process in intervals until minced (some larger pieces are okay). Add minced apple to a large pan and set aside.

Wipe out the food processor and add in all of the dried fruits (currants, raisins, prunes and cherries). Process to roughly chop the mixture. Set aside.
Cook the mincemeat:
To the pan with the apples: stir in the brown sugar, apple cider, and vinegar. Zest in the lemon and add in all of the lemon juice.

Over medium heat, bring mixture to a boil (about 10 minutes). Simmer, stirring often, until sugar is dissolved, apples break down, and mixture reduces slightly, about 5 minutes.

Add in the butter, spice mixture, and dried fruits. Stir well to combine.

Turn heat to medium-low and simmer mixture, stirring occasionally, until it is thickened and glossy, about 5 minutes.

Remove mincemeat from heat and let cool in the pan for 10 minutes, then stir in the brandy and rum.
Storage:
Let mincemeat cool completely before using or storing. It can be used right away, or for best results, refrigerate in an airtight jar overnight.
Notes
Mincemeat can be stored in the fridge up to 3 months, or can be frozen 6 to 12 months. This recipe is not designed for canning.
Substitute 1 rounded Tablespoon of Pumpkin Pie spice for the spice mixture (or use UK Mixed Spice, if you have it)
If you prefer an alcohol free mincemeat: add the brandy and rum while cooking (to cook off the alcohol) or use an additional 2 ounces of apple cider instead.
Nutrition
Serving:
2
Tablespoons
Calories:
84
kcal
---
---