Easy Vegetarian Chili
Looking for a delicious, hearty chili with beans? Give this vegetarian version made with beefless grounds a try! This recipe for chili beans is a classic, simple combination of "beef", kidney + pinto beans, diced + crushed tomatoes, onion, and pepper with chili powder and spices. It's a mild chili that everyone will love!
I love making food from scratch but I think it's good to have a few go-to recipes made with pantry staples and sturdy veggies. As much as I love cooking, having quick options that taste great and are versatile is important, too. This chili has minimal prep and hands-on time so it's great for any night of the week.
Here's my hearty and simple version of vegetarian chili beans. It's a protein packed comfort food that pairs with cornbread as an entrée or can be used to top baked potatoes or nachos.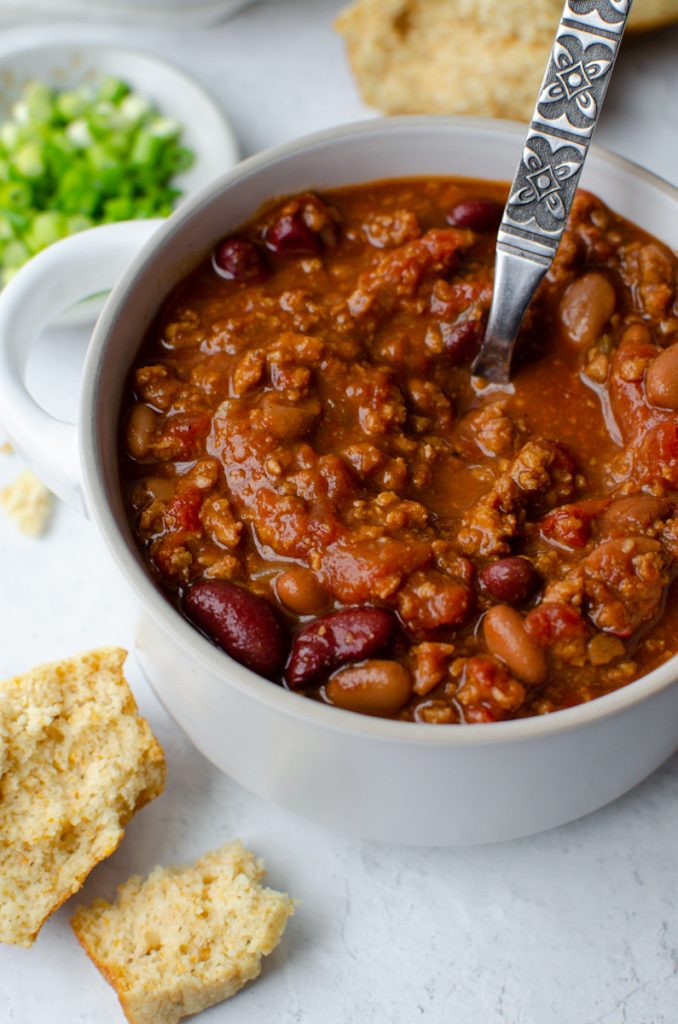 Trader Joe's used to carry our favorite (and cheap) vegetarian "beef and bean" chili– it was the best for topping! But since early last year they stopped carrying the product. Canned vegetarian chilis are not cheap usually so making it at home is now our best option.
Ingredients for Veggie Chili: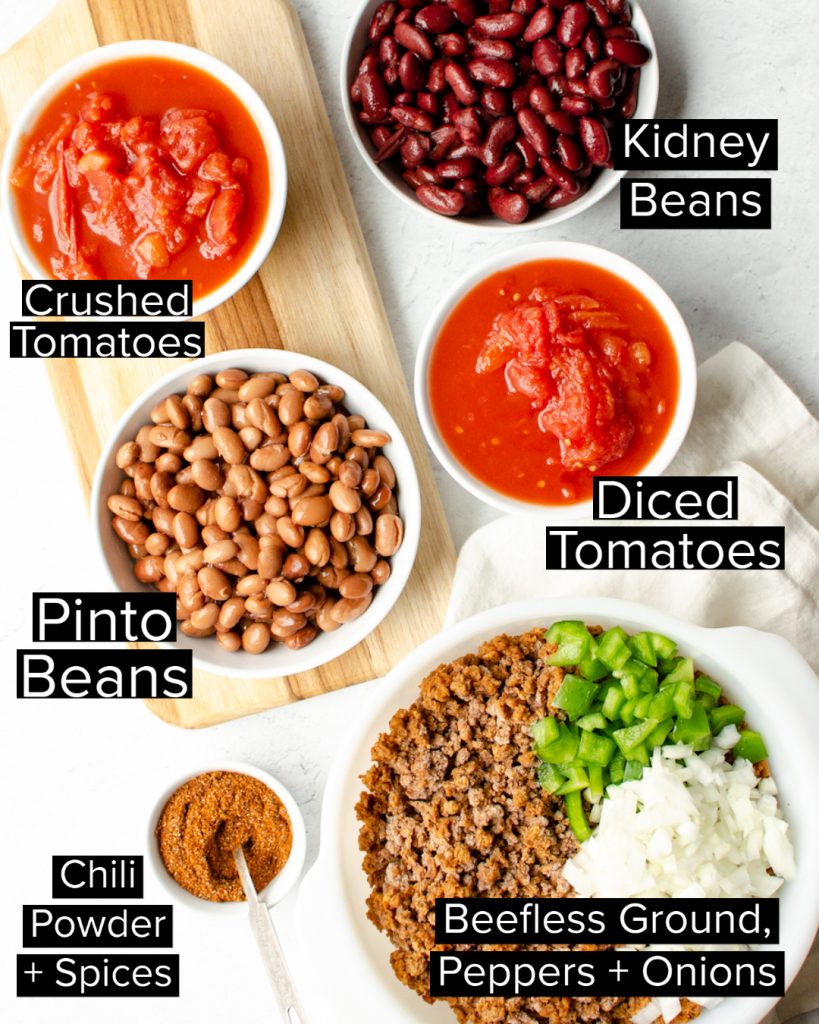 What Makes this the Best Vegetarian Chili Recipe?
It's made with (mostly) canned items so it comes together quickly
Two types of beans: pintos and kidney beans for variety
Two types of tomatoes: diced and crushed. Some tomatoes keep their structure while most flavor the base of the chili.
It cooks on the stove-top but is (mostly) hands-off so it's easy
There are no unnecessary extras like carrots, corn, or other veggies– this keeps the recipe traditional. It's a copycat beef chili but made with vegan beef. Classic, simple, and delicious!
The chili is versatile and hearty- perfect on its own (maybe add cornbread!) but can be used as a great topping for chili-cheese baked potatoes or to make nachos!
This recipe uses no added oils or sugars
How to Make Easy Vegetarian Chili:
Prep ingredients: dice onion and pepper. Drain beans (but don't rinse). Crush whole, peeled tomatoes. Combine spices in a small dish.
Combine beefless grounds in a Dutch-oven with onion, green pepper, 1/2 cup of water and spices.
Saute mixture to add some depth to the "beef" and soften the fresh veggies. This forms the base of the chili.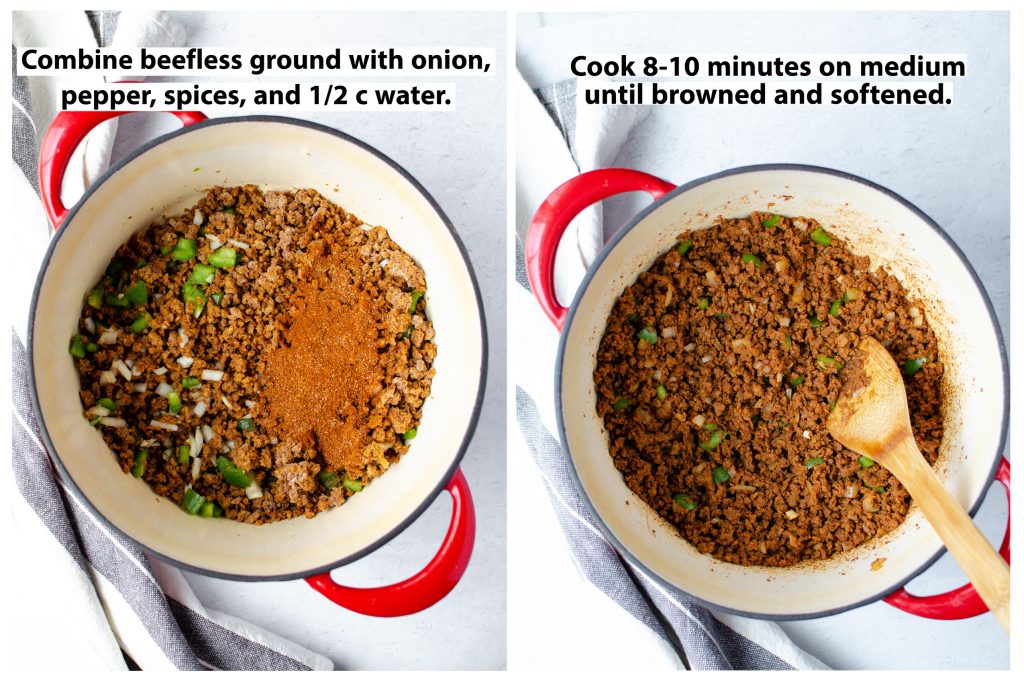 Add in tomatoes, beans, and water. Bring to a boil.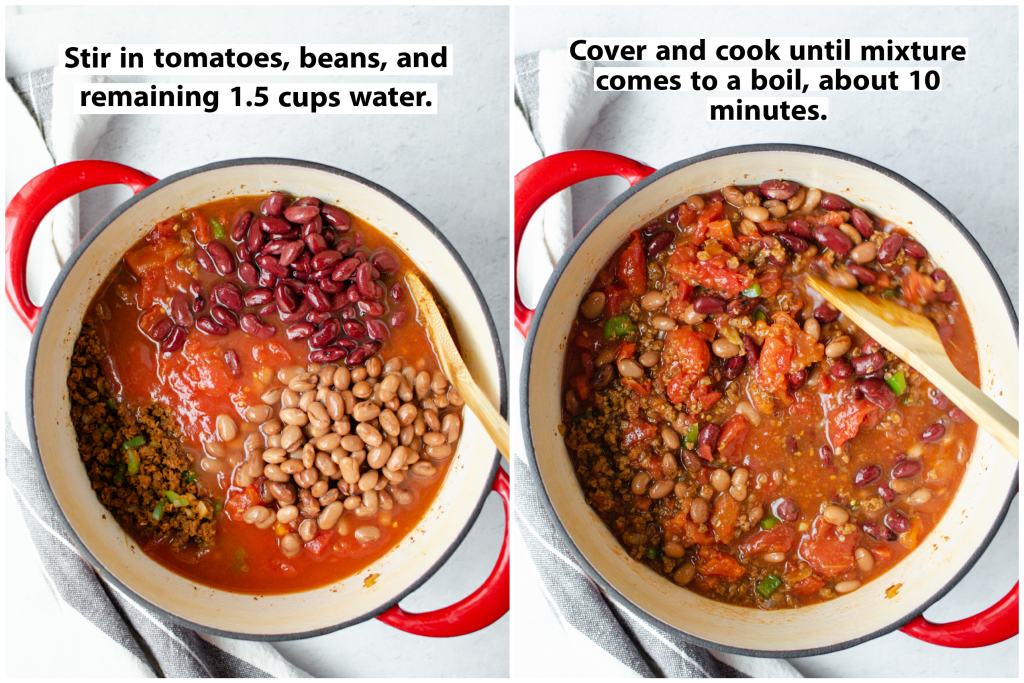 Let simmer, stirring occasionally for an hour, until chili has a deep color and is slightly thickened and flavorful. It will thicken slightly upon standing.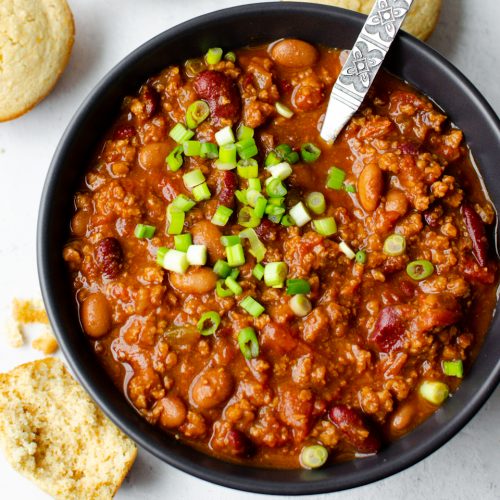 Easy Vegetarian Chili
Delicious and classic chili beans with beefless grounds, tomatoes, peppers, and onions. Easy one-pot stovetop preparation with both fresh and canned ingredients make this a versatile winner. Perfect for use as an entrée with cornbread or as a topping for nachos or potatoes. Vegan and made without oil. Makes 8 servings (1 cup each).
Equipment
large stockpot or Dutch-oven
Ingredients
12 to 14

oz

beefless ground or crumbles

fresh or frozen

2

Tbsp

chili powder

1

tsp

salt

1/2

tsp

black pepper

1/2

tsp

ground cumin

1/8

tsp

cayenne

1/8

tsp

garlic powder

1/2

c

chopped white or yellow onion

= 1/2 of a large onion

1/3

c

chopped green bell pepper

= 1/3 of a pepper

16

oz

water, divided

15

oz

canned pinto beans, drained

15

oz

canned kidney beans, drained

15

oz

canned diced tomatoes

28

oz

canned whole tomatoes

sub 28 oz crushed tomatoes
Instructions
Prep ingredients: dice onion and green pepper. Combine chili powder, salt, pepper, cumin, cayenne, and garlic powder in a small dish. Drain canned beans but do not rinse. Pour 28 ounce can of whole tomatoes in a bowl and crush (or use crushed canned tomatoes). Do not drain tomato juices.

In a large stockpot over medium heat, combine beefless grounds with the chopped onion and green pepper. Stir in spice mixture and 1/2 cup of the water to coat. Cook, stirring occasionally, until vegetables are softened and beefless grounds are lightly browned, about 10 minutes.

Add in drained kidney and pinto beans, diced and crushed tomatoes (with juices), and remaining 1 and 1/2 cups water. Stir to evenly combine. Cover and bring to a boil (takes 8 to 10 minutes).

Once boiling, turn heat to low. Let simmer covered, stirring occasionally for 1 hour, until chili is dark, flavorful, and thickened slightly.

Serve as is or with preferred toppings (cheese, sour cream, green onions, avocado). Refrigerate leftover chili for up to 5 days or freeze for 2 months.
Notes
For a thinner chili- increase water to 3 cups (some will absorb when chili beans are stored)
To Freeze Chili– add to a freezer safe jar or container and leave at least 1/2 inch headspace. Freeze for up to 2 months. Reheat with a little water (as needed) on the stovetop or in the microwave.
Nutrition
Serving:
1
cup
Calories:
205
kcal
Carbohydrates:
29.4
g
Protein:
16.2
g
Fat:
1.9
g
Saturated Fat:
0.1
g
Sodium:
670
mg
Potassium:
158
mg
Fiber:
7.9
g
Sugar:
3.4
g
Calcium:
93
mg
Iron:
8
mg
We've been making this chili just about weekly. It's easy and comforting, and leftovers make an excellent meal later in the week (especially over baked potatoes). I'll definitely make a batch for the Super Bowl and this recipe will come in handy throughout the year.
Keep up with me on Instagram (@thedachshundmom) and let me know how you're doing this year so far!
-Emma
---
---