Gingerbread Bundt Cake
Print Recipe
How are your holiday preparations going? Are you getting excited for all of the good foods and desserts or the time with family? I am super excited to host all of our family in our new house this Christmas! But I feel like we still have lots to do before the guests roll in. We are still shopping and we are still decorating haha but I've been doing plenty of prep in the kitchen–so I guess we are getting prepared for something at least 🙂
In the past few days we've made several dozen cookies, finally experimented with royal icing (i.e. after 6 years of being intimidated with the stuff I finally worked up the courage to try it lol), baked a few cakes and sampled some new cheeses for our upcoming holiday cheese boards. One of the best things to come from our packed weekend was this Gingerbread Bundt Cake!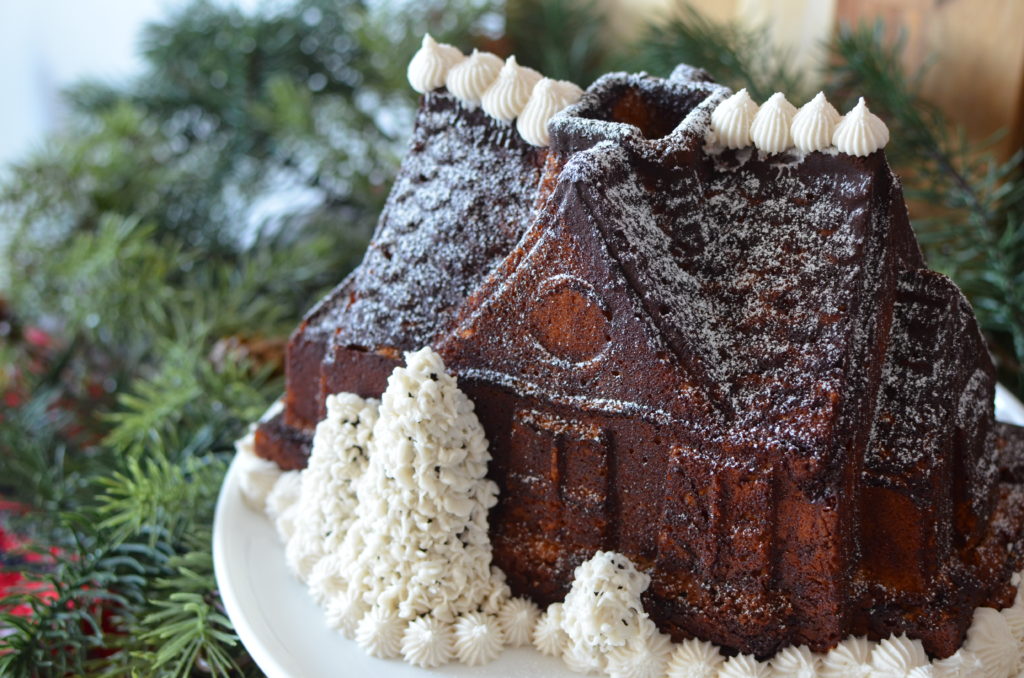 Gingerbread Bundt Cake is lightly spiced, perfectly light in texture with a good crumb and strikes a good balance between true gingerbread (dense and heavy texture, with molasses) and a warm, spongy spice cake. We love this cake because it's not too sweet, not too spicy but *just right*.
There are so many ways to enjoy this cake– dressed up with colorful frosting or glaze or simply dusted with powdered sugar for a snow-covered rustic look (my favorite). You can use a large ornate bundt pan like I did (table centerpiece?) or use smaller, individual serving bundt pans and top them with vanilla bean ice cream for a delicious and easy dessert. So many ideas come to mind–but I especially think this cake recipe would make great mini loaves to gift 🙂 The spice level would appeal to many and the cake itself is so soft it doesn't feel like a heavy holiday treat.
I hope you love this gingerbread cake as much as we do! Let me know your favorite way to enjoy bundt cakes 🙂 and if you want more gingerbread flavor, be sure to check out my Colonial Ginger Cookies
Gingerbread Bundt Cake
Delicious light gingerbread spiced cake–perfect for shaped bundt pans or loaves. Airy with medium density. Top with a dusting of powdered sugar or decorate with glaze or frosting.
This recipe is for a 9 cup bundt pan/mold.
Cover tightly and store at room temperature for up to 3 days.
Ingredients
Dry Ingredients/Flour Mixture:
2¼

c

all purpose flour

¼

c

cornstarch

4

tsp

ground ginger

2

tsp

cinnamon

2

tsp

baking powder

¼

tsp

ground cloves

¼

tsp

ground nutmeg
Sugar Mixture:
1

c

salted butter, softened

1

c

sugar

⅔

cup

brown sugar, firmly packed
Other:
4

large eggs

1

tsp

vanilla

1¼

c

milk
Instructions
Prep Pan and Ingredients:
Prep bundt pan with an even, heavy coating of baking spray (recommend using one with flour). Dust inside of pan with cocoa or powdered sugar. Set pan aside.

Preheat oven to 325*F.

Read all instructions first and gather all ingredients so everything is ready nearby. Timing is important to how this cake turns out (batter should not stand too long between additions).

In a large bowl, whisk together flour, cornstarch, spices (ginger, cinnamon, cloves and nutmeg) and baking powder. Set aside.
Cream butter/sugars:
In the bowl of a stand mixer with paddle attachment, cream butter and sugars until light and fluffy, approximately 3 minutes. Scrape sides and bottom as needed. I use medium-high speed on the mixer for this step.
Make the batter:
Add eggs, one at a time–beating well after each egg (I recommend keeping the mixer on medium speed).

Blend in the vanilla and reduce mixer speed to low.

Add in the flour mixture alternately with the milk, beginning and ending with the flour mixture. Beat on low just until combined, scraping bowl and sides as needed to incorporate all dry ingredients.

Spoon batter into the prepared bundt pan a little a time, carefully spreading and filling any crevices. Try to push some of the batter to the outside of the pan (creating a depression in the center of the pan)–the cake will rise in the center so try to cover the edges/any corners as possible.

Place filled bundt pan on a baking sheet and bake for 60-75 minutes or until a toothpick inserted in center comes out clean (or with minimal crumbs).

Cool upright in pan for 10-15 minutes. If necessary, level the bottom of the cake before turning out onto cooling rack. Remove from pan and cool completely on a cooling rack.

Decorate cake as desired, using powdered sugar and cocoa dusting or frosting/icing. Enjoy!
Notes
This recipe is adapted from NordicWare (the BEST bundt pans, ever!)
 When filling the pan, push as much batter into every corner or nook and cranny as possible. This batter expands upward but not outward–so take a few extra minutes and manually fill any edges. The first time we made this cake, we lost a good 2 inches from the decorative bottom of the gingerbread house pan because we assumed the batter would fill in the spots 🙂
 If needed, trim any mounded bottom off before turning out.
Substitute 2 and 3/4 cups cake flour for the AP flour + cornstarch if desired. Cake flour (homemade or store bought) gives a really nice airy feel to this cake, as most bundt cakes are fairly dense.
I used a specialty pan but any bundt pan will work (my notes to fill all crevices may not apply for regular round bundt cake pans).
I hope your holiday prep is off to a great start and if you're wanting a good medium spiced cake, give this one a try 🙂 Enjoy some time solo or with a loved decorating a cute gingerbread house (err, cake) and definitely enjoy cutting off a perfectly crispy corner topped with cocoa (no judgment) 😉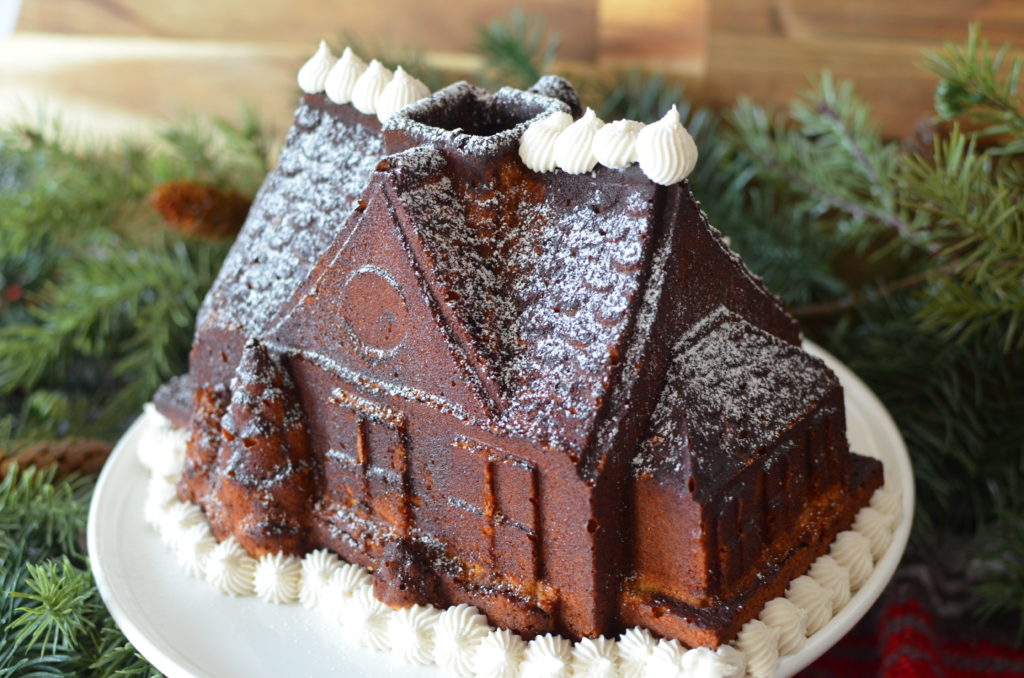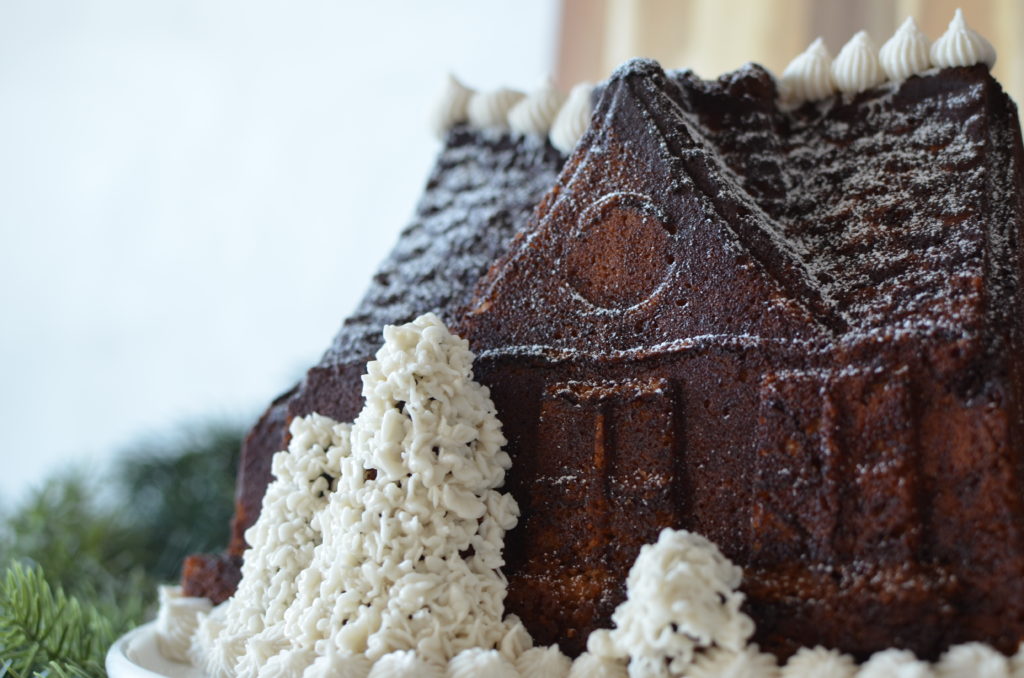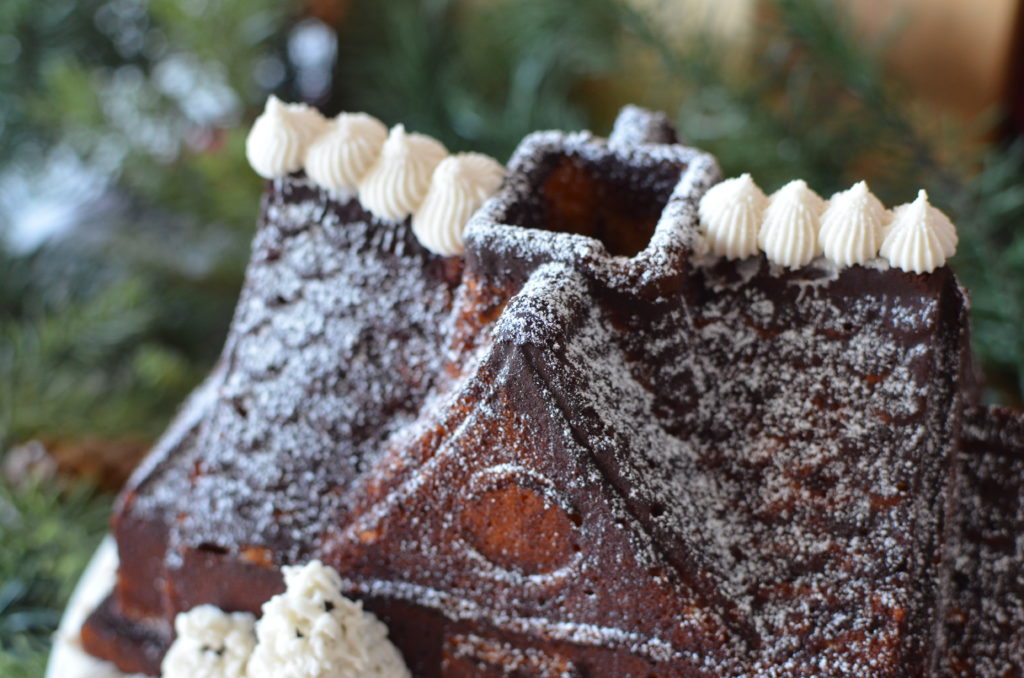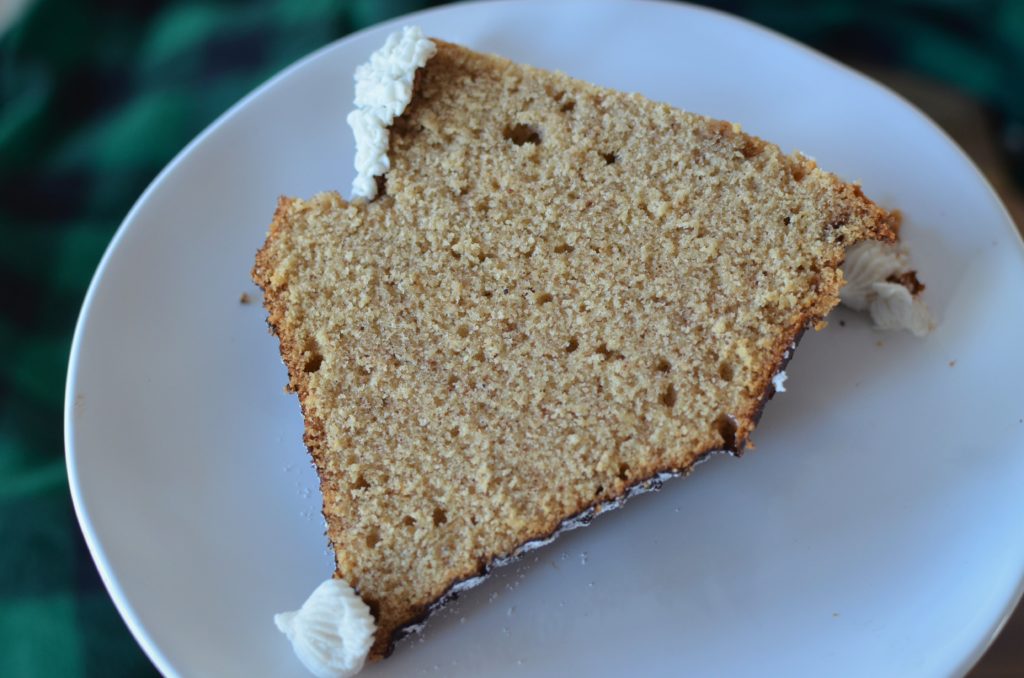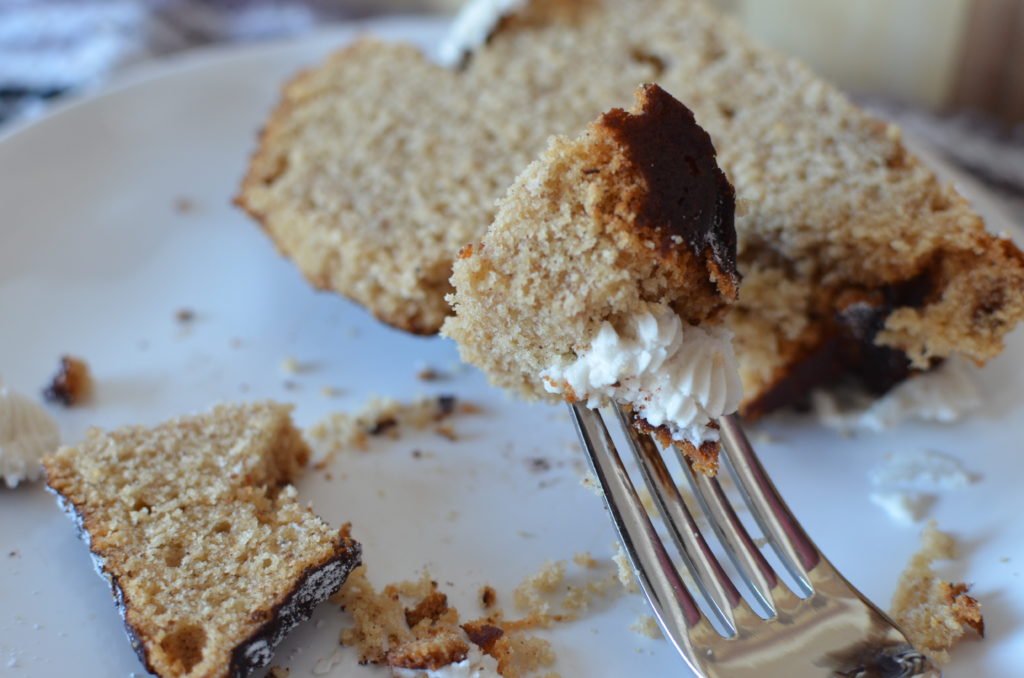 Stay tuned for a few more goodies here on the site before Christmas but until then, keep up with me on Instagram (@thedachshundmom) and be sure to share your delicious creations with friends!
-Emma
---
---