Blueberry Biscuits
Getting a hot Bo-berry biscuit before class is one of my favorite memories from my senior year of high school. We had a Bojangles right next our school and several mornings a week, my friends and I would stop for breakfast. In hindsight, eating Bojo's that often was probably not a good idea 🙂 But hey, teenage life, right?
My husband and I rarely get Bojangles (or any fast food) now but I still love a good blueberry biscuit. Many of you know we made it a priority to cut out artificial junk (2017) and this year we really wanted to focus on eating at home. I created this recipe adapting my favorite regular biscuit into a lightly sweetened blueberry version. True, this isn't health food—but it's loads better than an artificially laden fast food version 😉 This biscuit is simply a really good biscuit with blueberries added. I've added a sweetened glaze to up the dessert brunch factor but this could be left off if you prefer something less sweet. A blueberry biscuit without the glaze makes a delicious savory breakfast sandwich, too! Blueberry Biscuits will be an easy way to add a little something different to your next brunch or weekend breakfast date 🙂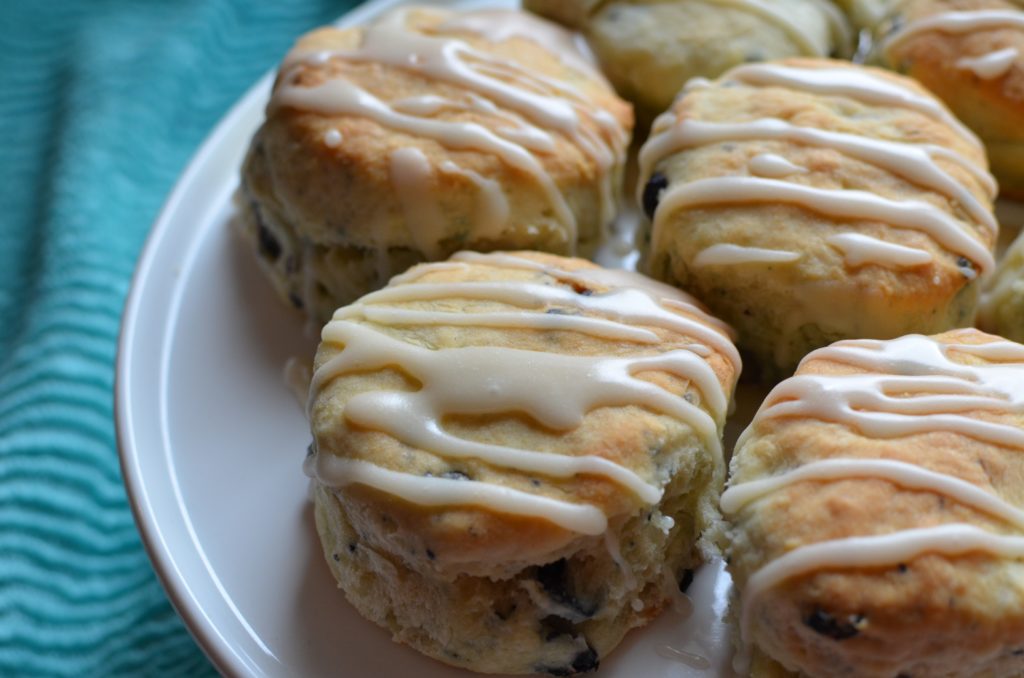 Blueberry Biscuits are easy and delicious. They call for freeze dried blueberries (we found ours at Trader Joe's) and a combo of sweet cream butter and vegetable shortening. This half and half mixture yields a fluffy, southern style biscuit that hits the right level of texture and crumb. These are vegetarian (naturally) but can be made dairy free or vegan if dairy free substitutes are used. We prefer to bake them on a sheet pan but a skillet also works well. These are ahmazing when used for a sausage biscuit [ahem, veggie sausage 😉 ] and are an excellent addition to tea time.
Blueberry Biscuits
Delicious, fluffy southern-style biscuits with blueberries and sweet glaze. A simple and easy version of "Bo-berry biscuits" from Bojangles. This recipe calls for freeze dried blueberries and a combination of sweet cream butter and vegetable shortening. These can be made on a sheet pan or in a cast iron skillet. Perfect for Sunday brunch or a morning in. Vegetarian.
Equipment
baking sheet

large mixing bowl

small saucepan
Ingredients
For Biscuits:
2

c

All Purpose Flour

1

c

Milk

1/3

c

freeze dried blueberries, roughly chopped

1/4

c

vegetable shortening

1

Tbsp

butter

4

tsp

baking powder

1

Tbsp

sugar

1/2

tsp

salt
For Sugar Glaze:
1/2

c

powdered sugar

1

Tbsp

milk

1/8

tsp

vanilla extract
Instructions
Preheat oven to 425°F. Whisk together flour, baking powder, sugar and salt in a large bowl.

Using a pastry cutter or a fork, work butter and shortening into flour mixture until mixture resembles coarse crumbs.

Make a well in the center of the bowl. Slowly pour in milk, stirring with a fork until all milk is incorporated and a dough forms.

Fold in blueberries– work from the outside of the bowl inward to gently stir in the berries.

On a well floured surface, roll or pat out the dough. Knead 10-12 times and pat out to 1/2 inch thickness. Be careful not to overwork the dough.

Cut with a floured 3 inch biscuit cutter. Re-roll dough and cut as necessary to finish the dough (this makes 8 biscuits and usually takes 2 re-rolls).

Place cut biscuits on a sheet pan with sides touching.

Bake for 15-18 minutes or until biscuits are lightly browned. Rotate pan halfway through baking to evenly brown.

Place biscuits on a cooling rack. Let them cool slightly while preparing the glaze.
Make the Glaze:
Add 1/2 c powdered sugar, 1 Tbl milk and dash of vanilla to small saucepan. Whisk together over medium heat until sugar is completely dissolved.

Drizzle glaze over warm biscuits and serve. Enjoy!

Biscuits can be stored 2-3 days in an airtight container in the refrigerator. Reheat before serving, if desired.
Notes
To bake in an iron skillet: arrange biscuits in a circle until full. Bake 18-20 minutes, until golden and cooked through. Biscuits will be fluffy but have a softer crumb and edges. Skillet biscuits are perfect for brunch for 2! 
This recipe calls for freeze dried blueberries because of their ability to add flavor without adding liquid. This also keeps the dough from turning blue. Roughly chopping the blueberries spreads them more evenly throughout the dough.
For extra blueberry flavor, increase amount to 1/2 cup.
Nutrition
Serving:
1
biscuit
Calories:
240
kcal
Carbohydrates:
36.8
g
Protein:
4.3
g
Fat:
8.9
g
Saturated Fat:
2.8
g
Cholesterol:
6
mg
Sodium:
175
mg
Potassium:
304
mg
Fiber:
1.2
g
Sugar:
11.3
g
Calcium:
151
mg
Iron:
2
mg
This Blueberry Biscuit recipe makes 8 large biscuits, which is perfect for a couple or small family but it could be doubled and worked in batches (I always recommend making biscuits in small batches). Give these a try for your next special breakfast and you're in for a real treat!
Hope your March is off to a great start (March already?!)–let me know what you'd like to see here on The Dachshund Mom 🙂
xo, Emma
---
---