Ethel's Easy Pie Crust
With Thanksgiving around the corner, I'm excited to share an heirloom pie crust recipe from my papa's late cousin, Ethel. Baking is something near to my heart and every time I visit my grandparents, I learn a little bit more about their family history through the decades of recipe books. This pie crust recipe was not written with directions or baking guides and it only had minimal instructions. I had a list of ingredients and a very basic "add this then bring together"…
So Andrew and I took the ingredient list and figured out the rest. I sometimes think with Google and so many recipes at our fingertips these days, we're losing some of the idea of time-honored family traditions. I imagine when Ethel wrote her pie crust recipe down she just assumed the reader would know exactly what to do with the list. A good baker just knows how to bake a pie, right? Any true southern lady is just born knowing how to get a pastry dough perfect…right?
Well, not really. I'm very proud to be a southern lady but I feel like we've lost something from generations ago. I want to change that—and I'm on a family mission to make sure nothing good is forgotten.
I've tried several different pie crust recipes over the years and the first time I began making Cousin Ethel's I knew it was 'the one'. This dough comes together quickly, rolls beautifully, is strong and fool-proof and above all, is perfectly flaky and just the right texture.
I can't pretend to call this health food because of all the shortening—but the reason shortening has been featured in the best pie crusts for over 100 years is because it just works. And when it comes to baking, if it ain't broke—why fix it? You could substitute some butter if you like, but honestly, this is super flaky as is. And the flavor is incredible with the shortening. There's a dash of sugar which helps it brown up and there's an egg, which adds some super strength to the dough.
You can use this crust for every pie you ever want—it's great with savory fillings (like buffalo chicken + mozzarella or turkey + dressing + gravy) or excellent with fruit as a dessert pastry. And I just can't get over how easy it is to use—even for beginners.
Papa's Cousin Ethel was born in 1910 and this recipe has been loved for three generations. I'm sure over time I might find different ways to honor our family, but for now–I'll bake a few pies like these cranberry chocolate tarts. And share them with you 🙂
The first set of photos is the dough-making process. Hopefully something will be useful!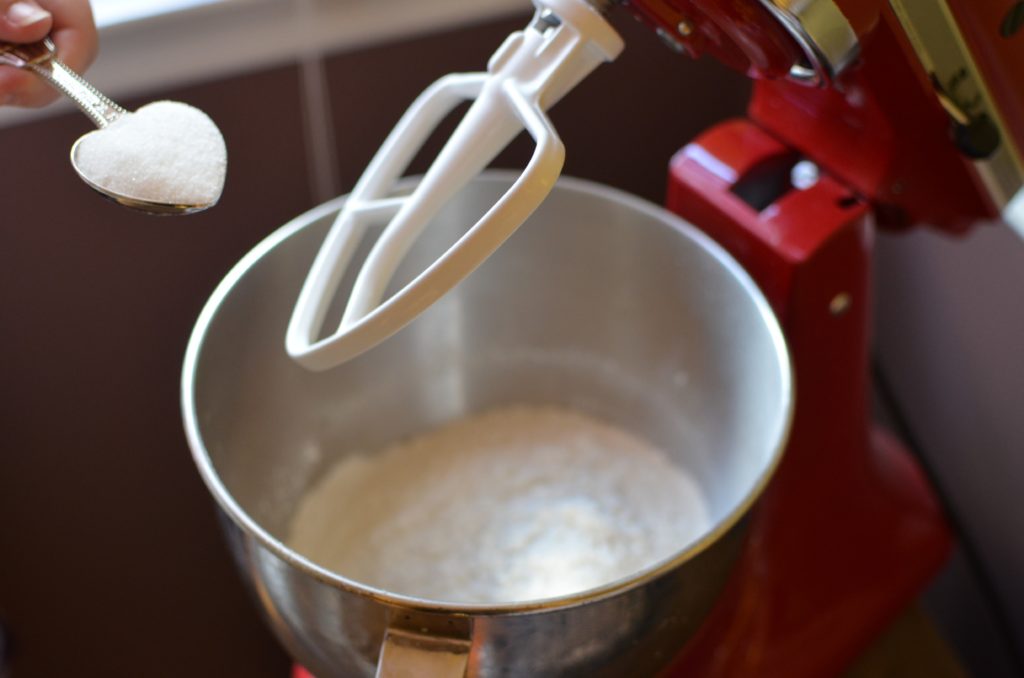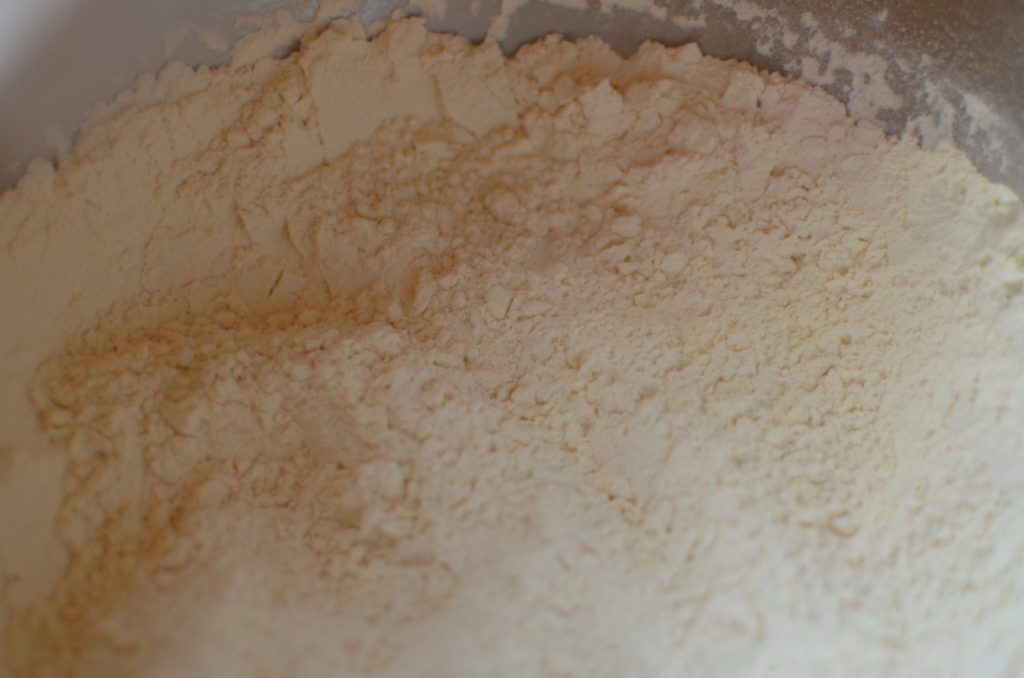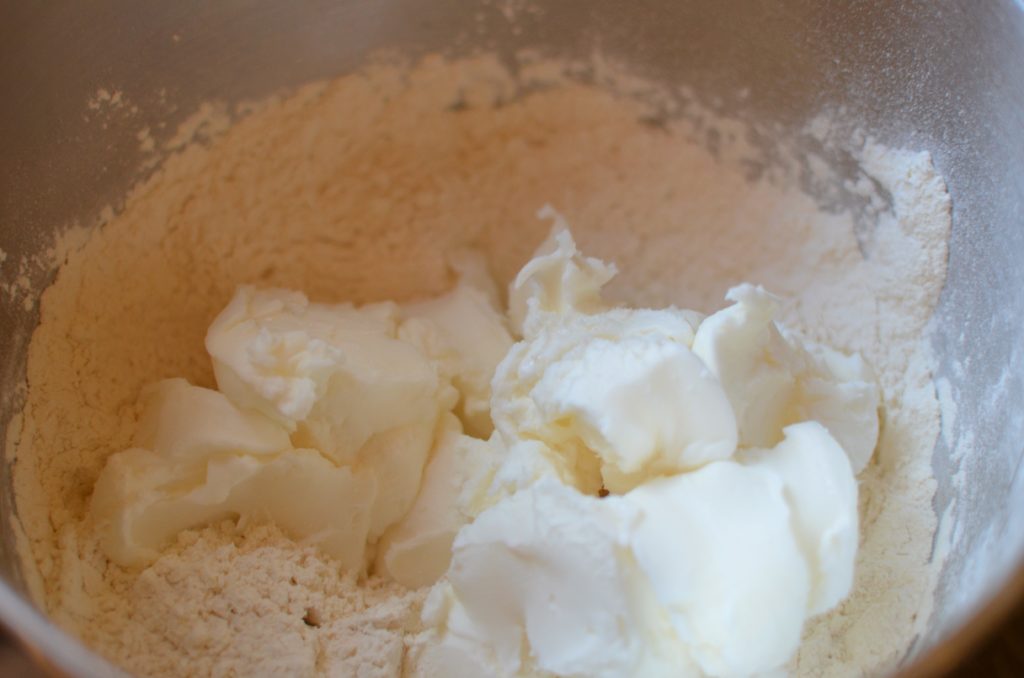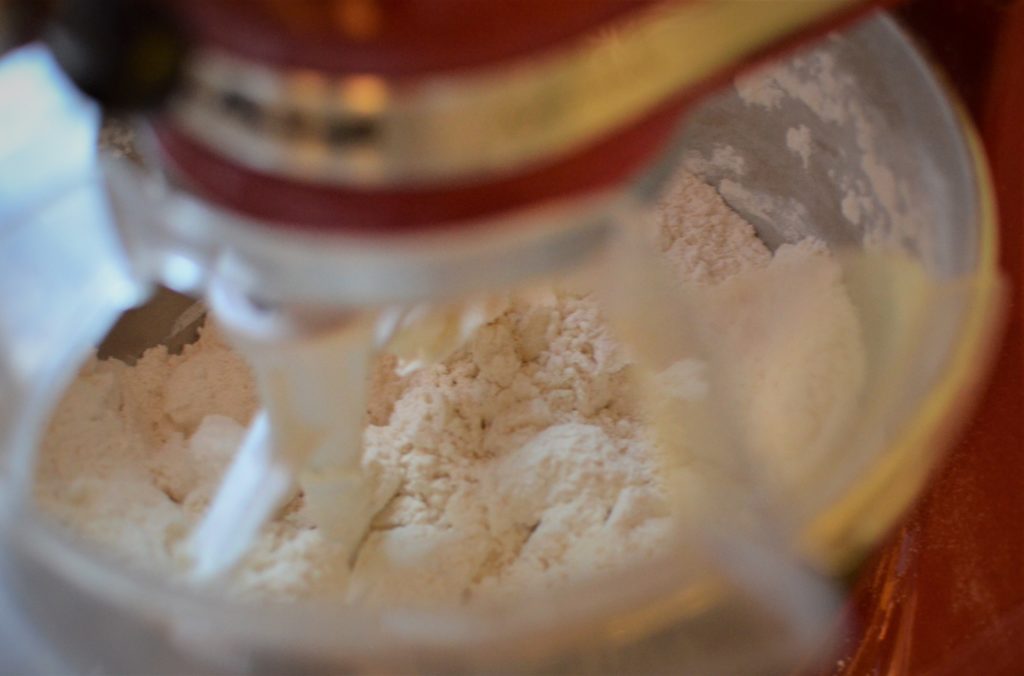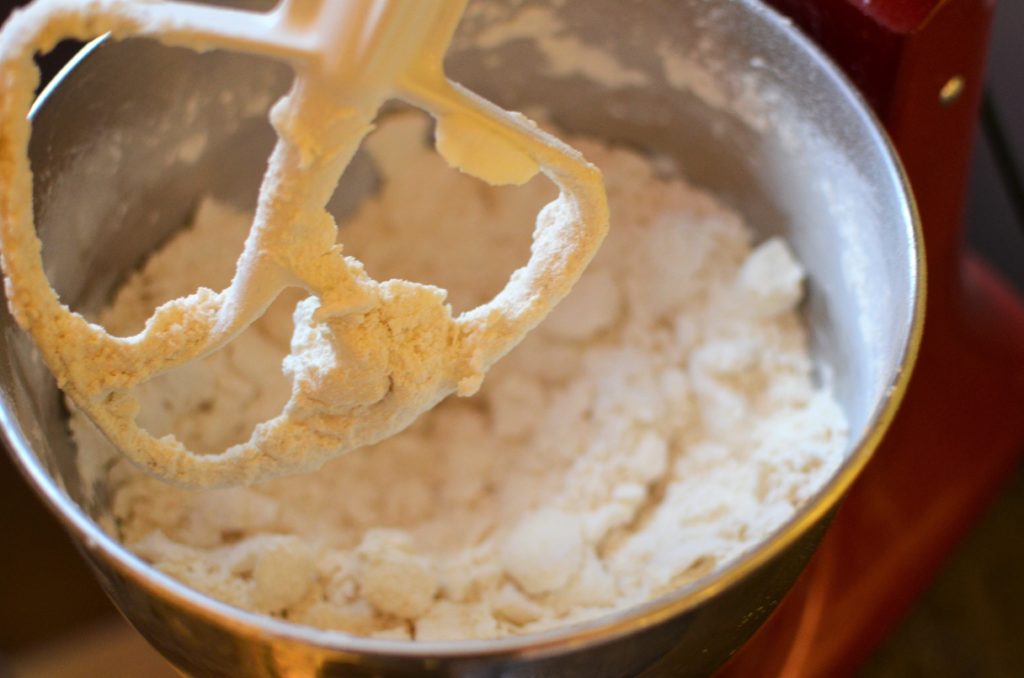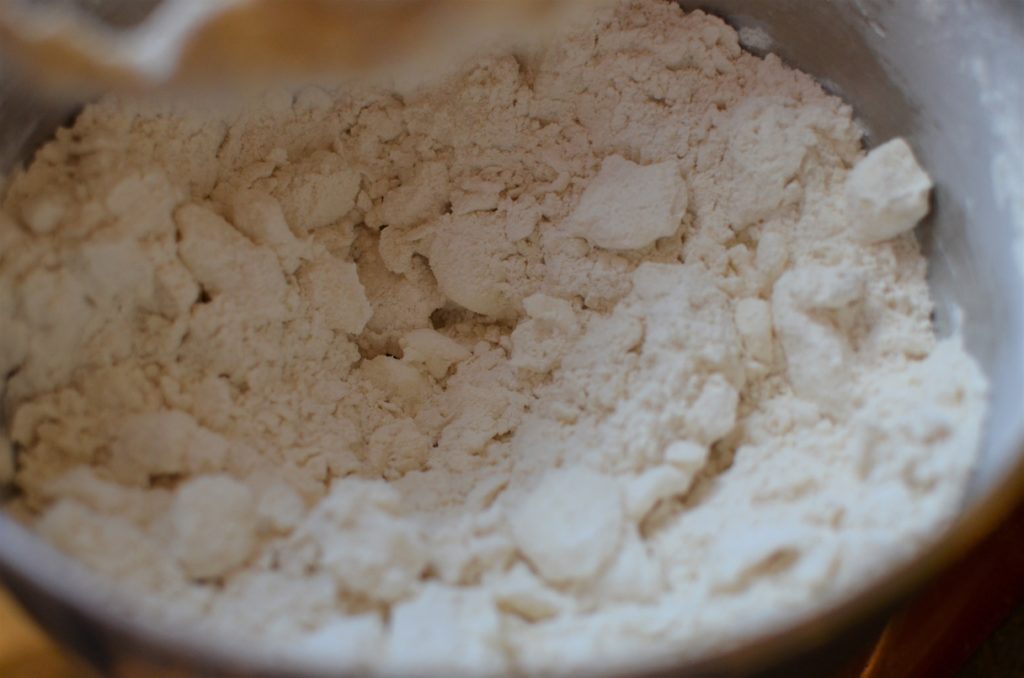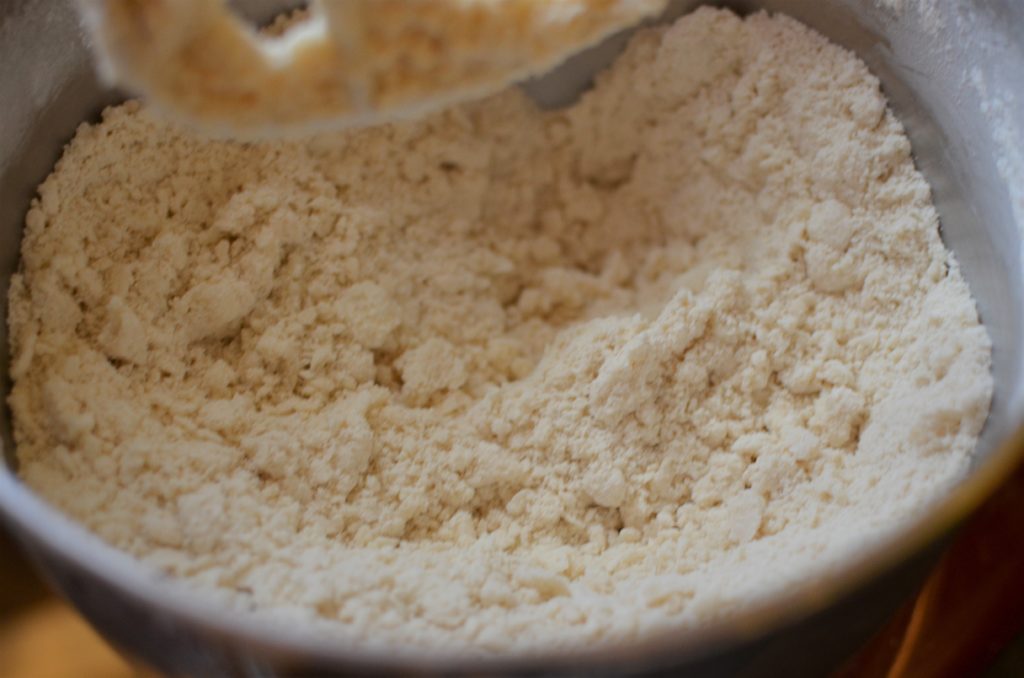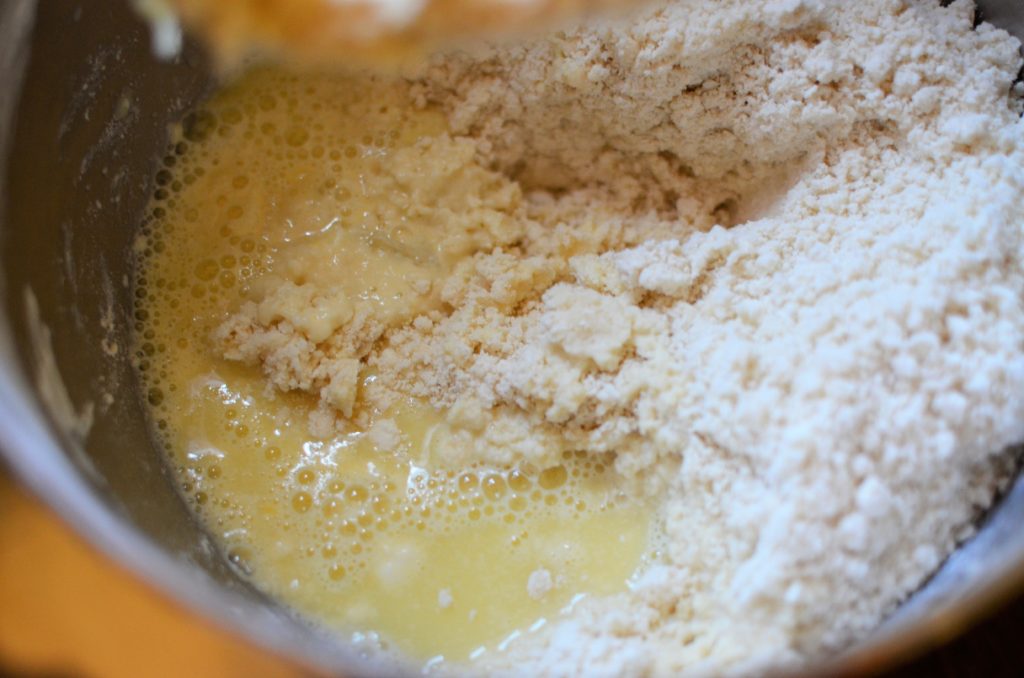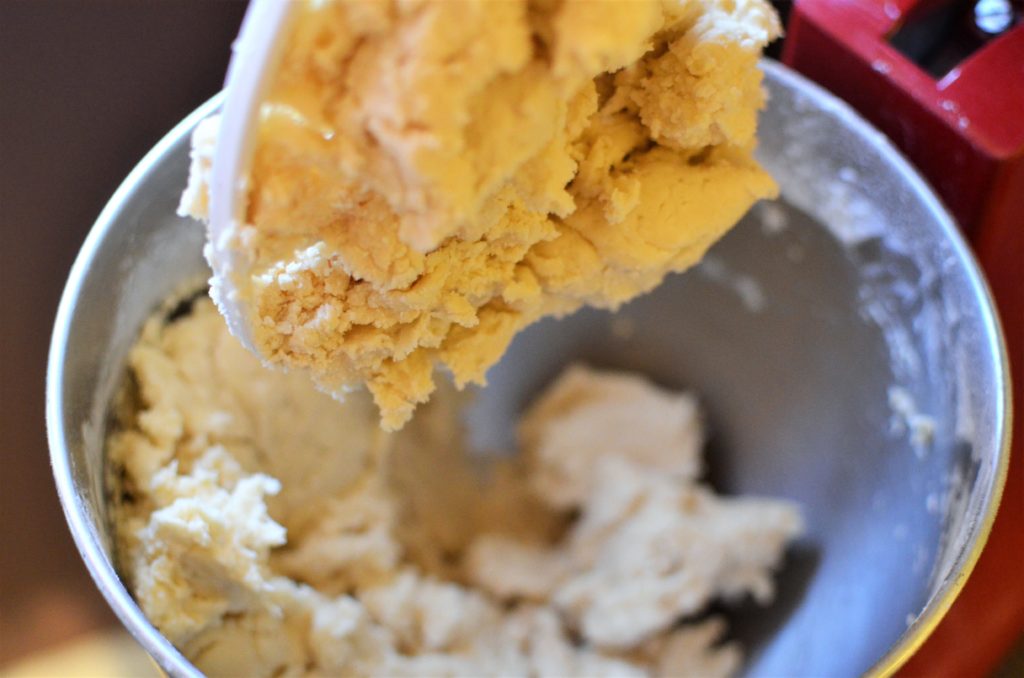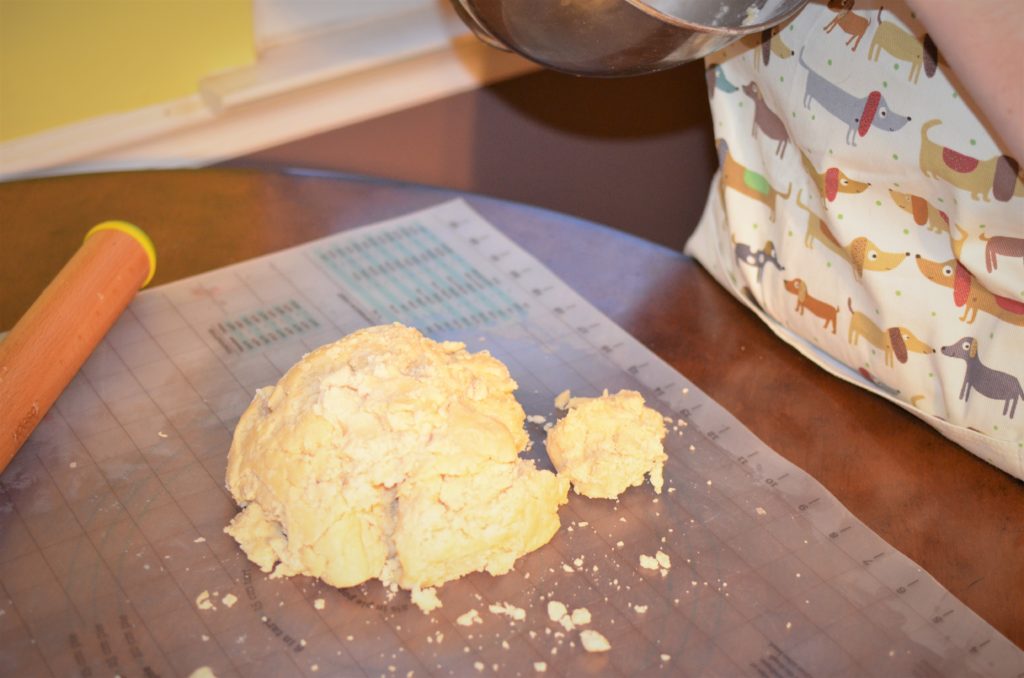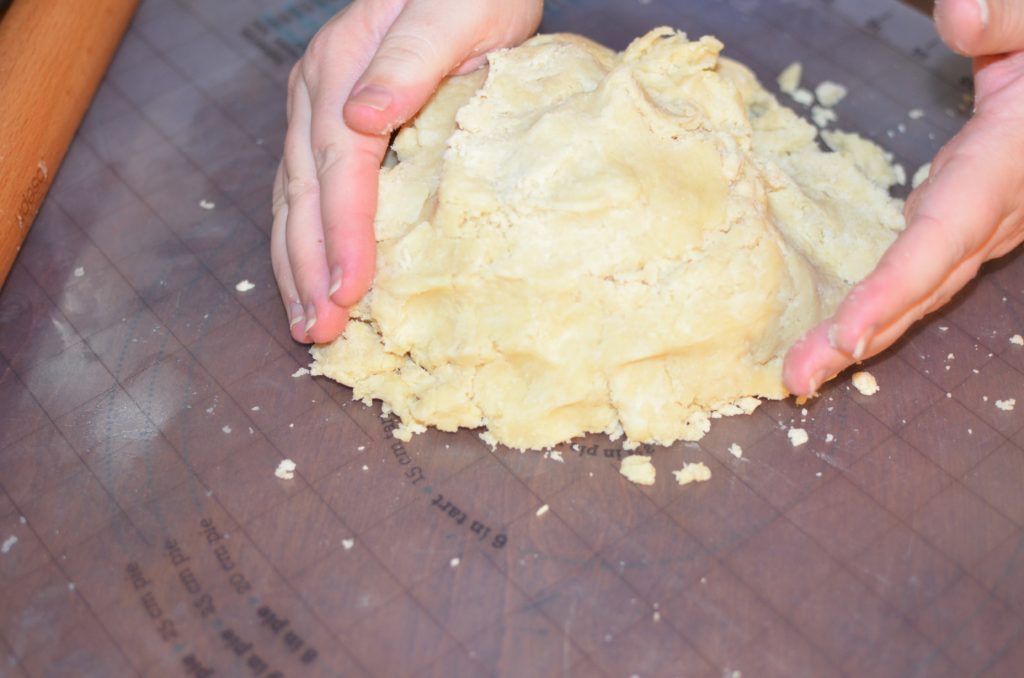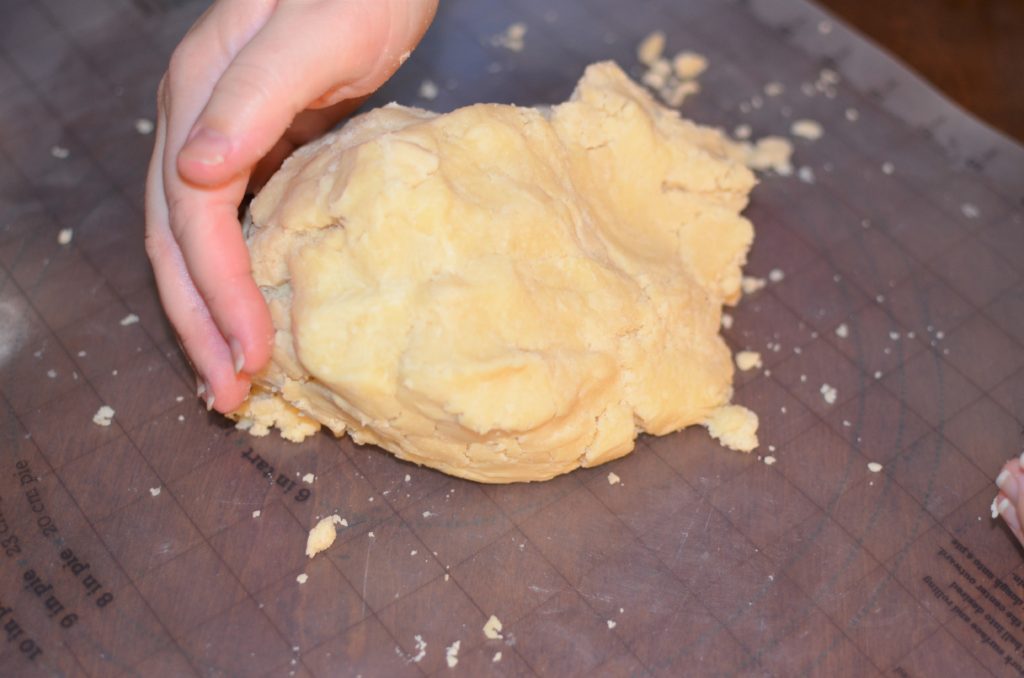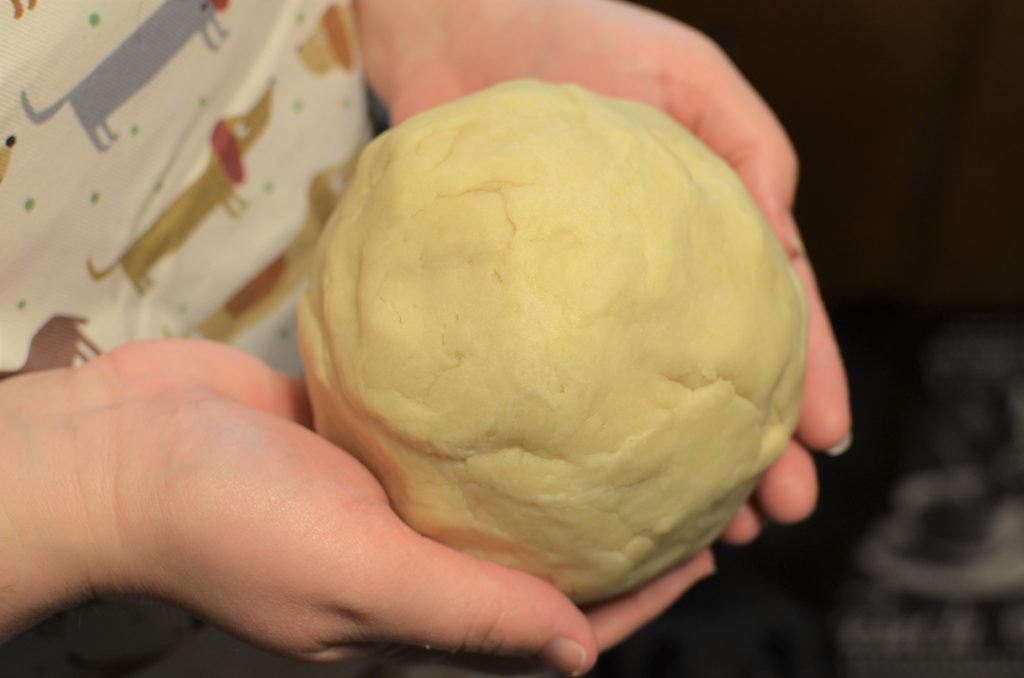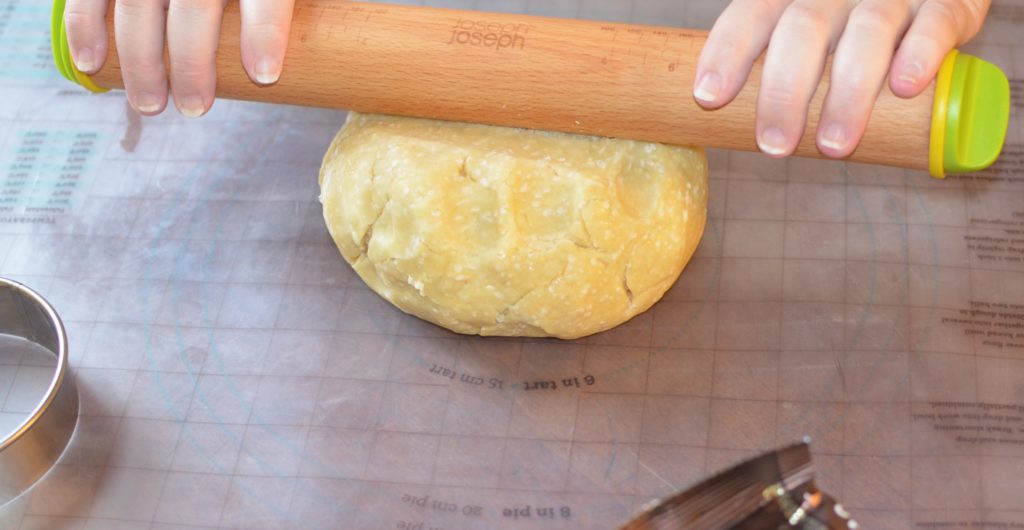 The next photos are after the dough has been chilled. In the first photo, notice the small white spots—this is the shortening making tiny bubbles and it is perfectly fine. Spots will be worked in when dough is rolled—and it's necessary to make those flaky layers of goodness 🙂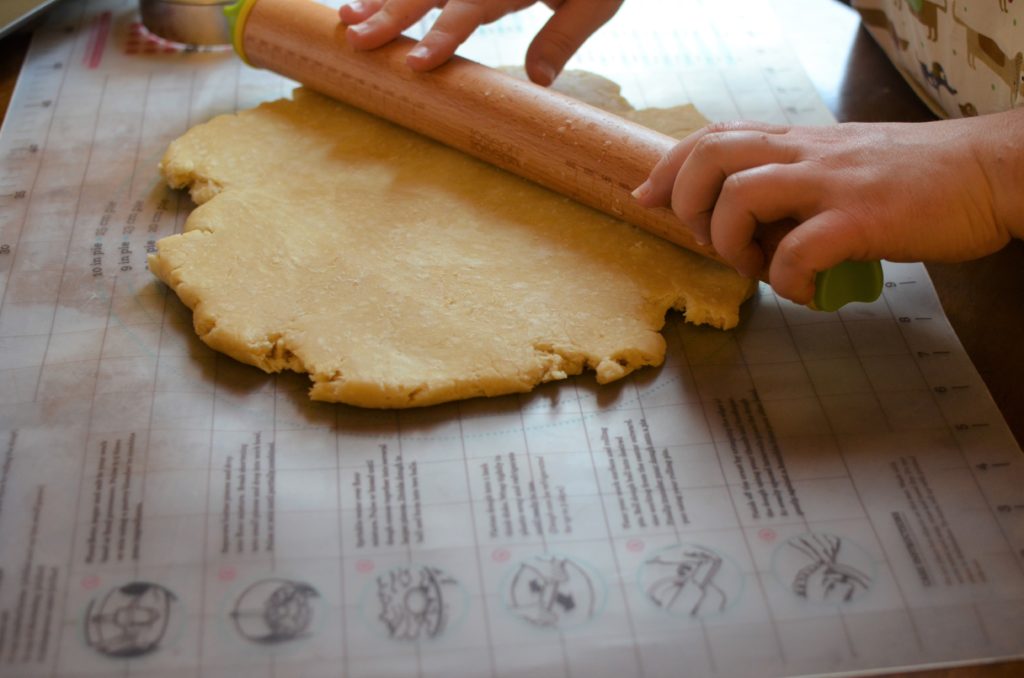 See all the flakes about to happen? 🙂 and I highly recommend a mat to roll out pastry on. It's super easy to clean and much more practical than rolling onto wax paper.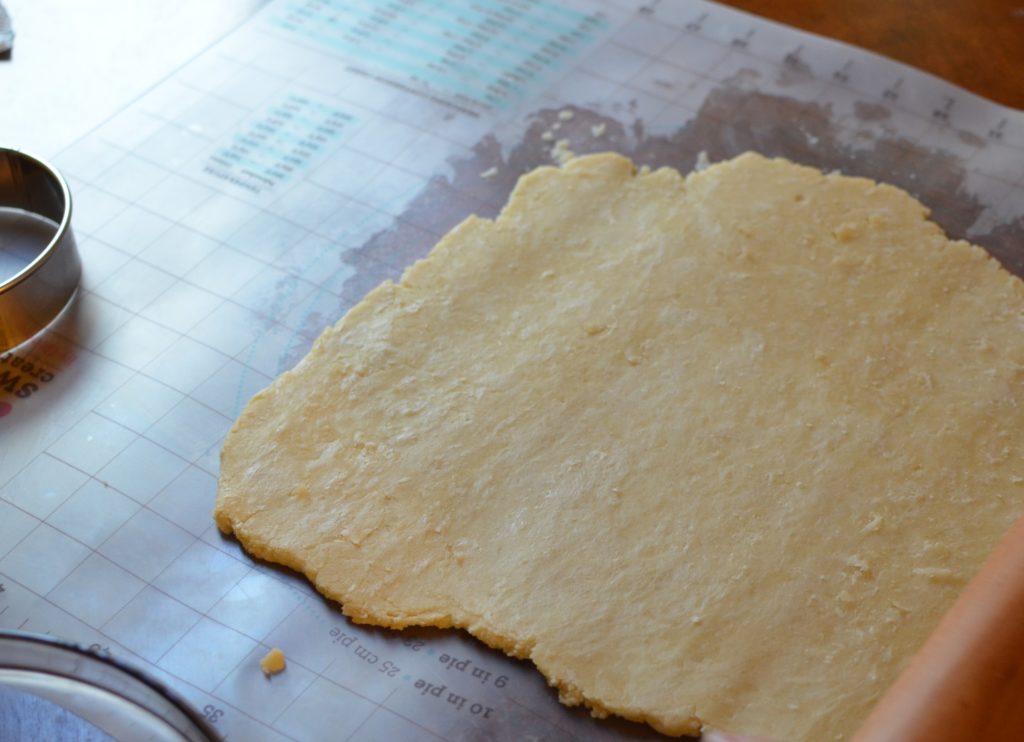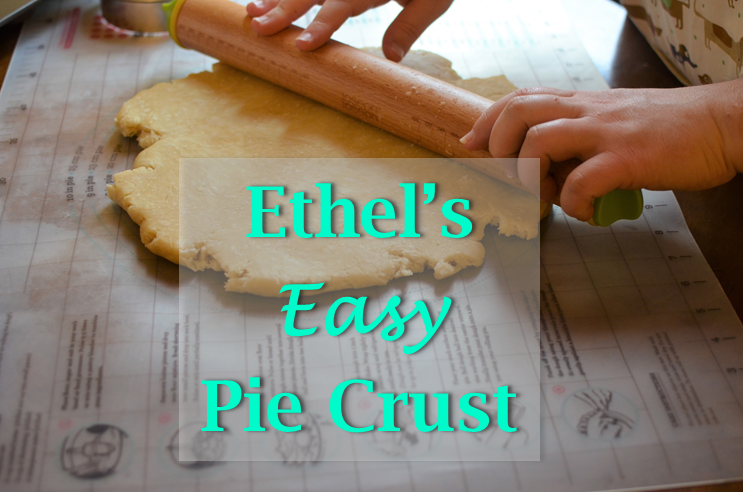 Ethel's Easy Pie Crust
Time-tested pastry crust–perfect for sweet and savory fillings. Flaky, browns nicely, easy to roll and use. 15 minute prep + chilling (in fridge for at least 2 hours, up to 5 days)
Ingredients
4

cups

plain flour

1.75

cups

vegetable shortening

0.5

cup

cold water

1

tbls.

sugar

1

tbls.

white vinegar

2

tsp.

fine salt (table or fine sea salt)

1

egg
Instructions
In the bowl of a stand mixer fitted with flat beater (paddle) attachment, add the flour, salt and sugar.

Stir dry ingredients briefly to combine.

Add the shortening and pulse carefully to avoid a flour cloud. Beat shortening + flour mixture until crumb stage. It's okay to have some chunks of shortening left.

In a separate bowl, beat the egg and add the water and vinegar.

Add wet mixture to flour/shortening crumb mixture and beat until all wet ingredients are fully incorporated. A loose dough will begin to form.

Dough will be slightly crumbly at this point but pour out onto a pastry mat (or your work surface).

Using the palms of your hands, work the dough until a smooth ball forms. This takes between 3-5 minutes but do not overwork. You just need to work it until a smooth dough comes together (some cracks are okay).

Wrap dough ball in plastic wrap and place in ziploc bag (or in large covered glass bowl) and let chill in refrigerator for at least 2 hours or up to 5 days until needed.
Notes
Dough is fairly non-stick on most work surfaces and rolling pins. Surfaces shouldn't need flouring.
 Make sure shortening, water and egg are added while cold and try to keep the dough chilled as much as possible while using. Shortening should be kept in the fridge or chilled prior to using.
 This recipe makes a standard double crust pie or 2 single crust pies. Makes approximately 24 muffin sized tarts.
 Cooking time will depend upon use and filling. For muffin sized tarts, pie crust needs 20-22 minutes on 400 F. For blind baking a large/standard single crust pie (for meringue or other type fillings), pastry will need approximately the same time.
 For double crust pies, timing will depend upon filling and oven temperature preference. For example, a traditional apple pie may require 50 minutes on 375 F.
---
---