Cranberry Chocolate Tarts
We had some leftover pie dough from our homemade hand pies this weekend (no photos or recipes–merely recipe testing!) so I threw together these fruity-chocolatey cups of delight. Slightly tart cranberries and dark chocolate come together in a mini pie crust for a wonderful fall dessert cup.
I begin with this pie crust and adapted my mother-in-law's homemade cranberry sauce + added rich chocolate chips. Super simple, super delicious and perfect for many occasions.
Fruit can be subbed for most any hardy fruit and chocolate choice is your preference—but I have a couple combo ideas below:
-White chocolate + cranberry or cherry
-dark chocolate + cherry
-milk chocolate + strawberry
-butterscotch + apples
So many options! Let me know what you come up with 🙂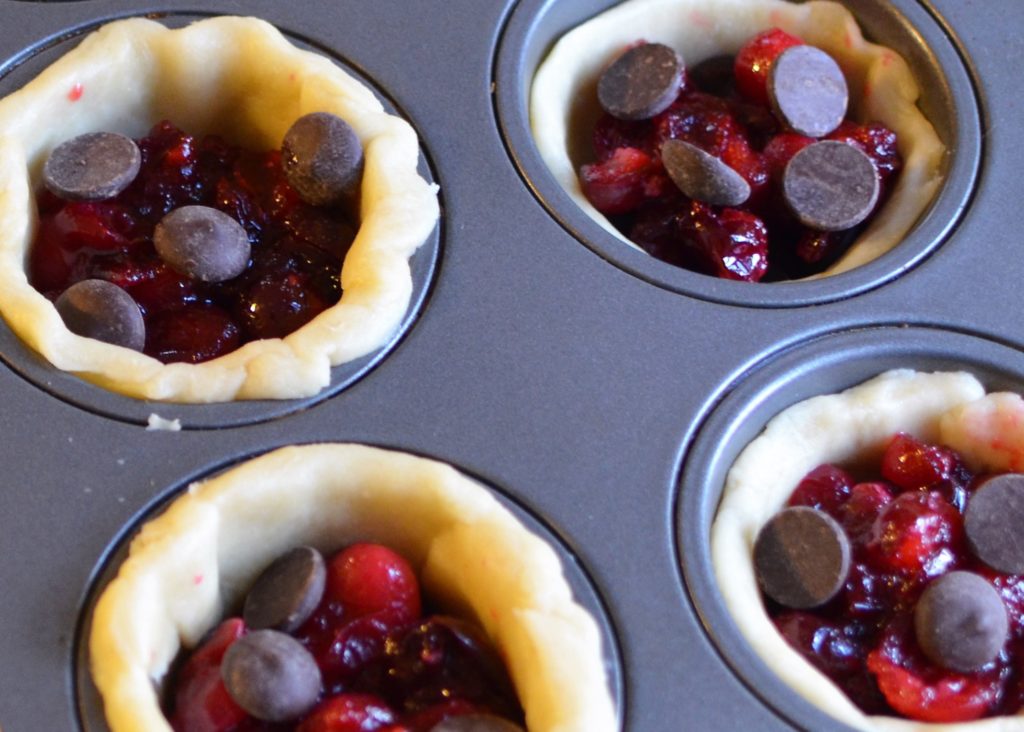 Cranberry Chocolate Tarts
Slightly tart syrupy cranberries + rich dark chocolate wrapped in a flaky pie tart!
Ingredients
1

half

pie dough recipe or any refrigerated pie dough cut into 4in rounds

*should have 10-12 rounds

6

ounces

fresh whole cranberries

*approximately 1.5 cups

1/2

cup

good quality dark chocolate chips

*approximately 8 tbls.

1/3

cup

water

1/4

cup

sugar
Instructions
Prep Pie Dough Rounds
Preheat oven to 400F (or package directions if using prepared dough). Cut 10-12 rounds (4 inches diameter and 2mm thick).

Using your palms, flatten the rounds slightly to thin the dough. Avoid stretching the dough too thin or working it too much but thinner crust is better here.
Make Cranberry Sauce--let simmer while prepping pie rounds
Bring water and sugar to a boil over medium heat in medium saucepan. Stir while heating to dissolve sugar.

When sugar is completely dissolved, add cranberries.

Reduce heat and simmer for about 5 minutes, or until most of the cranberries 'pop'.

Remove from heat and let cool for a few minutes before adding to pie crusts. Some juice and a few whole berries are okay--you don't want the cranberries reduced too much.
Assemble Tarts
Add a pie round to each muffin cup by lightly pressing the dough down into the cups. This may require some overlapping of sides of the dough to fit them into the pan.

Add 15 or so chocolate chips in the bottom of each tart.

Add about half a tablespoon (I used an actual tablespoon from our flatware) of glazed cranberries to each cup on top of the chocolate chips. Try to get only the cranberries and very little juice (though a little of the glaze is fine).

Top each tart with a few leftover chocolate chips, if desired. Can also sprinkle loosely with brown sugar.

Bake on 400F for 20-22 minutes or until set and browned.
Notes
If using white chocolate chips, do not top the tarts until the last 5 minutes of baking. White chocolate will burn much faster. Dark chocolate or milk chocolate toppings can be added before baking.
This is very much a 'customize to your liking' kind of recipe with inexact measurements for the filling. I just filled them until I thought they looked good and fairly evenly filled.
Nutrition
---
---