Vintage Vegan Chocolate Cake
My parents were bakers once upon a time. They had a local bakery before I came along and I definitely got the baking bug from them. I like to bake brownies, cakes, cookies, fruit tarts–basically everything that can be baked. But I don't like boxed mixes—and when it's almost easier to make a cake from scratch, why bother with the box anyway?
This is a delicious "budget" cake, but it's delicious first and "budget" second. This cake is moist, rich, easy to prepare and serve. It's super adaptable to whatever you want to frost it with (like this strawberry buttercream)!
This cake will appeal to everyone because of how good it is. It is made without eggs, butter or dairy—so it's vegan and suitable for lactose-free individuals. It's rich and full of chocolate goodness so everyone else will like it! You can prepare this with oil, or with your favorite oil substitute to save calories. It's a basic cake, so you can use it as a blanket canvas to serve with whatever you'd like. I recommend fresh fruit and/or plain ol' powdered sugar.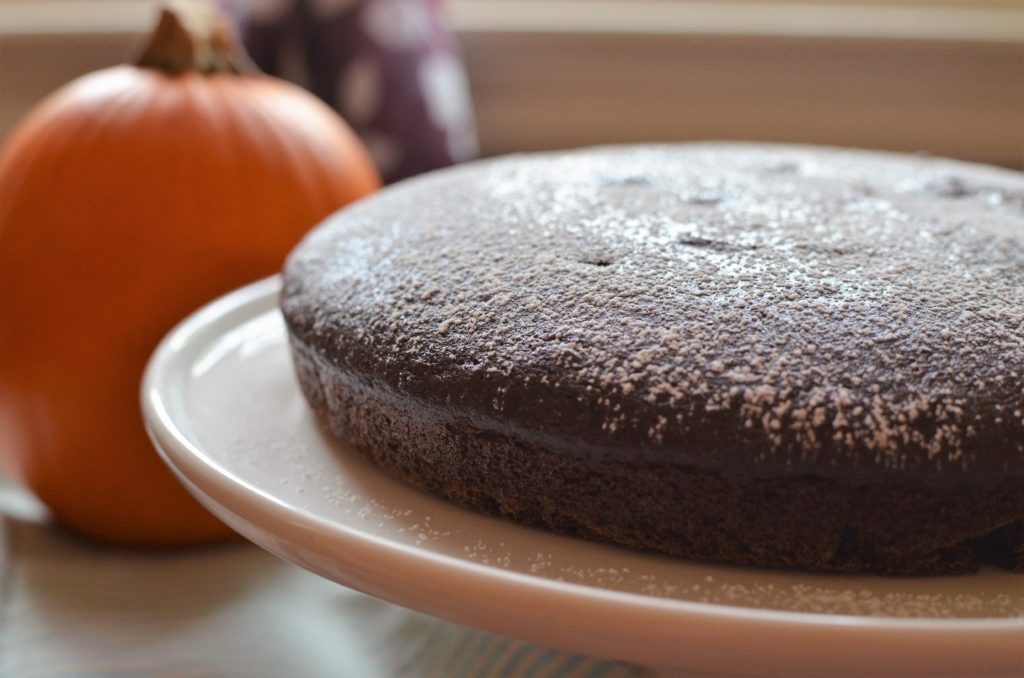 Vintage Vegan Chocolate Cake
Rich and moist cake made without milk, butter or eggs. Quick prep and easy to make with no-fuss serving. Delicious and great for any occasion! Vegan.
Ingredients
1½

c

AP flour, sifted

1

c

sugar

⅓

cup

unsweetened cocoa powder, sifted

1

tsp

baking soda

½

tsp

salt

⅓

cup

vegetable oil*

*or favorite substitute

1

tsp

vanilla extract

1

tsp

white vinegar

1

cup

water, room temperature

1½

tbsp

powdered sugar for dusting

optional
Instructions
Preheat oven to 350°F and lightly grease or spray an 8 inch (or 9 inch) round cake pan. Adding parchment paper on the bottom helps, too.

In a large mixing bowl, whisk together the sugar, baking soda, and salt. Sift in the flour and cocoa powder and whisk to combine all dry ingredients. Set aside.

In a separate medium mixing bowl, combine oil, water, vanilla, and vinegar.

Add the wet ingredients to the dry ingredients, stirring to combine. Whisk all briefly, only until smooth and no lumps remain. Texture and consistency should be like pudding.

Pour cake mixture into prepared cake pan and bake for 25-30 minutes, or until cake springs back from touch and a toothpick inserted comes out clean.

Remove cake from oven and let cool in the pan for 15 minutes. Remove it from the pan and let cool on a cooling rack for an additional 30 minutes.

Frost with favorite topping or serve with powdered sugar and fresh fruit, if desired.
Storage and Leftovers:
Cake will keep for 4 days covered at room-temperature. Powdered sugar will 'disappear' after a couple hours, so you may want to touch up before serving leftovers. Like many cakes, this one has more moisture on day 2.
Notes
This cake is not a 'high-rise- cake and will be more shallow than traditional boxed mixes. Sifting the flour and being careful not to over mix will help, as will putting the cake mixture in the oven as soon as it's ready (don't let the cake batter sit for too long). Room temperature water is also key.This cake is EXCELLENT for cake pops or cake-layered desserts because of it's moisture content.
Oil substitutes tested:
pumpkin puree (flavor free!)
applesauce (great moisture but can add slight flavor)
mashed banana (imparts slight banana flavor)
Nutrition
---
---