Butternut Squash Lasagna Rolls with Maple Cream Sauce
Fair warning, this is a recipe that make even the pickiest vegetable eater love butternut squash. My version of Lean Cuisine's Butternut Squash Ravioli has everything a layered or stuffed vegetable pasta should (cheesy, hearty filling) with a lightly sweetened cream sauce.
It's vegetarian but I think you could add shredded chicken or serve alongside chicken breast for a really great meal. We serve this with roasted asparagus and it's a wonderful side for main course pasta.
Don't let the steps or the involved time intimidate you! Try this is on a weekend or roast the butternut squash a day or two ahead of time to make on a weeknight. We rolled the filling into lasagna noodles but stuffed shells or homemade ravioli would be delicious options for the butternut squash filling. The cream sauce is good over grilled chicken or tossed with roasted veggies like carrots or baked sweet potatoes if you're not feeling pasta that night.
And my sauce pictured is slightly pink because I used a dark red onion–you could use a sweet yellow onion instead and your sauce will not be pink 🙂
The filling should be like masked potatoes.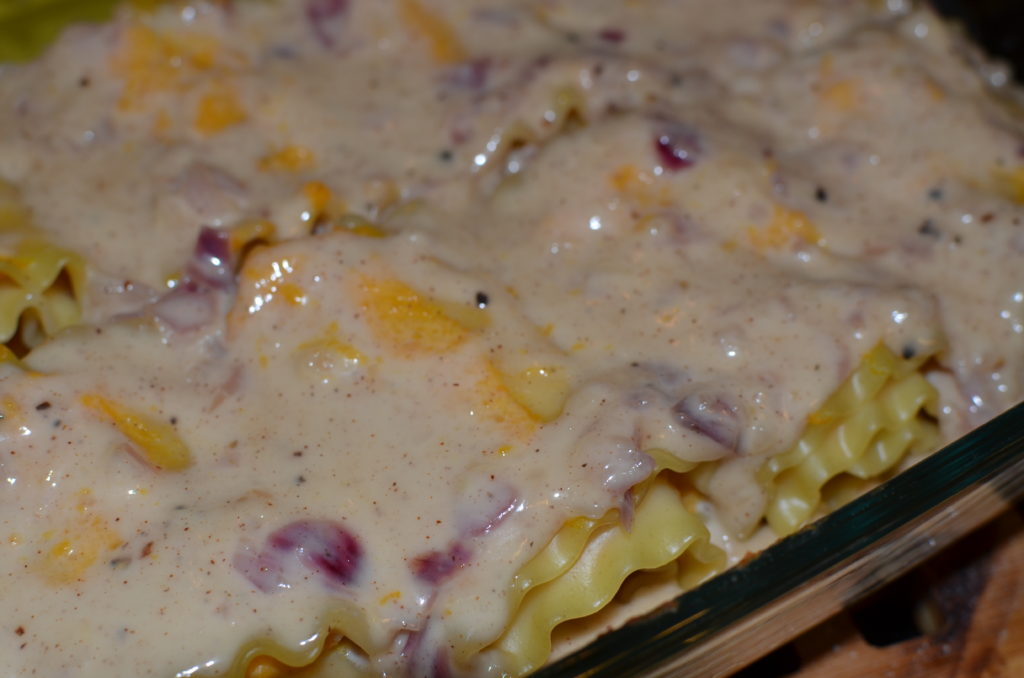 Rolls should be close together in the pan, then coat with the sauce.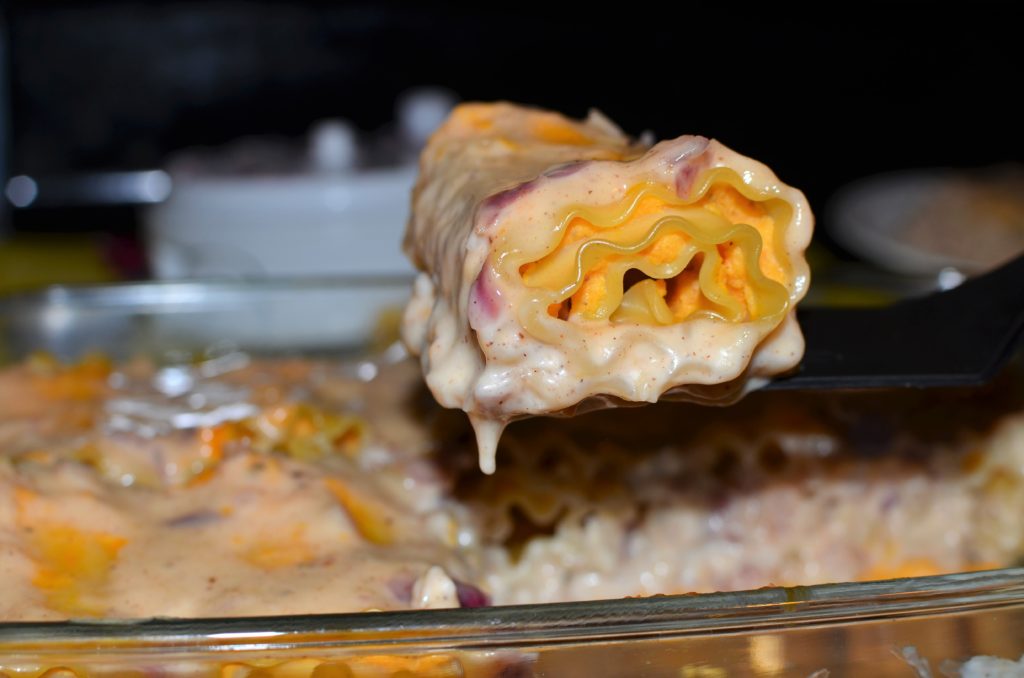 Yay! Delicious rolled lasagna!
Butternut Squash Lasagna Rolls with Maple Cream Sauce
Hearty vegetarian lasagna rolled and topped with delicious sweetened cream sauce.
Ingredients
For the butternut squash filling:
1

medium

whole butternut squash

*roasted, see below

1/2

cup

cream cheese, softened and cubed

1/3

cup

Parmesan cheese, shredded

1

tbls.

butter, melted

1

tbls.

pure maple syrup

1/4

tsp.

cinnamon

pinch

nutmeg

salt and pepper to taste
For the maple cream sauce:
1

cup

heavy cream

1/2

small onion, finely diced

2

tbls.

butter

2

tbls.

pure maple syrup

1

tbls.

orange juice

*do not omit–can sub 1 tsp. zest

1/2

tsp.

cinnamon

pinch

nutmeg

black pepper to taste

12-14

lasagna shells, cooked according to package directions
Instructions
Recommended Order of cooking/prep—Be sure to read all directions before starting!
Cook the pasta during the last 15 minutes of roasting the squash. Drain the pasta and pat dry before adding the filling and rolling, but do not let pasta harden. Prepare the sauce during the first bake of the lasagna rolls.
For the butternut squash filling:
Preheat oven to 400 F. Cut butternut squash in half lengthwise and remove seeds. Pierce halves several times on top with fork. Brush lightly with olive oil and sprinkle with salt and pepper. Roast on 400 for approximately 1 hour or until tender.

Let squash cool slightly (enough to handle)—scoop all of the squash out of the skin into a food processor. Add cream cheese, melted butter and parmesan and let all cheese melt into warm squash by pulsing lightly. (You may need to warm the mixture if you roasted the squash ahead of time so the cheese will melt and blend in).

Add maple and spices and process until you reach the consistency of thick mashed potatoes.

*If not using a food processor, hand mix or use a stand mixture until smooth and whipped.
To make the lasagna rolls: Oven on 350 F
Preheat oven to 350 F. Coat bottom of rectangular glass baking pan with a light layer of butternut squash filling. This should be very thin.

Use a spoon and drop a spoonful of filling on edge of lasagna noodle, dragging filling away from you (thinning it out). Repeat this 2 or 3 times on each noodle to cover entire noodle, being careful not to put filling on too thick.

Roll lasagna noodle up like a swiss roll (tightly rolled, but not letting filling squish out of sides). Begin setting in baking dish next to one another. Repeat with all remaining noodles and sauce—this amount of filling should make 12-14 rolls.

Once baking dish is full of rolled lasagna noodles, brush with any remaining filling to coat top of noodles. Cover lasagna dish with aluminum foil and bake for 18-20 minutes. Remove after this bake so you can top. See below.
For the maple cream sauce: prepare during the first bake of the lasagna
Melt 2 tbls. butter in a deep saute pan over medium heat.

Add onion and cook until translucent and soft, about 3 minutes.

Add remaining ingredients (heavy cream, orange juice, maple, spices) and whisk lightly to incorporate.

Bring to a low boil then reduce heat and let simmer until reduced and thickened, about 10 minutes. Whisk occasionally throughout to prevent browning of cream.
To finish:
Remove lasagna rolls from oven and uncover. Top with cream sauce, covering as much of each lasagna roll as possible and drizzling down into the sides of the dish.

Return lasagna pan to oven and bake, uncovered, for 5-7 minutes more.

Remove from oven and let stand for a few minutes before serving.
Notes
Squash can be roasted and/or mashed 1-2 days ahead, kept in the fridge.
  I highly recommend a food processor to make the filling but a hand mixer or stand mixer will also work.
  Pasta should be cooked until barely al dente. 
  Total time breakdown: 1 hour 20 minute prep, 40-45 minutes cooking
  Roast squash- 1 hour
  Prep filling- 5 minutes
  Make lasagna rolls- 15 minutes
 Cook sauce- 12-15 minutes
 Cook lasagna- 23-27 minutes (total).
 Much of this can be done overlapping while other items are being prepared.
Nutrition
---
---