Triple Berry Muffins
We make a lot of muffins in our kitchen. Before we were making them from scratch, I was buying the blue muffin packages at Food Lion because they were like $1 and they were easy and tasty. My favorite was definitely the Martha White Wildberry muffins. Those were my weakness during college because they just needed milk and the bag made only a few muffins. But, I don't use boxed mixes anymore because I started reading the labels of those packages…
Making muffins from scratch is honestly just as easy, only a little messier. Usually it means 2-3 bowls instead of 1 because whisking the dry and wet ingredients separately is a must. And it does cost a little more for quality ingredients so we don't get 6 muffins for $1. But we think the effort is well worth it for made-from-scratch fresh muffins!
I've been wanting to make this particular muffin recipe for a while now. I finally had all of the right berries at the same time! We picked up the blackberries from the farmer's market this weekend and I had leftover blueberries and strawberries from other recipes. This is my homemade version of the Martha White Wildberry muffins. Theirs have artificial blueberry and strawberry bits (which, admittedly, are delicious and great for the college budget lol)– but this recipe uses fresh blueberries, blackberries, and strawberries. No artificial bits 🙂
For Homemade Triple Berry Muffins, You'll Need:
2.5 c fresh berries (blueberries, blackberries, and strawberries)
2 eggs (or 1 mashed banana if you'd like vegan muffins)
(Optional) Freeze dried berries– (optional because the muffins can still be made without)- freeze dried berries are the trick for extra flavor without added weight or moisture from fresh fruit.
The recipe calls for equal amounts blueberry and blackberry (3/4 c each) and a full cup of strawberries because some will be mashed right into the batter. Feel free to use any combo thereof though so you can still make them if someone used all the blueberries on their cereal *ahem..my sweet husband*
This recipe makes 12 standard muffins or 6-8 jumbo muffins. About half of the muffin is fruit so they might just be your new favorite breakfast on-the-go! Give this recipe a try now to get the best use of those summer blackberries or save it for later!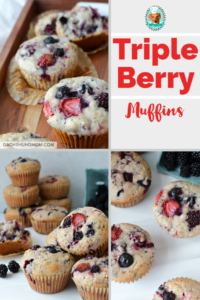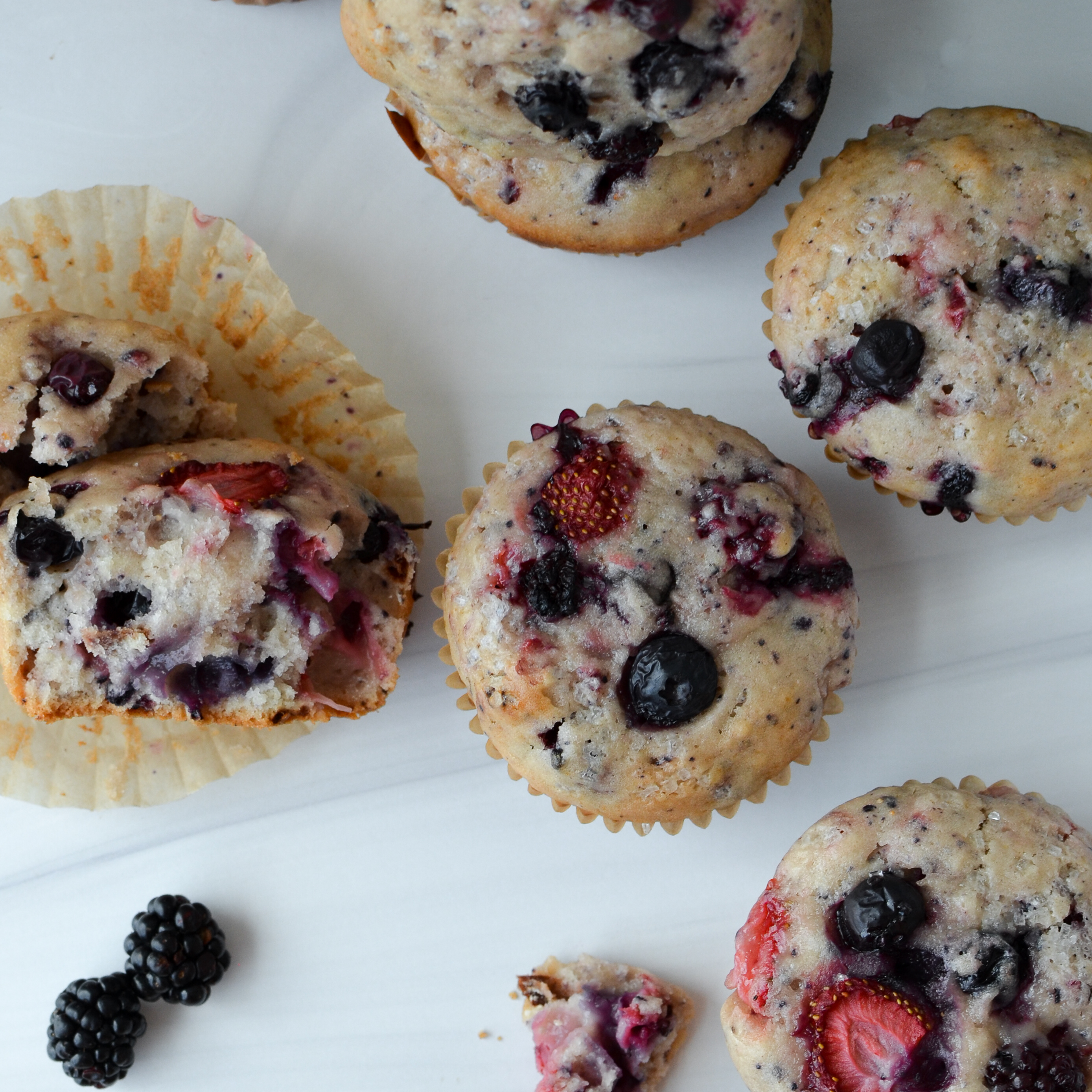 Triple Berry Muffins
Delicious homemade muffins featuring blueberries, blackberries, and strawberries. Natural ingredients add flavor and color. Easy to make and better than a box mix! Makes 12 standard or 6 jumbo muffins. Vegetarian.
Ingredients
1

c

strawberries, chopped

¾

c

blueberries

¾

c

blackberries

¾

c

sugar

½

c

milk

2

large eggs, beaten

⅓

c

vegetable oil

1

tsp

vanilla

2

c

AP flour

2

tsp

baking powder

½

tsp

salt

2

tbsp

freeze dried blueberries, crushed

optional

2

tbsp

freeze dried strawberries, crushed

optional
Instructions
Preheat Oven to 375°F and line a 12 count muffin tray.
Prep Ingredients:
Mash half of the strawberries into a large bowl (to be mixed into the batter). Combine remaining 1/2 c strawberries with all blueberries and blackberries in a separate medium bowl.

Toss the triple berry mixture with a little of the flour. Set aside.

In a separate small bowl, whisk together remaining flour, crushed dried berries (if using), baking powder, and salt. Set aside.
Make the Muffins:
In the large bowl with the mashed strawberries, add in sugar, milk, eggs, vegetable oil, and vanilla. Whisk to combine.

Stir the flour mixture into the batter until just combined.

Gently fold the triple berry mixture into the batter.

Scoop batter into lined muffins trays to nearly fill. Top with decorator's sugar and/or extra berries, if desired.

Bake on 375°F for 23-28 minutes, or until a toothpick inserted comes out clean, edges are lightly browned and tops spring back when pressed. For jumbo/oversized muffins, add 2-3 minutes to bake time.

Let rest in muffin tray for 5 minutes then remove to cooling rack. Store leftover muffins in an airtight container for up to 3 days. May be frozen for up to 1 month.
Notes
Freeze dried berries can often be found in the granola/nut aisle
Freeze dried berries add extra flavor without adding weight. These muffins can still be made and are still delicious with only the fresh fruit, though!
For vegan adaptations:
Substitute 1 mashed banana for the 2 eggs. Use oat milk or almond milk for regular milk.
Nutrition
What's your favorite type of muffin? Right now, these Triple Berry Muffins are my favorite but that's because they're delicious and I've been wanting them for so long haha. I also love a good chocolate muffin and those are on my to do list! I haven't made muffins from a box in so long but I do know they're convenient so if that's your thing–no shame! If you want to break free from boxed mixes though– make a large batch of these one weekend and freeze some for mornings later 🙂
Have a great week, everyone! And give me a follow on Instagram (@thedachshundmom) or subscribe to my emails to never miss a post.
-Emma
---
---