Lemon Rosemary Biscuits
I'm a firm believer that every meal deserves great bread. I love them all– ciabatta, French rolls, yeast rolls, etc. — but southern-style biscuits are my favorite. Biscuits have simple ingredients, are easy to make, and in about 30 minutes you're rewarded with hot, fresh bread. We make baking powder biscuits just about every weekend because they're delicious and baking biscuits is my love language. Also, they go with everything 🙂
I think these Lemon Rosemary Biscuits will be a new favorite and earn their spot in the rotation, too. Andrew raved about them and went right into "what all can I eat these with" mode when I served them. This was a recipe he didn't know I was working on because I was just entertaining myself while he was on another Zoom call.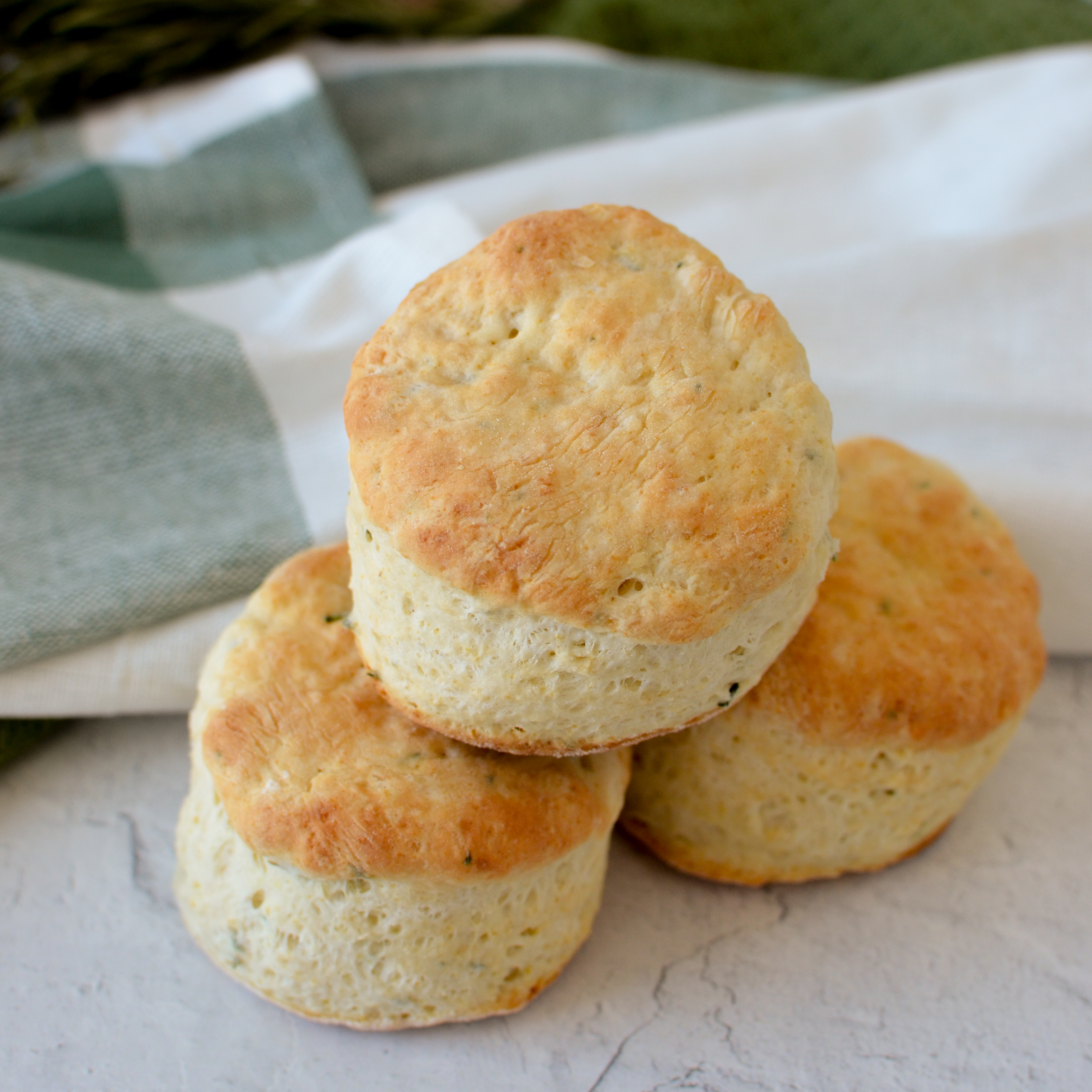 Leftover fresh rosemary in the fridge + a lemon sitting on the counter + a craving for biscuits and here we are! I eat them hot with honey but they are also really good with cheese. Andrew swears that these biscuits + brie will be his new favorite snack. I'm excited to bring them the holiday table because I think they'll be amazing with Thanksgiving foods. And Monday movie night charcuterie boards because that's where we are now in life 🙂
Lemon Rosemary Biscuits don't require a fancy occasion, though, so go ahead and make them on a weeknight because you want something a little different. If you have just a couple sprigs of fresh rosemary leftover, these are the perfect way to use it up!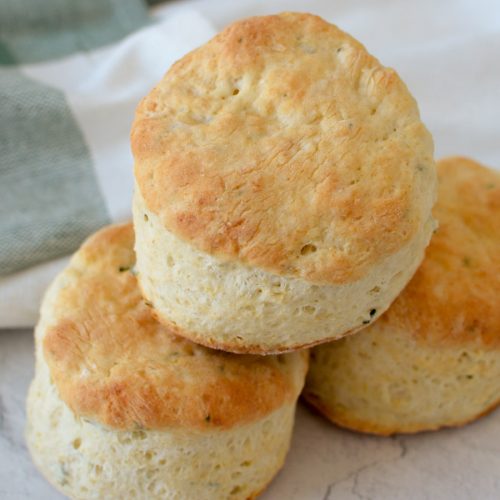 Lemon Rosemary Biscuits
Flavorful and savory southern-style biscuits. Perfect for any meal or holiday. Biscuits are delicious on their own but pair well with honey, jams, poultry, and cheeses. Makes 8-10. Vegetarian.
Ingredients
1-2

tsp

lemon zest

1

tbsp

sugar

2

c

AP flour

1

tbsp

baking powder

1

tsp

salt

1-2

tbsp

fresh rosemary, stems removed and finely chopped

sub. 1-2 tsp dried rosemary

¼

c

vegetable shortening

¾

c

milk
Instructions
Preheat oven to 450°F. Set aside an ungreased sheet pan.

In a large bowl, stir together lemon zest and sugar until zest is evenly distributed without clumps.

Whisk flour, baking powder, and salt into lemon sugar mixture. Stir in chopped rosemary.

Drop shortening into flour and use a pastry cutter to combine mixture until it resembles fine crumbs.

Make a well in the bowl and slowly stir in milk, mixing with a fork to combine.

Turn dough out onto a floured surface. Knead lightly, 15-20 times, turning dough each time.

Pat dough to ½ inch thickness and cut with a floured 2½ inch cutter. Repeat as needed to finish remaining dough.

Place biscuits 2 inches apart on sheet and bake for 11-13 minutes, until golden brown.

Biscuits are best enjoyed fresh but can be kept, covered, for 2-3 days. Reheat before serving, if desired.
Nutrition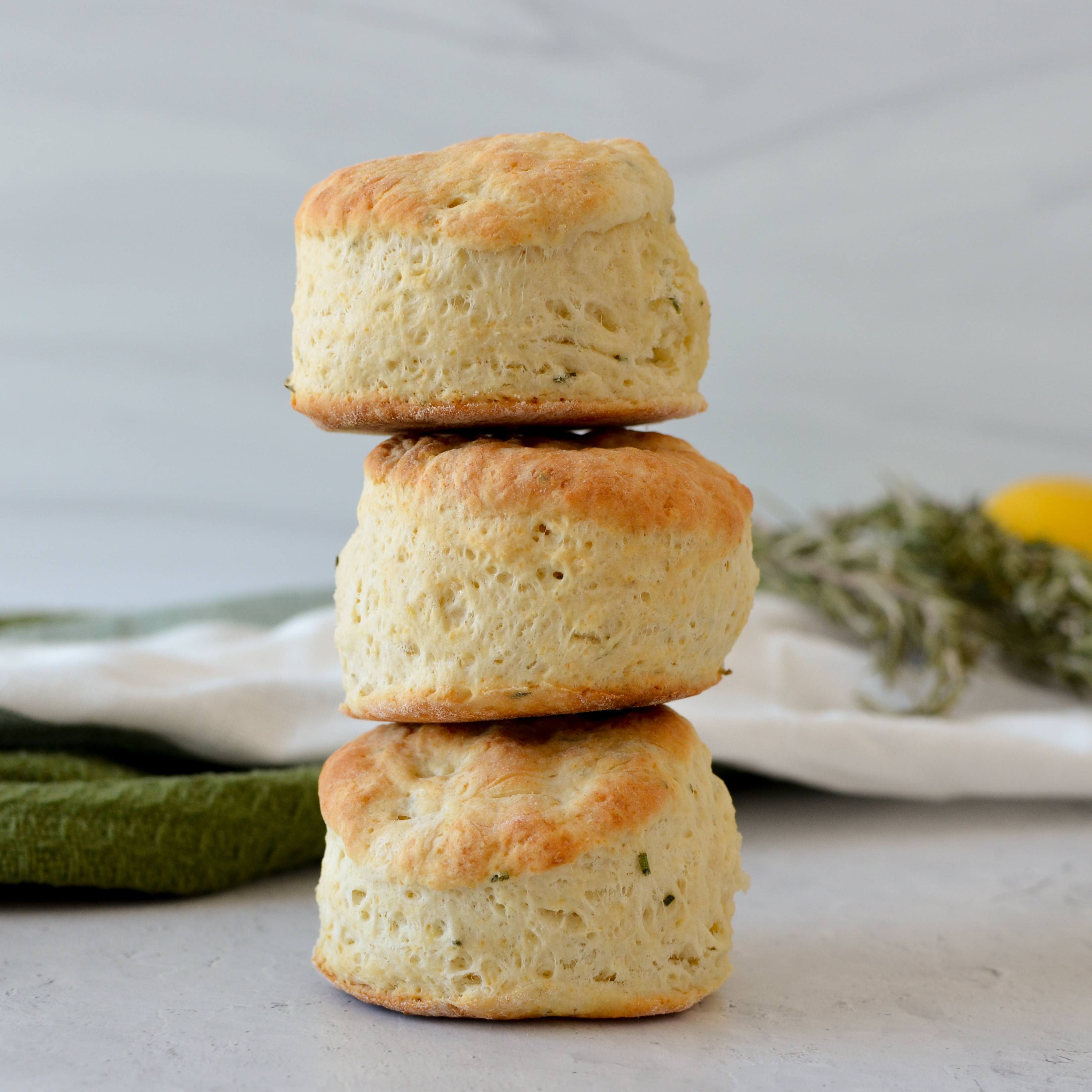 Is it too early for me to mention Thanksgiving?* I know it's June but as a food blogger, now is the time for me to think about holiday foods 🙂 So, I think these biscuits will be perfect on the dinner table for holidays but I also think they'll be perfect any time of year I have fresh herbs on hand. And a sad lemon that needs zesting (happens often, I'm afraid).
However you choose to enjoy these delicious Lemon Rosemary Biscuits, let me know what you think and be sure to tag me on Instagram @thedachshundmom 🙂
-Emma
---
---