Strawberry Sauce
Fresh Strawberry Sauce is a good homemade version of the stuff from a jar but has no added colors, extra fillers or extracts. This sauce is full of strawberry flavor and the color stays bright. It's so easy to make at home and super versatile. Try it in a milkshake, on ice cream, or breakfast goods!
This Strawberry Sauce Recipe Has Just 3 Ingredients:
12 ounces of fresh strawberries (2 cups, sliced)-Slicing the fruit in the beginning will mean most strawberries break down but some chunks remain.
1/3 cup of sugar– just enough to make this topping sweet like the grocery store and ice cream shop kind
1 cup of water– adding water helps the texture of the sauce form a thin, syrupy consistency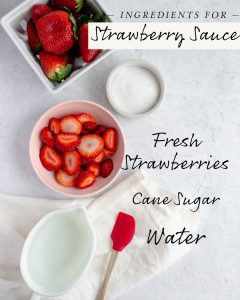 Can you use frozen strawberries? I've tested this with berries I froze last summer and it worked great. Packaged frozen berries should work, too. The cook time may need to be adjusted by a few minutes or let the strawberries thaw slightly before cooking.
How to Make Strawberry Sauce: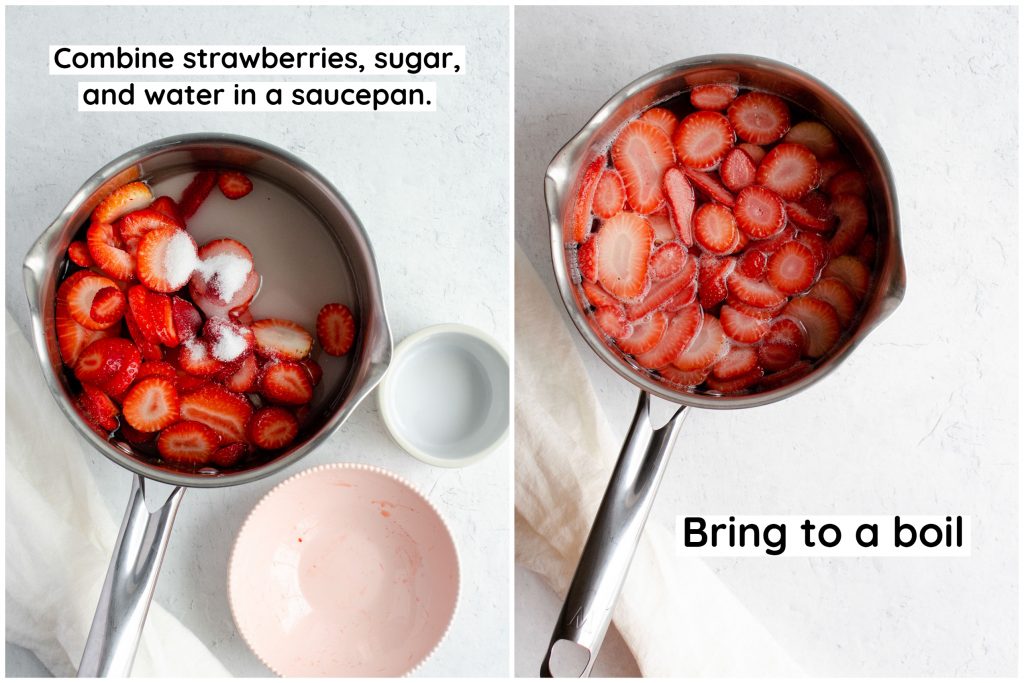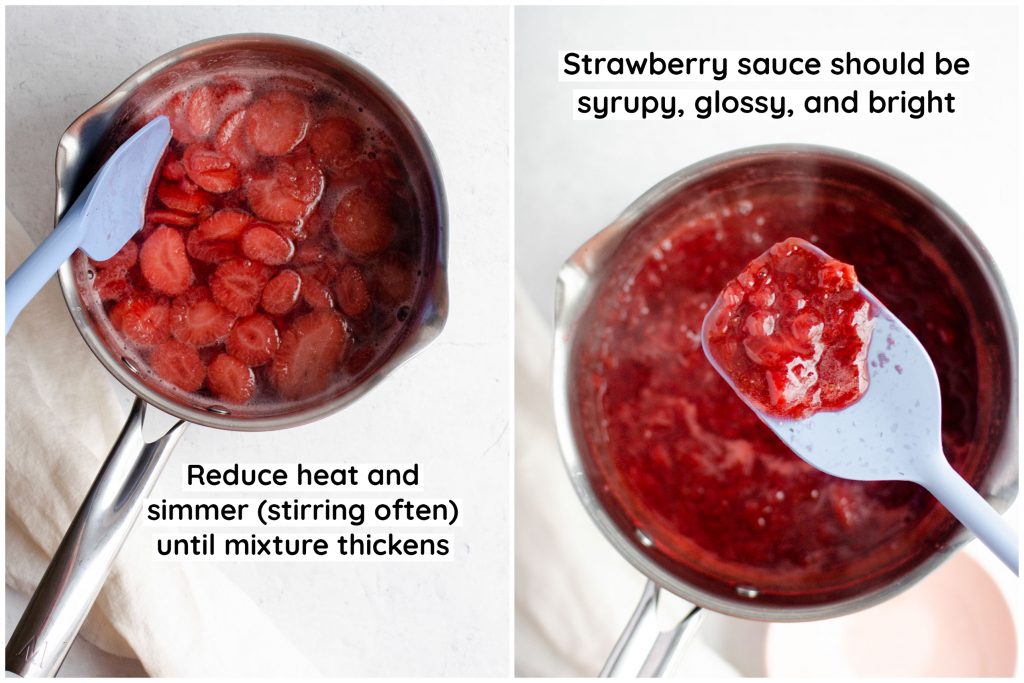 Strawberry Sauce Makes a Delicious Topping and more:
It's the perfect fruity addition to:
Ice Cream (topping) or Milkshakes (stir in!)
Banana Splits (a classic topping)
Waffles and pancakes
Cheesecake
Angel Food cake (add in some extra fresh strawberries then top)
Strawberry Shortcake
But my favorite way to use this simple strawberry sauce? In strawberry buttercream! It's *the best* method of incorporating fresh fruit flavor into frosting. I've tried using fresh berries, freeze-dried berries, and just 'flavorings' but fruit sauce is the secret to delicious fruit buttercream 🙂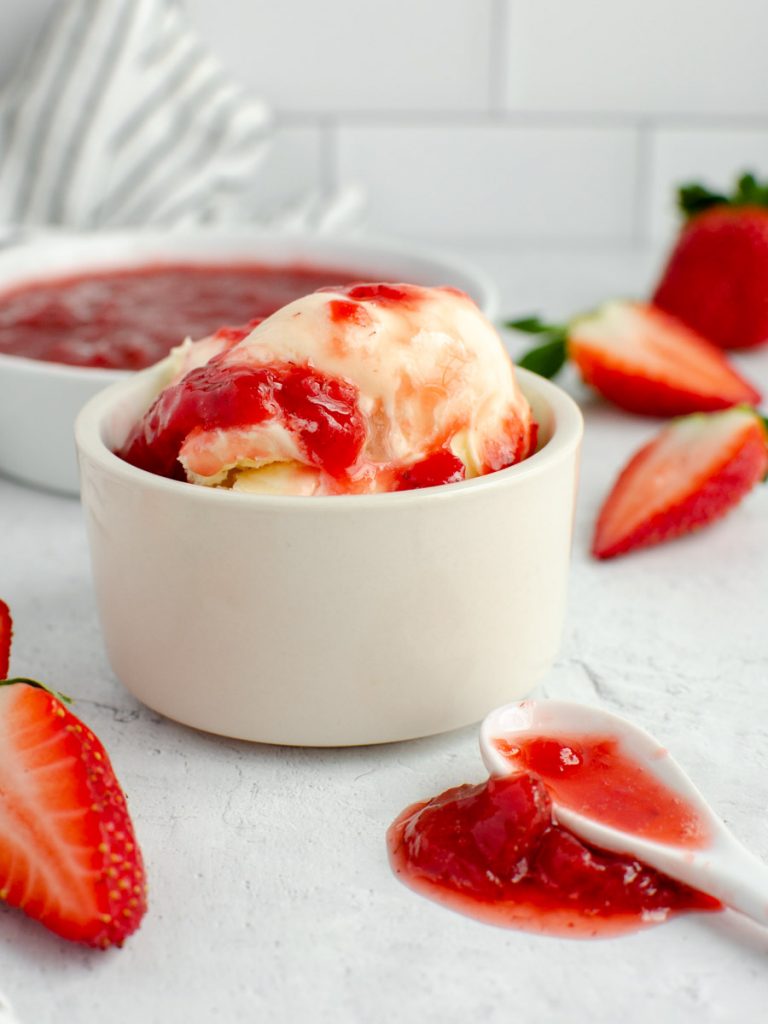 However you enjoy using strawberry sauce– it's worth making at home from scratch. Keep a jar in the fridge for a week or two and have fun!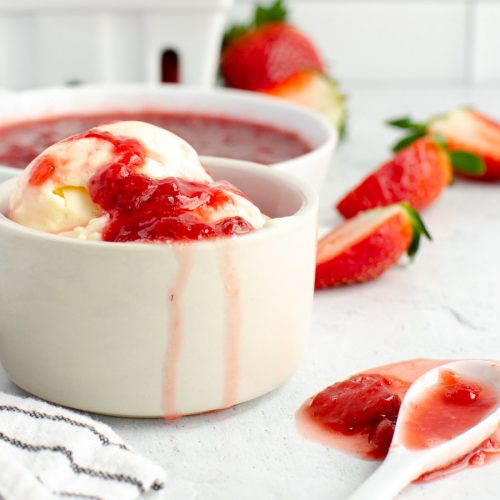 Strawberry Sauce
Quick and easy strawberry sauce for ice cream, pancakes, waffles, and more. The best ingredient for strawberry buttercream. Vegan. Recipe makes 1.5 cups (serving size- 2 Tbsp).
Ingredients
2

c

sliced fresh strawberries

= 12 ounces whole

1

c

water

1/3

c

sugar
Instructions
Wash, stem and cap strawberries. Cut into thick slices. Place strawberries, water, and sugar in a medium saucepan.

Bring to a boil over medium heat, 5 to 7 minutes, stirring occasionally.

Reduce heat to medium-low and let simmer, stirring often, until thickened and reduced-about 25 minutes. Strawberries will fall apart, syrup will turn deep red, and liquid should coat a spoon and drip off slowly.

Remove from heat and pour into a clean storage jar. Let cool on the counter for 15 minutes before storing in the fridge for up to 2 weeks.
Notes
To freeze: pour into a freezer safe jar and leave 1/2 inch of headspace. Use within 6 months. Thaw in the fridge overnight then use within 1 week.
Sauce should be completely cooled before using in baking. Can be used warm over breakfast goods or ice cream.
Nutrition
Serving:
2
Tbsp
Calories:
30
kcal
Carbohydrates:
7.4
g
Protein:
0.2
g
Fat:
0.1
g
Potassium:
37
mg
Fiber:
0.5
g
Sugar:
6.7
g
Vitamin A:
3.3
IU
Vitamin C:
16.2
mg
Calcium:
4
mg
Can Fresh Homemade Strawberry Sauce be Frozen?
Yes! You can add to a freezer safe jar (with headspace) and freeze for up to 6 months. Let thaw overnight in the fridge then use within 1 week of opening. The water content should keep the consistency right but if needed, stir in a little water to thin.
Looking for other strawberry ideas? Try these!
---
---