Berry Plum Cobbler
I don't really have a favorite dessert. I pretty much like them all–sometimes I want something fancy and other times, well I just want something simple. Cobbler is about as simple as it gets (beyond ya know, a plain bowl of fruit–also perfect on occasion). This recipe came together because my dad gave me what seemed like 30 pounds of plums from his tree so I kept making things to use up the plums.
We had jam, muffins, fruit salads, and this cobbler! All of them were good– but this cobbler was delicious. I find cobblers to be an easy way to use up fresh or frozen fruit–helpful when you get a good crop or a good price at the farmer's market!
Berry Plum Cobbler is jammy & delicious!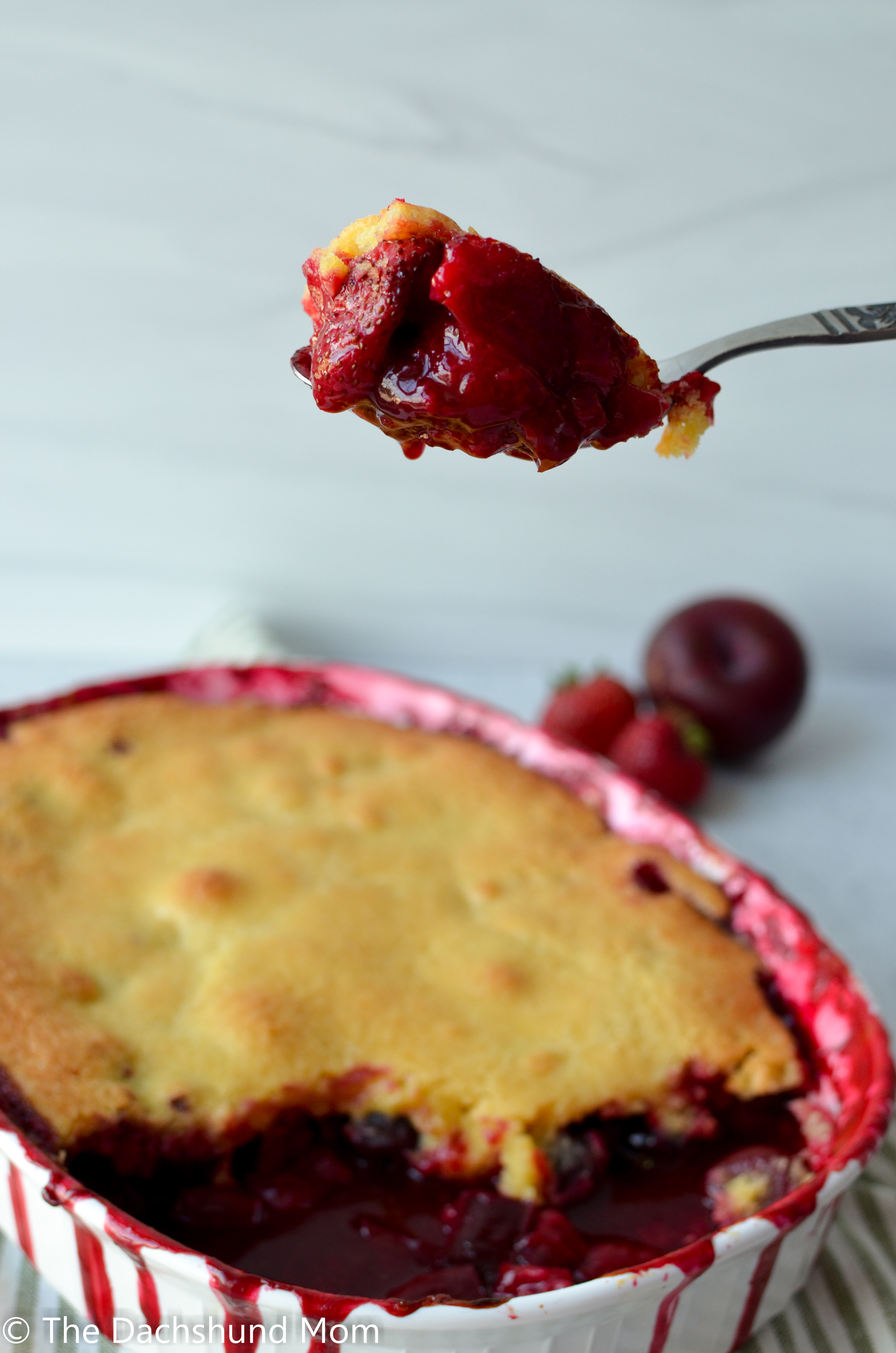 You've probably had several types of cobbler before–but I think plums are a less common fruit found in them. I'm fully on board to throw plums into every hot, bubbling cobbler I make now 🙂 They just work so well. The peels add color and the plums add a little tartness to the other berries.
For Berry Plum Cobbler, you'll Need:
Mix of fresh or frozen plums, strawberries, blueberries. cherries or other berries:
4-5 cups fresh fruit for an 8 x 8 cobbler
8-9 cups fruit for a 9 x 13 (add 5-10 minutes bake time)
Top Tips for a good cobbler:
Shriveled, over-ripe and/or blemished fruit is OK (cobblers are a perfect excuse to use up some older fruits!)
Moldy, rotten and/or fruit beyond saving won't work– sugar can't disguise rot 🙂
Using unpeeled fruit adds color and natural pectin to the dish
Let cool a few minutes before serving fresh from the oven (to help everything set a little more). Reheat when serving–something about warm cobbler is so comforting
The real trick with any cobbler is to use enough fruit + some sugar + a little citrus/cornstarch + some spices to complement the fruit. I'm sure I'll share other cobbler recipes in the coming months but for now, I encourage you to save this post for when plums are filling up your backyard tree 🙂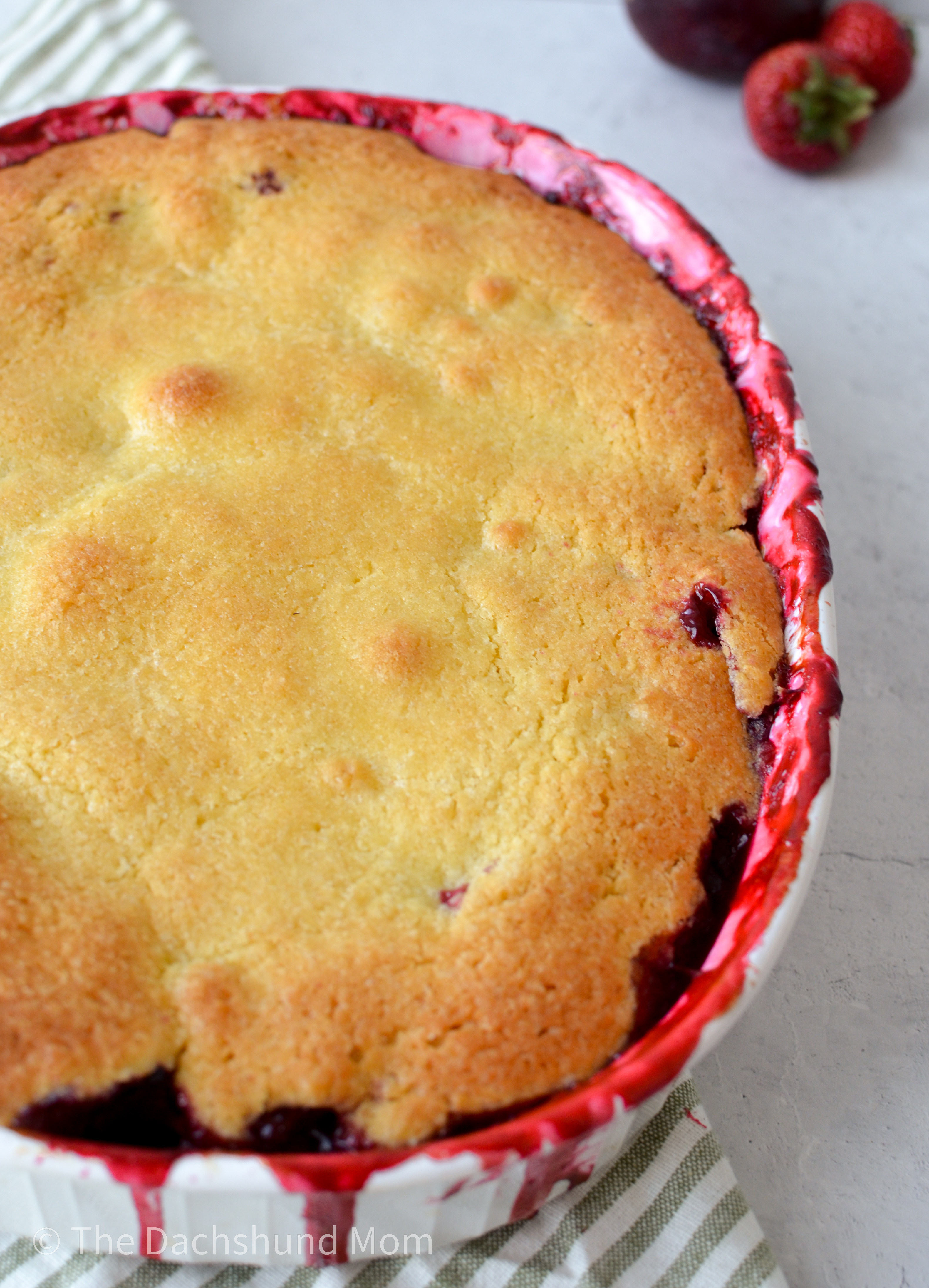 If you're looking for more desserts, check out some other recipes:
Berry Plum Cobbler
Strawberry, plum, and blueberry filling topped with sweet cobbler crust. Plums add a jam-like taste and berries add sweetness and texture. This dish is prepared in an 8×8 inch casserole but can doubled for a 9×13 pan. Perfect, easy to make summer treat! Especially good with ice cream or double cream!
This recipe calls for 4-5 cups of fresh fruit and is easily adaptable to whatever berries you like. Vegetarian.
Ingredients
Fruit Filling:
2

C

strawberries, cut into chunks

2

C

plums, cut into chunks

~4-6 plums

½

C

blueberries, whole

¼

C

sugar

2

Tbsp

juice (orange or lemon)

1-2

Tbsp

cornstarch

¼

tsp

ground cinnamon

⅛

tsp

ground ginger

⅛

tsp

ground nutmeg
Cobbler Crust:
½

C

unsalted butter. softened

½

C

sugar

1

large

egg

½

tsp

almond extract

⅔

C

All Purpose Flour

¼

tsp

baking powder

pinch

salt
Instructions
Prepare Fruit Filling:
Combine fruit into an 8 x 8 casserole or glass dish.

In a separate small dish, dissolve the 1 Tbsp cornstarch into the 2 Tbsp of juice. Then, whisk in the 1/4 cup sugar, cinnamon, ginger and nutmeg.

Pour cornstarch/spice slurry over fruit and toss gently to coat.

Set fruit filling aside and prepare crust.
Prepare Cobbler Crust:
Combine flour, baking powder and salt in a medium bowl. Set aside.

Using a hand or stand mixer, cream together butter and 1/2 c sugar on medium speed for 3-4 minutes.

Beat in the egg and almond extract. Scrape sides if needed.

Using low speed, stir in the flour mixture until just combined.
Make Cobbler:
Using a cookie scoop or spoon, drop batter evenly over fruit filling. Try to cover as much fruit as possible and if needed, use a spatula to help spread batter.

Bake in preheated 375° F oven for 35-40 minutes, or until top is golden brown and filling is bubbly.

Allow the cobbler to cool slightly before serving (to help fruit set up). Enjoy warm or allow to cool completely and refrigerate, covered. Can be refrigerated up to 4 days. Reheat servings as desired.
Notes
For doubled recipes (for a 9 x 13 inch dish): increase baking time by 5-10 minutes but still rely on the "golden brown and bubbly" measure.
For vegan substitutions, we used plant based 'butter' and Bob's Red Mill egg replacer. This was a delicious and easy vegan dessert!
Nutrition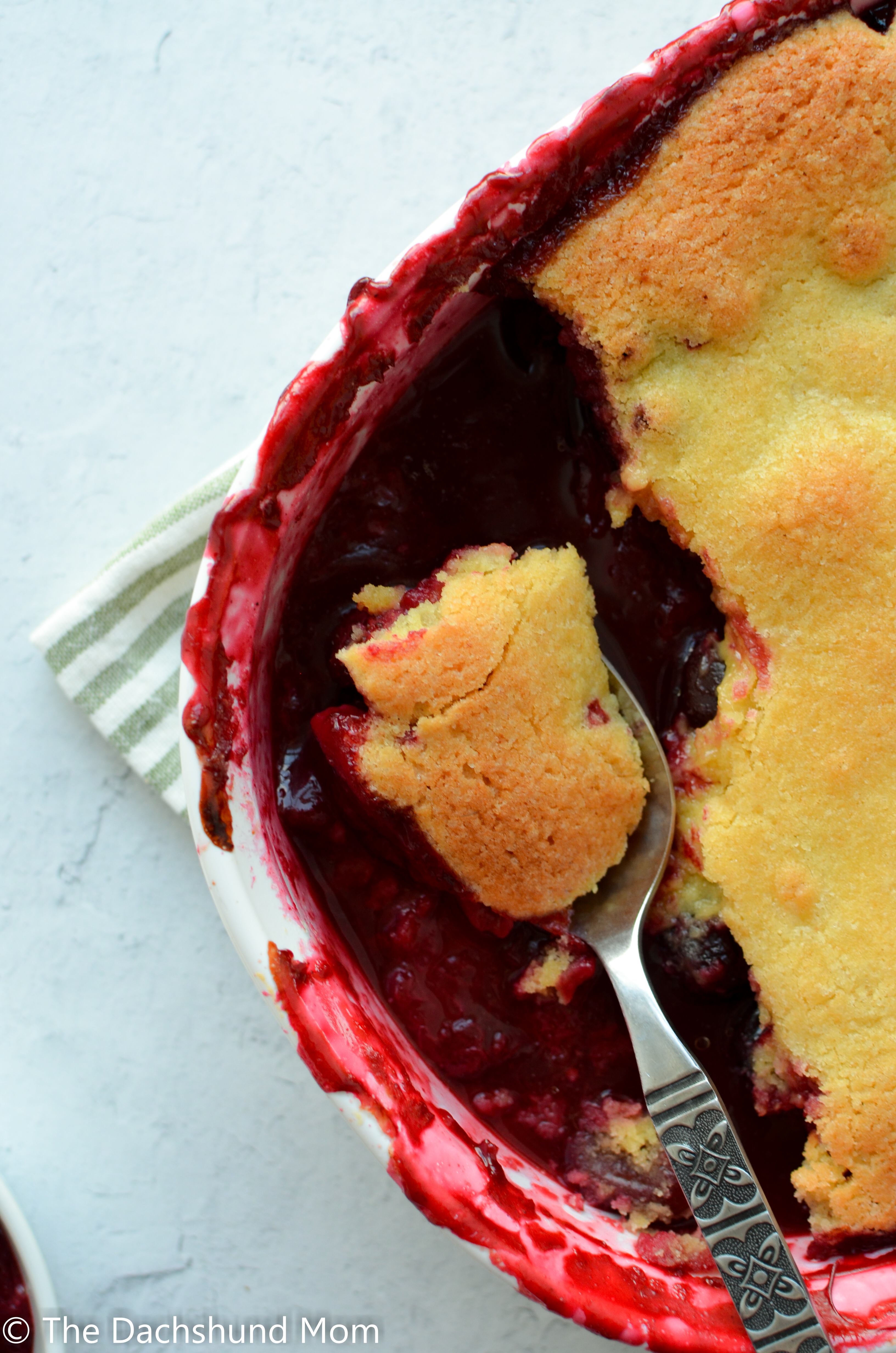 I've made this cobbler with all types of berries and cherries (yum!) and I've made it in all sizes, depending on how much fruit I had to use. Give this a try when you have extra plums on hand this summer!
Have a great week, friends! And have some fun in the kitchen 🙂
-Emma
---
---