Mocha Cupcakes with Coffee Buttercream
Ever have something on your mind you're craving and just have to have? I'm like that sometimes with mochas. My go-to coffee shop order is something iced but those times I want something hot, a mocha with extra espresso is amazing. There's something about chocolate and coffee that's just *perfect*.
Enter mocha cupcakes + coffee buttercream. All my flavor dreams come true and pretty easy to whip up one afternoon. Probably for less than my usual Starbucks order 😉 Even better that my husband loves these as much as I do–because that gives me a reason to make them haha
For Mocha Cupcakes You'll Need:
prepared cold brew coffee or strong leftover cold coffee
espresso powder (buy a jar of this stuff and add it all your chocolate baked goods, promise it's amazing!)
plain, unsweetened yogurt or sour cream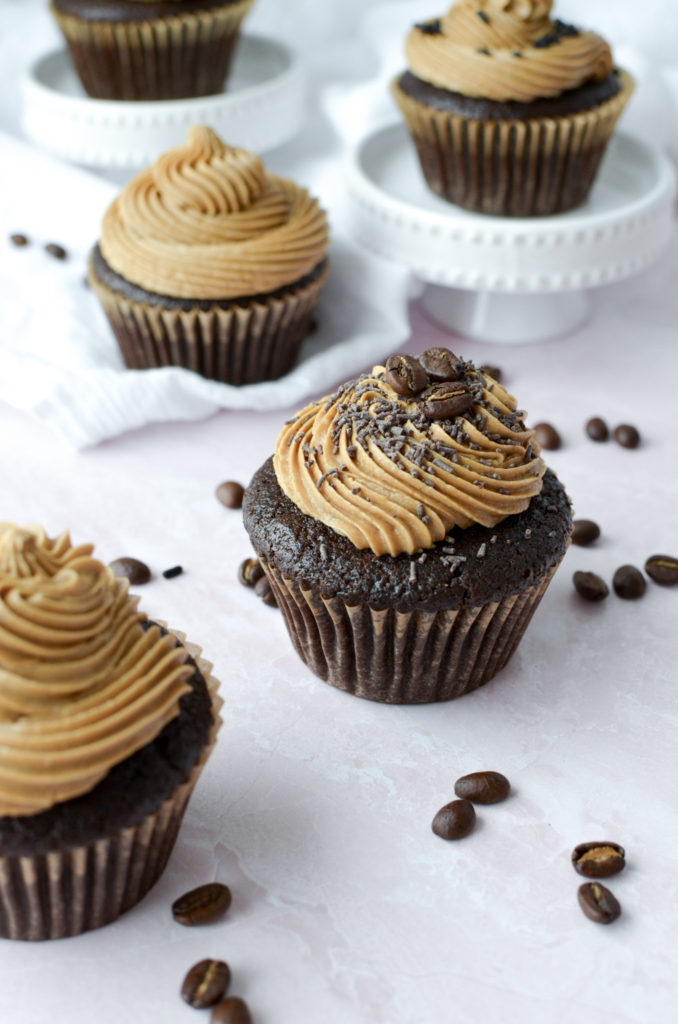 These are delicious devil's food style cupcakes with a hint of mocha flavor from the two types of coffee. Cold Brew and leftover cold coffee both equally work well in the batter.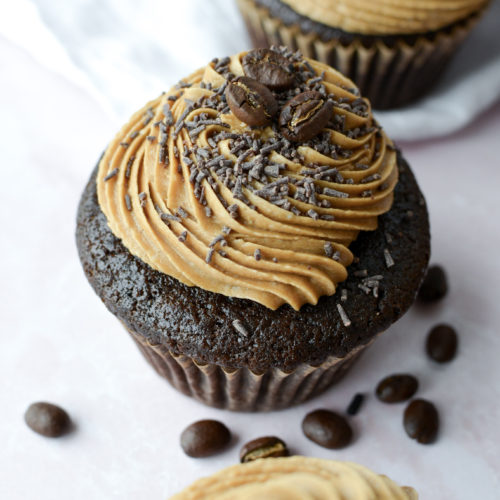 Mocha Cupcakes with Coffee Buttercream
Rich chocolate cupcakes with a hint of coffee flavor. Made with espresso powder and cold brew coffee. Recipe makes 12 standard-size cupcakes or one 8-9 inch round cake. Try with Coffee Buttercream! Vegetarian.
Ingredients
1½

cups

all purpose flour

1/3

cup

unsweetened cocoa powder

1

Tablespoon

espresso powder

1

teaspoon

baking soda

1/2

teaspoon

salt

1/3

cup

unsalted butter, softened

3/4

cup

brown sugar

1

large

egg

1

teaspoon

vanilla

1/3

cup

sour cream

or plain, unsweetened yogurt

8

ounces

prepared cold brew coffee or strong coffee, cold
Instructions
Preheat oven to 350°F. Line or prep a standard 12 count muffin tray. In a medium bowl, whisk together flour, cocoa, espresso powder, baking soda, and salt. Set aside.

With a stand mixer or electric beaters, cream together softened butter and brown sugar until fluffy (2 to 3 minutes).

Add in the egg and beat well. Add in the vanilla and sour cream, beat again, scraping sides if needed.

Beginning and ending with the dry mixture, add alternately with the cold brew coffee, stirring until just combined after each addition.

Scoop batter into prepared muffin liners and bake for 16 to 20 minutes or until tester comes out clean and cake tops spring back when touched.

Let cupcakes cool in pan for 5 minutes then remove to a cooling rack to cool completely before frosting. Follow with Coffee Buttercream (below).
Notes
Ingredients
2 tbsp instant espresso powder (or instant coffee powder)   
3 tbsp hot water
1/2 cup vegetable shortening
3 to 4 cups sifted powdered sugar
Vanilla extract, to taste
1/8 tsp fine salt
More water if needed
Instructions
In a small cup or bowl, stir the instant espresso powder into the water until dissolved.

Using a hand or stand mixer, beat the shortening on high speed until fluffy, 2-3 minutes.

Reduce speed to low and add in 1 cup of powdered sugar. Stir in the vanilla, espresso, and salt. Scrape sides of bowl and return to low speed.

Add in remaining powdered sugar and mix on high until smooth. Begin with 3 cups of sugar and add more if desired. Add water, 1 tbsp as needed for consistency.
Frosting adds approximately 170 calories per cupcake.
Nutrition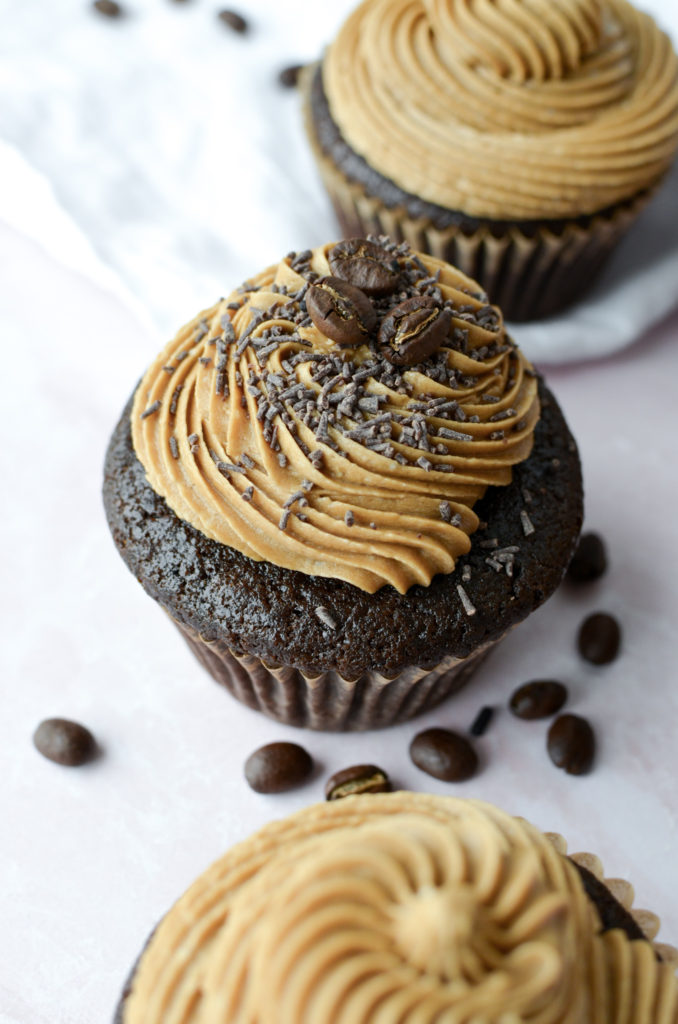 If it's been a tough couple days and you just need to do something fun for yourself (or with a loved one)– try these mocha cupcakes! They're great with any frosting but especially amazing when paired with Coffee Buttercream! Or even if things are all great but you're craving something coffee-y and delicious, these will be a hit!
-Emma
---
---