Steakhouse Mac and Cheese
Jump to Recipe
Steakhouses aren't known for their vegetarian dishes. Some have an alfredo-type pasta or maybe an entree salad but I usually make a "veggie plate" by ordering a side salad + some seasonal veggies. At Outback though– I get the Outback Signature Steakhouse Mac and Cheese. It's a "side dish" that's entree sized for $5 and it's amazing.
Amazing in that "I only get this 2-3x a year when we come to Outback with friends" kinda way. It's super tasty, kinda spicy, not your typical mac and cheese but I know it's loaded with junk so it's a treat. Whatever the Outback generic spice is– it's crave-able. And I want to be able to make it at home 🙂
This Steakhouse Mac and Cheese is my copycat version of their signature side dish.
Made with real cheese (NOT Velveeta!)
Ready in less than 20 minutes
Made with heavy cream + milk for an extra smooth cheese sauce
Delicious and crowd-pleasing
Topped with seasoned, toasted breadcrumbs for extra flavor
This dish is perfect for a weeknight dinner or a Sunday watching football (hopefully 2020, right!)– it's best enjoyed when made (as all mac and cheeses) but can be refrigerated and reheated with a little cream. It's mildly spiced so it's palatable for most but can be made with more heat, too!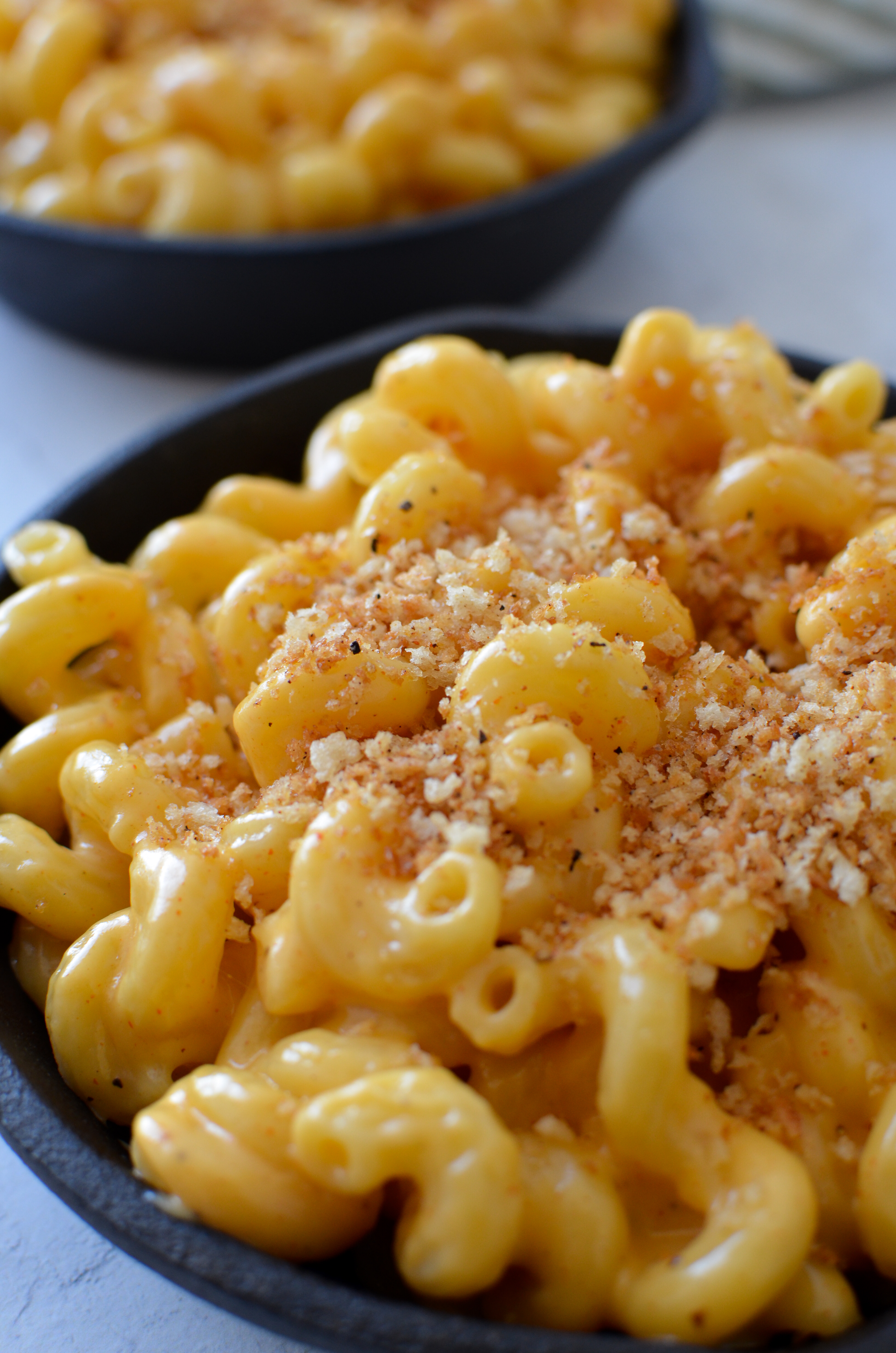 Steakhouse Mac and Cheese
A homemade version of an Outback Steakhouse classic! Steakhouse mac and cheese is flavorful, lightly spiced, and easy to make in under 30 minutes. Creamy and delicious without processed cheese. Vegetarian. Makes 4 entree servings or 8 side-dish servings.
Ingredients
Seasoned Bread Crumbs
½

c

Panko bread crumbs

1½

tsp

olive oil

⅛

tsp

black pepper

⅛

tsp

garlic powder

⅛

tsp

onion powder

⅛

tsp

paprika
Mac and Cheese
2

c

sharp cheddar, shredded

1

c

Gouda, shredded

2

tbsp

butter

1

tbsp

AP flour

1

c

heavy cream

½

c

milk

½

tsp

salt

½

tsp

paprika

¼

tsp

black pepper

⅛

tsp

cayenne pepper

⅛

tsp

ground nutmeg

⅛

tsp

garlic powder

⅛

tsp

onion powder

16

oz

Cavatappi pasta
Instructions
Prepare Seasoned Bread Crumbs:
Combine bread crumbs and spices in a medium bowl.

Heat olive oil in a non-stick skillet over medium-high heat. Once oil is hot, add bread crumb mixture and toast, stirring constantly, approximately 1 minute, until fragrant and lightly browned.

Waiting for oil to heat completely ensures crisp bread crumbs.

Remove crumbs from pan and set aside. Store leftovers in airtight container in refrigerator.
Make Mac and Cheese:
Cook pasta according to package directions. Drain and set aside.

In a large skillet or pan, melt butter over medium heat. Once butter is melted, add flour and whisk continuously to form a medium brown roux, approximately 1 minute.

Stir in heavy cream, milk, and spices. Cook on medium, stirring constantly, until slightly thickened, fragrant, and bubbling– about 5 minutes.

Remove pan from heat and slowly add cheese, stirring until fully melted and smooth. This takes 2-3 minutes.

Fold cooked pasta into cheese sauce until combined.

Serve and top with seasoned bread crumbs.
Storage and Leftovers:
Store leftover mac and cheese in an airtight container, refrigerated, for up to 3 days. Reheat with a little milk or cream.
Notes
Have all sauce ingredients ready before making this dish– once the sauce begins, it requires constant stirring to ensure a smooth, creamy finish.
A good, smooth cheese sauce is best made with freshly shredded cheese– bagged cheeses often have added fillers that prevent melting.
Nutrition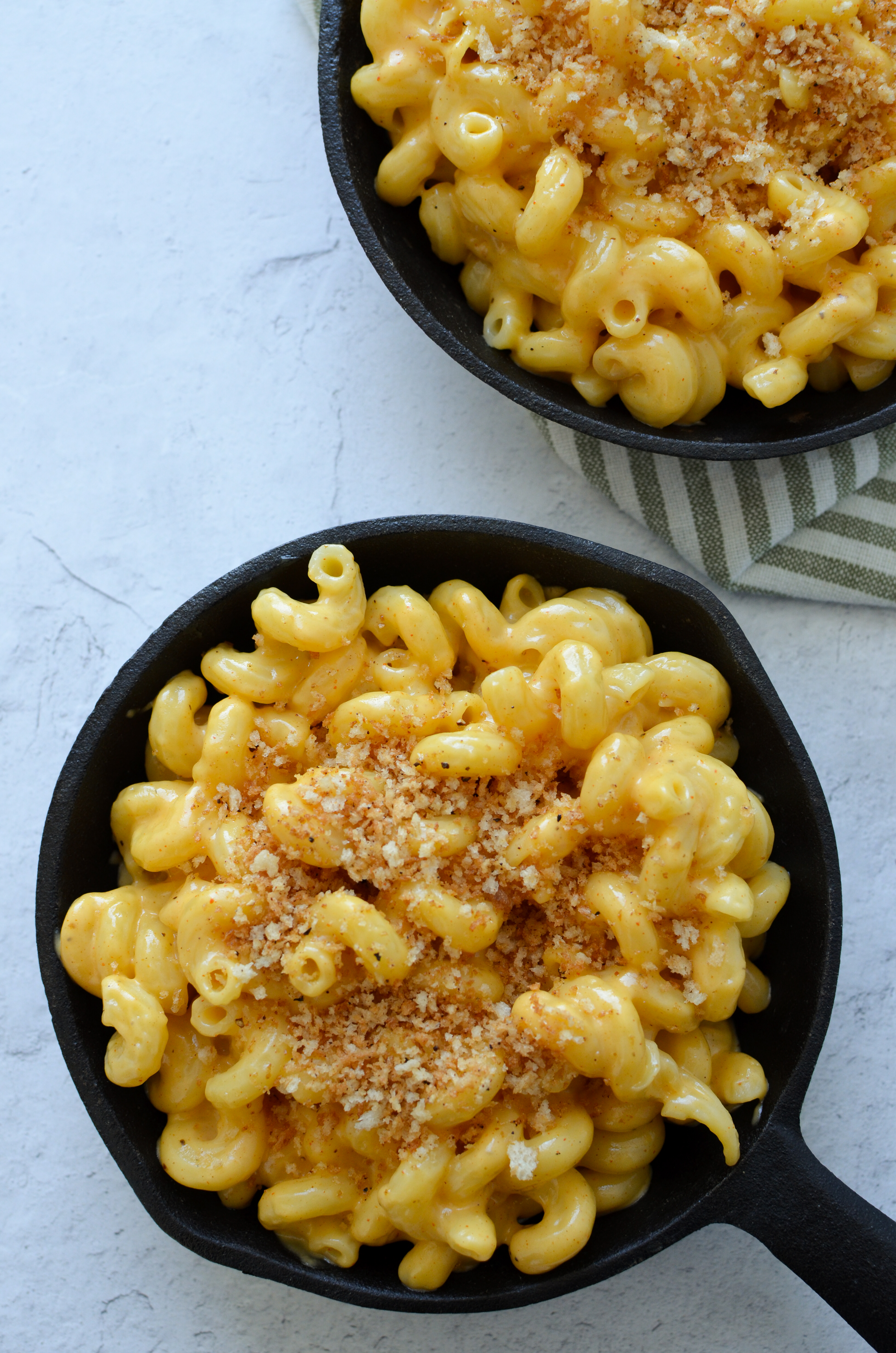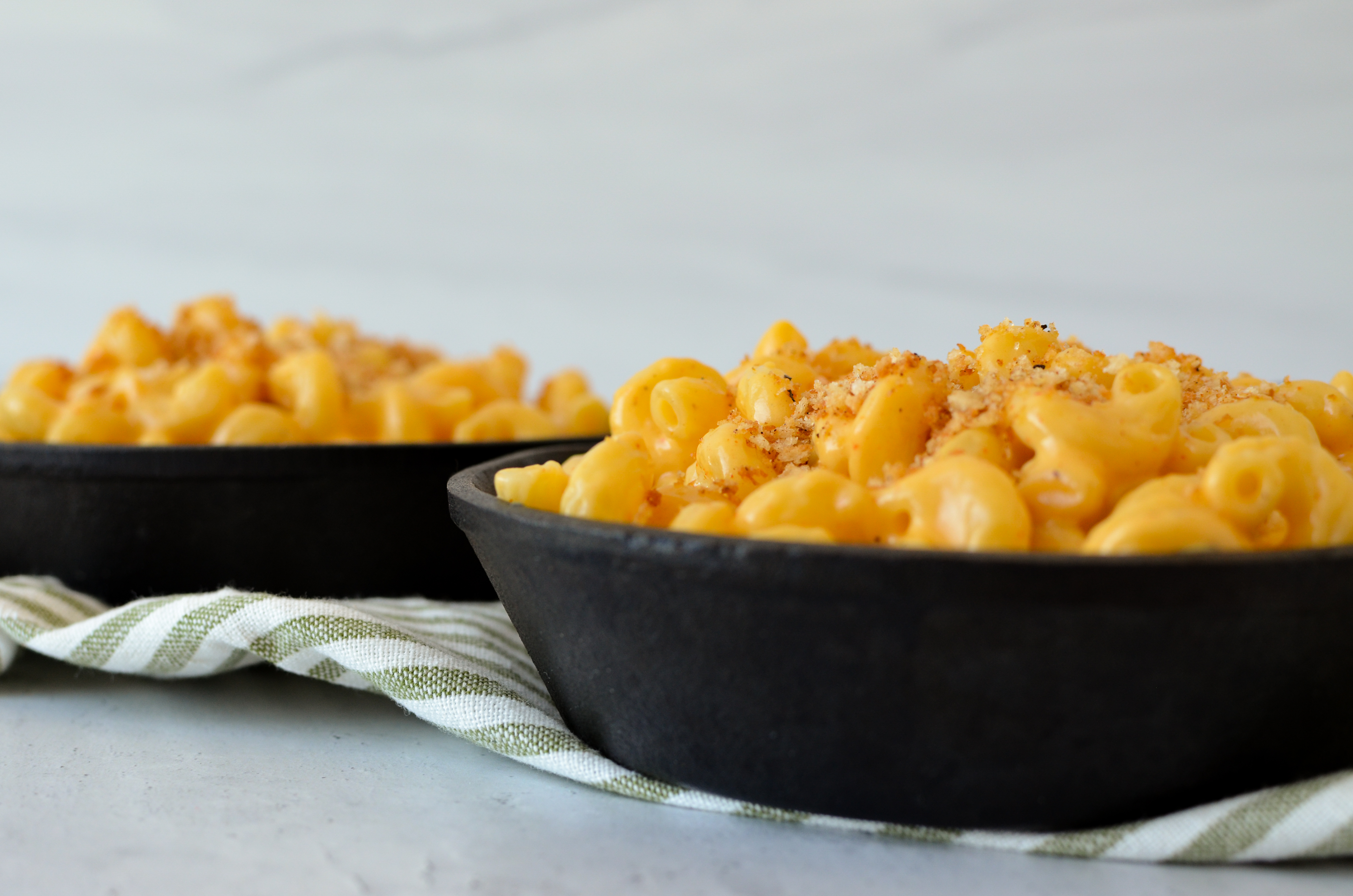 I hope you're enjoying more open stores and restaurants these days! If you're like us– you enjoy going out to eat but sometimes, making a copycat at home is fun, too. I hope you love this recipe and if you try it– let me know what you think!
Have a great weekend, friends!
-Emma
---
---