Lemon Muffins with Berry Compote
Homemade muffins full of fresh lemon flavor from zest and juice. Muffins are topped with a simple mixed-berry compote for sweetness and contrast. Vegetarian. Makes 12 standard muffins.
I found these beautiful pink lemons at the store a few weeks ago and had to bring them home. I'm a sucker for fancy citrus and anything unique in the fruit department. The blush-colored lemons weren't drastically different from the standard yellow variety (maybe just a *little* sweeter with less acid) but they were certainly pretty and fun to try!
These lemon muffins were one of my favorite things to make from my pink lemon purchase. This lemon muffin recipe uses lemon zest and lemon juice to make a bright, fluffy breakfast treat that you'll love, too.
Lemon Muffins with Berry Compote are delicious and easy to make, but they look great sitting on a cake stand for spring, too!
To Make Lemon Muffins, You'll Need:
2 large (or 3 small) lemons
milk (I used whole, but 2% or other works, too)
vegetable oil (for moist muffins with lemon-forward flavor)
2 large eggs
flour, baking powder, baking soda, salt, vanilla
A little over 1 cup sugar (divided between muffins and berry compote)
These muffins use fresh lemon zest and juice for best flavor. I don't add flavor oils to many baked goods but if you want super lemon-y muffins, feel free to add a little lemon oil.
See those naturally beautiful swirls of purple? Probably my favorite part of these muffins! A quick stove-top berry compote adds some sweetness and a little contrast to the lemon base.
To Make Berry Compote:
You'll need 1 cup of fresh or frozen berries (I used half blueberries, half strawberries but any will work!)
1/3 cup of sugar
zest of half of 1 of the lemons
a little water
Throw everything in a saucepan and cook over medium-low heat for about 7 minutes to let the fruit get syrupy and thickened slightly. Most of the berries will break down but some will remain whole.
The homemade berry compote can be made ahead by a week (it's a great way to use up the last few berries in a container). It's great for other things, too, so if you have some left over after making muffins– try it on waffles or in yogurt.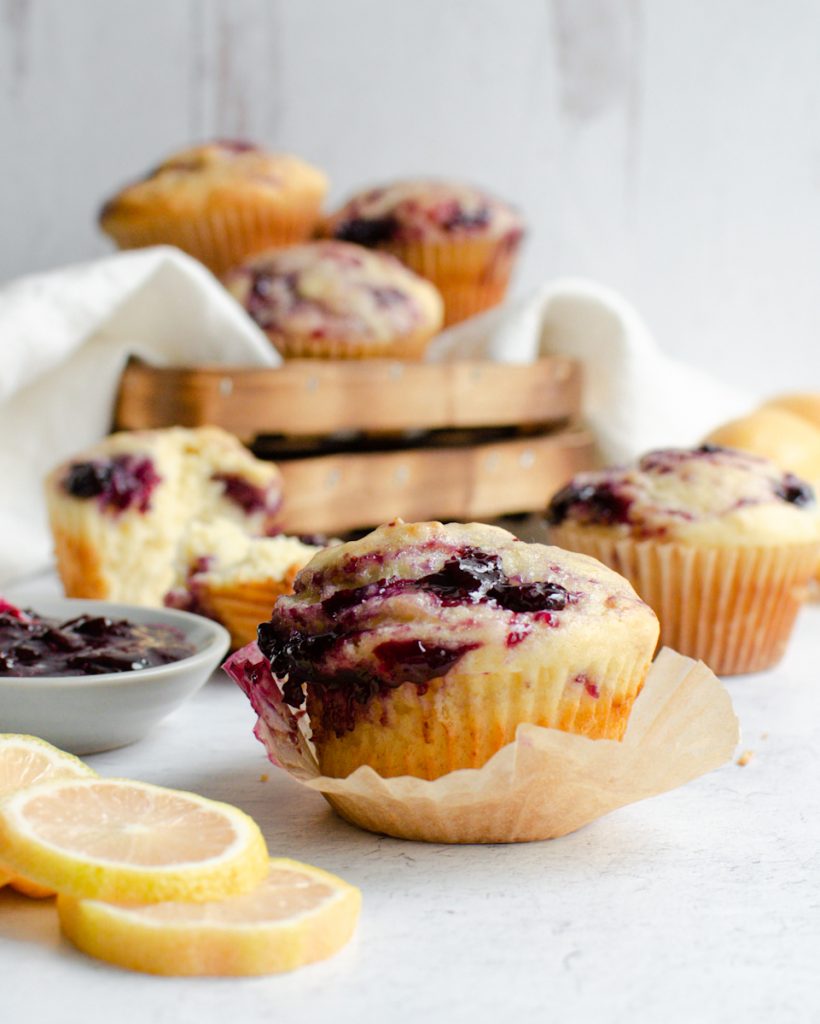 These muffins are topped with the berry compote and swirled together. This makes the tops pretty and is a little quicker and easier but it does concentrate the berry flavor at the top of each bite.
If you want to add some extra berry goodness throughout the muffin, add some of the compote earlier when making the muffins.

Add half of the batter to each cup, then add some berry compote, swirl, then finish with remaining batter and compote to top.

I recommend swirling with a toothpick or something that won't scratch your muffin tray or cut the liners (a small wooden spoon handle is great).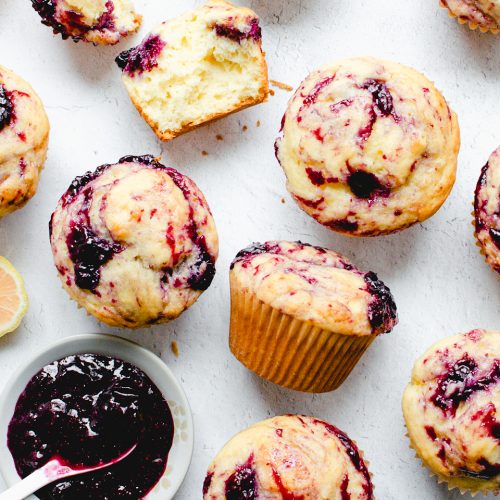 Lemon Muffins with Berry Compote
Homemade muffins full of fresh lemon flavor from zest and juice. Muffins are swirled with a simple mixed-berry compote for sweetness and contrast. Vegetarian. Makes 12 standard muffins.
Ingredients
For the Berry Compote:
1

cup

fresh or frozen berries, any kind or a mix

(strawberries, blueberries, blackberries, etc)

1/3

cup

sugar

1 ½

tsp

fresh lemon zest

(= 1/2 of a lemon)

3

Tbsp.

water
For Lemon Muffins:
2 ¼

cups

All-purpose flour

2

tsp

baking powder

1/4

tsp

baking soda

1/2

tsp

fine salt

3/4

cup

sugar

1

Tbsp.

fresh lemon zest

(= zest of 1 large lemon)

2

large

eggs

1/2

cup

vegetable oil

1/2

cup

milk

1/4

cup

fresh lemon juice

(= juice of 2 large lemons)

1/2

tsp

vanilla extract

sugar for sprinkling, if desired
Instructions
Make the Berry Compote:
Wash and stem berries as needed. Small berries should remain whole but quarter strawberries if using. Place 1 cup of berries, 1/3 cup sugar, 3 Tbsp. water, and zest of half a lemon in a medium saucepan.

Turn heat to medium-low and cook until berries release their juice and mixture thickens, 6 to 8 minutes. Stir occasionally to prevent sticking.

Pour compote into a clean bowl and let cool while making muffins.

Berry Compote can be made up to 1 week ahead of time. Store covered and refrigerated.
Make the Lemon Muffins:
Preheat oven to 375°F and line a 12 cup muffin tray with paper liners or baking spray.

In a large bowl, whisk together flour, baking powder, baking soda, and salt. Set aside.

In a separate medium bowl, combine sugar with fresh lemon zest until mixture is fragrant and zest is evenly distributed. Whisk in eggs, oil, milk, lemon juice, and vanilla until mixture is smooth.

Pour the liquid mixture into the dry ingredient mixture and stir until just combined. Some lumps are okay– don't overmix.

Scoop or pour muffin batter into tray, filling each 2/3 full. Add a spoonful of berry compote to the top of a muffin cup and swirl gently with a toothpick, cake tester, or handle of a wooden spoon. Repeat with remaining muffins.

Place muffin tray in oven and bake for 20 to 25 minutes, or until tops are golden brown and a tester comes out free of batter or crumbs.

Let muffins cool for 5 minutes in the pan and remove to a cooling rack to cool completely before storing.

Store lemon muffins covered at room temperature for up to 3 days.
Notes
You may not need all of the berry compote for the muffin tops. If you'd prefer to use it up (or have extra berry loaded muffins):
add one scoop of muffin batter to the tray, swirl some compote in (this will be the middle of the muffin), then add another half of the batter to the tray and top with more compote as directed above.
Berry compote is also great for ice cream, yogurt, waffles, etc. if you want to store the leftovers.
Muffins are best stored at room temperature (the fridge can dry them out). To prevent excess moisture during storage, add paper towels to the bottom and top of your container. Muffins can also be frozen for longer storage (up to 2 months wrapped individually in plastic wrap). 
Nutrition
Serving:
1
muffin
Calories:
254
kcal
Carbohydrates:
37.4
g
Protein:
3.9
g
Fat:
10.4
g
Saturated Fat:
2.2
g
Cholesterol:
32
mg
Sodium:
45
mg
Fiber:
1
g
Sugar:
18.5
g
Calcium:
57
mg
Iron:
1
mg
I only have a couple pink lemons left and I'm not sure what I'll bake next. I've been working on some savory recipes and a citrus slaw for grill season so it should be a fun few weeks coming up!
---
---