Whole Wheat Blueberry Muffins
My favorite category of foods definitely falls within breakfast. Biscuits, potatoes, grits, toast, fruit, smoothie bowls, cereal, etc. I love it all. And I love breakfast food any time of the day. We do breakfast for dinner several times a month because it's easy and fun. Lately, we've been working these muffins into the rotation because they're delicious!
These Whole Wheat Blueberry Muffins are an excellent breakfast treat. They're filled with fresh berries and whole wheat fiber. And they're so simple to make–but so much better than anything in a box.
This recipe calls for a banana instead of eggs so it's a great way to use up that last brown banana on the counter 🙂 But the flavor is overwhelmingly blueberry with whole wheat. And I use unsweetened coconut milk but you could use whatever milk is your favorite. There's still oil and sugar in this recipe so the muffins have a perfect crumb and texture.
To Make These Muffins, You'll Need:
1/2 cup mashed blueberries
1 1/2 cups whole blueberries
1 banana
1/2 cup milk or milk substitute
2 cups whole wheat flour
This method calls for tossing the berries in a little flour before folding them in–this helps prevent all the berries from sinking. It's a little extra step but definitely worth it to get evenly distributed berries! I also highly recommend zesting a lemon into the mix if you can. It gives a little oomph to the batter 🙂
Looking for more breakfast options?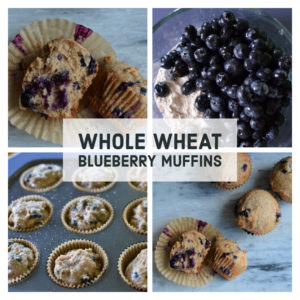 Whole Wheat Blueberry Muffins
Delicious blueberry muffins made with whole wheat. Muffins are soft and flavorful with just the right amount of sweetness. Written vegan but can be made with traditional dairy and egg as well. This makes 12 standard muffins. Perfect way to start the day!
Ingredients
2

C

fresh blueberries, divided

2

C

whole wheat flour, divided

1/2

C

unsweetened coconut milk

can use dairy milk (2% or skim)

3/4

C

granulated sugar

1/3

C

vegetable oil

1

medium

ripe banana, mashed

can sub 2 eggs if desired

1

tsp

vanilla extract

2

tsp

baking powder

1/2

tsp

salt

Optional

zest of 1 lemon

Optional

sugar to sprinkle on top of muffins
Instructions
Preheat the oven to 375* F. Prep a 12 tin muffin tray with liners.
Prep the blueberries
Rinse and drain blueberries, discarding any with bad spots or blemishes. In a small bowl, mash 1/2 cup of the blueberries and set aside.

In a separate medium bowl, toss the remaining 1 1/2 cups blueberries with 1/4 cup of the flour to coat evenly. Set aside.
Make the muffins
In a large bowl, cream together the sugar, oil, mashed banana, vanilla and lemon zest (if using). Stir in the milk.

In a separate medium bowl, sift together the remaining 1 3/4 cups whole wheat flour, salt and baking powder. Add the flour mixture to the creamed mixture and stir until just combined and no flour pockets remain.

Mix in the 1/2 cup mashed blueberries to the batter. Gently fold in the remaining 1 1/2 cups blueberries.
Bake the muffins
Using a large cookie scoop, fill muffin tins evenly with batter. Sprinkle tops of muffins with sugar, if desired.

Bake on 375* F for 23-28 minutes, until a toothpick comes out clean. Let cool in tray for 5 minutes and then move to a cooling rack.

Let muffins cool completely before storing at room temperature, covered, for up to 4 days or freeze for up to 1 month.
Notes
Lemon zest is optional but really brightens the blueberries!
Fold in the blueberries by scraping the bowl around the sides gently as you mix in the berries. This may take an extra minute or two but is worth the effort! The berries will remain whole.
These muffins are excellent as is (vegan) and are slightly healthier by using unsweetened coconut milk (like So Delicious) and a banana in place of the eggs. For my non-vegan readers–feel free to make these using traditional milk and eggs 🙂
For extra blueberry punch–reserve a couple berries to top each muffin before baking. Just place the berries right on top of the batter.
Berries are tossed with 1/4 cup flour to help them avoid sinking into the batter. This is a thick batter as is, but tossing them in flour ensures the berries are evenly distributed in each bite 🙂
Nutrition
If you're looking for a good item to meal prep for breakfast–definitely make some Whole Wheat Blueberry Muffins on a Sunday night and have them for the coming weekday mornings 🙂 We like them slightly warmed with a little butter or jam. But they're perfect on their own, too.
Have a great Monday, friends–and Happy Earth Day 🙂
-Emma
---
---