Chocolate Glaze for Donuts
Simple and flavorful homemade icing for donuts and pastries like eclairs. Chocolatey, sweet, and perfect for dipping or spreading. Donut Glaze recipe is made with cocoa powder and powdered sugar but without corn syrup. It's lightly shiny and forms a crust. Makes about 2 cups.
I'm currently baking all the things with fresh cherries. I made these baked cherry donuts on a whim and while the flavor and texture was good, they turned purple during baking as a reaction. I'll keep working on the donuts but the chocolate glaze I made was an instant winner! I'll get a baked donut recipe out soon but until then…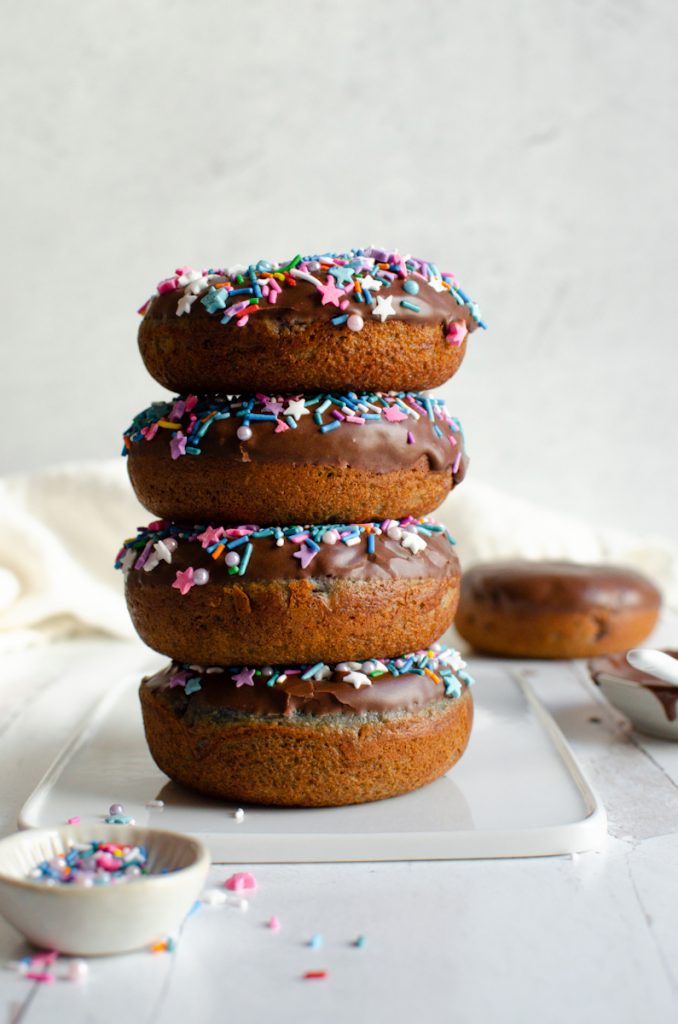 This easy chocolate glaze is delicious and made with simple ingredients. It's going to be great to have on hand for donuts and eclairs (or mama's eclair cake)! Next time you're making donuts or a bundt cake at home, give this chocolatey glaze a try!
Chocolate Glaze Recipe
This glaze uses only 4 ingredients: powdered sugar, cocoa powder, milk (or milk alternative), and vanilla extract. There's no need for corn syrup or any stabilizers.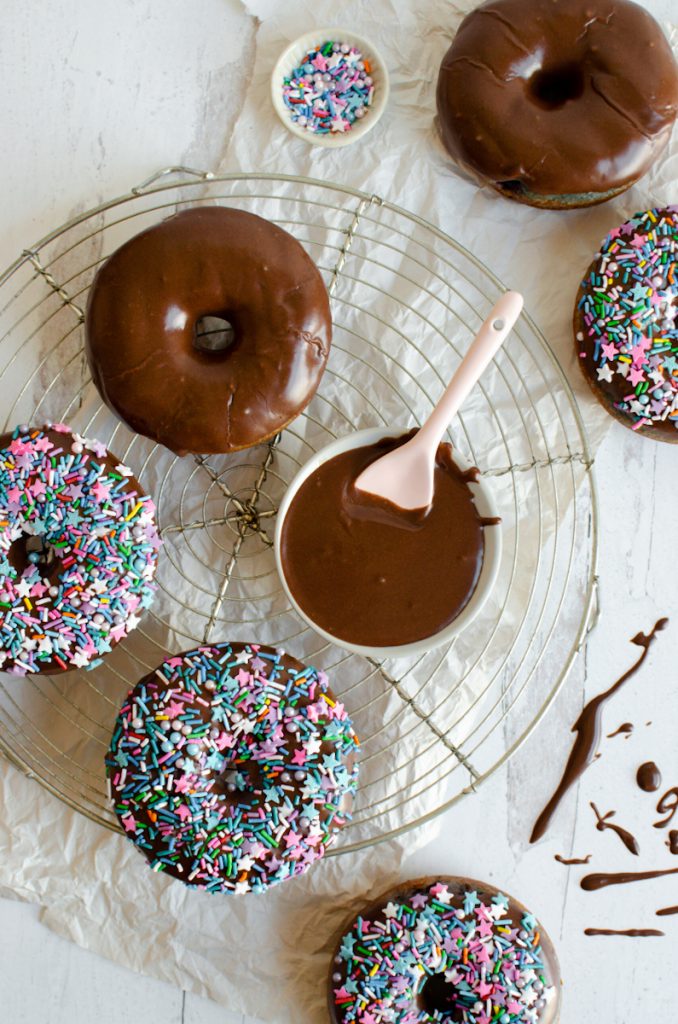 Powdered sugar– the best sugar option because it's very fine and great for icings
Cocoa powder– making chocolate glaze with cocoa powder gives it the most chocolatey flavor without added oil or fat typically found in whole chocolate or bars. Using cocoa powder gets the closest to a donut shop glaze.
Milk– I used whole milk but any milk will work (or half and half, milk alternative or even water). A little goes a long way to giving the right consistency!
Vanilla extract– adds some balance to the bitter cocoa powder and gives depth to the sweetness of the icing
How To Make Glaze for Donuts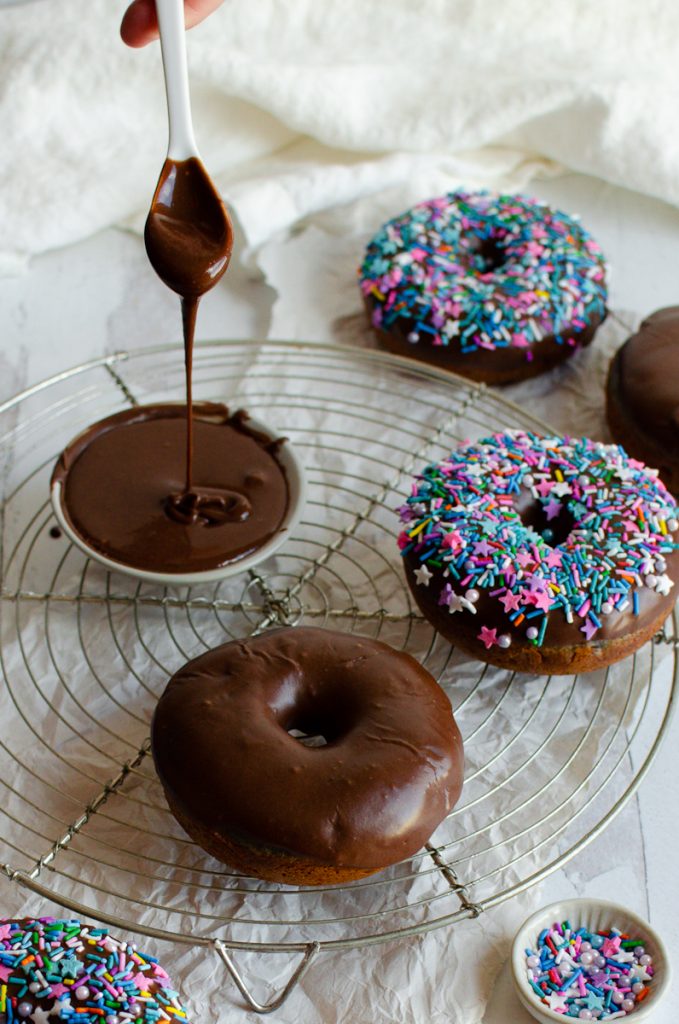 Start by sifting together the powdered sugar with the cocoa powder in a large bowl. Sifting helps remove any lumps from packaging and ensures a smoother glaze. Taking 2 to 3 minutes to fully sift everything is so worth it!
Whisk in half of the milk to start forming the glaze. Mixture will be clumpy and this takes a minutes to blend.
Add milk by the tablespoon to get the glaze thinned but still mostly runny. I add by the teaspoon at the end when I'm close to the consistency desired.
Stir in the vanilla extract. Adding the vanilla last keeps the flavor at the front of the mixture. The best chocolate glaze for donuts is a sweet chocolate, almost artificial flavor. Vanillin (or imitation vanilla) would be fine here, though we always use real vanilla.
That's all! It takes maybe 5 minutes to make a good chocolate donut glaze and it keeps several days on the counter in an airtight container.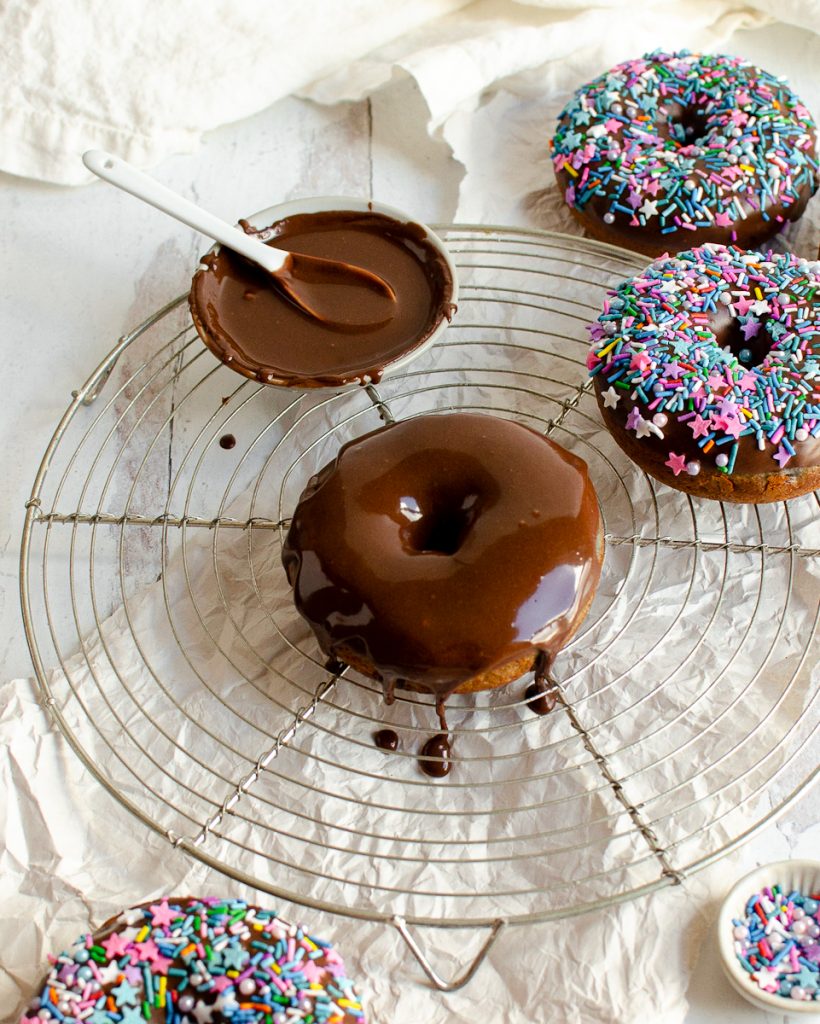 Other uses for chocolate glaze:
Glaze a bundt cake: make this glaze thinner with a little more milk (use about 8 tablespoons total) and pour over a cooled pound cake or bundt cake.
Pour over a loaf cake: leave the cake in the loaf pan and pour over as is for a thick topping.
Glaze a sheet cake or use for a poke cake: this chocolate glaze is great over a vanilla sheet cake (9 x 13) but will be a thin layer. Use on an 8 x 8 square cake for standard topping. Can be used with a poke cake, too!
Drizzle over muffins: pairs well with banana, chocolate, vanilla, etc.
Frost brownies: pour over cooled brownies and spread to even.
Use as a fruit dip: this icing is delicious for dipping strawberries or other fruits.
Use in a milkshake or smoothie: if you have a little leftover glaze, it blends in well with ice cream or other cream-based desserts in place of chocolate syrup.
Add to coffee: leftover chocolate glaze adds sweetness to coffee for a quick mocha-style drink.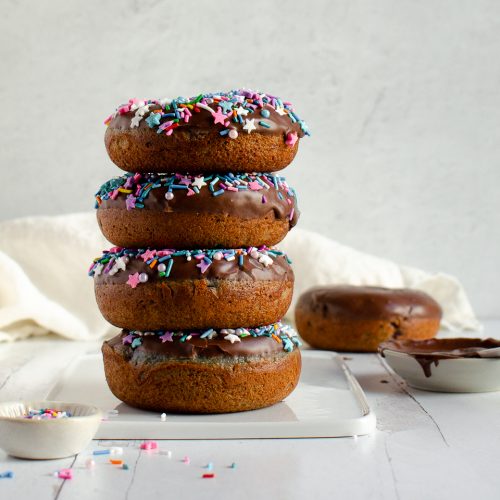 Chocolate Glaze for Donuts
No cooking required. Simple and flavorful homemade icing for donuts and pastries like eclairs. Chocolatey, sweet, and perfect for dipping or spreading. Donut Glaze recipe is made without corn syrup but still shiny and forms a crust. Makes about 2 cups (enough for 12+ donuts or an 8 x 8 inch éclair cake).
Ingredients
2

cups

powdered sugar

(260 g)

1/3

cup

cocoa powder

(40 g)

5 to 6

tbsp

milk

(75 to 90 ml)

1½

tsp

vanilla extract

(7.5 ml)
Instructions
In a large bowl, sift together powdered sugar with cocoa powder.

Add in 3 tbsp of the milk and whisk until a smooth mixture begins to form. Continue adding milk by the tablespoon and whisking until desired consistency is reached, then stir in the vanilla.

Glaze should fall from the whisk in thick ribbons and will run back together in the bowl.

Use as desired to dip donuts or spread on other desserts. Glaze crust should set in about 1 hour.
How to store Chocolate Donut Glaze:
Leftover glaze can be stored at room temperature in an airtight container for 4 days. Whisk again to smooth before using.
Notes
Sifting the powdered sugar and cocoa until very fine (no lumps) ensures a smoother icing.
For dipping donuts: place icing in a shallow dish and dip donut straight down, then lift above bowl and let excess icing drip off before placing donut on a cooling rack to set. If using sprinkles, dip in sprinkles directly after dipping in icing. Glaze should be thick enough not to run into the sprinkles (or very little).
Nutrition
Serving:
2
tbsp
Calories:
55
kcal
After making pie, cobbler, cake, and trying donuts– I'll freeze whatever cherries we have left for later. And I'll be experimenting with more donut recipes soon!
---
---