Brown Butter Sage Sauce
Gourmet pasta sauce at home with only a few ingredients? Yes, please!
This sauce is simple, delicious and full of flavor 🙂 It's lighter than a cheese sauce and stands out among basic tomato based sauces. It pairs perfectly with stuffed ravioli and it complements fall squashes and even fruits. This dish rivals anything you'll find at a cafe and it comes together in about 20 minutes! Best of all, you need only 4 ingredients!
If you've never browned butter, it's really easy and delivers a serious payoff in flavor. The trick is to let the butter melt without stirring (as tempting as it is) and remove from heat when you get a strong nutty aroma.
Keep reading to see how easy this delicious sauce can be–add in frozen pre-made ravioli and I'm sure you'll want to add it to your fall weeknight dinner lineup 🙂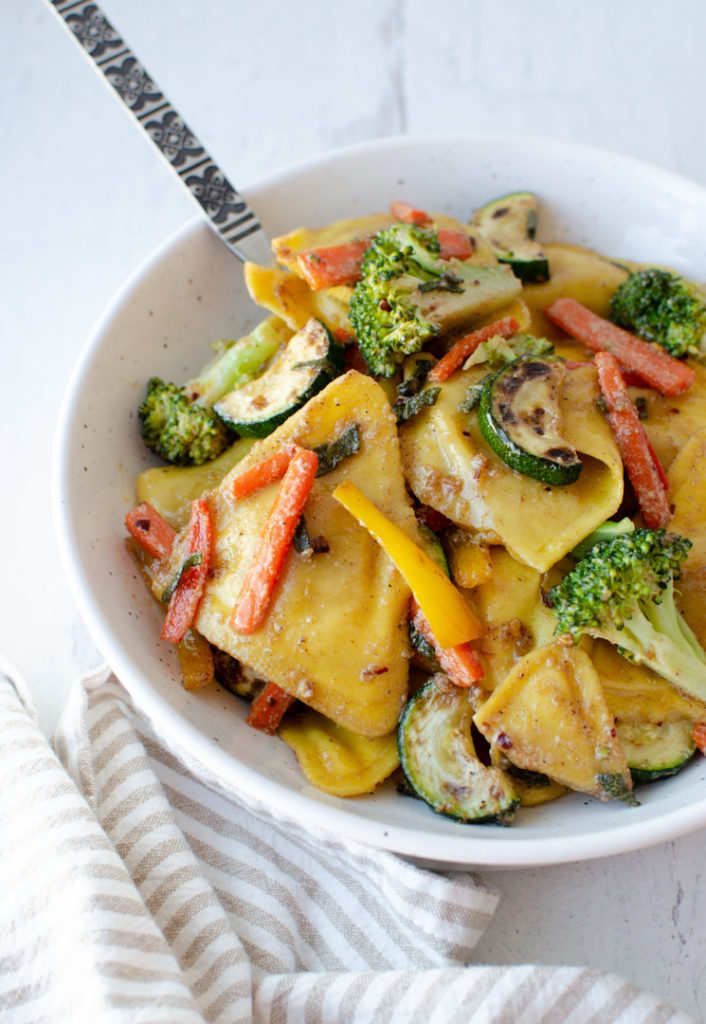 Brown Butter Sage Sauce
A delicious and simple sauce with brown butter, brown sugar and sage. Fall flavors complete any pasta or harvest dish–especially good over ravioli and butternut squash! Just the right amount of subtle sweetness and heat. Vegetarian. Ready in about 20 minutes.
Ingredients
6

Tbsp

butter, salted

5-6

fresh sage leaves, thinly sliced

4

tsp

brown sugar

1/4

tsp

red pepper flakes

black pepper

optional

shaved parmesan

optional

12

ounces

pasta of choice
Instructions
Boil water for pasta and prepare according to package directions. Meanwhile,

Melt butter on low in a large, flat bottomed skillet (preferably stainless steel). Let melt completely without stirring.

Allow butter to brown (initial bubbles will begin to dissolve, butter will turn brown and smell nutty). The browning process takes approximately 12-13 minutes, including melting time.

Remove skillet from heat when butter is browned. Whisk in brown sugar and red pepper flakes until brown sugar is completely dissolved.

Add thinly sliced sage and stir to keep from sticking. Sage will gently fry.

Combine cooked pasta with sauce in a large serving bowl and stir to coat; let stand 3-5 minutes. Serve and enjoy! Top with black pepper and/or Parmesan if desired.
Notes
This sauce is great for ravioli dishes such as spinach, butternut squash or cheese filled. Try it over roasted veggies like autumn squash for a delicious side dish!
Try this dish with added veggies: zucchini, bell pepper, broccoli, mushroom, squash, etc are all delicious! Adding in veggies will use some of the volume of the sauce. Use 2 cups veggies and reduce pasta amount to 8 ounces for best results.
Nutrition
How to Brown Butter for Sauce:
Add butter to a large, flat bottom skillet (or a dutch oven)
Use only low heat (I use the lowest setting possible on a gas range)
Let melt completely
Swirl pan (don't stir) 1-2 times during cooking. Mostly, wait and let butter cook until almost all bubbles have dissolved.
When butter is darker and smells rich and nutty (depending on stove, 10-13 minutes), remove from heat immediately add in other sauce ingredients. This will help stop the cooking process.
What are your favorite fall flavors and dishes? How do you plan to use this brown butter sage sauce this fall? Let me know in the comments!
---
---