Brown Butter Sage Sauce
Brown butter sage sauce is a delicious combination of sweet, nutty, and savory– perfect over squash-filled pastas or roasted vegetables. Quick and easy for any night of the week.
Brown Butter Sage Sauce is simple, delicious and full of flavor. It's lighter-tasting than a cheese sauce and stands out among basic tomato based options. Brown butter with sage makes the best butternut squash ravioli sauce!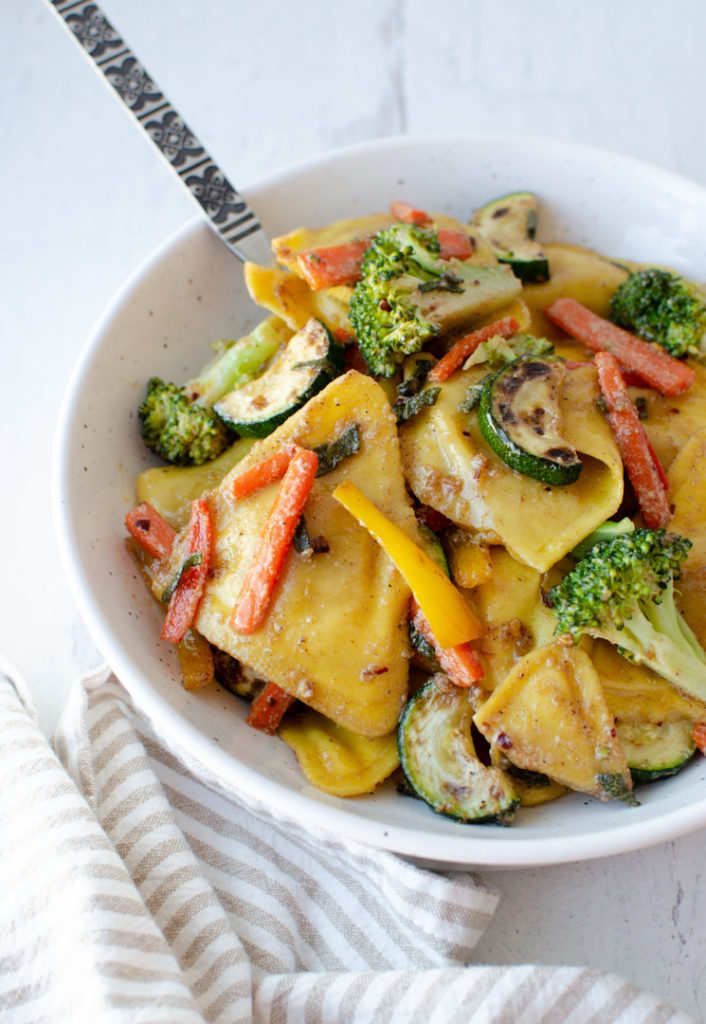 Browning butter delivers a serious payoff in flavor, but it does take some patience and a careful eye. Sage adds a nice flavor, and brown sugar gives a bit of sweetness. Try this sauce on butternut squash ravioli, with parmesan over roasted vegetables, or in a fall-inspired pasta bowl.
How to Brown Butter:
Add butter to a large, flat bottom skillet (or enameled cast iron)
Turn heat to medium and stir often until butter melts (about 1 to 2 minutes)
Once melted, turn heat to low
Brown the butter, stirring constantly, until it develops a strong, nutty aroma, and a golden brown color. This process takes between 4 and 8 minutes, depending on the cookware, the stove, and the amount of butter used.

butter solids will separate, liquid will be bubbly, and butter will become very foamy

Once butter is browned, remove from heat to stop the cooking process. Pour into a heatproof bowl.
Butter can go from browned to burnt very quickly— it's best to not walk away from the pan at any time during cooking. Stirring constantly helps it brown evenly.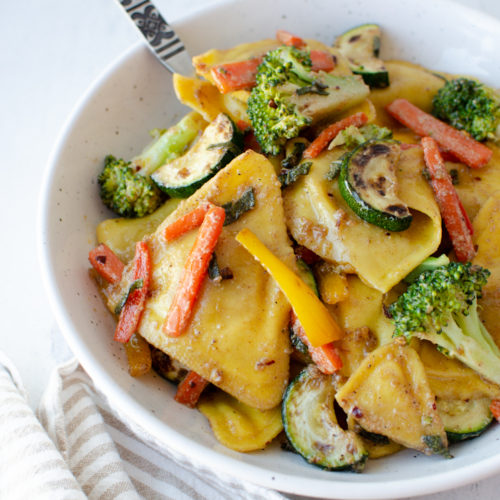 Brown Butter Sage Sauce
A delicious and simple sauce with brown butter, brown sugar and sage. Fall flavors complete any pasta or harvest dish–especially good over ravioli and butternut squash! Just the right amount of subtle sweetness and heat. Vegetarian.
Equipment
heavy bottomed skillet (stainless steel or enameled cast iron)
Ingredients
12

ounces

pasta of choice

ravioli, rigatoni, tortellini, etc.

8

Tablespoons

salted butter, cubed

= 1 stick

6 to 8

fresh sage leaves, thinly sliced

1½

Tablespoons

brown sugar

1/4

teaspoon

red pepper flakes

black pepper

optional, to taste

shaved parmesan

optional, to taste
Instructions
Boil water for pasta and prepare according to package directions. Set a medium heatproof bowl aside. Meanwhile,

Add butter to a medium skillet (stainless steel or enameled cast iron preferred). Turn heat to medium and melt the butter, stirring often (1 to 2 minutes).

Turn heat to medium-low and cook butter, stirring constantly, until it develops a rich, golden brown color and a nutty aroma. This process takes about 5 minutes.

When the butter is browned, immediately pour into the heatproof bowl. Whisk in brown sugar, red pepper flakes and sage.

Combine cooked pasta with sauce in a large serving bowl and stir to coat; let stand 3-5 minutes. Serve and enjoy! Top with black pepper and/or Parmesan if desired.
Notes
Cooking tips:
don't walk away from the pan during cooking
stirring constantly helps the butter brown evenly so it doesn't burn.
Once the butter melts, the solids will begin to break down and separate (after 2 or 3 minutes), then the butter will become foamy and start to brown. Watch butter carefully once it browns to avoid burning.
Pouring butter into the heatproof bowl immediately will stop the cooking process.

The butter will have small specks of dark brown throughout (these are the caramelized milk solids and where most of the flavor comes from so scrape all of those into the bowl!)

Caution: hot butter has a chance of popping and splattering so use caution when stirring (a deep sided pan can help).
Try this pasta dish with added veggies: zucchini, bell pepper, broccoli, mushroom, squash, etc are all delicious! Add 2 cups of veggies to the 12 ounces of pasta for best results.
Calories shown with 1 cup of butternut squash ravioli + 1/4 of the sauce. A serving of the sauce alone contains 218 calories.
Nutrition
Serving:
1
cup
Calories:
418
kcal
---
---