How to Freeze Tomatoes
Freezing fresh tomatoes is a great way to have garden flavor later in the year! Guide includes how to freeze whole tomatoes, diced tomatoes, or sliced tomatoes. No special equipment necessary.
Can you freeze tomatoes? Yes! We've been freezing fresh tomatoes for about 8 years now and it's the easiest way to put them up for the year without canning. We love using frozen tomatoes in homemade soups and sauces later in the winter. Try them in our Vegetable Soup, Easy Vegetarian Chili, or pasta sauce recipes.
Freezing tomatoes only takes a little time and can be done in a few ways: whole, diced, or sliced. Pick whatever method of freezing them works best for you.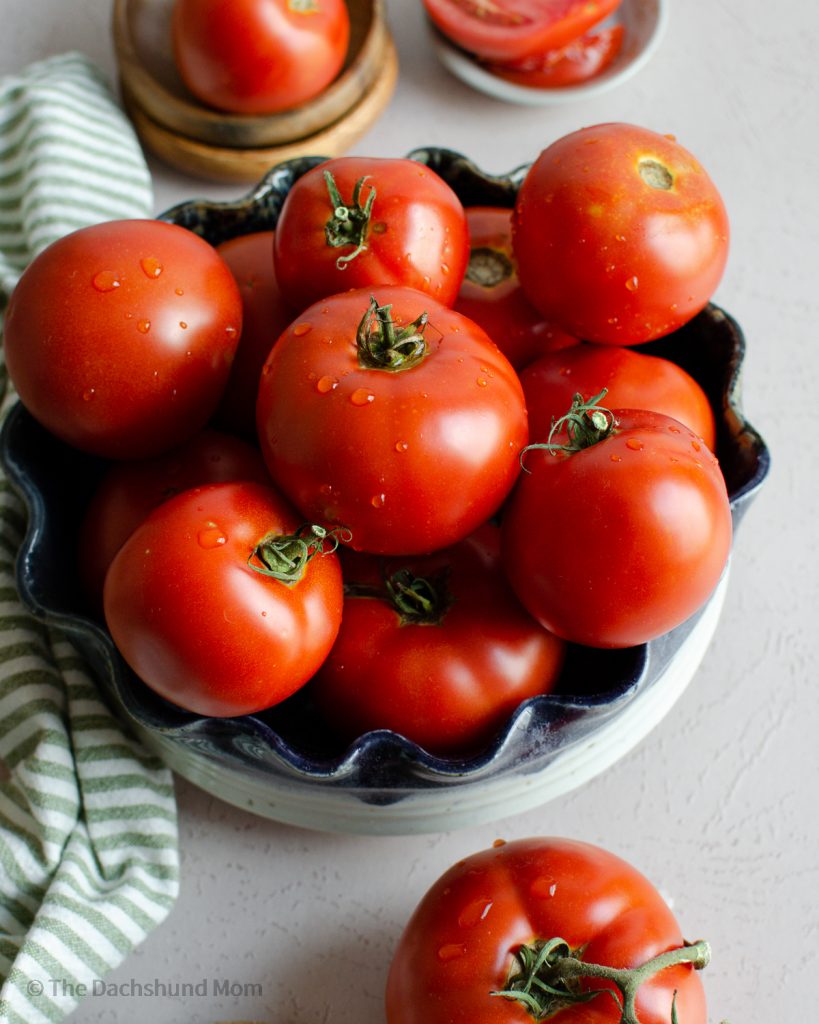 Should tomatoes be frozen or canned?
Freezing tomatoes is best for:
quick processing and convenience
smaller quantities/smaller families.
Freezing makes portioning easier, too.
Cons to freezing tomatoes: there can be some mess involved and some loss (discarding seeds/excess juice). Also, freezer storage space is required.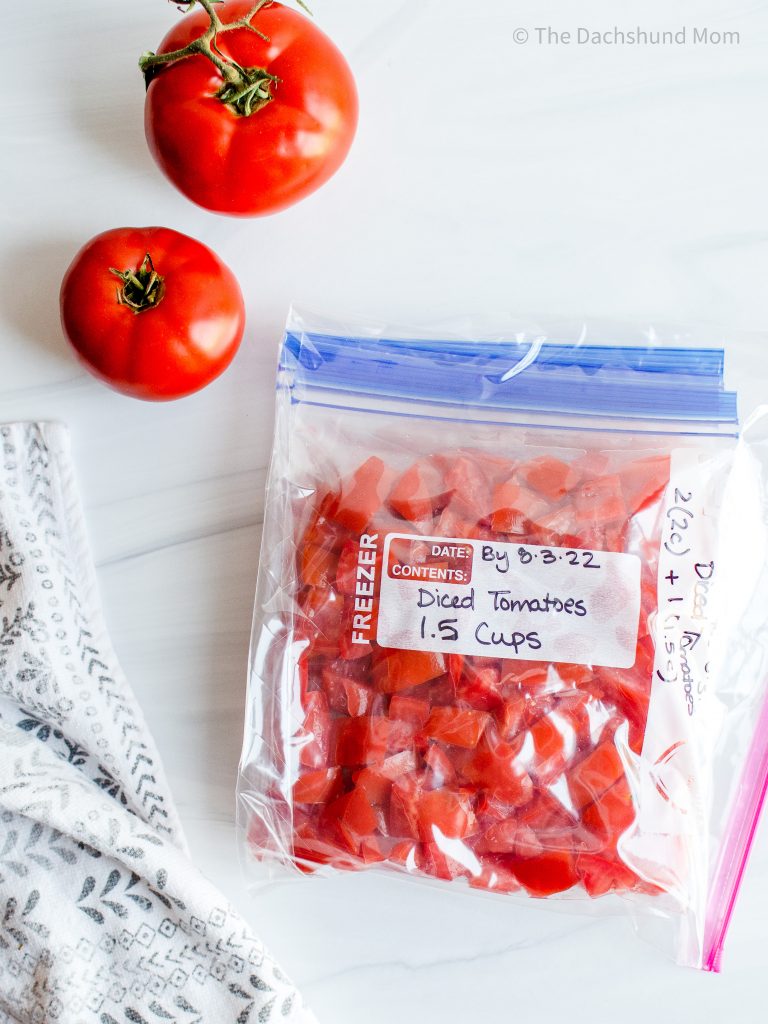 Canning tomatoes is great for:
putting up larger amounts of fresh tomatoes
using as much tomato as possible with little waste (canning typically uses juice, seeds, and the whole tomato).
Longer shelf life/storage up to 18 months or longer
Cons to canning instead of freezing tomatoes: canning takes takes equipment, and more time and effort. But it's great if you want to store more garden tomatoes and for longer!
What Type of Tomatoes Can I Freeze?
Any variety can be frozen, though I typically freeze heirlooms, slicing tomatoes, and Romas. Cherry tomatoes can be frozen whole for convenience. The photos here are of Better Boy tomatoes I brought back from my family's farm in Virginia.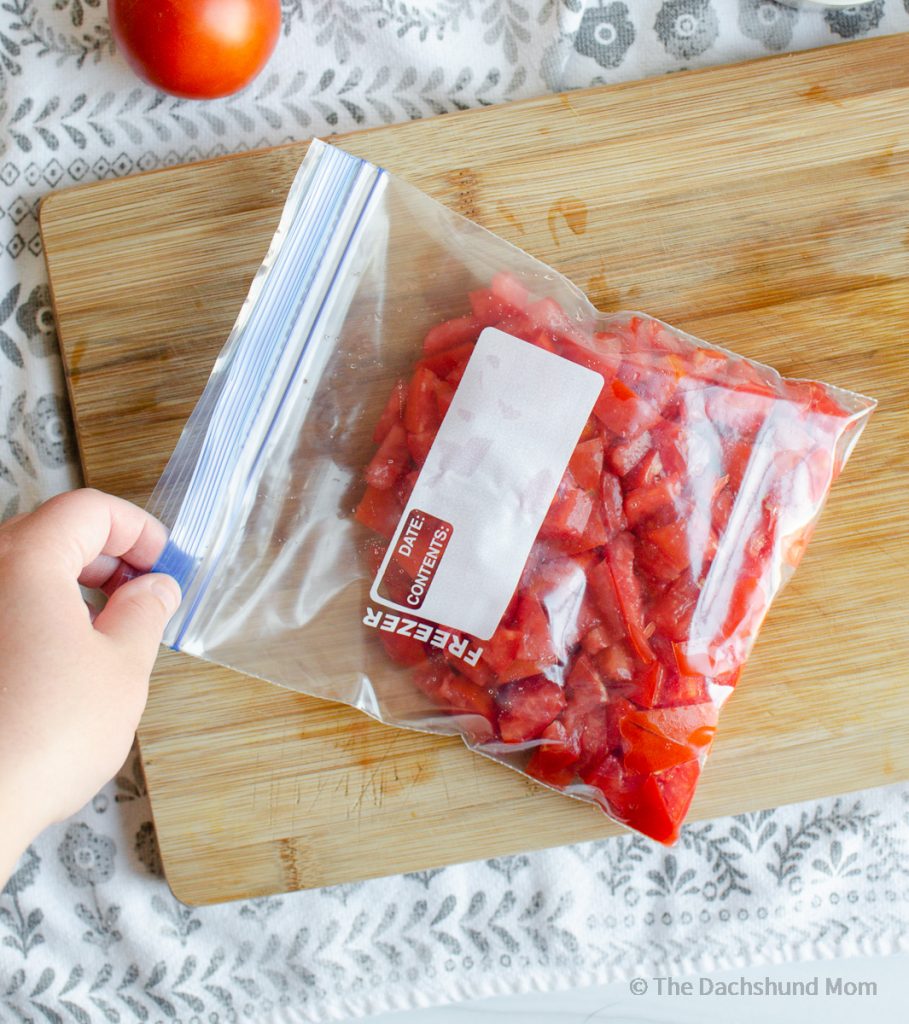 How to Prep Tomatoes for Freezing:
How you prepare tomatoes depends on how you're wanting to freeze them. Tomatoes do not need to be blanched for freezing but if you prefer to peel them (we don't)– you will need to blanch them long enough to help remove the skins.
Freezing Diced tomatoes (most versatile): wash tomatoes and remove core. Quarter and remove seeds/liquid. Chop as desired then freeze in portions (we do 1 and 2 cup amounts in individual bags).

this is the easiest method, in my opinion, because the tomatoes are fully ready for cooking and require no extra prep later. This method takes the most effort now.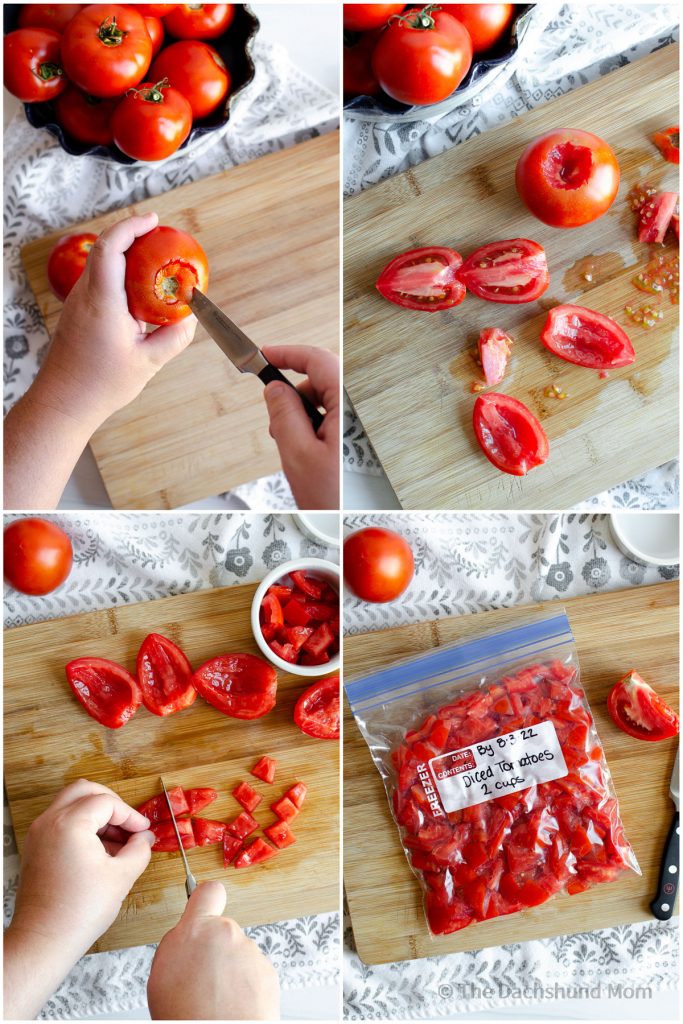 Freezing Whole Tomatoes: wash tomatoes and remove core. Freeze overnight on a parchment lined sheet tray until solid. Remove to a freezer bag and use whenever needed, being careful not to thaw until needed.

this is a quick way to take care of tomatoes easily. Whole tomatoes may or may not need to be thawed, depending on use. Whole frozen tomatoes retain lots of moisture so keep this in mind when cooking.
Freezing Tomato Slices: wash and remove top and bottom from tomato. Slice into desired thickness. Freeze on a parchment lined sheet tray overnight. Layer slices with parchment or wax paper (to keep them separated in the freezer). To use: remove and lay on a cooling rack to drain– salt liberally to draw out moisture then use as needed.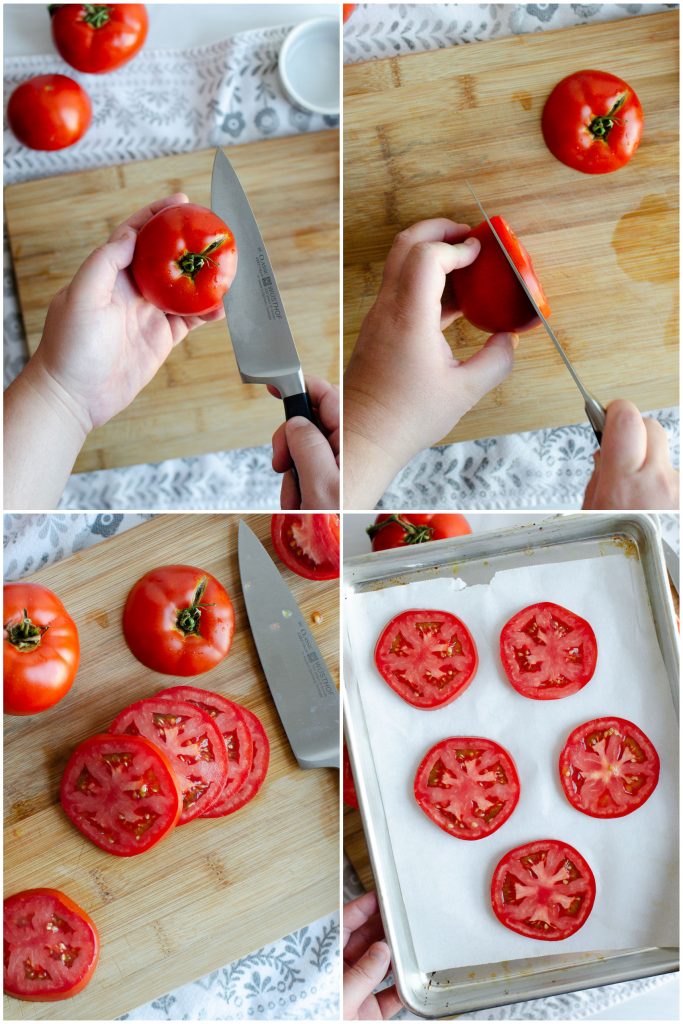 How to Use Frozen Tomatoes:
Frozen tomatoes do not have the same texture as fresh, ripe tomatoes but they keep all of their flavor. Use frozen tomatoes anywhere you would use canned versions– frozen tomatoes are meant for cooked dishes.
Use whole frozen tomatoes for soups, stews, and sauces where seeds or juice won't affect the recipe. You can also use these for juicing later.
Use diced frozen tomatoes in pasta sauces, roasted (cooked) salsas, soups, or chilis.
Use frozen tomato slices for pizzas and puff pastry tarts later in the year. Or in sheet pan fajitas!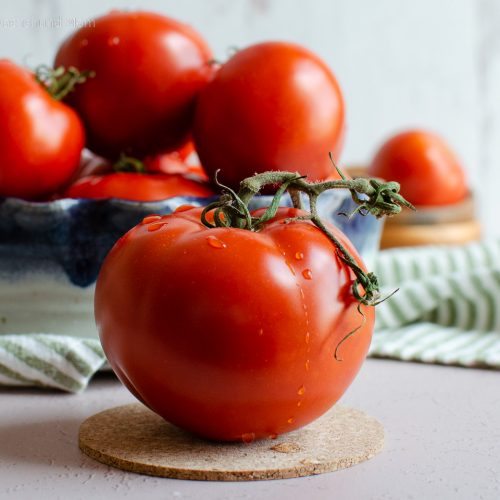 How to Freeze Tomatoes
Freezing fresh garden tomatoes is easy and the perfect way to preserve them for the year. Use frozen tomatoes in any cooked dish later in place of canned or stewed tomatoes. Freeze them whole, in slices, or diced for convenience.
Equipment
Large cutting board

Sharp knife

Parchment or wax paper/freezer paper

Large baking sheet(s)

Freezer safe bags or airtight container
Ingredients
fresh tomatoes (any kind desired)

garden variety, Romas, cherry or grape, etc.
Instructions
Wash all tomatoes and remove any stems. Tomatoes can be frozen whole, diced, or sliced, depending on preference. Use any frozen tomatoes within 1 year.
For Diced Tomatoes (recommended for most uses later):
Cut tomatoes into quarters and remove the core. Remove as many seeds as possible, then chop tomatoes into desired size.

Measure tomatoes into portions as desired, then place in freezer bags by the portion (recommend 1 or 2 cup increments). Remove any excess air and position tomatoes flat for easier storage. Diced tomatoes will stick together in the freezer, but portioning them out now makes it easier to use them later. Use in sauces/soups.
For Whole Tomatoes (best with Romas or other small, sturdy varieties):
Use a small sharp knife to remove the top/tough core from tomatoes.

Place tomatoes on a large parchment or foil lined sheet tray and let freeze completely. Make sure tomatoes aren't touching. (large tomatoes need about 4 hours, while smaller cherry tomatoes need 2 hours)

Place frozen tomatoes in freezer safe bag or container and remove excess air. Use in place of stewed tomatoes or stuffed tomatoes. No need to thaw before cooking but tomatoes will retain lots of moisture.
For Sliced Tomatoes (use on pizzas, tarts, in fajitas, etc.):
Remove top and bottom of tomatoes. Slice into desired thickness.

Spread slices onto a parchment or foil lined sheet tray, avoiding touching.

Freeze for 2 to 3 hours, until solid. Place a small piece of parchment or wax paper between slices and freeze in an airtight container or bag, removing excess air.

To use frozen slices: thaw at room temperature on a cooling rack set over a sheet tray (to help remove excess liquid). Once thawed, salt liberally to draw out remaining liquid and use as desired. This won't replace fresh sliced tomatoes in sandwiches, etc, but gives great fresh flavor to cooked dishes such as pizza.
Notes
1 pound fresh tomatoes = 3 medium tomatoes; yields 1.5 to 2 cups chopped, or 9-10 slices
For any method above, if peeling first is desired:
you'll need to score tomatoes (mark an "X" on the bottom) then put whole tomatoes in boiling water for 1 minute to soften skin. Remove to a bowl filled with ice water for 1 minute and peel then proceed with remaining instructions.
(we do not peel our tomatoes as we use them in soups and sauce and we are okay with the added skins. This step is not necessary for good freezing results and can be messy)
Tomatoes are good for 1 year after freezing but taste the most fresh within 6 months.
Nutrition
Serving:
4
ounces
Calories:
20
kcal
---
---