Cadbury Mini Egg Brownies
Cadbury mini egg brownies are rich, chewy, and delicious! These fudgy pastel topped brownies are easy to make and perfect for Easter and springtime celebrations.
Mini Egg Brownies are a fun and festive Easter treat! Cadbury Mini Eggs add lots of chocolatey flavor, crunch, and spring color to an ultra rich chocolate brownie recipe that's sure to please everyone!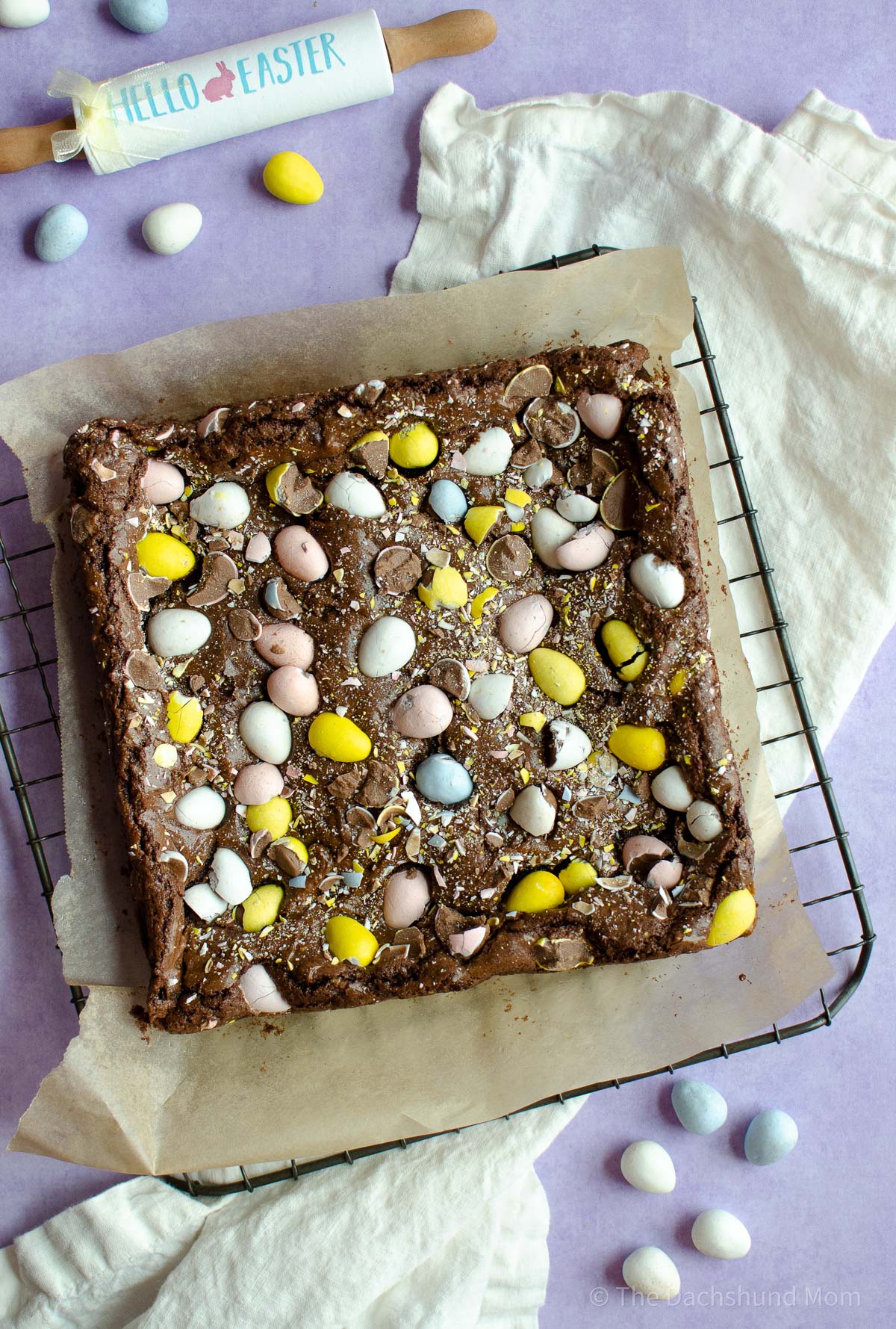 This mini egg brownies recipe requires just a few pantry ingredients and one 8 or 9 ounce bag of Cadbury chocolate mini eggs.
You'll need just two bowls and less than 15 minutes of hands-on prep time, so this recipe is easy to make any time!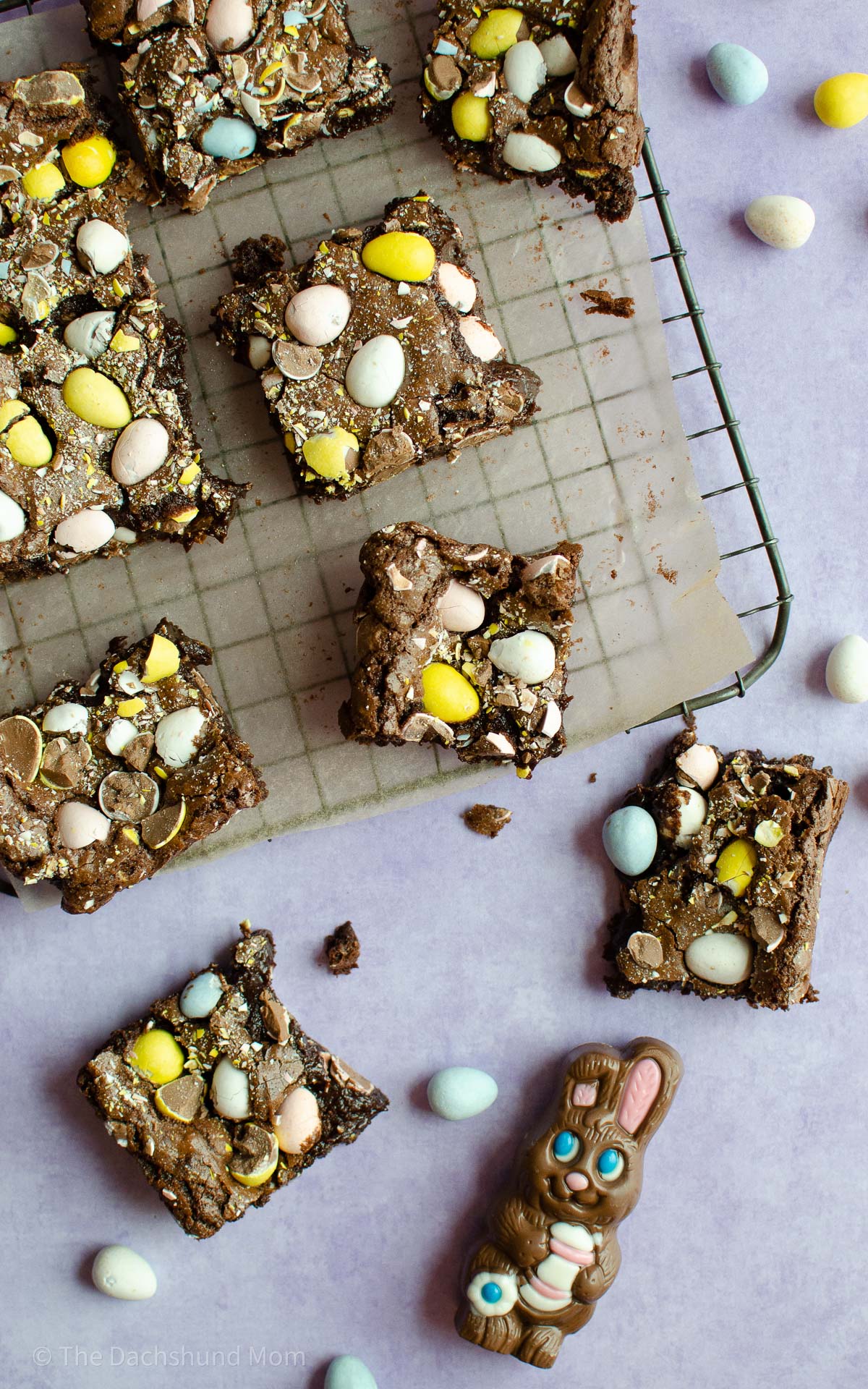 Cadbury Mini Eggs are great to bake with because they retain their pretty colors and the shells add some texture.
The chocolate in the mini eggs will soften in the oven but since the eggs retain their shape, they stand out rather than blend in to the brownies.
Ingredients:
Butter – you'll need one stick plus two tablespoons for this recipe. Butter gives flavor and using more fat than flour keeps the brownies chewy, rich and fudgy.
Sugar
Flour
Cornstarch – cornstarch makes brownies extra chewy and keeps them tender.
Salt
Baking Soda
Vanilla – this recipe uses 2 teaspoons to enhance the flavor of the milk chocolate mini eggs.
Cocoa Powder – cocoa powder adds rich flavor. You'll need 2/3 of a cup, or a little over 2 ounces.
2 eggs
Cadbury Mini Eggs – an 8 or 9 ounce bag of mini eggs, broken up, yields 1 cup. Half of the eggs will go in the batter and half will be scattered on top of the brownies.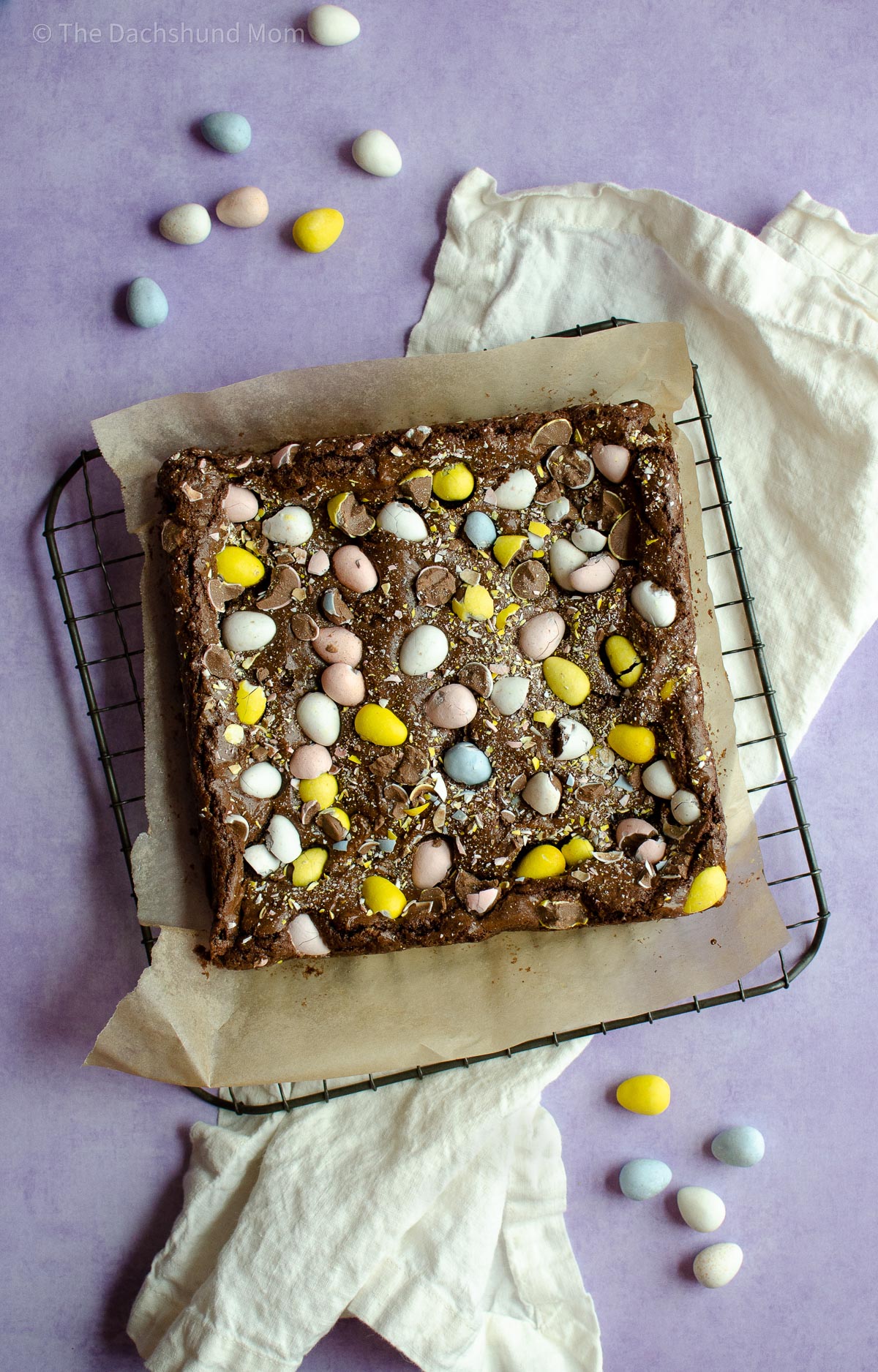 Tips for Making this Recipe:
Break up the Cadbury Mini Eggs before baking:
Add mini eggs to a gallon sized Ziploc bag and hit several times with a rolling pin until eggs are broken into larger pieces or halves. This will also yield some pastel colored candy "dust" that can be used to decorate the top of the brownies.
I found breaking up the mini eggs directly in their package was a mess (the bag popped and eggs went everywhere!)
Let the brownies cool completely before cutting:
Brownies with mini eggs are less structural than regular brownies because of the weight of the eggs on top. Letting brownies cool for one to two hours before slicing gives them time to fully set up for cleaner cutting.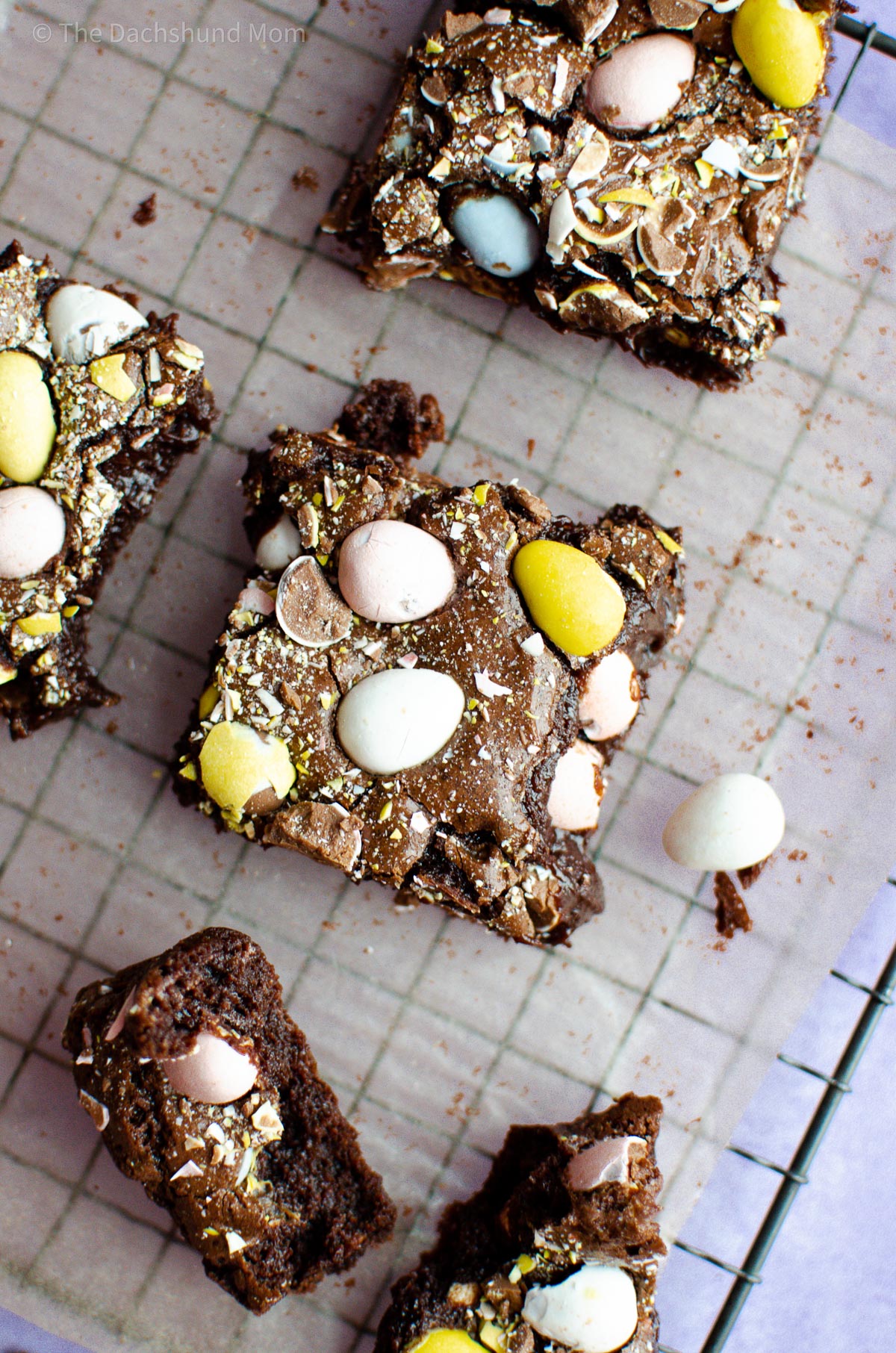 Storage:
Mini eggs brownies can be stored at room temperature in an airtight container for up to 5 days for best texture and flavor.

Like many baked goods, brownies are actually better the next day. Storing them overnight allows the flavors to fully develop and the chewy texture will settle in.
The brownies can also be frozen for longer storage. Simply wrap brownies tightly in parchment and store in a freezer bag or airtight container for up to 3 months. Thaw at room temperature or microwave for a few seconds to enjoy warm.
Looking for a No Bake Easter Dessert Instead?
Try this Lemon Oreo Cookies and Cream Dip for a fruit tray or try this Vegan Chocolate Pie as a delicious non-dairy option.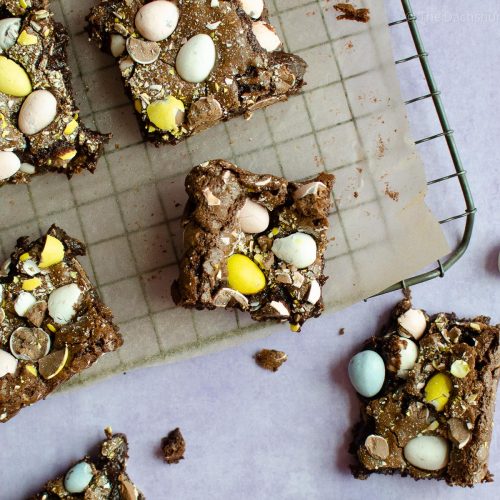 Cadbury Mini Egg Brownies
Rich and chewy cocoa brownies filled and topped with Cadbury mini eggs. These colorful pastel brownies are perfect to celebrate Easter and springtime. Recipe makes one 8 x 8 pan of brownies and requires just two bowls.
Ingredients
10

Tablespoons

unsalted butter

cubed

1¼

cups

granulated sugar

1/2

cup

all purpose flour

2

teaspoons

cornstarch

1/4

teaspoon

salt

1/8

teaspoon

baking soda

2

teaspoons

vanilla

2/3

cup

unsweetened cocoa powder

= 2 ounces

2

large

eggs

1

cup

Cadbury mini eggs, broken and divided

= 8 to 9 ounces. See notes below
Instructions
Prep:
Preheat oven to 325° Fahrenheit. Grease and line an 8 x 8 pan with parchment paper and set aside. For easier removal later, let parchment overhang the pan slightly on two sides.

Add butter and sugar to a large microwave safe bowl (such as a glass mixing bowl). Microwave on HIGH in 30 second intervals, stirring after each, until mixture is melted completely (about 2 minutes total). Add 15 second increments if needed and use caution to avoid splattering. Butter should be liquid and sugar will be thin and smooth.

Remove butter/sugar mixture from the microwave and let stand at room temperature for 5 minutes, or until bowl is cooled to the touch. Mixture will thicken upon cooling. Meanwhile,

In a separate medium bowl, whisk together the all purpose flour, cornstarch, salt, and baking soda. Set aside.
Make the brownies:
To the cooled butter/sugar mixture, stir in the vanilla and cocoa powder until well blended.

On medium-low speed, beat in the eggs, one at a time, until incorporated. Scrape down the sides of the bowl.

Stir in the flour mixture on the lowest speed until just mixed. Scrape down the sides of the bowl and stir again for 10 to 15 seconds.

Add half of the broken mini eggs to the batter and fold in with a rubber spatula.

Add the batter to the prepared pan and spread to level. Batter should be thick so may need to be 'pushed' into the edges. Scatter top with the remaining half of the mini eggs.

Bake the brownies until just set, 25 to 30 minutes, or until a toothpick inserted comes out mostly clean (without pulling excess batter). Brownies should be risen, tops should be puffy and no longer shiny.

Remove brownies from oven and let cool in the pan. Letting the brownies cool completely (one to two hours) yields easier and cleaner slicing.
Storage:
Store cooled brownies in an airtight container at room temperature for up to 5 days.
Notes
To break up the Cadbury mini eggs: add to a ziptop bag and hit with a rolling pin until eggs are broken into large pieces/halves. Half of the eggs will go IN the batter and half will go on TOP of the batter. The leftover pastel 'dust' can be added to the top of the brownies for extra color.
This recipe can easily be made by hand with a whisk instead of a hand mixer:  Make sure to beat in the eggs well until they're fully incorporated and ensure the flour is mixed well (without overmixing). Still fold in the mini eggs with a spatula.
Nutrition
Serving:
1
brownie
Calories:
232
kcal
Carbohydrates:
31.7
g
Protein:
3
g
Fat:
11.7
g
Saturated Fat:
6.9
g
Cholesterol:
41
mg
Sodium:
117
mg
Potassium:
104
mg
Fiber:
1.4
g
Sugar:
26.1
g
Calcium:
33
mg
Iron:
1
mg
---
---