Butternut Squash and Carrot Soup
Creamy, plant based, harvest-inspired soup with butternut squash and carrots. This recipe uses almond protein powder as a base in place of a roux or dairy. This soup is delicious, healthy, and will be a go-to this season for cold nights. Makes 8 cups of soup. Gluten-free and vegan.
We enjoy soup all year round but there's something extra comforting about fall and winter soups. Fall soups tend be hearty and in our house, they tend to be rich and creamy. Cream based soups are amazing–but we don't always want the added calories from dairy or a roux. This recipe uses almond protein powder in place of dairy to add lots of creaminess. It is so good and equally filling!
This post is sponsored by OctonutsCA. All opinions are my own.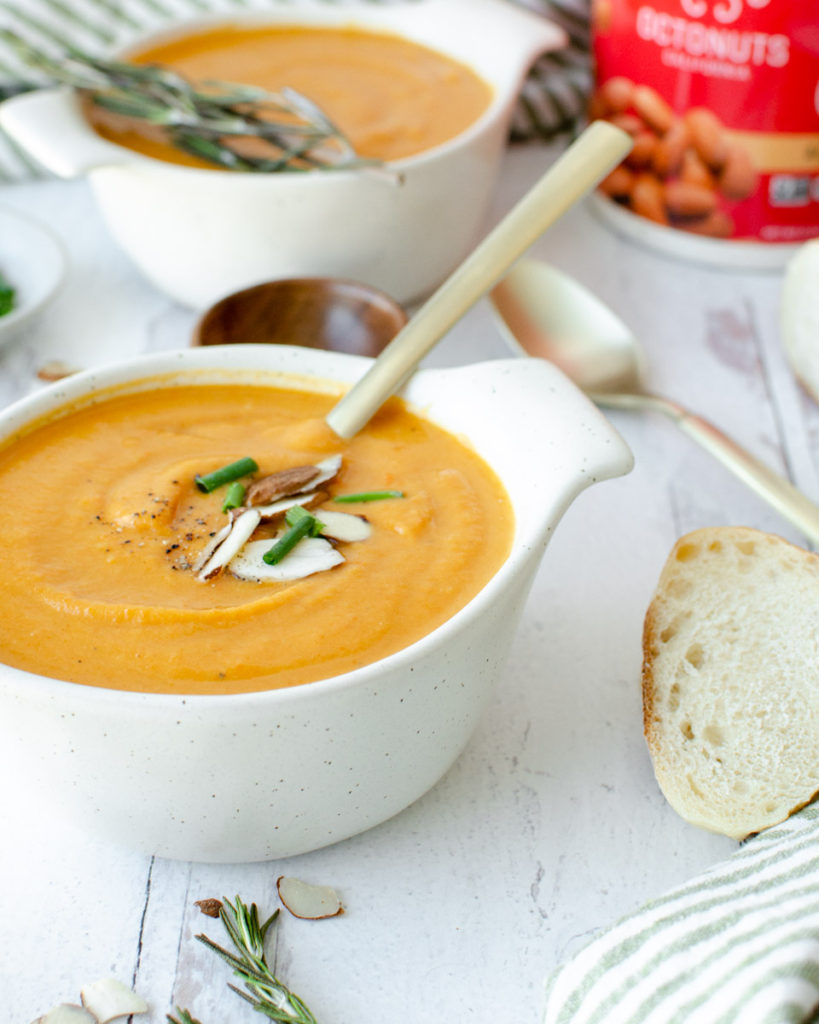 Soup, in my opinion, is one of the best meals because it can be made from just about anything on hand or in season. And it's super versatile. It uses only a few ingredients and spices and it's a great canvas for your favorite toppings. The recipe comes together quickly and is great for any night of the week.
Highlights of Butternut Squash and Carrot Soup:
Delicious and hearty
Vegan/plant based
Low calorie (only 120 calories per cup)
No added sugars- naturally sweetened with carrots
Thickened with almond protein powder
Creamy and smooth
How to Use Protein Powder as a Creamy Soup Base:
Simply whisk protein powder of choice into vegetable stock before adding to soup. Add in spices here, too, for even distribution.
This creates a creamy base but doesn't add the calories associated with dairy or full-fat plant-based milks.
For a thick + creamy soup, use the full 3/4 cup Octonuts almond protein powder. For a thinner soup, use 1/2 cup powder.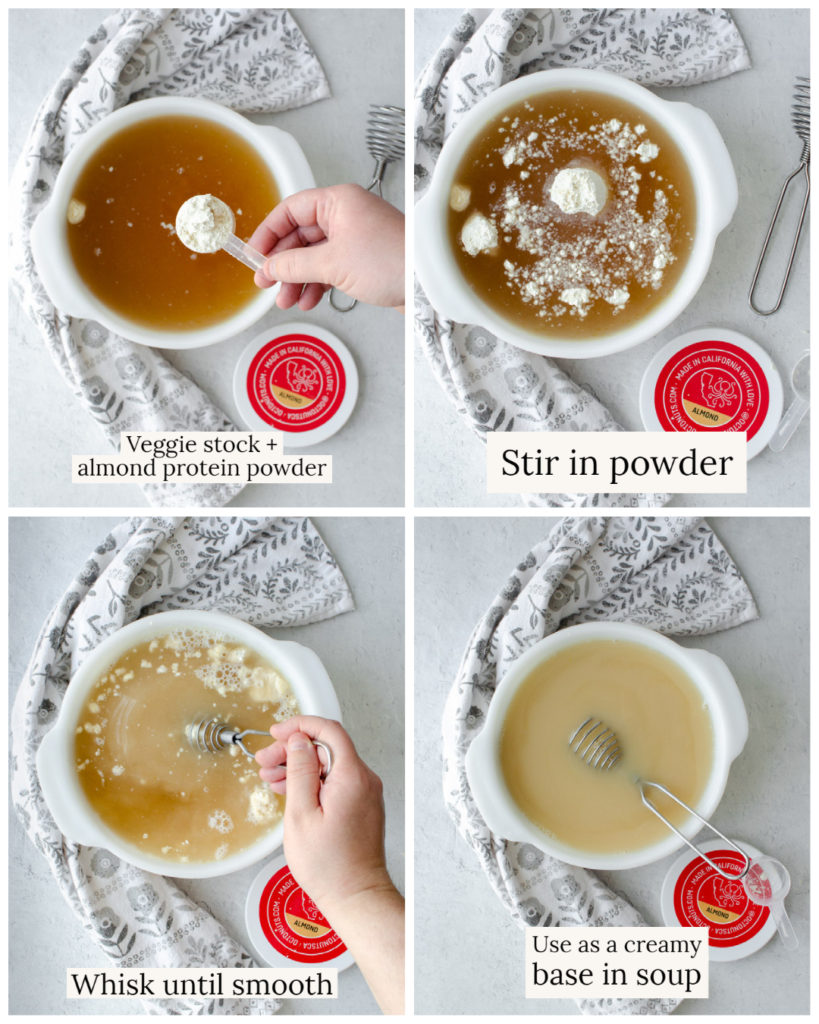 This soup is a new favorite in our house because it's hearty and flavorful but lighter than traditional creamy soups. If you want a great, plant based meal for a cold night– definitely make this soon!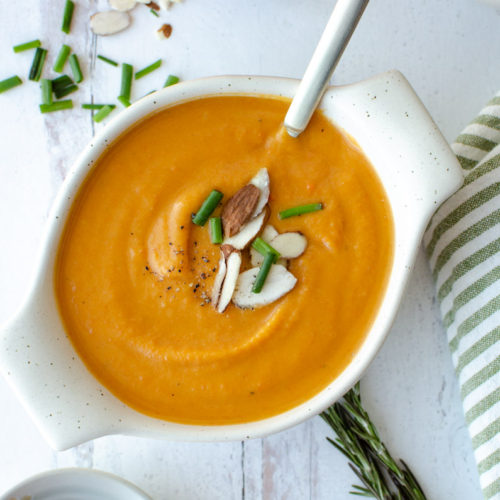 Butternut Squash and Carrot Soup (Vegan)
Thick and creamy roasted butternut squash and carrot soup. Simple, clean ingredients with no added sugar. Dairy-free with almond protein powder as a base. This soup is naturally healthy, full of flavor, and makes a great meal for fall and winter. Vegan. Makes 8 cups of soup.
Equipment
Large Dutch-oven or stockpot

Sheet pan

immersion blender
Ingredients
For roasted butternut squash:
5

cups

cubed butternut squash

~ 2 lbs squash

2

tsp

Octonuts almond oil

1/4

tsp

salt, or to taste

1/8

tsp

pepper, or to taste
To make the soup:
2

cups

sliced carrots

1/2

cup

diced onion

2

tsp

Octonuts almond oil

3/4

cup

Octonuts almond protein powder

6

cups

vegetable stock

1/4

tsp

ground nutmeg

1/4

tsp

ground ginger

1/8

tsp

ground cayenne

1/4

tsp

salt
Instructions
Roast the butternut squash and prepare ingredients:
Stir together cubed butternut squash with 2 tsp Octonuts almond oil and salt and pepper to taste. Spread onto a large baking sheet and roast for 25-30 minutes until barely fork tender.

Meanwhile, prepare vegetable broth mixture: in a large bowl, whisk the Octonuts almond protein powder into the vegetable broth until smooth. Stir in the nutmeg, ginger and cayenne. Set mixture aside.
Make the soup:
In a large Dutch-oven over medium heat, heat remaining 2 tsp Octonuts almond oil. Add in onions and cook, stirring occasionally, until softened– 3 to 4 minutes.

Add roasted squash, carrots, vegetable broth mixture, and salt to the pot. Bring to a boil over medium heat.

Reduce heat to medium-low and let simmer, stirring occasionally, for 20 to 25 minutes, until vegetables are tender.

Remove soup from heat and blend with an immersion blender until smooth and creamy.

Store leftover soup refrigerated for up to 5 days.
Notes
For a thinner soup, reduce protein powder to 1/2 cup.
Soup can also be made with a traditional stand blender or food processor. Simply process in batches until desired consistency.
Nutrition
We topped our butternut squash and carrot soup with sliced almond, chopped fresh chives, and some extra pepper. But it would be great with a little sriracha or extra drizzle of oil. If you want to be extra fancy, serve it in a bread bowl 🙂
If you make this soup, be sure to let me know what you think or tag me on Instagram @thedachshundmom 🙂 If you're interested in more info on almond protein powder or nut oils, check out OctonutsCA!
Hope you all have a great week, friends! We are getting some snow flurries so soup is definitely on the menu!
-Emma
---
---