Authentic Homemade Guacamole
San Diego-style guacamole featuring Roma tomatoes, plenty of cilantro and fresh lime. If you're looking for a quick appetizer or topping for your next party or taco night, try this homemade guacamole guaranteed to wow. Recipe is vegan and makes 6 servings.
I'm married to a guy from San Diego and we eat a lot of guacamole 😉 This is the best you'll make– promise!
It's perfect for everything from dipping tortilla chips to making the best Carne Asada Fries. It's fresh, cooling, and creamy but not mushy. This recipe calls for fresh ingredients and does not use a blender or processor or anything else than might over do it. Guacamole should be slightly chunky and have a good ratio of avocado to pico de gallo.
Ingredients for The Best Guacamole Ever:
Avocados– 3 that slightly give when in hand. The top near the stem should gently give.
Roma tomatoes— they stand up to the weight of avocado pulp + won't get lost in the mix. You'll need 2 to 3 firm Romas.
Minced garlic + fresh chopped onion. No powders.
Cilantro– about 1/2 a cup
Anaheim pepper– about 1/4 of a large pepper. This gives a sweet heat but jalapeno or poblano can be used instead, if desired.
Fresh squeezed lime juice. Not the bottled stuff!
Finish with salt and pepper
Tips to Make Better Homemade Guacamole:
Use a fork to mash. You want some chunks of avocado, not a smooth blended mush.
Keep the ratio of 2 parts avocado to 1 part fresh pico de gallo.
No added spices or flavors are needed. Good guacamole should have a cooling, fresh flavor.
Guacamole is best served immediately but if needed- it can be kept an extra day or so with a little more lime juice and/or the avocado seeds. Store refrigerated tightly covered.
Authentic Homemade Guacamole
Authentic Southern California cuisine staple. Fresh avocados mixed with garden produce for a dip, topping or filling. Perfect for carne asada fries, California burritos, chips and more. Vegan.
Ingredients
3

medium

ripe avocados

1

cup

Roma tomatoes, diced

2-3 whole Romas

1/2

cup

red onion, diced

= approximately 1/2 large onion

1/2

cup

cilantro, chopped

1/4

cup

Anaheim pepper, minced

= 1/4 of the whole pepper

2

cloves

garlic, minced

1

lime, halved

1/2

tsp

salt

or to taste

1/2

tsp

pepper

or to taste
Instructions
Make pico de gallo:
Combine diced tomatoes and onion with minced garlic and peppers in a large bowl. Add in chopped cilantro and add salt and pepper to taste. Squeeze in lime juice to taste and scrape in some of the pulp to finish. Stir together and set prepared pico aside.
Make Guacamole:
Scoop out the pulp of the avocados into a separate bowl and use a fork to mash. Avocados should be mashed until no large chunks remain but do not over mix– mash should be slightly chunky.

Add the pico de gallo to avocado mash–beginning with only half. Depending on the size of the avocados and how much pulp they yield, you may not need to use all of the pico. Mix pico and avocados to combine but do not over mix. Top with salt/pepper and lime to taste.

*Avocado to pico ratio should be about 2:1 when done but this amount can vary by taste preference
Notes
To check that an avocado is ripe the skin should give slightly when pressed (check at top like you would a pear). For this recipe, avocados need to be ripe enough to easily mash with a fork.
You can use any pepper you like, or none at all. Anaheim pepper gives a subtle sweetness with minor heat. For variations:
Poblanos = smokey flavor
Jalapenos= more heat
The spicier the pepper the less you will probably need to use but it depends a lot on taste. To us, guacamole is a cooling dip and shouldn't be too hot but some people like it with more heat.
Nutrition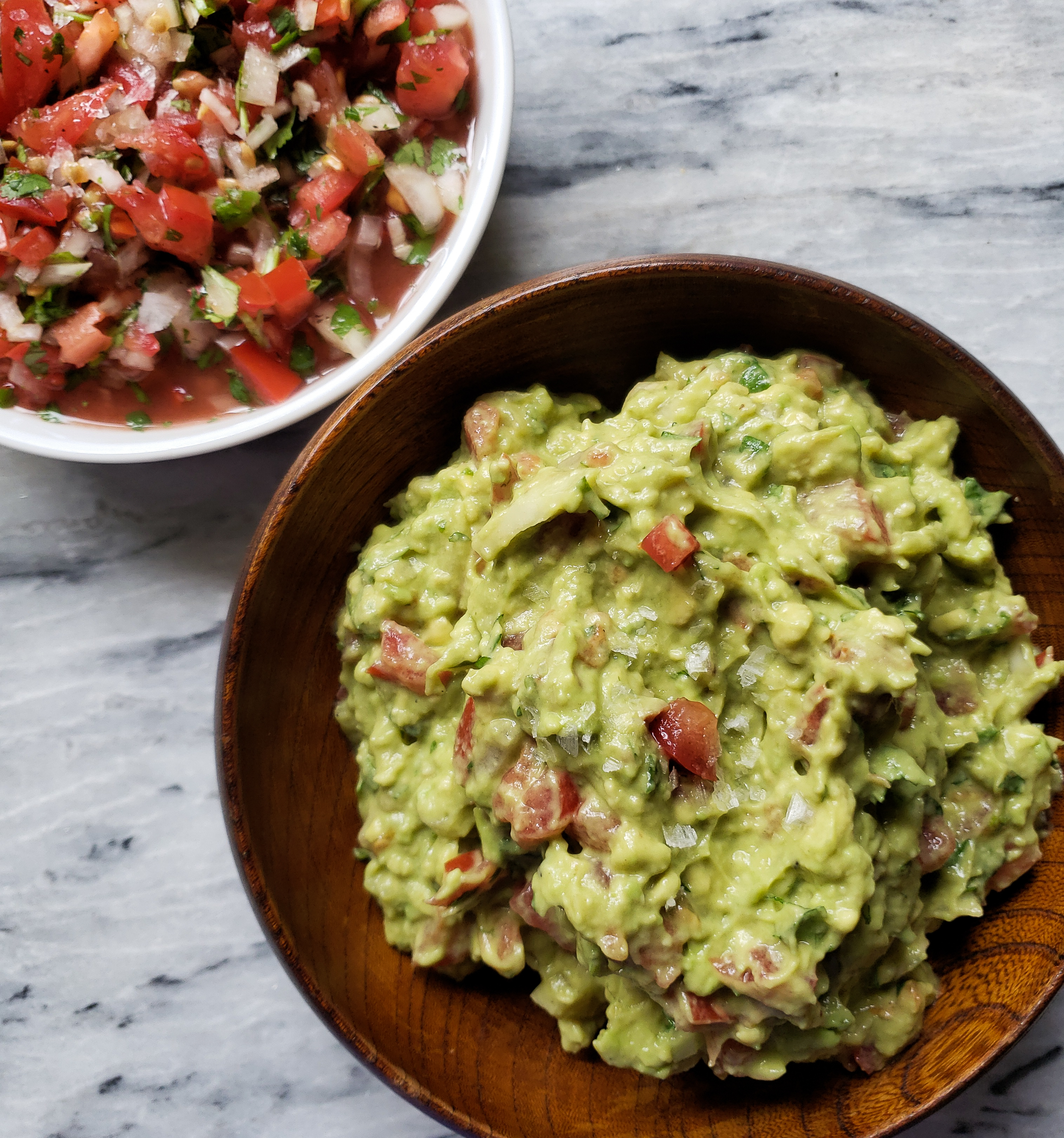 AJ often volunteers to bring this to parties because it's easy and delicious and he's a stickler for proper guac. It's funny because he's so laid back about everything else but guacamole is his one passionate pet peeve. Packets and premade "guacamole" are not allowed in our house 🙂
---
---