Alfredo Sauce with Cream Cheese
Before we were "official", Andrew and I had a 'date night in' during college–we decided to hang out at my townhouse and cook together. We had been 'talking' for about a week and we had gone on a proper date (Outback Steakhouse, bowling and a movie) but wanted a quiet night in. We both wanted Italian so we went to Kroger looking for something easy to make.
We agreed on Fettuccine Alfredo, accompanied by broccoli, garlic bread and IBC bottled root beer. Looking back, the root beer was probably the highlight of the meal because we used a cheap jar of Alfredo sauce, the most basic noodles Kroger carried, and thought we were really cooking haha. But those memories of cooking our first meal together will always be special to me.
About a year into our marriage, I wanted to recreate that date night in– but I wanted to make the sauce from scratch. I found a basic recipe from Kraft using Philadelphia cream cheese so I used that as a base and added my own spin. This is a dish I've been serving at home and to friends for years and it's always a hit.
This Alfredo Sauce with Cream Cheese is delicious + easy to make!
Ready in less than 30 minutes
Creamy and Flavorful
Uses fresh garlic and finished with a hint of lemon
Freezes well
Affordable + makes excellent leftovers!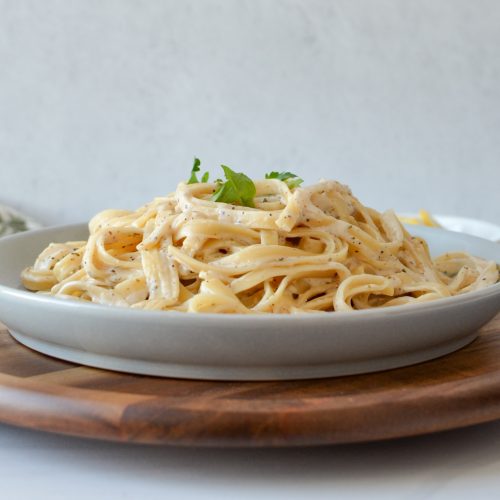 Alfredo Sauce with Cream Cheese
Easy, cream cheese based Alfredo with a lemon twist. Will be your go-to Alfredo sauce! Makes approximately 6, entree-sized servings. Freezable and makes excellent leftovers! Try this sauce on pasta, veggies, or as a dip for bread. Vegetarian.
Ingredients
2

Tbsp

unsalted butter

2

cloves

garlic, minced

1

tsp

Italian seasoning

½

tsp

Black pepper

¼

tsp

Salt

8

ounces

cream cheese, cubed

½

cup

Parmesan or Italian cheese blend, shredded

shelf stable cheeses not recommended

2

cups

milk

1

lemon, cut into wedges

*do not add if freezing

16

ounces

pasta of choice (Fettucine, Penne, Cavatappi, etc.)
Instructions
Boil water for pasta and cook according to package directions. Meanwhile, gather ingredients prepare sauce as pasta cooks.

Melt butter in a large, deep sided skillet or pan on medium heat. Add minced garlic, Italian seasoning, salt and pepper. Heat through for 1 minute, or until fragrant.

Add in the cubed cream cheese, Parmesan or other cheeses and stir until mostly melted.

Add the milk and whisk continuously until smooth, approximately 3-5 minutes.

Turn heat to low and simmer sauce while pasta cooks, stirring occasionally. If sauce is too thick, add a little milk until thinned as desired. Or, if necessary, let simmer to thicken if sauce is too thin—it should coat a spoon upon finish.

Serve over cooked pasta with a drizzle of lemon juice*, salt and pepper, if desired.

*Lemon needs to be added just before serving. If putting sauce up to freeze, do not add lemon.
For Leftovers:
Heat leftover sauce with a little milk on the stovetop until warmed through. Leftover sauce can be kept refrigerated for 4 days.
Notes
To freeze sauce (without pasta):
Simply add to a freezer safe container (I recommend glass) and leave 1/2 inch headspace. Reheat on low heat on stove top until completely melted (approximately 5-7 minutes). If needed, add a little milk to thin. Plate with pasta and add a dash of fresh lemon and a grind of pepper to taste.
*Calories calculated with regular pasta, regular milk and cream cheese.
Adapted from http://www.kraftrecipes.com/recipes/fettuccine-alfredo-57628.aspx
Nutrition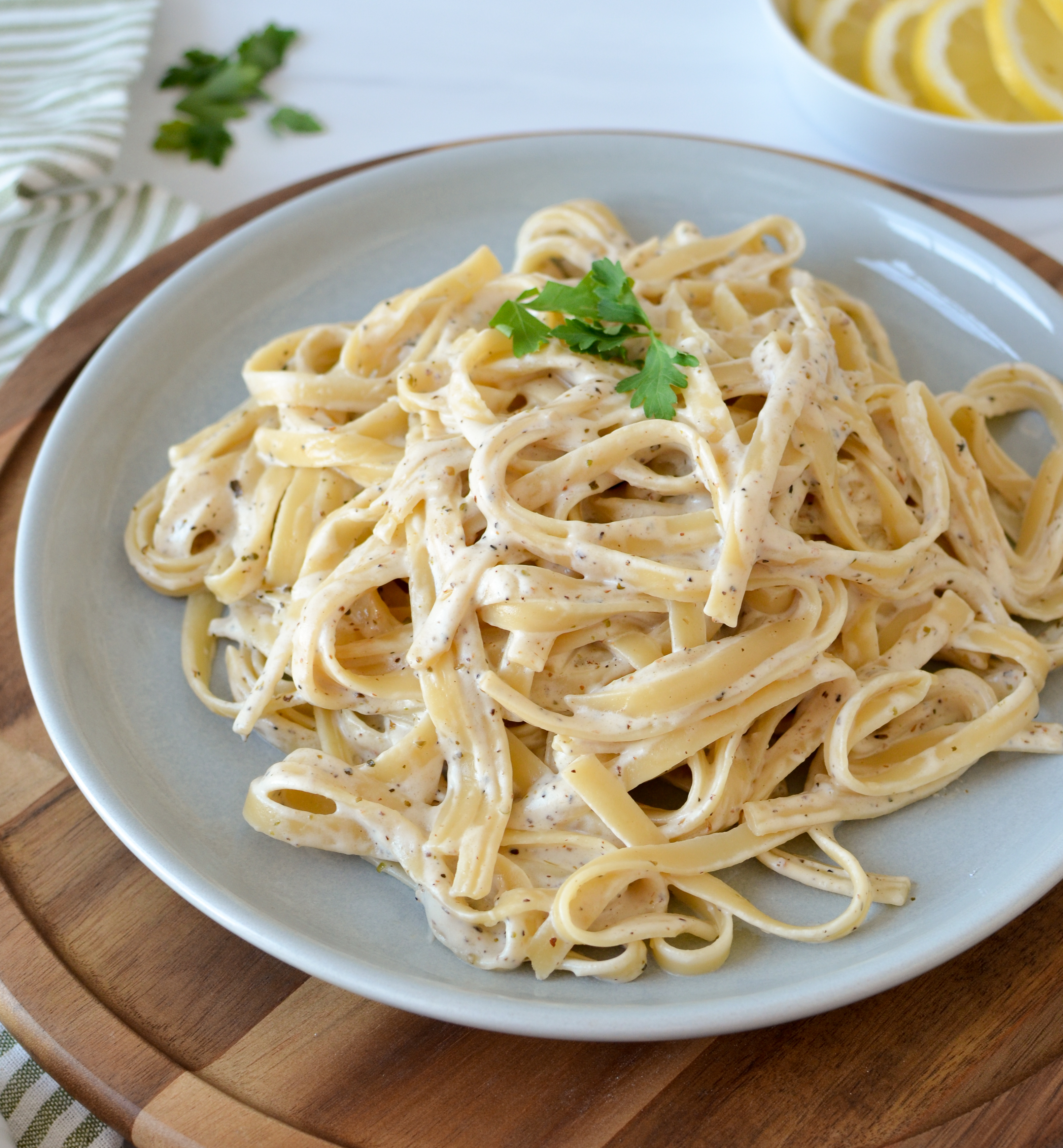 Try these other favorites!
I finally updated the photos on this recipe which was also my very first post 🙂 I'm working my way through updating old posts but I wanted to start here since this recipe is a favorite. Hope you all have a great week! Let me know what you're cooking!
-Emma
---
---