Southern Hash Brown Casserole
This version of hash brown casserole is great because the cheese does not overpower the onion or sour cream–you can still taste the potatoes. The corn flake topping gives a slight sweetness and excellent crunch. Great for breakfast, tailgating, meal planning, and more! Makes a 9 x 13 inch dish (serves 9).
During my freshman year at Virginia Tech, I remember those first few trips home for the weekend. I'd call my parents to give them a heads up and secretly, I'd hope my mom would have 'the casserole' ready 🙂 Growing up, this dish was served at every family function and I always loved it–but when I went off to college, I never realized how much I would miss a certain food. I probably brought no less than 6 of these back to my dorm after visits home, so as soon as I moved into a place with a kitchen, I asked for the recipe.
I have always made hash brown casserole with cream of celery soup because I don't like mushrooms and I didn't like the flavor cream of chicken gave (even before I was vegetarian). I've tried using cream of potato and it was just flat– but there are several options to suit different tastes, here.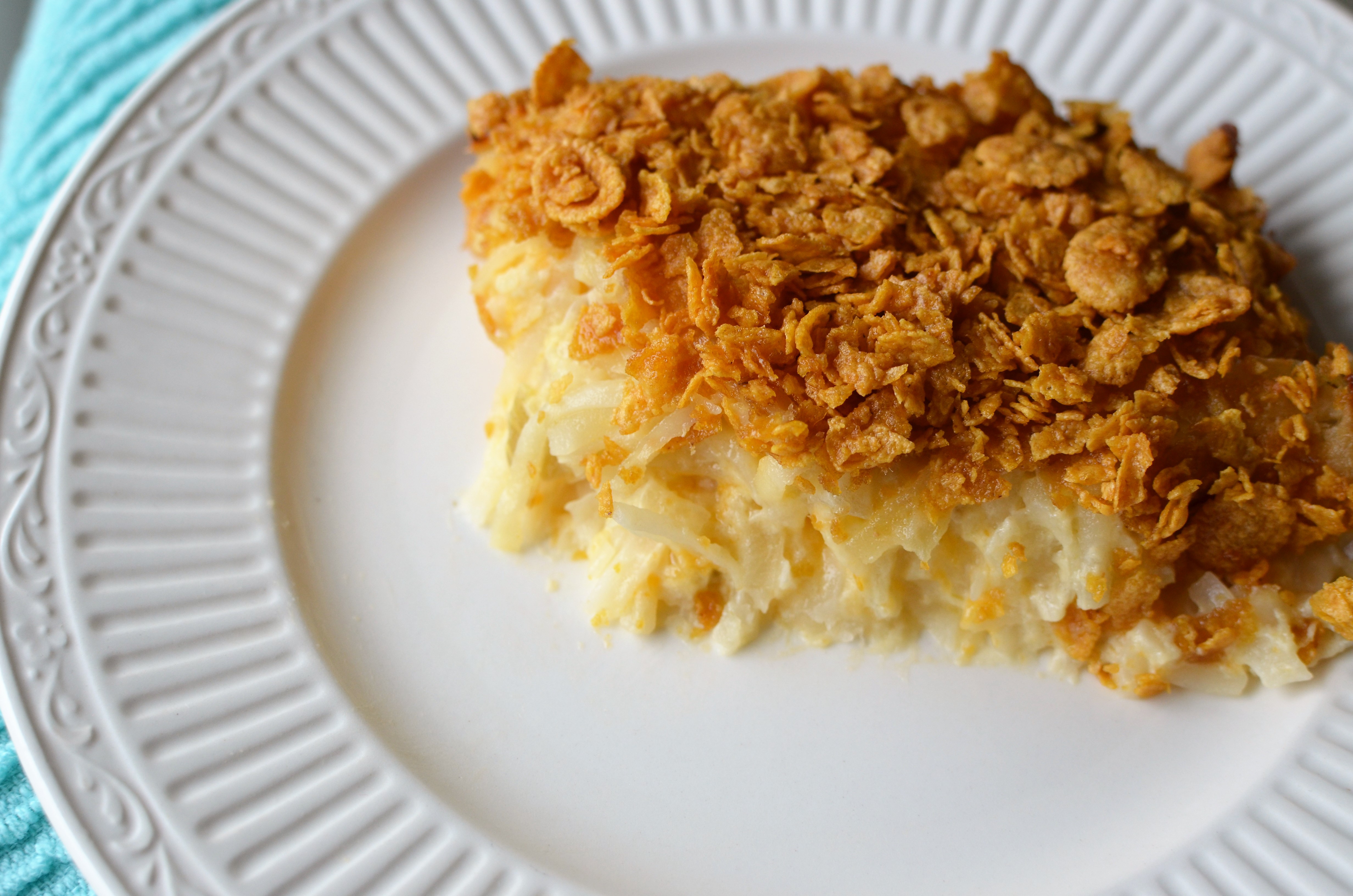 Southern Hash Brown Casserole goes by many names: potato casserole, church potatoes, Sunday potatoes, potluck potatoes, etc. I like to just call it "the best casserole ever" because it's a no-fail, crowd pleasing, better-the-next-day, cheesy, onion-y, creamy baked delight. Whatever you call it or whatever the occasion you plan to serve this casserole– it's sure to be a hit!
The most important trick I've found after years of making hash brown casserole: mix everything together in a big bowl before putting into the casserole dish. This is not only easier than trying to mix in a dish, it ensures even distribution of the ingredients (no sour cream pockets in the corner).
We make these for dinner about once a month and then have breakfast leftovers the next day. My kind of meal planning 🙂
Southern Hash Brown Casserole
A comforting Southern classic side dish for cookouts, potlucks and holidays. Cheesy, creamy, hearty and easy to make! Vegetarian.
Ingredients
For the casserole:
32

oz

frozen shredded hash brown potatoes

*thawed

2

c

shredded cheese (Cheddar or a blend)

*try 1 cup Cheddar and 1 cup Colby Jack

1

c

finely diced onion (white or yellow)

1

c

sour cream

10.5

oz

cream of celery soup

*sub. cream of mushroom

4

tbsp

salted butter, melted

1/4

tsp

salt, or to taste
For topping:
2

heaping cups

plain corn flakes, gently crushed

*NOT frosted

4

tbsp

salted butter, melted
Instructions
Thaw potatoes for approximately 10 minutes before assembling. Preheat oven to 350°F. Thoroughly grease a 9in x13in. casserole dish. Set aside.

In a large mixing bowl, stir together potatoes, cream soup, sour cream, onion, cheeses, salt and 4 tbsp melted butter. Mix well until all potatoes are covered and all ingredients are evenly distributed.

Pour potato mixture into greased casserole dish and fill, leveling the top.

In a small bowl, combine the gently crushed corn flakes with the remaining 4 tbsp melted butter. Stir until corn flakes are evenly coated.

Pour buttered corn flakes on top of casserole mixture and spread to evenly cover. Press some of the topping down slightly to avoid too many loose flakes.

Bake uncovered on 350°F for 55-60 minutes, or until top is lightly browned.

Let stand for 10 minutes before serving. Refrigerate any leftovers, up to 4 days.
Notes
You can make this recipe in 2 smaller glass dishes (6 to 8 cups each) and bake for 45-50 minutes, until browned. Enjoy one right away then freeze the other for later.
To make ahead: assemble everything but the corn flake topping and cover in the refrigerator for up to 2 nights. Remove from fridge and top with corn flake mixture then bake as instructed.
To freeze: bake as directed then cool. Top with foil or parchment and cover with an airtight lid. Freeze for up to 1 month (due to dairy and sour cream). To reheat from frozen: bake on 350 degrees F, covered with foil, until heated through.
Nutrition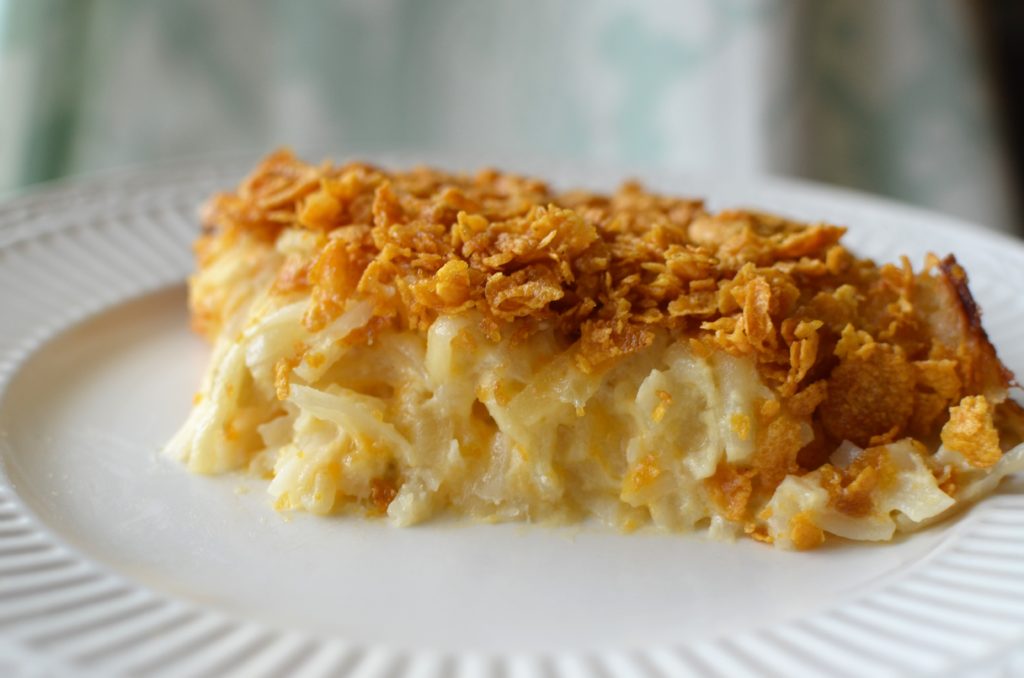 Hash brown casserole is one of my favorite foods because it reminds me of home. I'd like to challenge you not to overlook the 'simple things' just because they're simple—sometimes the best simple foods are the ones full of comfort and memories.
---
---