Best Ever Brussels Sprouts
This 75 degree sunny weather we've been having makes me wants all the fresh things around–green foods, pretty flowers and as much time outside with the pups as possible. Hopefully you've been blessed with some great weather, too! And if you are looking for an easy and delicious side dish that goes with anything cooked indoors or out on the grill–look no further than The Best Ever Brussels Sprouts!
I've always been a picky eater. To be fair, I think everyone is picky in their own way. I never cared for (and still don't care for) cooked mushrooms (texture), beets (again, texture) and don't get me started on Cheez Its (eww). But if there was ever one food I really could not stand as a kid, it was Brussels sprouts. Boiled baby cabbages? No thanks. They seemed so boring and sad–but my mom loved them so they frequently 'appeared'.
Fast forward to early adulthood and I married into an English family where Brussels sprouts are proudly steamed and served for holidays and festivities… tried them but yep, still don't like them.
So how did I go from avoiding this one veggie to eating it at least every 10 days?
Simple! Add a basic vinaigrette and turn up the oven. Ahh, no more steaming sprouts for me 🙂 I actually crave Brussels sprouts now–and we love to make them for our holiday gatherings as well as random weeknights for a side dish. Roasting the sprouts gives them a slightly sweet caramelized coating, a less 'cabbage-like' odor and a more interesting overall flavor. Win-win-win!
Best Ever Brussels Sprouts
Lightly caramelized and sweetened with lemon juice and olive oil, these are the easiest and most delicious way to prepare Brussels sprouts! A yummy, healthy side dish for even the pickiest veggie eater! This recipe is a great base for any roasted veggie–you can keep it simple or get creative!
Ingredients
1

pound

fresh Brussels sprouts

1/4

cup

olive oil

1/4

cup

lemon juice, fresh squeezed if possible

= approx. 2 lemons

salt and pepper to taste
Instructions
Wash sprouts and remove any browned pieces/spots.

In a measuring cup/small cup, stir together the oil and lemon juice along with salt and pepper to taste. Mix well and let stand while prepping the veggies.

Remove the ends from sprouts. Cut the sprouts in half, lengthwise. Preheat oven to 425° F.

Toss the sprouts in a bowl with the mixed vinaigrette, careful not to ruffle all of the 'leaves' loose. Let sit or chill for at least 10 minutes, stirring once, to let flavors blend.

Pour prepared Brussels sprouts onto baking sheet lined with aluminum foil and spread evenly to avoid crowding. Bake for 25-30 minutes, until beginning to brown on top and caramelize.
Notes
 To make ahead (recommended up to 2 days only): prep and toss sprouts with vinaigrette and cover. Refrigerate and stir at least once until needed. The flavors will be deeper with longer marinading.
 You can reduce the vinaigrette amount for smaller portions of sprouts–but always keep the 50/50 ration for oil to juice. Too much lemon juice over oil leaves them a little tart.
 This is a great base recipe for just about any roasted vegetable—there are so many ways to customize using this 50/50 balance of oil to juice.
 Want to add in some extra flavor? Try topping the sprouts with grated Parmesan during the last 5 minutes of roasting–or add cooked, chopped brown sugar bacon for a heartier side.
 If you have leftover 'leaves' from the sprouts–save them for salads or use in veggie stock or soups.
Stray pieces of sprouts (leaves) on the roasting pan will cook faster and are likelier to burn–just keep an eye on them and remove if getting too done–or simply remove them and throw away before serving. They can be delicious–just not as pretty 🙂
Nutrition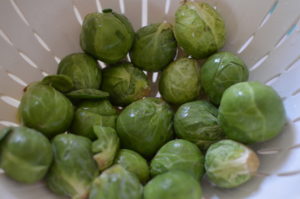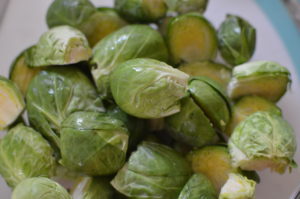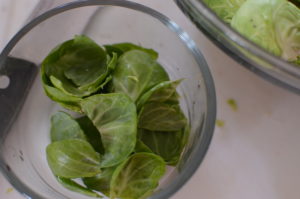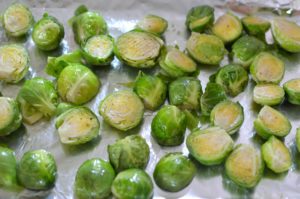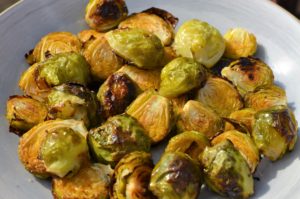 I promise even the pickiest anti-Brussels sprouts family member will like these (at the very least try them)! You can really get creative here by adding in extras such as roasted onion, crumbled brown sugar bacon, sweet bell peppers or topping them with Parmesan. Serve these alongside grilled chicken or steak, or try leftovers on top of a fresh salad. Perfect with maple-mustard pork chops 🙂 Prep work can be done in advance if you'd like–and these can be ready in about 30 minutes–so they're great for any night of the week.
As always, I recommend freshly squeezed juice and if you need something to make that easier–try this handy measuring cup/juicer. It's a great little kitchen item I was gifted by my sister-in-law and we use it almost daily.
Be sure to let me know how you like these roasted sprouts compared to regular steamed Brussels sprouts–and feel free to share with your friends!
---
---