California Citrus Salad
Every year near Christmas, my grandmother gifts me a huge box of grapefruit and oranges she bought to support the local high school Future Farmers of America. I love any and all citrus fruits and Grandma Ree knows this–so she buys a very large box 🙂 But I'm usually left trying to find ways to use up some of the fruit a month later after I've eaten as many as I can possibly eat the traditional way. So far we've juiced some of the oranges, used some for orange zest and just plain eaten the grapefruit. It's fresh, delicious and healthy–perfect for our new resolutions, right?
It's the time of year when I'm trying to use up fresh citrus fruits and we're all trying to eat healthier–so why not combine those two efforts into a flavorful and sunny salad (even when the weather is just about freezing outside). This salad is tossed with slightly sweet vinaigrette and the flavors of each part really shine–so it's important to use the best ingredients you can find: fresh grapefruit, firm-ripe avocados, local honey (mine comes from fellow church members who sell their honey for mission trip support!), etc. Everything comes together for an easy stand alone meal or side to grilled or roast chicken.
This fresh salad is reminiscent of sunny days in California and eating brunch while overlooking the beach. You may or may not actually be in California enjoying warmer weather this time of year, but at least you can pretend! I hope you enjoy this salad as much as we do–it's such a delicious, easy and healthy escape from blah.
Be sure to like and share and let me know what you think in the comments!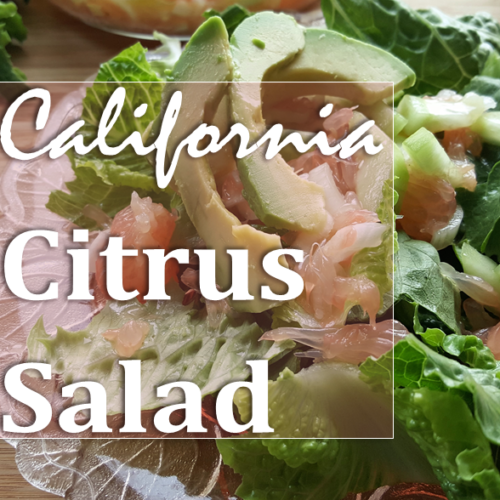 California Citrus Salad
Grapefruit, Avocado, Cucumber, Onion and honey-grapefruit vinaigrette over hearty romaine. Sunny, flavorful and fresh! Perfect as a main dish or alongside grilled or roast chicken.
Ingredients
1 to 2

firm-ripe avocados

1

large

grapefruit (see below for processing)

1

large

head of romaine lettuce

1

cup

cucumber, peeled and diced

1/2

cup

sweet onion, diced

3

tbls.

grapefruit juice (from processed grapefruit)

1

tbls.

olive oil

2

tsps.

honey

1/4

tsp.

salt

1/8

tsp.

pepper, or to taste
Instructions
Prep:
Combine diced cucumber and onion into a medium bowl--set aside.

Using a new medium bowl, prep grapefruit by cutting it in half, then quartering each half. Section the chunks and remove all seeds and white pith. Grapefruit chunks and juice should all be together.
Make Honey Vinaigrette:
Combine olive oil, honey, salt and pepper into a small bowl. Remove the grapefruit juice and stir it into the oil/honey mixture (1 large grapefruit should yield 3-3.5 tablespoons of juice)--try to use all of the juice, reserving the chunks of fruit.
Final Steps:
Pour vinaigrette over cucumber/onion mixture and toss to coat evenly. For best flavor, let stand for 10-15 minutes while thinly slicing the avocados and washing/chopping romaine.

Add grapefruit segments to cucumber/onion mixture and toss again to coat.

Assemble salads by adding lettuce to each plate, then top with grapefruit/cucumber/onion mixture and a few slices of avocado.

Notes
The salad needs to be assembled fresh, but topping mixture can be made ahead and stored in the fridge up to 3 days ahead. Cold pickling enhances the flavors. Top lettuce and add avocado just before serving.
 If you prefer easier grapefruit sectioning, simply cut in half and scoop out flesh with a grapefruit spoon--this yields a little more juice but less large chunks/pulp. 
 Other lettuce types or salad mixes can be subbed, but romaine holds up best to the weight of the salad toppings. 
 1 avocado is enough for 3-4 thin slices per salad--use 2 avocados if you prefer more per plate.
Nutrition
---
---