Roasted Pears with Homemade Butterscotch Sauce
Delicious and rich homemade butterscotch sauce drizzled over spiced pears. Perfect as a comforting fall dessert or with ice cream. Vegetarian.
I've had a butterscotch dip recipe in my recipe binder for years that my Great Aunt, Arlene, passed on to everyone and while it was delicious (literally everything she made was like gold), it called for premade butterscotch chips. I wanted to keep the idea of a yummy fruit dip or topping but I just wanted to make the butterscotch from scratch.
Why You Should Make Butterscotch from Scratch:
Quick and easy with no artificial ingredients
Keeps well in a jar, refrigerated about a month
Can be used as a fruit dip, on grilled fruit, or as an ice cream topping
Can be added to pie fillings, cake toppings, and more
Perfect pairing for Fall foods
What's the Difference Between Caramel and Butterscotch?
Butterscotch is made with butter and brown sugar and Caramel is made with white sugar and only sometimes uses butter. Really there's not a whole lot of difference between the two as they're both sweet and can be syrupy or made into candy.
This recipe for butterscotch sauce is a pouring sauce so it works well as a topping.
Don't be intimidated by the whisking—it's not vigorous, just slow and steady will work fine. The sauce is great over other desserts, too– try it with apples or drizzled over a fresh pie or cake slice.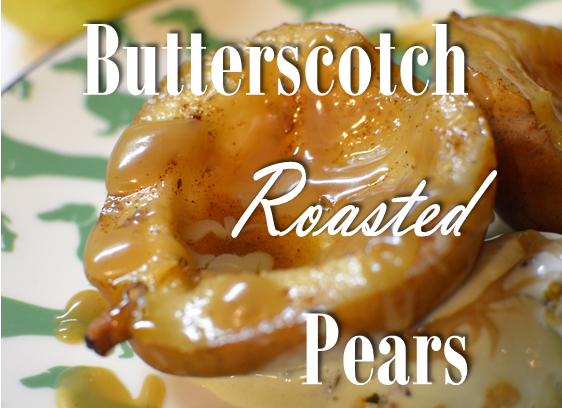 Roasted Pears with Homemade Butterscotch Sauce
Brown sugar cinnamon roasted pears with homemade butterscotch sauce.  Delicious served as is or with ice cream. Recipe makes 4 pear halves and 2/3 cup butterscotch sauce (about 10 tbsp). Leftover sauce will keep for 1 month, refrigerated. Vegetarian.
Ingredients
For the butterscotch sauce:
2

tbsp

butter, unsalted

1/3

cup

brown sugar, packed

1/2

cup

Heavy cream

1

tsp

vanilla extract

1/8

tsp

ground cinnamon, or to taste

salt, to taste
For the pears:
2

pears

halved, lengthwise with seeds removed

2

tsp

butter

2

tsp

brown sugar

1/8

tsp

cinnamon, or to taste
Instructions
Homemade Butterscotch Sauce:
In a medium saucepan, add 2 tbsp butter with 1/3 c packed brown sugar. Heat on medium, stirring until completely liquid. Stir enough to prevent sugar from sticking to pan. Once sugar reaches a sticky point, whisk in the heavy cream for approximately 30 seconds.

Turn heat down to very low. Stir in the 1 tsp. vanilla and a little salt. 

Whisk constantly on low heat for approximately 5 minutes but no longer than 7 minutes, being careful not to overcook the sauce.

Remove sauce from heat and stir in the 1/8 tsp cinnamon, to taste. Transfer sauce immediately to a storage jar or container.

Sauce will thicken slightly as it cools. Sauce consistency should be pourable at room temperature. Store covered in the refrigerator for up to 1 month.
To roast the pears:
Preheat oven to 350°F. Use a shallow baking dish to prep and cook pears.

Place pear halves in baking dish, cut side up. Rub each pear half with a small amount of butter. Sprinkle with brown sugar and cinnamon.

Roast pears for 8-10 minutes, or to desired doneness. Pears should be softened and skins should be lightly browned.

Serve pears with Homemade Butterscotch Sauce and/or vanilla ice cream. Leftover baked pears can be stored, refrigerated, for 3 days.
Notes
Butterscotch sauce should coat a spoon when finished, but should not be too thick when you take it off the heat. It's important to immediately transfer sauce to a separate container when you remove from the stove to stop the cooking process.
If your butterscotch comes out with a grainy texture or is too thick to pour, then it has been overcooked. 5-7 minutes is a generous cooking time for this sauce—and don't worry if it looks thinner than expected when you remove from heat–it will thicken some and settle as it cools to room temperature. 
Calories for 1 tbsp butterscotch sauce: 90
Calories for 1 pear halve: 75
Nutrition
Be sure to let me know how you find a way to use this homemade butterscotch in your fall desserts! And share with someone who's ready to make the switch from store-bought butterscotch chips like me!
---
---