Mini Cherry Tortes
This recipe is one very near to my heart. My mom always had a cherry torte for just about every family get-together/holiday dinner and it's hands down my favorite dessert. I love most all desserts, but this one is rarely found on restaurant dessert menus, so I think part of the magic and fond memories I have of eating cherry torte is because it was a limited treat. Crisp meringue with nuts and crackers + whipped topping + cherry pie filling= amazingly crunchy and cooling.
This isn't a particularly difficult dessert to make, but making meringue takes some attention to detail. And trust me, the effort is so worth the deliciousness that will follow!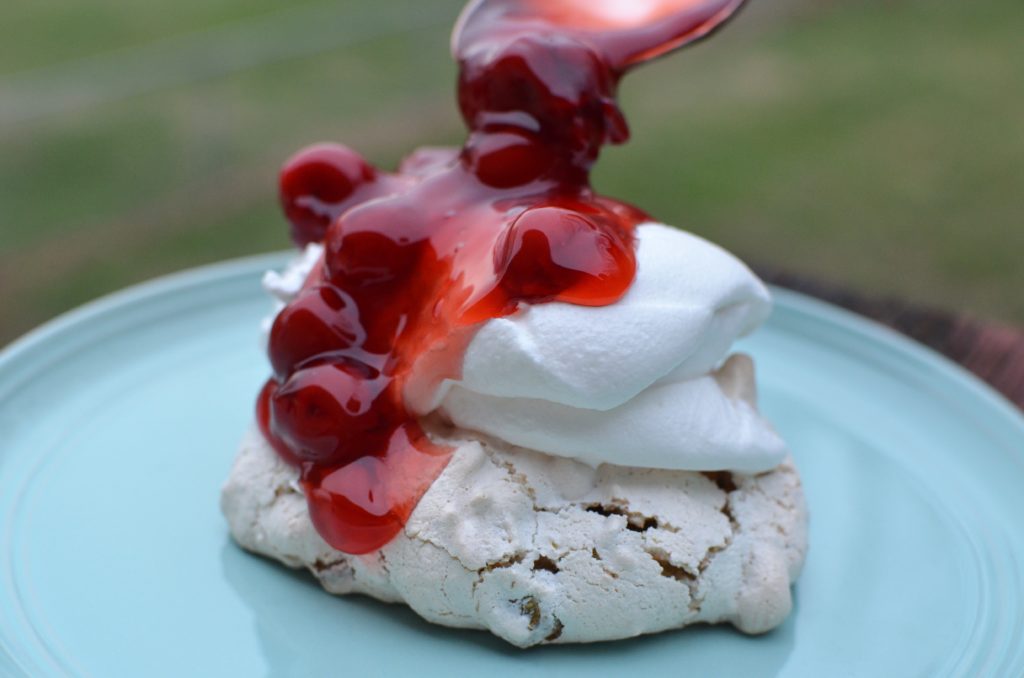 My mom always made this in a 9×12 glass pan (to feed 15 or so). To make this for a crowd in the traditional way–simply double all ingredients and bake on 350 F for 25-30 minutes (then cool for 30 minutes, top and put in fridge to chill for 3-4 hours).
My recipe has been adapted into individual mini cherry tortes–perfect for date nights, small gatherings and dessert bar creations 🙂
Mini Cherry Tortes
Meringue nests + cool whipped topping + sweet cherries= delicious and easy dessert.  This recipe satisfies your sweet tooth with both a crunchy and creamy texture–especially perfect for warmer days or for a nice brunch!
Ingredients
For meringue base
1

cup

granulated white sugar

1

cup

broken saltine crackers

approx. 1/2 of one sleeve

6

Tbsp

raw almonds, finely chopped

*can sub. raw unsalted pecans

3

egg whites

1

tsp.

vanilla

1/4 tsp. + 1/8

tsp.

cream of tartar

* can sub. 3/4 tsp. fresh lemon juice
For topping
1

tub

thawed whipped topping (8 oz.)

1/2

can

cherry pie filling (approx. 10 oz.)

*can sub. homemade
Instructions
Make the meringue
Line a cookie sheet with parchment paper and preheat oven to 350°F. Gather and measure all ingredients first, before making meringue.

In the bowl of a stand mixer with whisk attached, beat the egg whites on low-medium low until foaming, about 1 minute. Add in the cream of tartar (or lemon juice) to the side of the mixing bowl and increase mixer speed to medium.

When the egg whites have increased by about 4x their volume, slowly and steadily add in the sugar at the side of the bowl (over the course of 1 minute). Once sugar has been added, increase mixer speed to high and beat until nearly stiff.

Add in the vanilla just before egg whites become very stiff (peaks hold shape when removing the whisk).

Carefully fold in the broken saltines and the chopped nuts (using a large flexible spatula working from the bottom of the bowl upward and around the edges, until crackers/nuts are incorporated).

Using a cookie scoop, drop 3 tablespoons of meringue onto parchment paper to form each 'nest', leaving approximately 2 inches between nests. Bake on 350°F for 14-16 minutes or until lightly browned on top and meringue begins to form small cracks. 

Remove from oven and let cool completely (at least 30 minutes). Meringue may deflate a little upon cooling and may crack slightly but this is okay.
Assemble the Tortes
Once meringue nests

have cooled, top each with whipped cream and spoon cherry filling to finish. Serve immediately.

*You can make the meringue nests ahead of time and keep them in an airtight container up to 3 days prior to assembling into tortes. I recommend not stacking them directly (use parchment or wax paper between any layers). Topping them just before serving keeps the meringue crisp.
Notes
Make sure all bowls (especially the stand mixer and whisk attachment) are completely clean and dry–any extra fats/oils may hinder meringue performance.
 Have all ingredients at the ready while making the meringue–be careful not to let meringue sit too long before baking (it softens quickly).
 This recipe calls for egg whites only–any yolk will prevent the meringue from getting as much air as possible. If you drop in a little yolk, try to get it out but if you accidentally drop in too much, you may need to start over with new eggs/egg whites.
 Carefully folding nuts and crackers in will keep as much air in the egg whites as possible.
Nutrition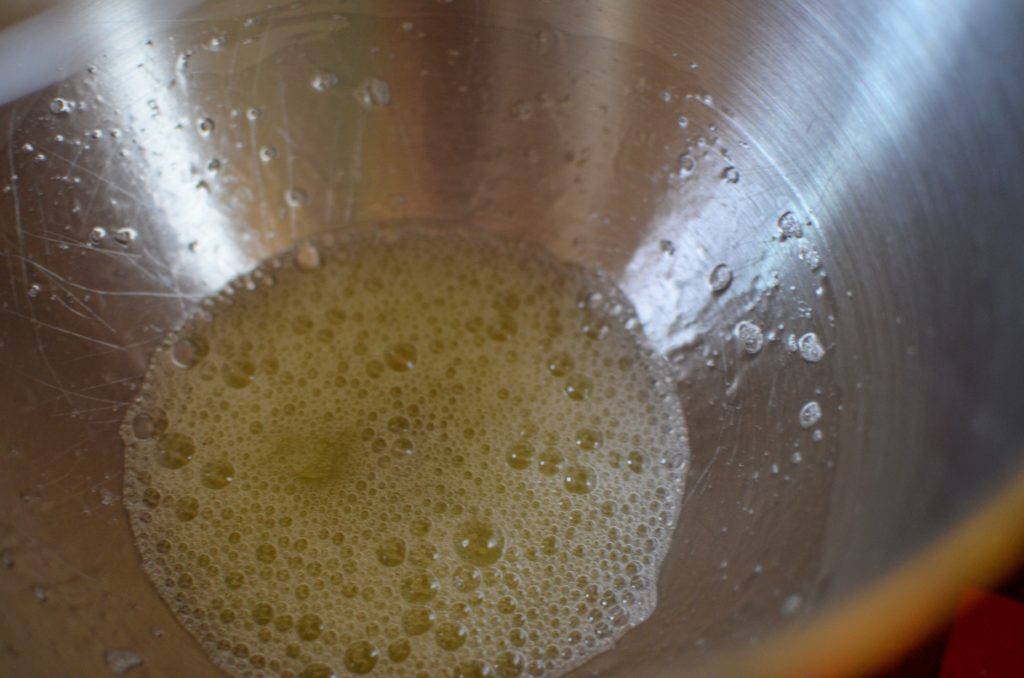 This final picture is a larger cherry torte made traditionally (and with homemade pie filling). I wanted to share so you'll see what a 'party-sized' torte might look like and also how the homemade filling (without added colors) is much darker, but much more natural 🙂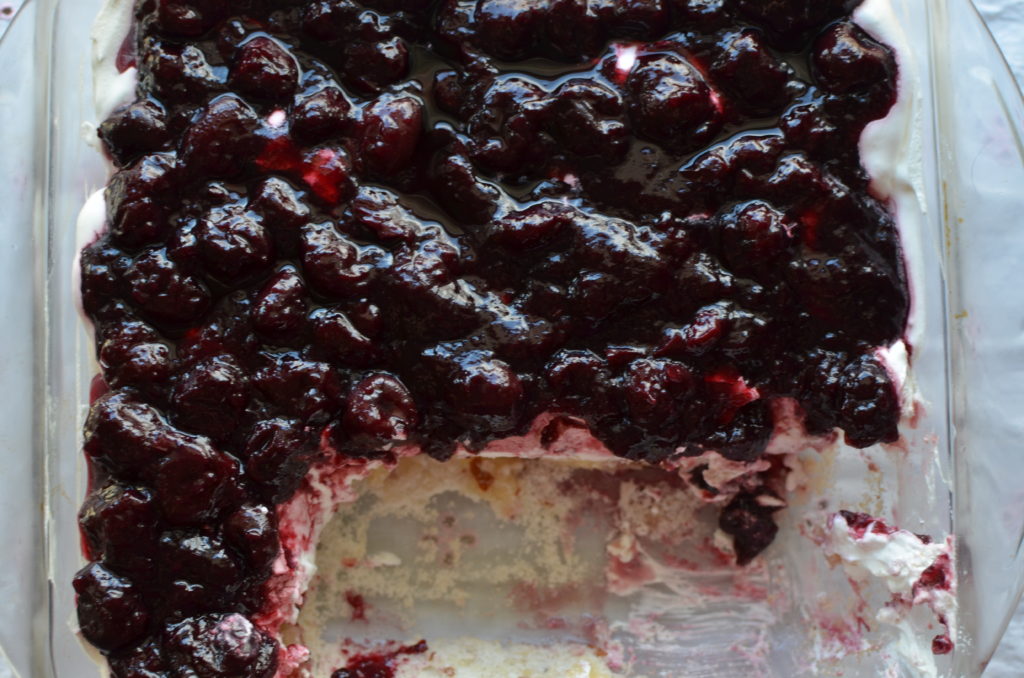 ---
---