Yum Yum Sauce
Before I had been diagnosed with food allergies, Andrew and I would often visit a local Japanese steakhouse for their delicious and cheap Hibachi dinners. Our meal was less than $15 combined for veggies, fried rice, and spring rolls. The meal wasn't complete without the glorious pink toned slightly sweet "Yum Yum" sauce. But of course, shellfish contact allergens in a Japanese restaurant are kind a deal breaker…so we started making rice bowls at home.
We probably spend about $7 on ingredients for homemade loaded rice bowls, focusing on using up whatever we have on hand in the fridge. We typically add broccoli, edamame, corn, zucchini, onions and some type of greens. We have a rice cooker so it makes this meal a snap to throw together. We just fry the cooked rice with some soy sauce before serving. We've been making these Hibachi-style dinners at home for a while now, but my first several attempts at Yum Yum Sauce were always just a little off. Too spicy, too bland, too bold…something just a little off.
After tweaking, I'm now happy to share our version of Yum Yum Sauce. As with any other sauce or condiment, you may find yourself experimenting a little to suit your family's tastes but hopefully I'm giving you a good base with which to begin 🙂 And while I usually try to lower the sugar in my recipes, this is one where sugar is a key component to get that slightly sweet profile you typically find in Yum Yum or Japanese Steakhouse Sauce.
This recipe for Yum Yum Sauce:
Makes 1 cup of sauce (good for 4-6 people)
Comes together in less than 5 minutes
Is better on day 2
Lasts up to 1 week in the fridge
Goes well with rice bowls, veggies, appetizers, etc.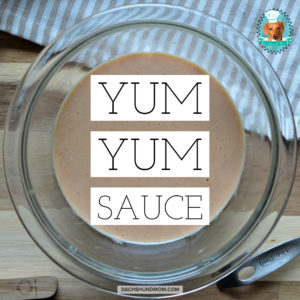 Yum Yum Sauce
Classic Japanese Steakhouse condiment perfect for veggies, fried rice, appetizers, and more. Comes together in 5 minutes. Vegetarian but can be made vegan (with vegan mayo). Recipe makes 1 cup of sauce. Serving size: 2 tbsp. Chill at least 6 hours (better after 24 hours).
Ingredients
⅔

cup

mayonnaise

2

tbsp

ketchup

4

tsp

cane sugar

½

tsp

garlic powder

½

tsp

Paprika

¼

tsp

onion powder

¼

tsp

salt

2

tbsp

water
Instructions
In a medium bowl, stir together sugar and spices.

Add in mayo, ketchup, and water to combine. Mix thoroughly until smooth.

Pour sauce into a lidded jar or container and refrigerate for at least 6 hours before serving.

Prepared sauce will keep, refrigerated, for up to 1 week.
Notes
Use your favorite brand of mayo–We use Hellmann's Vegan mayo in all of our dishes. 
For extra kick, add 1/8 tsp cayenne or 1/4 tsp hot sauce. We do not usually add these because we like our sauce sweeter, but they do lend a good flavor.
Increase water to 3 tbsp if you prefer a thinner consistency.
Calories measured using full fat mayo. Save some calories by using light or reduced fat options.
Nutrition
So there you go! An easy sauce to make your "takeout at home" even better 🙂 Be sure to let me know what you think! And tag me on Instagram if you make this 🙂
-Emma
---
---