Homemade Pesto Sauce
This easy recipe for pesto uses simple ingredients like summery basil and lemon juice for a fresh sauce that's delicious on everything from pasta to pizza. Pine nuts are traditional but blanched almonds, walnuts, or pistachios are great, too! Recipe makes 1 cup of sauce. Vegetarian (with vegetarian parmesan).
Who else loves Seinfeld? 🙂 It's one of our favorite shows! There's an episode where George orders pesto at a restaurant and is disappointed.
GEORGE: Why do I get pesto? Why do I think I'll like it? I keep trying to like it, like I have to like it.
JERRY: Who said you have to like it?
GEORGE: Everybody likes pesto. You walk into a restaurant, that's all you hear – pesto, pesto, pesto.

https://www.seinfeldscripts.com/TheBusboy.htm
Well, sorry George–we are some of those people who like love pesto. It's so versatile and forgiving. And the flavor is unique but amazing. It's a simple, fresh sauce that tastes salty and vibrant–and is a beautiful bright green from the basil.
How to Serve Basil Pesto:
on pasta– something with a shape like cavatappi or gemelli tends to hold sauce better
As a pizza sauce– it's delicious on a caprese or Greek pizza or flatbread. Drain a little of the oil before using on pizza dough to keep things from getting soggy.
On a sandwich or sub– basil pesto pairs perfectly with garden tomatoes, mozzarella, red peppers, onions, etc. so it's great as a sandwich spread. Stir with mayo for a creamy pesto, or use as-is in a thin layer.
On an omelette or breakfast toast– try on top of a sundried tomato and spinach omelette or with veggie toast and balsamic drizzle.
As a dip– make a creamy dip for veggies or crackers with sour cream, a little red pepper, and parsley.
Pesto Ingredients:
Fresh basil– the staple for pesto sauce. Small basil leaves are best, but any will work.
Parmesan cheese– a classic ingredient in this sauce. Traditional Paremsan-Reggiano (real parm) is not vegetarian as it contains animal rennet but there are very good vegetarian brands available (Whole Foods, Trader Joe's, Organic Valley, BelGioiso)
Pine Nuts– these are flavorful and pricey but essential to classic pesto sauce. Try toasted blanched almonds, or toasted walnuts in place for a similar flavor or for a cheaper option. Pine nuts are usually cheaper in the bulk section.
Lemon juice– this is a great addition for brightness and pairs deliciously with the saltiness of the sauce. Lemon isn't found in most traditional Italian recipes but it's my favorite way to make pesto.
Fresh garlic cloves– we use 3 for extra flavor but omitting 1 or 2 cloves if you prefer less garlic is good, too. Use refrigerated minced garlic as a substitute (not garlic powder).
Olive oil– use the best quality you can buy. If serving pesto as a fresh ingredient on a sandwich or on pasta, you're going to taste the oil so make sure it's a rich, flavorful oil that stands well on its own.
Salt and pepper– this is to taste. If your parm is very salty, you may not need much salt. We love pepper but don't use much at all (if any) in this sauce.
I highly recommend a food processor to get the best texture but a blender will work, too. You want everything emulsified at high speed and that's hard to do by hand. But otherwise, this sauce couldn't be easier to make!!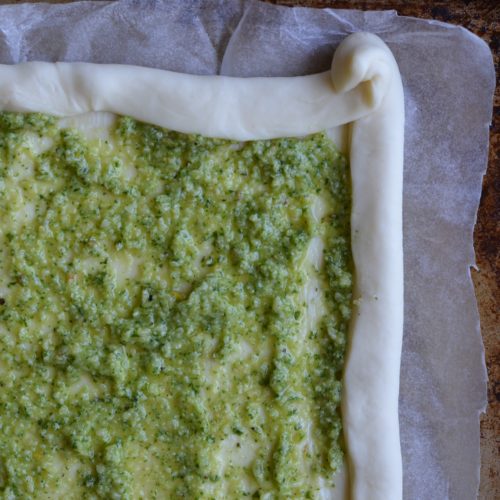 Homemade Pesto Sauce
Fresh basil leaves blended with simple ingredients for a classic no-cook sauce great on pasta, sandwiches and more. Vegetarian if the Parmesan is vegetarian. Keeps well in the fridge for 5 days. Yield: 1 cup.
Ingredients
1

cup

fresh basil leaves, packed

1/3

cup

Parmesan, shredded or freshly grated

3

tbsp

pine nuts

3

cloves

garlic, peeled

juice of ½ a lemon

= 1 tbsp

1/3

cup

olive oil

best quality

salt and pepper, to taste
Instructions
Combine basil, Parmesan, pine nuts, garlic and lemon juice in a food processor.

Pulse 2-3 times. Then, with the processor running on low, drizzle in the olive oil in a slow stream until emulsified.

Scrape down sides if needed and pulse 1-2 more times to incorporate.
Use immediately, or to store:
Store in refrigerator in an airtight container for up to 5 days. Stir before use.
Notes
Tips on this pesto sauce:
quality ingredients are key–you'll want really good olive oil
The lemon juice helps keep the bright green color fresh. We have made pesto without it but much prefer the addition of the lemon juice.
Taste before adding salt–your Parmesan may be very salty and you may not need any additional salt
Pine nuts can be pricey–we have find buying them from the bulk section is about 50% cheaper than buying them in the baking/nut aisle!
Nutrition
Serving:
4
tbsp
Calories:
240
kcal
Tips for Making Pesto:
A food processor is the best machine for making American-style pesto but a small, powerful blender will work.
pulse all ingredients (except the oil) a few times to break them up. No need to pre-chop the garlic or pine nuts!
Stream in the oil slowly while the food processor is running. This helps emulsify everything and make a uniform sauce.
Lemon helps keep everything bright green but adding a little extra olive oil on top before storing in the fridge is good, too. Stir in or discard the extra oil before serving (this would make the pesto thinner, but still tasty)
If you're looking for a more authentic style, use a mortar and pestle to break down the basil leaves then add in the pine nuts, some garlic. parmesan, and finally, stir in the oil. Hand mincing everything is also an option for a more rustic sauce where you'll see the different ingredients (this is the kind we see in nicer restaurants, but at home I use a food processor).
-Emma
---
---