Italian Bread and Tomato Salad (Panzanella)
Delicious and simple bread salad with fresh tomatoes, garlic, and basil. Perfect for warm weather and grilled entrees as a side dish, or as a lighter lunch. Recipe is vegan. Serves 6 to 8.
This is one of my favorite ways to finish off a good loaf of crusty or hearty bread. I'll buy a loaf at the bakery counter and we'll enjoy some fresh with a meal, but then I'll put away half for a couple days just to make this salad.
Salad from bread? Sign me up! Panzanella is something I'll make for lunch often, and it is so versatile. Serve it as is for a lighter meal, or serve alongside grilled veggies (or meats). Try this with Sunday dinner in place of the bread, or enjoy as part of an antipasto night.
What is Panzanella Salad?
Panzanella is a traditional Tuscan peasant-style dish meant to be a good way to use up old bread and a bounty of tomatoes. The dish is simple, but very flavorful and really highlights the fresh summery taste of tomatoes. The dressing for Panzanella salad is made with a mix of juices from the tomatoes, olive oil, white wine vinegar, and salt and pepper.
Some recipes add cucumbers, and other Mediterranean salad ingredients such as lettuce, mozzarella, or olives and capers. This recipe for Panzanella uses just a few ingredients:
Fresh Tomatoes (a mix of cherry, heirloom, and/or vine)
Bread (day old is best!)
Fresh Garlic
Olive Oil
White Wine Vinegar
Salt and Pepper
Fresh Basil
Variations to Panzanella Salad:
Fresh ingredients are really important, here! As are quality ingredients like olive oil. There are no ideal substitutions for the fresh tomatoes since they're the key ingredient. Fresh basil is also the best option, but garlic powder can be subbed for the garlic.
Thinly sliced onions or shallots are great additions. They are a traditional ingredient, I just like to taste the sweetness of the tomatoes without onion.
I do not add any type of cheese. This is personal preference because if we want something like caprese salad, we make that instead. If cheese is desired, I recommend mozzarella pearls or firm provolone, cubed.
What Type of Bread to use in Panzanella?
The best bread for this salad is rustic and hearty. Try any of the following loaves for best results:
Rustic country loaf (not Italian necessarily, but good, hearty and widely available)
Ciabatta (commonly found and delicious; slightly airy)
Pane Toscano (contains no salt; is excellent with tomatoes)
French bread (not a baguette; the crusty, wide kind known as Pane de Campagne)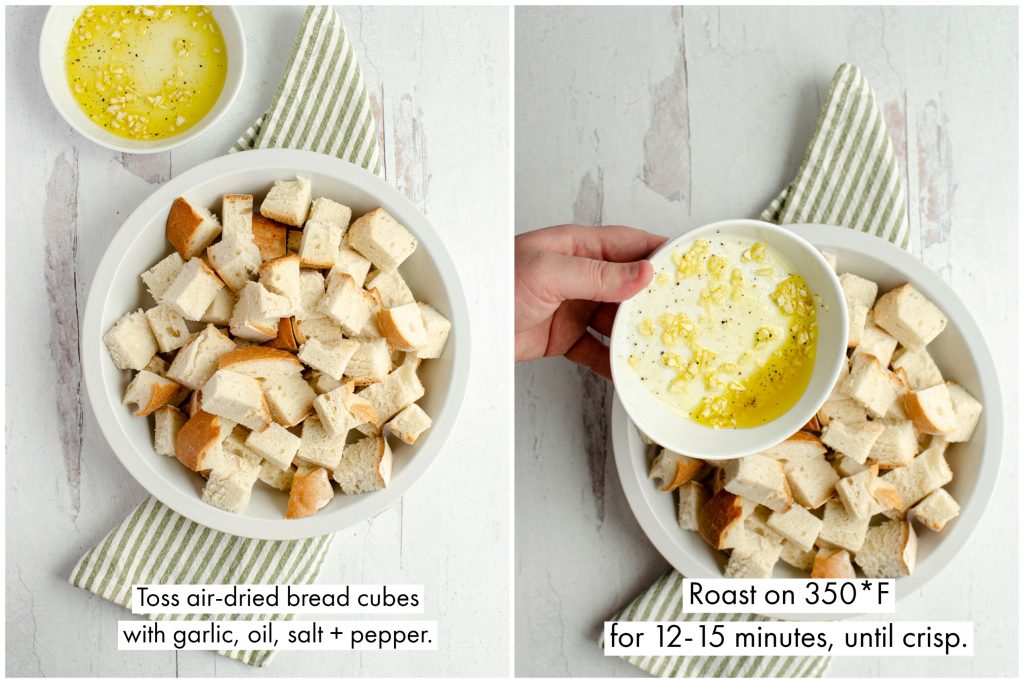 Best Kind of Tomatoes for Panzanella Salad?
Any tomatoes will work for Panzanella, but the best ones will be juicy and retain some of their shape, too. Try a mixture of tomatoes like:
Cherry and grape tomatoes
Heirloom tomatoes in various colors/shapes
Campari tomatoes
Beefsteak tomatoes
Vine ripe tomatoes (the best in the summer!)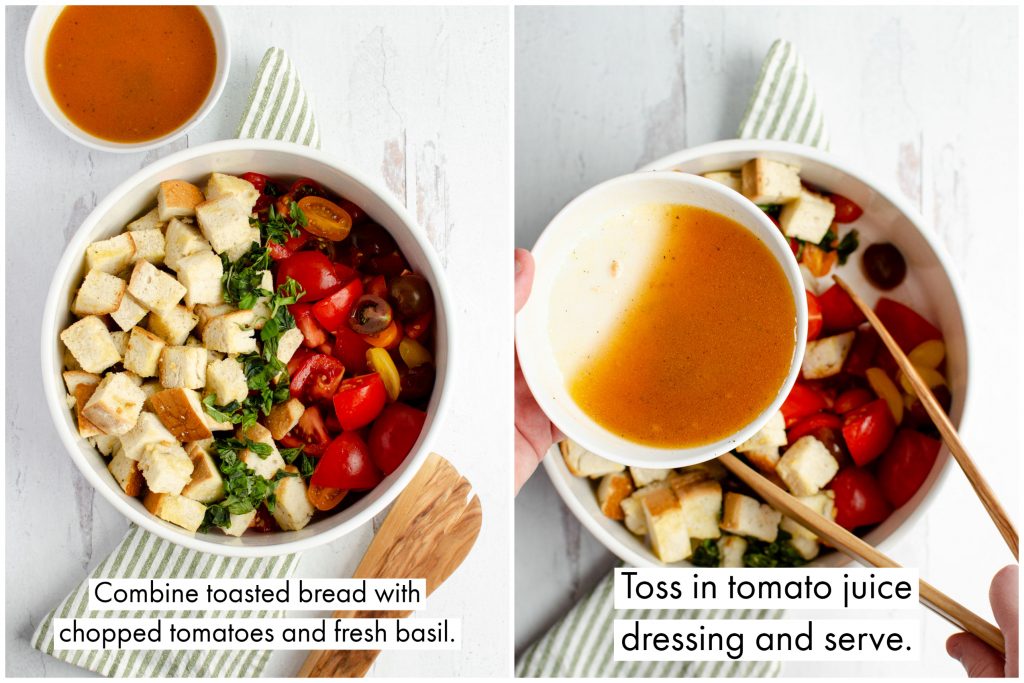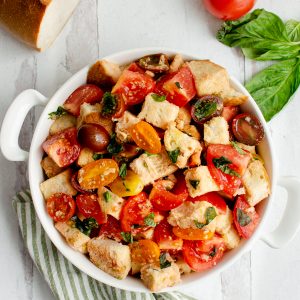 Italian Bread and Tomato Salad (Panzanella)
Delicious and simple bread salad with fresh tomatoes, garlic, and basil. Perfect for warm weather and grilled entrees as a side dish, or as a lighter lunch. Recipe is vegan. Serves 6 to 8.
Ingredients
4

medium

tomatoes

heirloom, vine, etc. (2.5 lbs or 3 cups)

1

cup

cherry or grape tomatoes

1/2

loaf

Italian or rustic bread, cut into 1 inch cubes

= 8 to 10 ounces or 3 cups

3

Tablespoons

olive oil, divided

1

clove

fresh garlic, minced

1

Tablespoon

white wine vinegar

1/2

teaspoon

salt, plus more to taste

pepper, to taste

1/4

cup

fresh basil, torn
Instructions
Prep the bread:
Air dry bread cubes for 1 hour to firm up (or use day old or stale bread)
Prep the Panzanella Ingredients:
Preheat oven to 350°F. Roughly chop larger tomatoes (halve cherry tomatoes) and place in a colander over a large bowl. Season with 1/2 tsp salt. Let stand, turning once, for 15 minutes. Tomato juice collecting in the bowl will be used in the dressing; do not discard.

Meanwhile, combine 2 tbsp olive oil with minced garlic and a little salt and pepper in a dish. Toss mixture with bread cubes and spread in a single layer on a baking sheet.

Roast bread cubes until crispy, but not browned, 12 to 15 minutes. Remove from oven and set aside.

Whisk remaining 1 tbsp olive oil with the white wine vinegar and reserved tomato juice to form the dressing. Season with salt and pepper to taste.
Make the Panzanella:
In a large salad bowl or serving bowl, combine the bread cubes, tomatoes, and basil. Toss with the tomato dressing to coat. Let stand 5 minutes before serving.
Notes
Optional: add thinly sliced onion or shallots (up to 1/4 cup)
Panzanella is best enjoyed within the same day it's prepared.
Nutrition
I hope your March is off to a great start and you're getting ready for Spring! If you're looking for more easy recipes, let me know what you'd like to see here!
---
---