Winter Harvest Salad
What are your favorite foods to enjoy over the holidays? My favorites are definitely the potatoes (however many ways they can be made) and the biscuits/rolls. Those carbs are craveable and delicious…but the day after leaves you feeling bleh.
The day after Thanksgiving this year I really wanted something green (not soaked in butter) haha. I was visiting my grandparents (lots of yummy leftovers but nothing healthy) so I went out to Food Lion to grab something for lunch. I'm nearly 15 months into being a vegetarian and I'm at the point where I'm craving salads and healthier options–whoa, who is this?!
I found an arugula and kale salad kit with a Dijon vinaigrette and pumpkin spice croutons. The flavors sounded interesting and the greens blend was different so it was worth a try.
The croutons were really good–they gave a warm spice to an otherwise basic salad. I wanted to recreate the idea at home but I felt the salad needed more oomph. Those croutons were a must, though!
I added roasted squash and some fresh pomegranate, recreated the pumpkin spice croutons, tossed in some raw pumpkin seeds and finished the salad off with apple Dijon vinaigrette. This is my interpretation of that salad I enjoyed the day after Thanksgiving–greens loaded with lots of warm, comforting flavors. We used a seeded rye for our croutons and it was divine–but any bread will do 🙂
Winter Harvest Salad combines all the flavors of the season and it's bright and fresh which is a great way to balance those good (but heavy) holiday foods. It has a few steps but many of the items can be made ahead. The squash adds nutrients and some staying power but if you'd like a lighter salad (or you don't have a butternut squash on hand) this salad is just as delicious without. The dressing can be used in a variety of salads so keep that recipe handy!
Winter Harvest Salad
Greens tossed with apple Dijon vinaigrette and topped with roasted squash, pumpkin seeds, pumpkin spice croutons and pomegranate. Fresh and flavorful with a comforting warmth for the season or year-round! Vegetarian (Vegan as long as the bread used is Vegan).
*This makes 4 side salads or 2 main course (large) salads.
Ingredients
Salad Base/Greens (mix your own or use a spinach/greens blend)
4

c

spinach

2

c

arugula

2

c

chopped kale
Apple Dijon Vinaigrette (this makes just under 1/2 cup of dressing)
4

tbsp

olive oil

5

tsp

apple juice

= 1 tbsp + 2 tsp

4

tsp

apple cider vinegar

1

tsp

Dijon mustard

1/4

tsp

fine salt

1/4

tsp

finely ground black pepper
Pumpkin Spice Croutons
2

c

cubed bread (recommended: rye, wheat or seeded)

1/4

tsp

pumpkin pie spice

* see below for homemade

2

tsp

olive oil
Roasted Butternut Squash
1

c

cubed, roasted butternut squash

* see below

1

tbsp

olive oil

salt and pepper, to taste
Other toppings
1/2

c

pomegranate arils

1/4

c

raw pumpkin seeds

plus extra for garnish
Instructions
Read all instructions first. There are several key elements to this salad--some of which can be made ahead and/or a good use for leftovers.
Prepare the pumpkin spice croutons
Preheat oven to 350* F.

Cube bread of choice (approximately 1/2 inch pieces). Place cubes in a large bowl.

Toss the bread cubes with the olive oil until thoroughly coated.

Sprinkle on the pumpkin pie spice a little at a time + stir (to avoid coating only a few pieces). Repeat until all bread pieces are covered with the spice mixture.

Place cubes on a lined baking sheet and bake for 12-14 minutes, or until slightly crispy and golden-brown. Remove from oven and let sit uncovered during other steps.
Prepare the apple Dijon vinaigrette
Add all vinaigrette ingredients to a small blender (we use a bullet-style blender) and pulse 10-12 seconds or until emulsified (ensuring ingredients do not separate). Set dressing aside.
Prepare butternut squash
Increase oven temperature to 425* F.

Cube butternut squash into 1/2 inch cubes.

Toss the squash with olive oil and salt and pepper (if using). Spread in a single layer on lined baking sheet. Bake, turning once, for 30-35 minutes or until squash edges are browned. Remove from oven and set aside.
Assemble the salad
In a large bowl, toss together the greens and salad dressing.

Add in the croutons and pumpkin seeds. Gently toss again to evenly mix.

Divide salad mixture onto 4 salad plates. Top each with butternut squash, pomegranate arils and a few pumpkin seeds.
Notes
For a great homemade pumpkin pie spice:

Combine 3 tablespoons ground cinnamon, 2 teaspoons ground ginger, 2 teaspoons ground nutmeg, 1.5 teaspoons ground allspice and 1.5 teaspoons ground cloves.
This mixtures makes a batch for keeping on hand (use it for pies, coffee, baked goods, etc)
I used this Betty Crocker blend for the above*


---

Save time by pre-roasting the squash or using leftover roasted squash. Pre-cut squash works well, too (it may need to be cut to appropriate size).


---

The dressing can also be made ahead--it keeps well in the fridge for 2-3 days (it's also excellent for other salads!)


---

If you do not have butternut squash on hand (or aren't a fan) this salad is still delicious and flavorful! The pumpkin spiced croutons with the tart pomegranate and fresh greens makes a great lunch salad.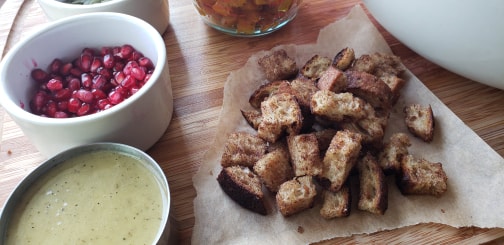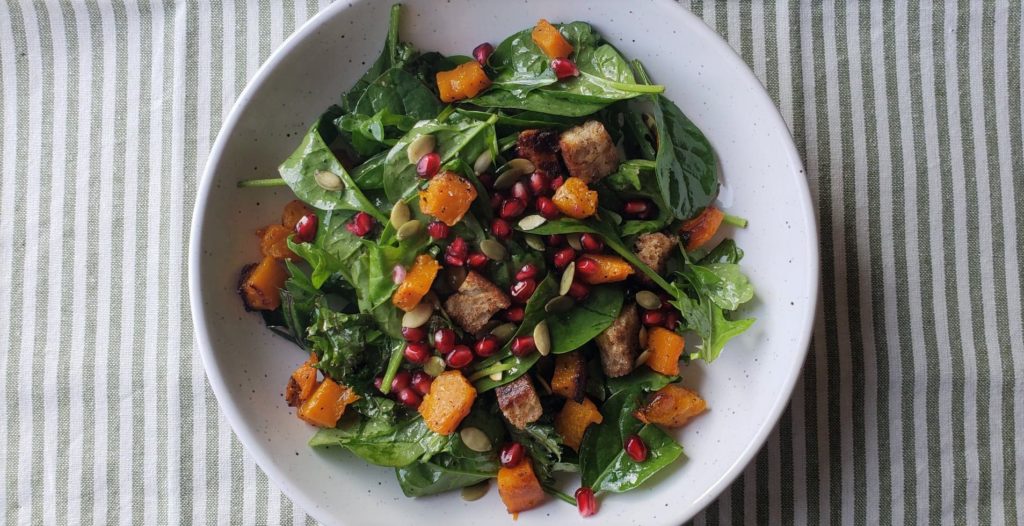 I hope your holidays are off to a great start! Be sure to enjoy all of your favorite foods but if you need to balance them out, try this Winter Harvest Salad!
Let me know if there's anything you'd like to see in the new year here on The Dachshund Mom. Cheers!
---
---