The Best Vegetarian Food in Botetourt, Virginia
I'm really excited to share this post because a) it's about good food and b) it's about my hometown 🙂 Before we go any further, our county is pronounced Bot-A-Tot. Yes, I know there's an "r" in there 🙂 But now you'll have that info should you need it!
Botetourt County sits south of Rockbridge County on Interstate 81 and north of Roanoke County. We're a large county in size, but since Roanoke is more well-known people often drive right through BoCo without stopping (unless you get pulled over for speeding–lol at all the college kids I met at Virginia Tech who got a ticket at exit 150). But, we have so many beautiful things to offer I'd be remiss if I didn't encourage you to stop here for a while next time you're traveling through.
"Best Vegetarian Food in Botetourt, Virginia" might be open to debate since no one is rating "best" but me–but my criteria is as follows:
These locations offer more than 1 veggie option
These locations are locally owned/operated
The food is delicious
Foot of the Mountain is located in Buchanan (Buck-annon as we say it 🙂 ) off of exit 168 of I-81. They sit on a mountainside in front of an old motel and they have an incredible view of the mountains. The restaurant has a mix of booths and tables with an enclosed bar in the back. Booths next to the windows have the best views, but they only seat 4. This is our favorite place to grab a good meal with friends on a Friday night. It's casual and come as you are but with amazing food worth talking about.
Vegetarian Starters:
house salad (half $5.75/full $9.25
Mediterranean salad (half $8.25/ full $15.50)
other salads can be adapted to remove meats
they also offer various fried appetizers (shared fryers I believe)
Vegetarian Entrees:
Thursday special— marinara spaghetti $10
Always offered: Mediterranean wrap ($8 with 1 side) and
The Veggie Plate (half house salad/soup + option of 2 or 4 sides; $10 or $15)–my go to order pictured above/below) or
Black Bean Burger ($8 with 1 side)–also delicious and made in house patty can be subbed on any burger
Build Your Own Burger–prices vary depending on toppings but this is a delicious option to get carried away with a black bean burger (I've added avocado, cream cheese, jalapenos, etc for a custom entree)
Sweet potato fries (maple mustard sauce–yum!) + lima beans (without bacon fat!)

Obv not veggie but for the rest of your family–they have excellent food (according to my husband!)
Pro Tip for FOTM Cafe: parking can get very tight (especially trying to park on a mountainside driveway), the cafe is smaller and frequented by locals and travelers alike so if seating is limited–they offer carry out! There are announcements on their Instagram page for daily specials. And they offer so much for meat eaters so everyone in your family will be very happy!
Tizzone is located in the Daleville Town Center off of exit 150 from I-81. It's just a couple miles from the exit but definitely worth bypassing the chains that sit adjacent to the interstate. Tizzone is a great place for a date night or dinner out with friends/family. It's nice but not fussy and people come here in jeans or business casual alike. The atmosphere is nice and reminiscent of a restaurant in a larger city. The decor is modern with darker touches and the staff is both knowledgeable and friendly. We love the booths here, but there are hightops and regular tables, too. This is our favorite place for a date night 🙂
Vegetarian Starters:
Gnarly knots $5 (good, standard)
Bruschetta $8
Cheese Platter $16 (pictured–delicious and perfect for sharing)
Wood Fired Spinach and Artichoke Dip $10 (amazing!!)
House salad $6 (also pictured below)
Toasted crostinis!

Fig spread is amazing–my husband and I each get something we like
Vegetarian Entrees:
Mediterranean salad $12
Spaghetti marinara w/side salad and bread (Vegan!) $11
Lunch only: Sauteed Eggplant Sandwich w/1 side $10
Lunch only: Wood fired Caprese sandwich w/1 side $10
Lunch only: Wood fired smoked Gouda and fig w/1 side $8 (pictured)
Vegetarian Wood Fired Pizzas:
These are 10-12 inch thin wood fired pizzas and every one we've had was delicious. They can also be made into a calzone–and any of them can be made with Daiya vegan cheese, too!
Quattro Formaggi $12
Mushroom and Rosemary $12 (pictured)–the red sauce is amazing!!
Athena (Greek inspired) $14 (pictured and my personal fave!)
Goat cheese and sun-dried tomato $12
Athena- pesto base with Greek veggies

mushroom & rosemary
As you can see, we go here quite often 🙂 We love the food and the atmosphere. It's a really nice date night and we have loved everything we have tried.
Pro Tip for Tizzone: on Tuesdays, they offer a 2 can dine special for $22–2 salads, some gnarly knots + 2 entrees from a selection and a dessert to share. Only 1 entree is vegetarian but it's good and the price is really good. On Thursdays, they offer a 2 can dine for $24 and that includes 2 salads, 2 pizzas and a dessert to share. We go often on Thursdays and we each pick a pizza. We bring home the leftovers. And yes, the desserts here are exceptional!
Taphouse is also off of exit 150 from I-81 and is located right next to Tizzone Wine Bar (they share the same owner who also runs Sharkey's in Blacksburg and Radford, VA). Taphouse is known for their American fare, the sports bar setting with tap takeovers of local breweries and their burgers. The atmosphere is very much a bar/pub feel–but is still good for both families and friends grabbing lunch/dinner or a late night bite/drink. They have large booths, spacing for groups up to ~30 (reservations needed) and they have a bar area separate.
Taphouse isn't my favorite restaurant atmosphere BUT they have the best vegetarian burgers around. They offer 2 types of veggie patties–Harmony Valley Vegan patty or Gardenburger veggie patty and the customization level is amazing. They also have vegan bacon, vegan cheese and vegan buns so you can make a bacon burger (amen!!!)
Vegetarian Starters:
Veggie chili cup $5 (contains lots of veggies in place of meat or meat substitute–flavor is good but tends towards cumin-heavy)
Deluxe Nachos $11 (can be made with their veggie chili!)
Chips and Salsa $4
Soft pretzels $8.50
various fried apps available (legit the best fried pickles)
Vegetarian Entrees:
The Big Salad $10 (sub vegan bacon)
Taco Salad $13 (sub veggie chili)
Soup and salad combo $9 (house salad and cup of veggie chili)
Soft Tacos with sauteed fresh vegetables $14 for 3 with 1 side
Veggie wrap (cheese and veggies) with 1 side $11
Burgers:
Substitute any regular burger with choice of vegan or veggie patty. Sub regular bacon for vegan bacon, etc. There are 15 burgers available so lots of options to pick from 🙂
Pictured is the No Name burger with cream cheese, lettuce, tomato, onion, jalapenos + chipotle sauce $11.50 w/1 side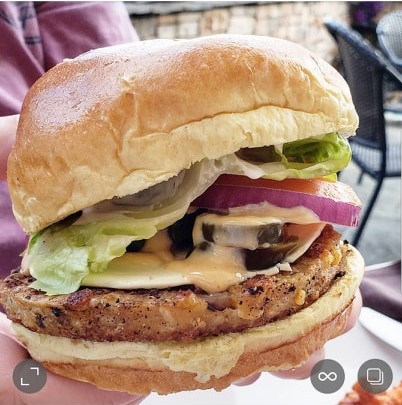 Pro Tip for Taphouse: Sundays and Mondays 5-9pm feature a burger bar (regular Tap House burger with toppings bar to customize) plus bottomless fries and a drink of choice (beer, soda or tea) for $12. Wednesdays is trivia night which is perfect for adults but round 4 is not kid friendly 🙂 And the kitchen turns to late night menu at 10pm which only includes fried apps. This is our favorite spot for nachos (my husband's fave food) and burgers (seriously, I love that I can get bacon on a burger here!!)
There are plenty more options than these 3 restaurants in Botetourt for vegetarians but I have found these 3 consistently deliver on food and customization options for me. Hopefully you'll find this helpful if you're ever coming through the area or are trying to accommodate a vegetarian friend/relative. If you have any questions or need further recommendations, let me know in the comments 🙂
-Emma
---
---