Homemade Ranch Dressing & Dip
Here's a really good recipe to start off football season– Homemade Ranch Dressing & Dip! It's a staple in our house and so easy to make I wonder why I ever bought ranch from the store haha. I do like one particular refrigerated ranch (Lighthouse brand in the cold/produce section–it comes in a glass jar) but it's like $4 a jar and honestly, why buy something when it's easy to make a delicious ranch at home?!
We often have herbs leftover from other recipes so I usually have what I need on hand to throw this together. You can use dried or fresh herbs interchangeably with good results. This recipe is made without Worcestershire sauce and does not contain any stabilizers (commercially made dips/dressings often have both of those items). This recipe also does not call for any ranch packets because it's just as easy to make everything from scratch.
Homemade Ranch Dressing:
features sour cream + mayo (the secret to good, thick ranch)
calls for milk to make as thin/thick as you like
uses fresh or dried herbs (use what you have on hand!)
no questionable ingredients and no powder packages!
half the price of store-bought refrigerated ranch
stays fresh for the week in the fridge. Make a batch on Monday and enjoy with buffalo chicken, salads, fries, and more!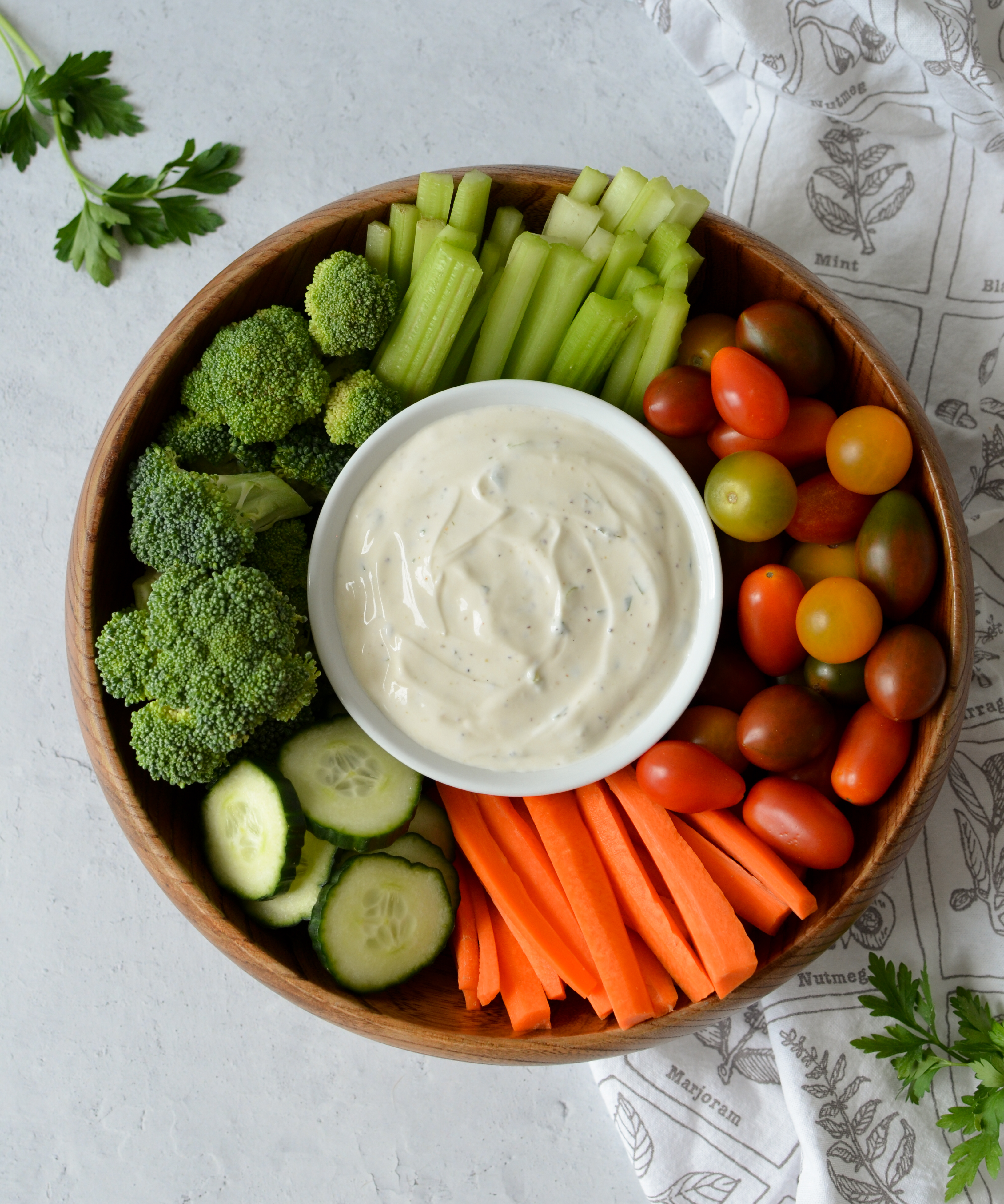 We use this ranch on lots of foods but my favorite might be with a veggie tray and buffalo cauliflower wings 🙂 You can up the herbs to suit your tastes–this is a basic mixture but feel free to experiment some!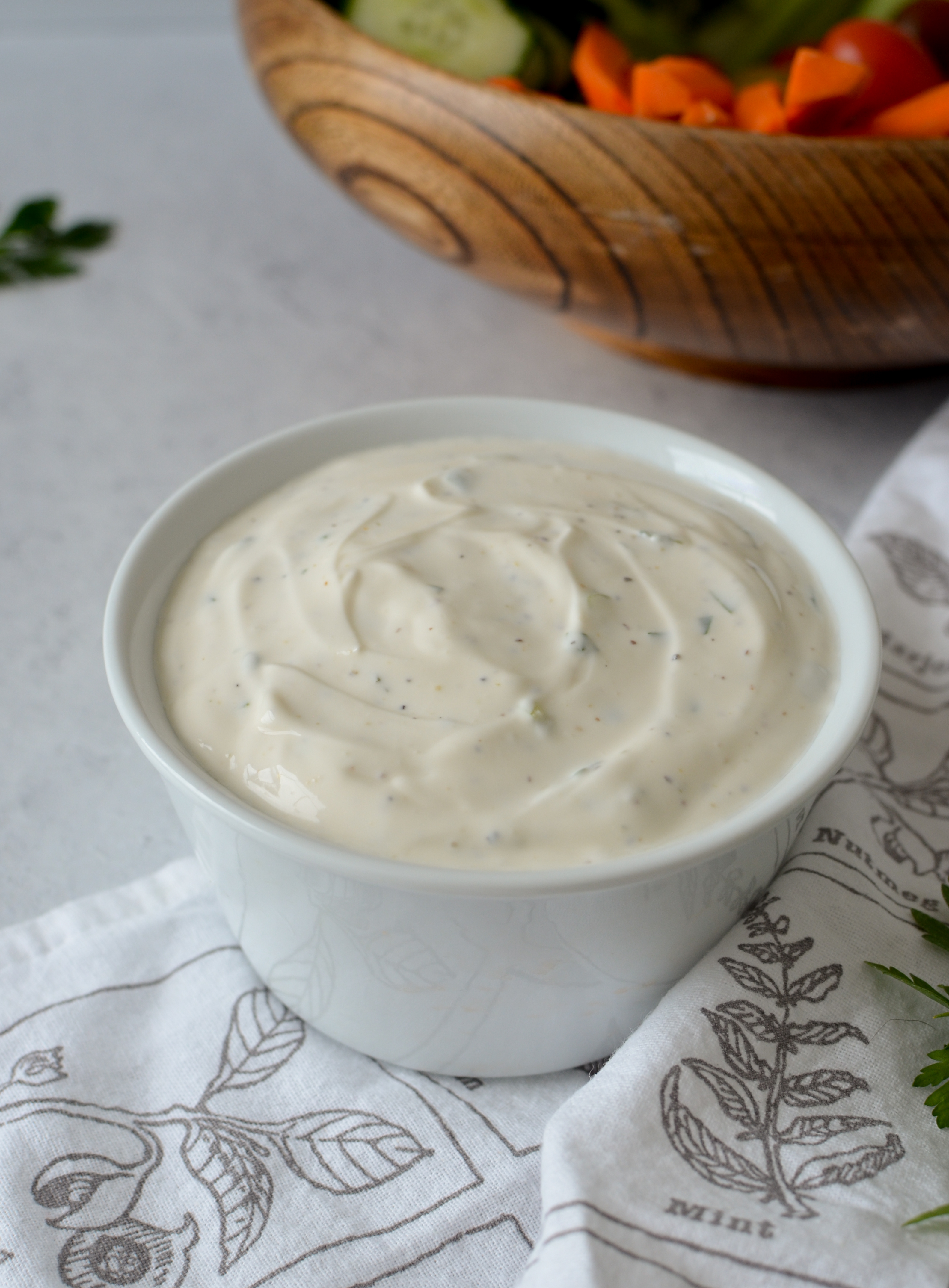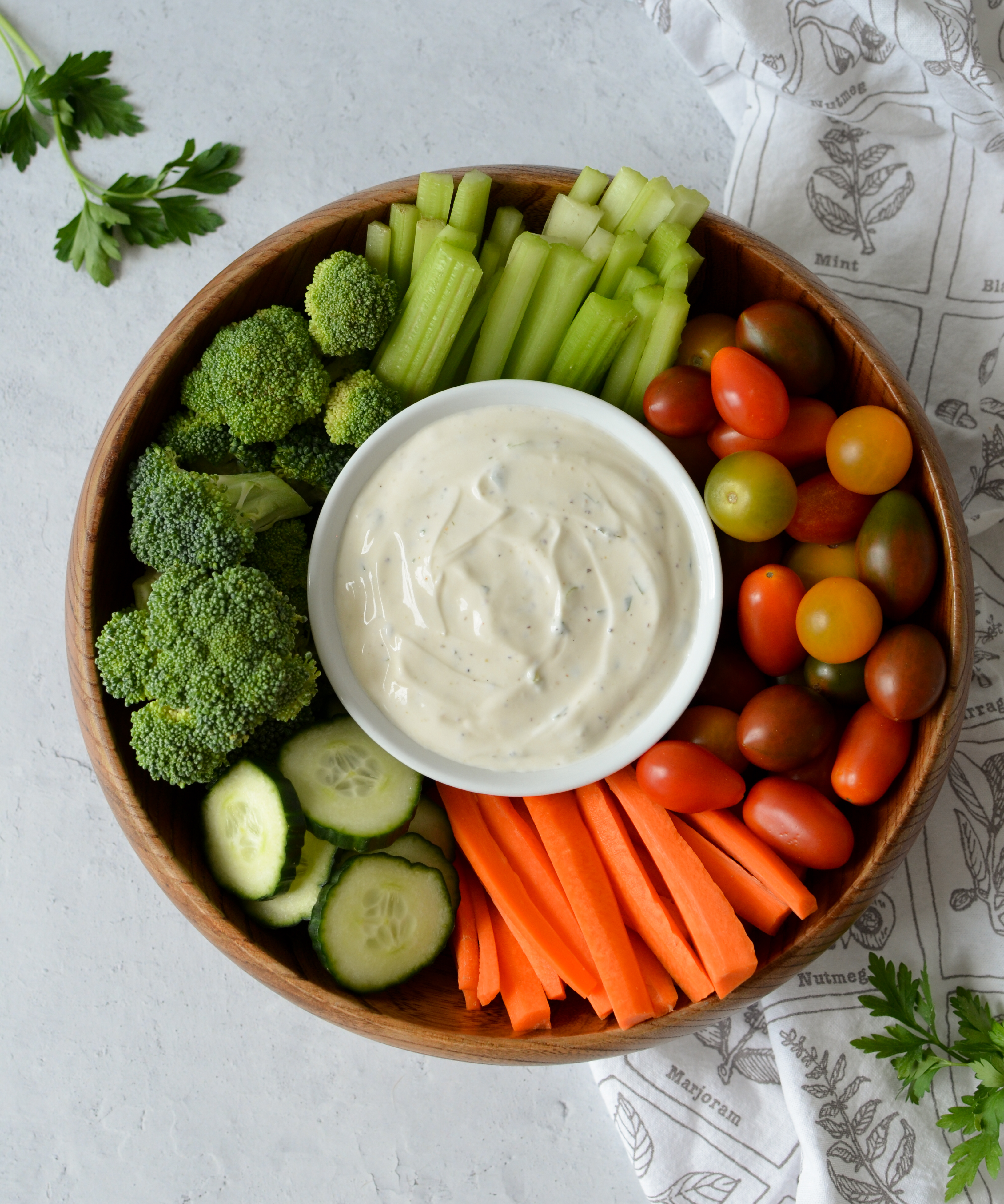 Homemade Ranch Dressing & Dip
Creamy, herb flavored homemade ranch with sour cream and mayo. Comes together in minutes and lasts for a week– perfect dip for veggies or dressing for salads and more. Recipe makes 1⅓ to 1½ cups. Vegetarian.
Ingredients
1/2

cup

sour cream

1/2

cup

mayo

1/4 to 1/2

cup

milk

1/4 cup for dip; 1/2 cup for thinner dressing

2

tsp

vinegar

1

tbsp

fresh parsley, minced

= 1 tsp dried parsley

1 to 2

tsp

fresh chives, minced

= 1/4 to 1/2 tsp dried chives

1

tsp

fresh dill, minced

=1/4 tsp dried dill

1/2

tsp

black pepper

1/4

tsp

salt

1/2 to 1

whole clove garlic, minced

= 1/4 to 1/2 tsp garlic powder
Instructions
Chop all herbs and combine with salt and pepper in a small bowl. Set aside.

In a medium bowl, stir together the sour cream, mayo, milk, and vinegar until smooth.

Add in herb mixture and stir until smooth and evenly distributed.

Pour mixture in an airtight jar or container. Cover and refrigerate long enough to let flavors combine (recommended at least 4 hours). Ranch will keep for up to 1 week refrigerated.
Notes
If a thicker consistency for dipping is desired: begin with 1/4 cup milk. If thinner dressing is desired: use 1/2 cup milk.
Measurements for herbs are flexible based on your tastes. I prefer less dill in my ranch but feel free to alter the amounts for what you want 🙂

If using dried herbs, use 1/3 the amount you would for fresh herbs. 1/3 tsp measures are hard to come by so a rounded 1/4 tsp should work. 
I have used dried and fresh herbs several times with great results
Nutrition
Serving:
2
Tbsp
Calories:
87
kcal
Hope your summer is ending nicely, friends–and the beginning of your September is fun so far. I'm honestly someone who loves summer and I hate to see it go–but I know fall brings some exciting opportunities as well (hello, football!) so I'm optimistic for a good season ahead. If you make this ranch let me know what you think. Leave me a comment, a recipe rating or find me on Instagram (@thedachshundmom)!
-Emma
---
---